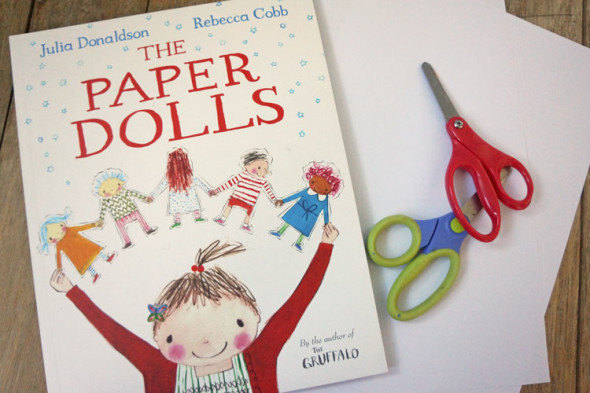 Top author of children's books and masses of ideas for kids' activities. What's the correlation?
Kids picture books by British author Julia Donaldson.
Here are some of the activity ideas for starters: making paper doll chains, designing masks, playing with sticks, painting with hands and performing in a play.
All these kids indoors and outdoors activities were inspired by Julia Donaldson's books. Such as The Gruffalo, Stick Man, Room on the Broom, A Squash and a Squeeze and…
Kids crafts activities: Paper Dolls Chains & templates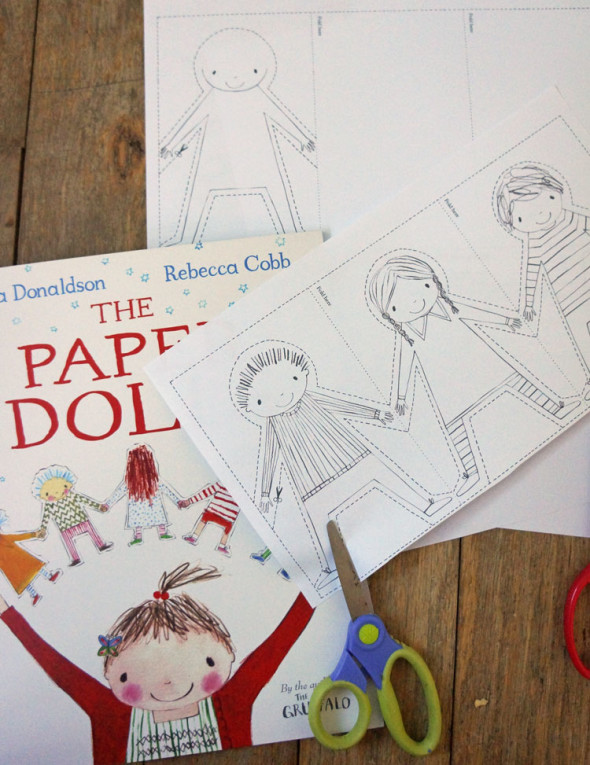 Julia Donaldson's latest hit book is The Paper Dolls illustrated by Rebecca Cobb. It reminds me of the magic of childhood and the power of imagination. A pair of scissors helps create as well as destroy a paper dolls chain, but their adventures live on in the child's memory.
The Paper Dolls is available on US Amazon and UK Amazon.
So a perfect book to read and be inspired to make paper doll chains. 

Donaldson's The Paper Dolls was shortlisted for the Sheffield Book Awards 2013, the Scottish Children's Book Awards 2014, the Kate Greenaway Medal 2014 and the Independent Booksellers Week Picture Book Award 2014.
Activity trails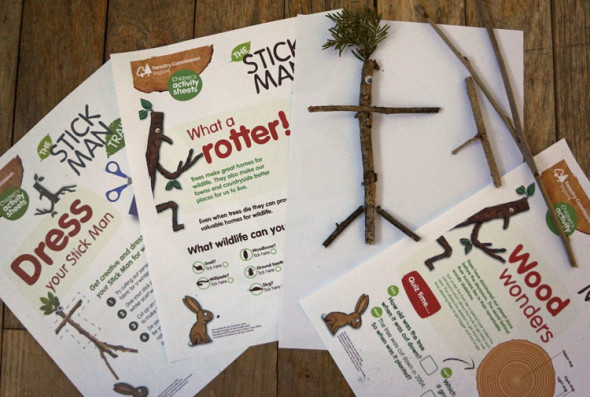 What about going on an adventure in the woods with your kids? England's Forestry Commission frequently sets up trails filled with fun kids' activities in their forests across England.
The Forestry Commission also produced online free activity sheets with Stick Man ideas ideal for a wonderful woodlands walk with kids anywhere.

UPDATE: Gruffalo activities, trails and ideas are still available on the Forestry Commission here.
I've also been inspired by Mammasaurus's hide and seek games with homemade stick men.  And The Reading Residence following a trail. Perhaps you'd like to build a den for your stickmen like Nine to Three Thirty?
The Reading Residence also has a great small world play activity to do when reading A Squash and A Squeeze!
Update 2016 – Stickman and Gruffalo Trails
There are new Stickman trails opened across England. You can find the latest trail locations here, all open until June 2016. Fifteen forests also have giant wooden Gruffalo sculptures, each in a different pose. Find the forests here. If you want to have a Gruffalo picnic party too then the Forestry Commission had a party pack you can download here with invitations, menus and more activity ideas.
Superworm 2015 Trails
From 13 March 2015 there will be Superworm trails and activities for kids in forests across England. These are based on Julia Donaldson's book Superworm – the wiggliest superhero ever. The pictures are illustrated by Axel Scheffler.  You can order activity packs and find out more about the trails from the Forest Commission's Superworm webpage.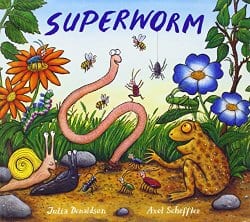 Available on UK Amazon and US Amazon.
Kids activities: The Gruffalo mask and finger puppets & printable templates
Or maybe you just want to be creative indoors. Bookstart has online free templates for finger puppets starring the cast of The Gruffalo. As well as recipes, masks and other free activities for kids to download.
Cave Baby art activities
Read Donaldson's Cave Baby and then create some masterpieces with tiny hands. You can also download more free art activity sheets. 

Learn how to act in a play
Why not act out one of Julia Donaldson picture books in a play? Ideas and videos for classrooms activity and performances are presented by Julia Donaldson on the interactive website Picture Book Plays.  (And…there are lots more downloadable masks here for kids too)
The bestselling British children's author also has written numerous plays for classes and reading groups.

My kids in the past took part in a holiday workshop by the Freedom Academy in South East London which teaches performing arts to kids. They practiced and then performed The Gruffalo. The 2013 theme of the academy's holiday workshop was a Room with a Broom.
Julia Donaldson started off busking, then singing and songwriting for children's television before becoming a bestselling children's author and the British Children's Laureate from 2011 to 2013. Her books not only are perfect for bedtime reading but also creating so many ideas for kids activities indoors, outdoors, on stage and at home.

The Paper Dolls by Julia Donaldson & illustrated by Rebecca Cobb – available on US Amazon  or  UK Amazon

Stick Man by Julia Donaldson & illustrated by Axel Scheffler.  Buy on US Amazon or UK Amazon.

The Gruffalo by Julia Donaldson & illustrated by Axel Scheffler.  Buy on US Amazon or UK Amazon.

Room on the Broom by Julia Donaldson & illustrated by Axel Scheffler.  Buy on US Amazon or UK Amazon.

Cave Baby by Julia Donaldson & illustrated by Emily Gravett.  Buy on US Amazon or UK Amazon.
My kids have been a huge fan of Donaldson's books since they were  little.  Big thumbs up from me that her books are not just about reading but also learning great ways to be creative and active.  Have you done or can recommend any other kids' activities, whether arts and crafts or playtime outside, based on Julia Donaldson's books?