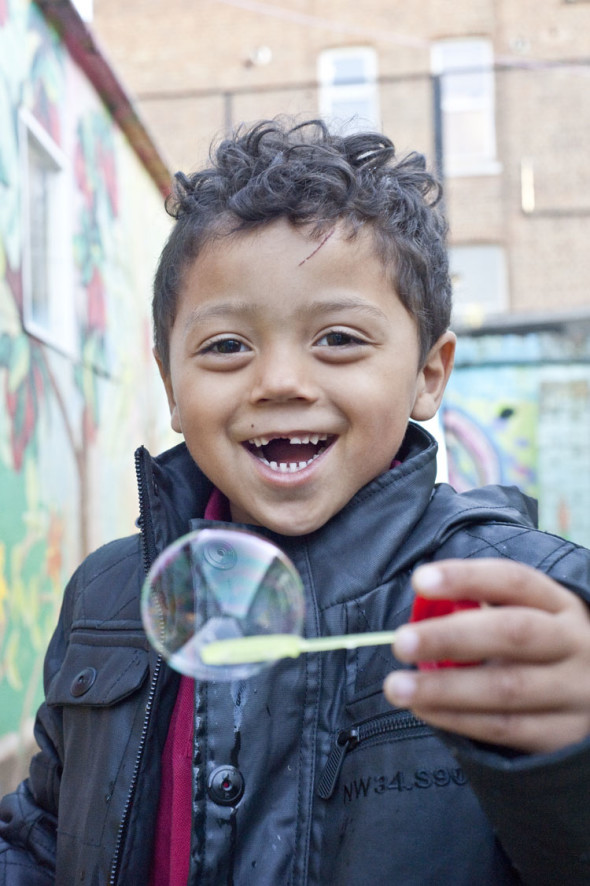 Thousands of children will have a beautiful Christmas day, surrounded by love, fed a wonderful meal, open presents thanks to UK's Kids Company Christmas Appeal. But I'm not talking about a cuddly, warm scene in their own homes. No. The opportunity for them to be happy, feel safe and to fill many of their empty bellies will be thanks to the Kids Company Christmas Day party in London.
Kids Company makes them smile. Gives them opportunities. Unlike in their own homes. That is, if they even have a home. Read Kids Company Unconditional Love for information about this incredible charity.
"Without a family you would be alone in the world, and it's such a big world, and such a little amount of you." Quote from Kane
Kids Company will be their family on the day. They won't feel lonely. They won't feel terrified. They won't feel hungry. They won't be brutalized.  They won't be cold. No. They'll laugh, be surrounded by friends and people who care about them…who love them…who help them.
Kids Company Christmas Appeal
But this charity needs our help to make this happen. Which is why I'm hoping to spread the word about the Kids Company Christmas appeal. Some 4,000 children, young people and vulnerable adults will be picked up and brought to a center in London and have a memorable day at the party hosted by Kids Company.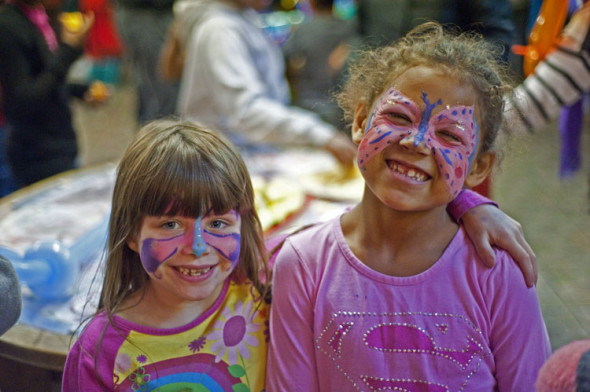 At the Kids Company Christmas Day party they'll be fed a full Christmas lunch and have fun including face painting, playing and enjoying lots of other positive activities.
"Kids Company for me…is the real Winter Wonderland." Alex.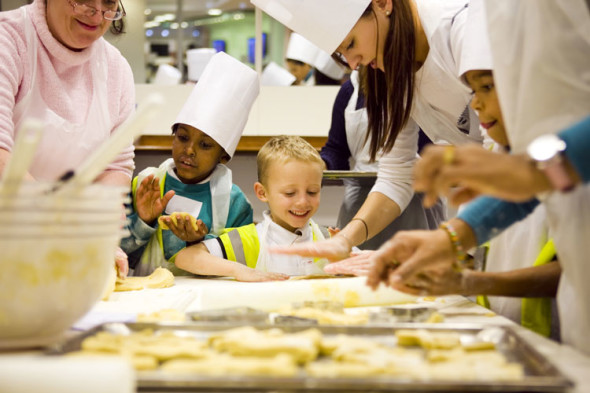 Some have violent or drug addicted or damaged parents who are not focused on putting food on these children's plates at home. Let alone giving them a special and merry day. Why is Christmas day so important for these kids and vulnerable young adults? In her video for the Kids Company Christmas appeal  – the founder and chief of the charity Camila Batmanghelidjh – explains that they decided to hold them because suicide attempts rose during the holiday season. Kids dreaded being alone on Christmas day.
For many of these children it's not just about a lack of presents (if any!) or a nice roast meal on Christmas Day.
"A little girl described being so frightened on Christmas day that she lifted the carpet off the floor and peed into the floorboard because she didn't dare come out of her room because her house is so violent," Camila tells us in the Kids Company Christmas Appeal video.
Have a look at the Christmas appeal on the Kids Company website.
Each child will be given a bag of presents, a bag of food and some food to take home for the evening. Why give them a bag of food to take away? At past Christmas lunches the charity discovered children hiding under the table and stuffing their pockets with food to take home.  "You can tell our kids are slightly different from other children: they try to eat as much as they can for fear that there won't be any food for days to come,"  explains Camila.
So yes any donations can make a difference to these kids lives. Give them some joy on Christmas day. Your donations will give them a chance to feel loved on Christmas day.
How to donate?
* On line at JustGiving.
* Visit their Facebook Christmas Appeal page.
If you have kids they might enjoy choosing a donation with you from the 'shopping list.' It includes everything from Turkey, sprouts, tree tinsel or toys. Supporters can invite their social network to join in and help via the application!
* Write a cheque.
You can send a cheque to Kids Company, 1, Kenbury Street, London SE5 9BS. Please clearly mark the following code on the back of your cheque – SPCHR005
* Text a donation.
Text 'KIDS HELP' to 70700 to make an instant £5 donation. To donate over £5 please send multiple texts or alternatively donate your chosen amount via our Justgiving page.
The donation amount will be added to your mobile phone bill.  There are no additional costs, 100% of the donations come to Kids Company and it will not affect any text allowance on your phone plan.
* Sponsor a child
A special unique gift would be to become a sponsor. You can sponsor a child throughout the Christmas period with Kids Company which will cover the basic needs for shelter, food and care. According to the chief executive Camila Batmanghelidjh, "£1,000 is the miracle we're looking for. You could then add this little note to the presents under your Christmas tree, reminding yourself and your family that whilst you delight in the love and gifts you enjoy on the 25th, you've also managed to make a child at Kids Company feel safer, more hopeful and, above all, cherished."
* Spread the word via Social Media
And if you can't afford to donate, please please give them some love by spreading the word. Pass the message along using the power of social media. Make sure people know about the JustGiving and the Facebook Kids Company Christmas Appeal. You never know, maybe some generous person might hear the message and make a great difference.
If you want to know more about this charity which is really making a difference to inner-city kids lives in Britain, especially in London, then read my post Kids Company Unconditional Love. And visit the Kids Company website.
I recently quoted in a post Charles Dickens, from A Christmas Carol, "For it is good to be children sometimes, and never better at Christmas…" I hope we can make this quote a reality for thousands of neglected and abused children by helping out the Kids Company Christmas Appeal. Make their day. Make sure they feel some Christmas love.
The images are all courtesy of Kids Company.