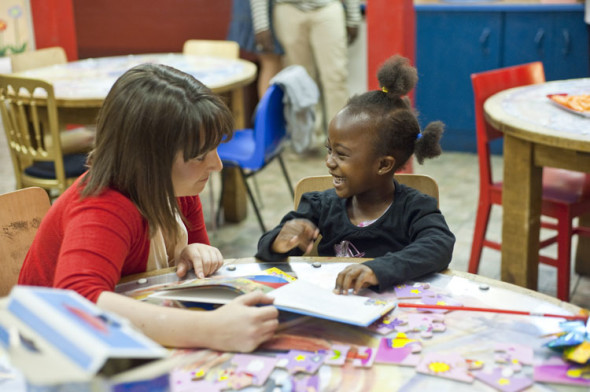 Instead of dismissing many inner-city kids and classifying them as trouble or demonic or helpless or a waste of time, the British charity Kids Company scoops them up and embraces them. And helps them. And loves them unconditionally.
Because of Kids Company, tens of thousands of vulnerable and disturbed children – from 0 to 23 years old – across London are provided with practical, emotional and educational support. And they are each treated as an individual.
Many of these kids have been violent, joined gangs, and even been forced to work as drug couriers or prostitutes. They've also been raped, abused, neglected and witnessed terrible violence. Or they are suffering due to poverty. But Kids Company is the haven where they can discover consistent, long-term 'loving care.' The charity's services reach 36,000 and intensively support 18,000 across London. Recently they opened a new center in Bristol as well.
'I think Kids Company is gracious because when you smile, they smile back, and you think to yourself, I am going to get along well with everybody here.  At Kids Company, when you walk through a door, it is like something new is happening to you all the time.  You feel all soft and happy and graceful and you think you've got good luck.' Quote from 'T'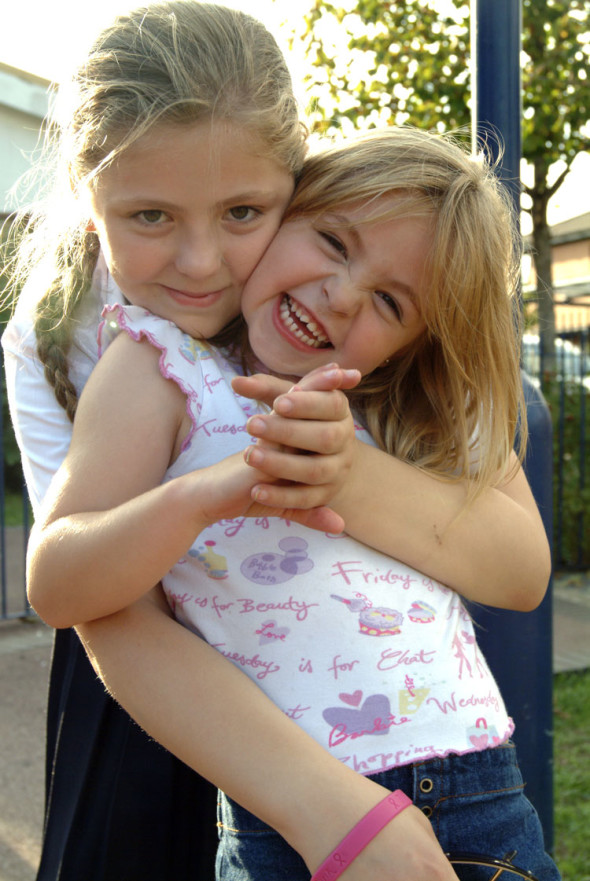 Kids Company was founded in 1996 by the dynamic Camila Batmanghelidjh. Now this charity with 600 staff employs more psychotherapists than any other British organisation apart from the UK NHS (National Health Service). Kids Company strives to heal the pain, abuse and trauma most of the kids have suffered and turn their lives around.
I love and take care of my two children. Their needs are my priority. I help them with their homework, make sure they eat healthily, read to them every night, take them on outdoors adventures or encourage them to do arts and craft projects indoors. If they have a problem with anyone, I talk and help them through it. As they get older I will continue to guide them in their lives as needed. I'm a parent.
'It's  like my family at Kids Company. If you have a problem, you can just tell anybody. There is always a solution.  It's like a house here!  Because everybody is like brother and sister at Urban Academy.  It inspires me to create' Quote from Daniel
Kids Company basically takes over the role of a family and is a proxy parent. They mimic in a way the environment of a family home.  Act like caring parents concerned with all the different aspects of a kid's life including "health, housing, emotional wellbeing, mental health, arts, sports, youth justice, education and employment."
'I like Rubot because he gives me more food after I'm finished my food.  I like Sheral because she cooks and does hard work'  Quote from Sam, aged 6.

'I love Kids Company food – it's delicious!' Quote from Stacy, aged 7
And it works. Many of the kids use the Kids Company centres as a substitute family environment. Lots show up six days a week. Often they depend on the centres for regular meals – actually 85% depend on Kids Company for their main meal of the day. Art classes are not just fun they're also therapeutic. Classes to help them get back into mainstream education. Counselling. Practical living advice. And much much nuch more. (Have a look through their website) Kids Company is their island, not just a stepping stone.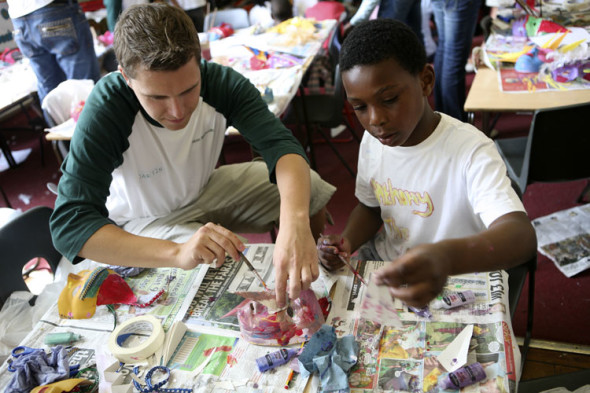 And they do empower and have a positive impact on the lives of children and young adults. Most give up crime, return to education and many find jobs. Now many are even ending up at universities rather than behind prison gates.  In the past I've been privileged to meet a few of these young adults and been stunned at the passion in their voices when they've told me how Kids Company changed their lives and gave them a future. It takes courage and hard work for these kids and young people to move forward while dealing with their often horrific pasts. I'm talking about kids who've been exposed to stabbings, rapes, domestic abuse, drugs…
And children and young people keep showing up at Kids Company doors. They're not pushed or forced through the doors of the six centers and a therapy house in London and Bristol. 95% come to Kids Company independently, or are told about it by their peers in the streets.
'Kids Company is a lifeline for a lot of people.  If there was no Kids Company a lot of people would be on the street with nowhere to go for help.  There should be a Kids Company in every city.' Quote Kids Company Young Person
How to help Kids Company
Have a look at their website: www.kidsco.org.uk
Look at the different ways to donate.
But London's top children's charity also depends on thousands of volunteers, not just financial donors. Find out how you can volunteer.
There are also lots of other ways you can make a difference. If you're moving or clearing out your home, consider calling Kids Company. They're continually looking for furniture and other basic stuff so their kids can have a place that really looks and feels like a home. Instead of maybe sleeping in a bare concrete room.
Push the British government to invest more in this charity. The Kids Company needs £20 million a year to fund its services and keep its street level centres open. The government currently only gives them £4 million which means the pressure is on for them to raise another £16 million every year. (And it keeps rising as more kids turn up at their doors).
The Kids Company equals social care that actually works. And don't just take my word for it. A University of London independent research project concluded the charity overwhelmingly succeeded in empowering young lives. A new research study released in September 2013 LSE (London School of Economics) fully endorsed their services and their approach of unconditional love.
I will be regularly writing posts on the Kids Company to sound my tiny trumpet about the fantastic work they do. And the amazing children who seek help from this charity to have a chance to heal and have fulfilling lives. Kids Company is definitely cool for many inner city kids in Britain. Personally I have always followed and cared about this charity. The chief executive Camila Batmanghelidjh was at the same school as me. My children's school in London also supported the charity. One evening she came and talked to all of us parents about the kids they support. It was humbling to hear about their backgrounds and the work the charity does.
BUT don't go yet – please please read how you can make a difference by helping out with this year's Kids Company Christmas Appeal.  Part of Kids Company's philosophy is: "We are relentless in our love, doing whatever it takes to protect children struggling to survive their childhood."  But let's help Kids Company to make sure all the children and young people they support continually can receive this love. Including on Christmas day.
Please help out with the Kids Company Christmas Appeal – I've written details about it in my next post on how to give them some love.
The images in this post are all courtesy of Kids Company.