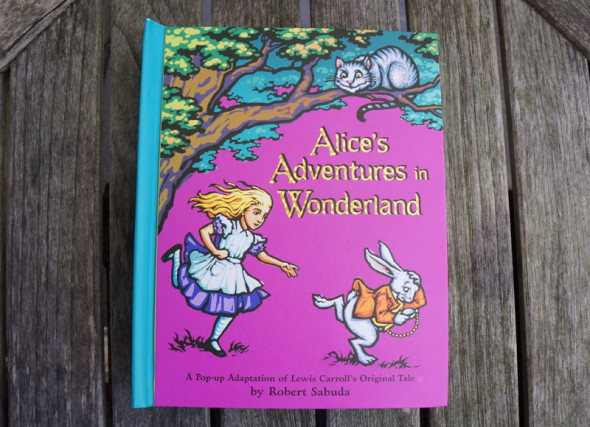 I've always been curious how pop-up books are designed, more so when my daughter received as a gift the stunning Alice's Adventures in Wonderland adaptation by Robert Sabuda.
Now I'm one step closer since my kids have learnt how to make pop-up cards. I uncovered over 40 different free templates for pop-up cards with detailed instructions. And none other than by the master of pop-up book art himself – Robert Sabuda. The creator of this 3-d version of the classic book by Lewis Carroll. (UPDATE – Alas these free templates are no longer available!)
MORE IN POST BELOW ON HOW TO MAKE THE POP UP CARDS
Alice's Adventures in Wonderland by Sabuda contains six main pop-up scenes. Or I should say six visions of a three-dimensional Wonderland.
And to top it off each of these six double pages contains a booklet with more mini pop-ups. For example when you open up the booklets to read the abridged version of the original story, Alice's neck elongates, or the Duchess' baby turns into a pig, or a white rose turns red.
The images of Alice and all the characters are in the style of Sir John Tenniel, the artist who illustrated the original Alice's Adventures in Wonderland, published in 1865.  Sabuda has infused them with colour, 3-dimensionality and even tactility. The plates at the Mad Hatter's tea party are made of foil. There's even felt on the Cheshire cat. You can pull out like an accordion and peep down the Rabbit hole as Alice falls.
Robert Sabuda is also known as a paper engineer, but he described himself in a 2003 radio interview as simply a "children's book maker."  Indeed the books are actually hand made. Each book is assembled by people, not machines, who fold and glue and put together each part.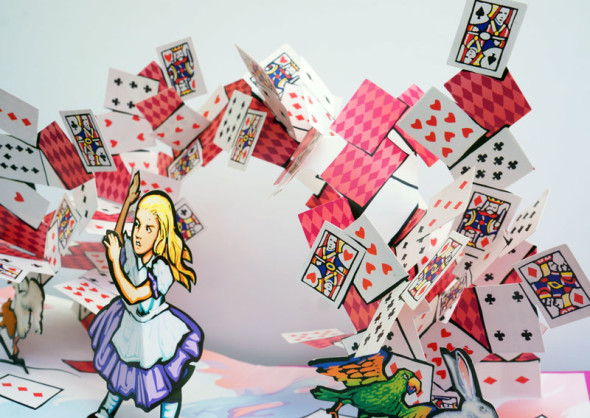 In the final pop-up scene Sabuda made sure that there were exactly two decks of playing cards (104 cards) that fall – or I should say leap up – around Alice.
Homemade Kids Pop-up Cards
Previously on Robert Sabuda's website he had a page with dozens and dozens of free templates you could print out – sadly these are no longer available.
As you can see from my images we used these templates for our cards. We printed out a template on card stock or construction paper. Then cut and glued it. There were detailed instructions but we found the cards easy to make.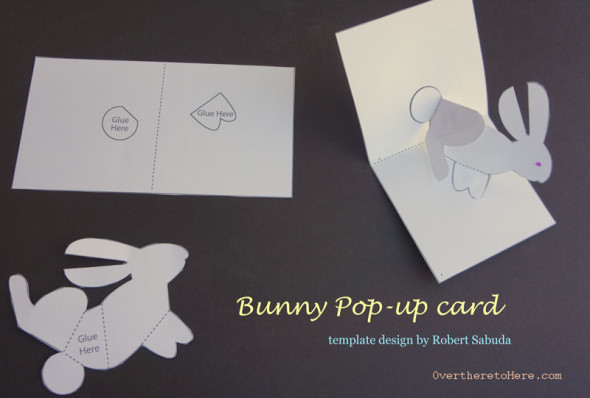 My daughter went for the Easter theme and made a pop-up rabbit.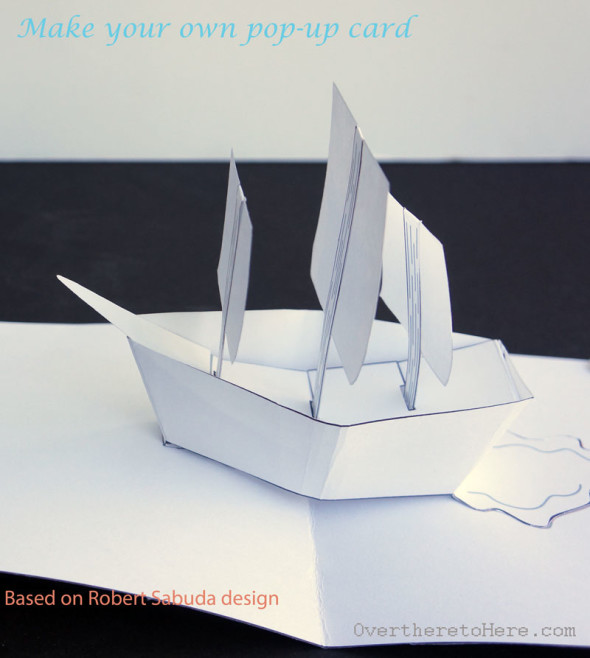 My son chose a three-masted ship. We made a plain one and then another which he coloured in before we assembled.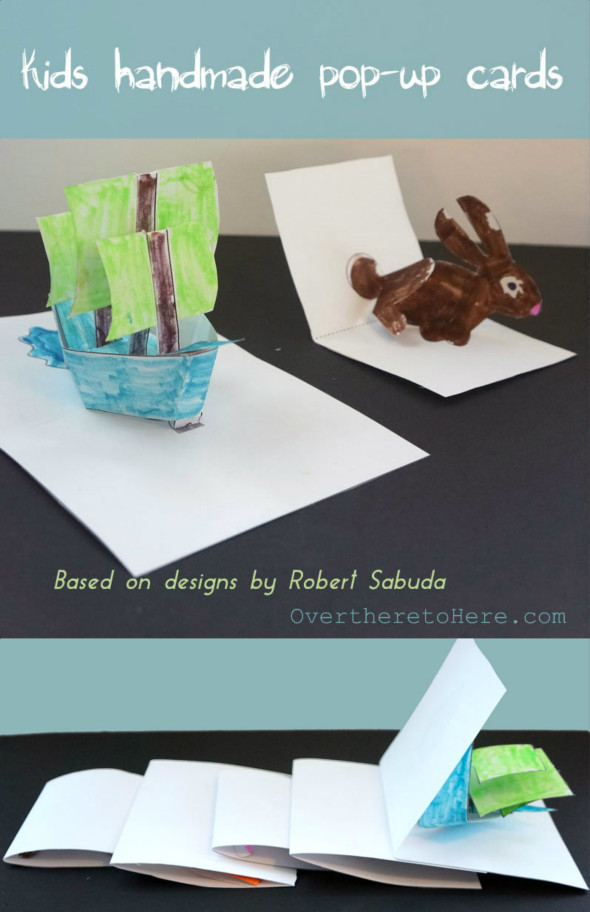 I was fascinated at seeing how pop-up cards are made. I had to help my kids fold and glue the cards but otherwise they were easy for them to make. There are now available quite a few books with instructions on how to make pop-up cards
Unlike the Alice book which really is a pop-up wonderland. Apart from being a beautiful and collectible gift book, Alice's Adventures in Wonderland pop-up adaption by Robert Sabuda is also a magical way to introduce this classic story to young children.
Alice's Adventures in Wonderland  was originally published in 2003 but is still available in book shops or on US Amazon and UK Amazon.
My children were given another of Sabuda's pop-up books – The Twelve Days of Christmas – when they were newborn. Since then, every Christmas it has come off the shelf for us to peruse and wonder at.
After making the bunny and the ship, my kids are now insisting they make lots more pop-up cards including the Easter basket, the ghost, the unicorn and the shark!