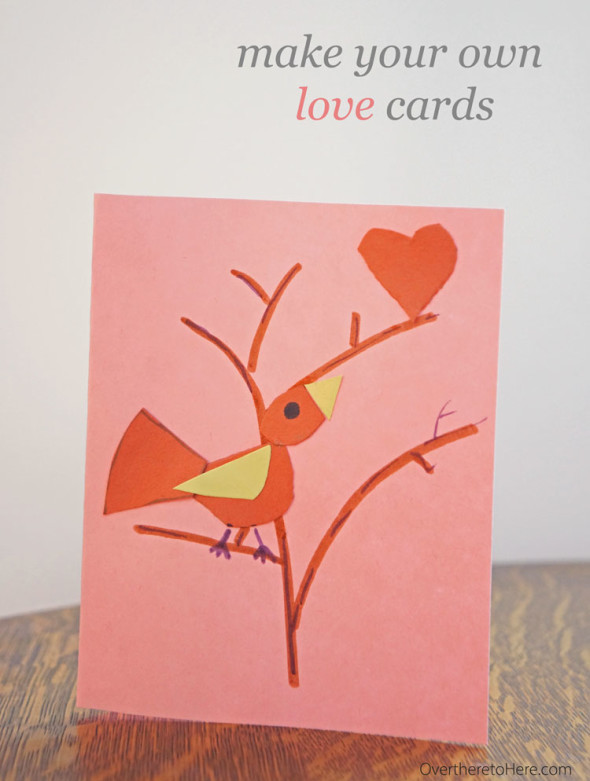 It might still be winter outside but inside the sleeves have been rolled up as we've been busy making  kids "love" cards.  And we named them Tweet Love and Solar Planet Love.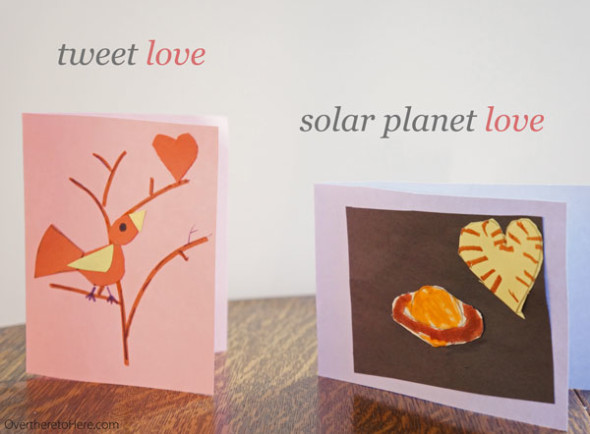 When I asked my twins what themes they wanted on the cards they said birds and planets. Actually my son insisted the cards include Saturn his favourite planet. Recently we made planets to scale in the solar system so I already had a template for Saturn.
I made some sketches of their ideas and we came up with Tweet Love and Solar Planet Love.
These love cards can be used not only for Valentine's Day but for any special occasion when kids need to send a message "with love." Such as Mother's or Father's Days. Or a birthday card to their grandparents. Or simply as a thank you card..sent with love.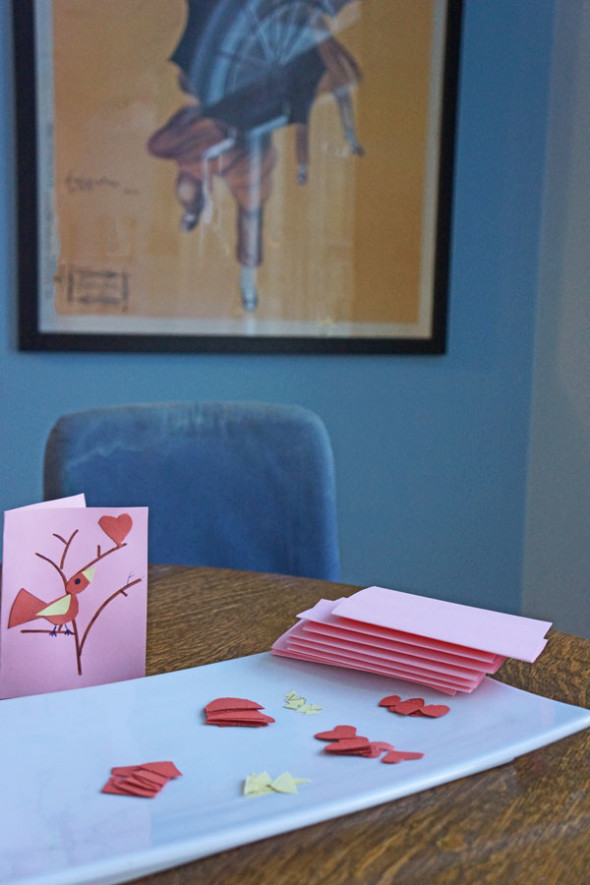 Here's all you need to make your own Love Cards:
card paper in assorted colours
black drawing or construction paper
glue
scissors
markers
love cards free template – download here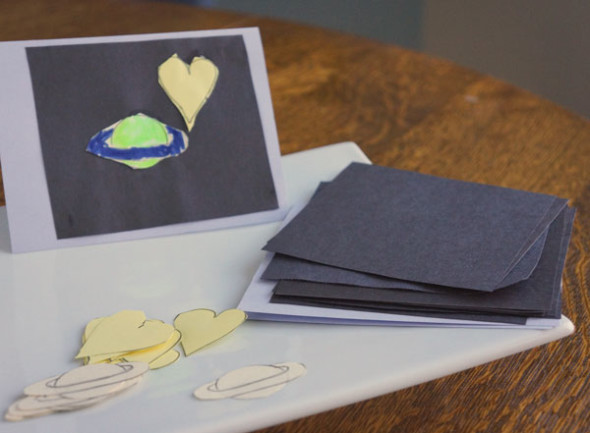 First of all we made cards by cutting sheets of card stock paper in half and then folding each in half again. Then I drew the shapes of the hearts, Saturn and bird parts on a piece of paper. These shapes were cut out and used as templates.
Using these cut outs as templates they drew the shapes on coloured sheets of paper and then cut them out. Another option is printing the love cards free template (download here) directly onto coloured sheets of paper and then cutting them out.
Admittedly I helped with the cutting out of shapes as they each had over 20 love cards to make for their classmates in time for Valentine's Day.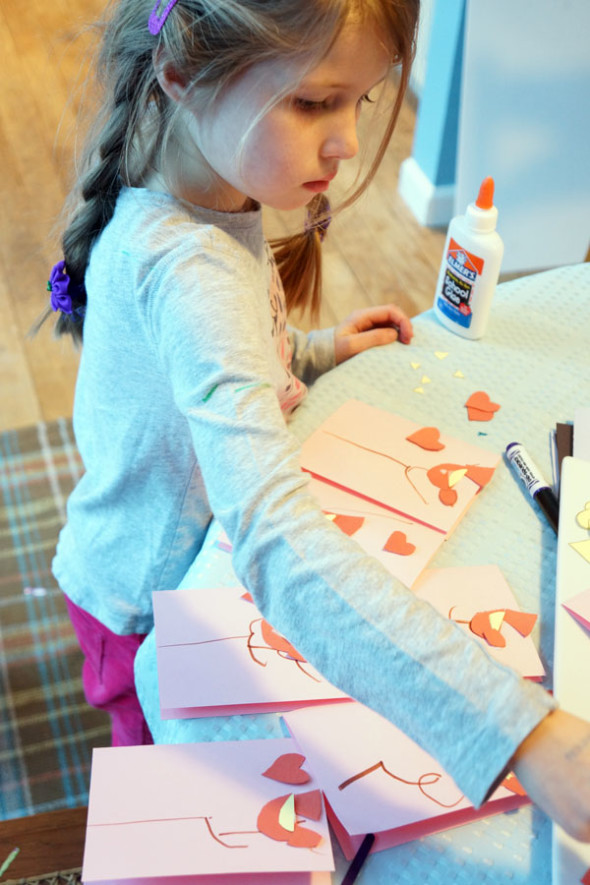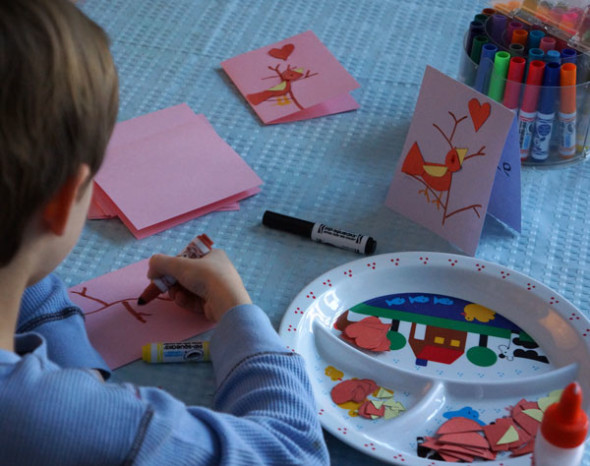 Tweet Love.  First they drew simple branches on the card. Then the body and tail are glued on followed by the wing, head, beak and heart. The final touch was drawing in the bird's eye and feet by hand.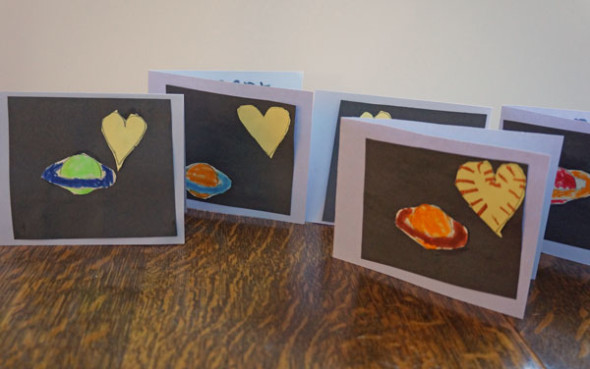 Solar Planet Love. We cut out smaller rectangular black sheets and stuck them on the card for outer space. They painted in Saturn and its ring in different colours and then stuck them on the black background with glue. We chose a yellow heart to represent the sun. They added 'sun rays' to some of the hearts.
The only thing they have left to do now is finish writing the names of their classmates in each card and put them in envelopes. I've agreed to add a lollipop inside each of their homemade Love cards – and save a couple extra ones for them as awards for their creativity.