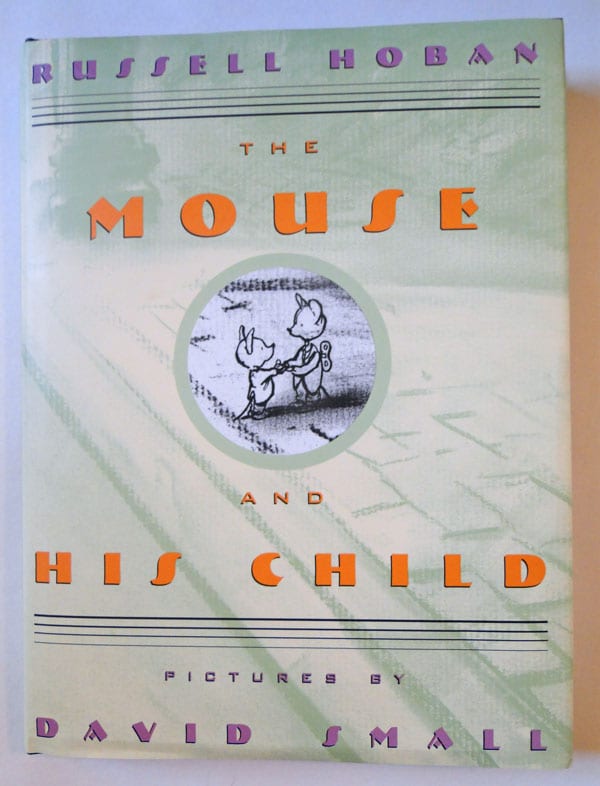 When I read a review by a bookshop that The Mouse and His Child by Russell Hoban was one of the best children's books ever written I had to order it. Now let me explain. This recommendation was made by John Sandoe (Books) Ltd in London. Authors, literati and booklovers view this London bookshop as a bibliophile's heaven.
And then I searched and kept seeing more references to this book as being one of the top children's classics of the twentieth century.
Reminded me of Toy Story?
Toys that talk in secret. A quest for a home. Broken and discarded toys. Adventures and narrow-escapes. A power-crazy villain who rules over a motley team of toys. These are themes that turn up in Toy Story, but they first showed up in The Mouse and his Child. Russell Hoban's novel was first published in 1967, nearly 30 years before.
In 2001 a new edition was released with incredibly poignant illustrations by Caldecott Medalist winter David Small. This is the book I bought.
The Mouse and his Child by Russell Hoban is about a pair of linked clockwork mice toys – a father and his child – who search for a place and meaning to their lives. They first come into 'existence' when they're taken out of their box in a toyshop at Christmas where they meet a clockwork elephant and seal next to a beautiful dollhouse.
"What are we, Papa?" "I don't know. We must wait and see."
Soon sold, they're kept in an attic only to be taken out and wound up at Christmas. On the fifth Christmas the child mouse begins to cry, despite being told the rule that toys shed no tears 'on the job.' Scaring the cat, the mouse and his child end up smashed to pieces on the floor. A tramp finds them in a junkyard where he puts them back together. So begins their journey which leads them to Manny Rat, the villain presiding over the dump, sees them prisoners of a shrew army, pushed on stage with a thespian crew of crows, seeking help from a Muskrat, lost underwater contemplating infinity with a snapping turtle and a dragonfly naiad as company… And more. I don't want to give too much of the storyline away.
This book is for adults and children. Russell Hoban intended The Mouse and his Child to be his first adult novel but found a children's book publisher for it. Like Alice in Wonderland it has almost surreal scenes with anthropomorphic animals, violence and unforgettable lines.
"I don't suppose anyone ever is completely self-winding. That's what friends are for."
The New York Times review said: "Like the fantasies of Tolkien, Thurber, E.B.White, The Mouse and His Child is filled with symbolism and satire, violence abd vengeance, tears and laughter."
Although it's recommended for children over eight, I decided to read a chapter per night out loud to my six year old twins. (Half way through its 10 chapters I impatiently finished reading it myself one night.) I was surprised my children didn't stop me all the time as the vocabulary is often difficult and passages are quite philosophical. But they just viewed it as an adventure about a pair of clockwork mice.
I was worried about frightening scenes where animals are eaten by others, but my kids just viewed it as part of nature. The shrew eats wood mice. Weasels eat the shrews. An owl swoops in and kills the weasels with its talons as it flies off with them for a meal. Who might eat the owl, they asked?
But they were scared of the villain Manny Rat whose own quest was to smash up these tin mice who had made a fool of him: "some force beyond himself was pulling him whichever way his quarry turned."
And every night my children urged me to read another chapter until we finished the book.
And throughout the haunting scenes, almost dystopian at times, there's the innocence of the mouse child. While his father sometimes despairs, the child never loses hope. No matter what hardship he endures with the father he's dependent on, he's determined to eventually have a home with the elephant as his mama, the seal as his sister and be self-winding. Throughout their search for identity and then to be self-winding, the mouse and his child form friendships, as characters such as the Frog are drawn to their vision, perseverance and quest.
When I asked my daughter what she thought about the book, she said it was about "hoping and caring."
Russell Hoban and David Small
Although I normally write reviews only about British authors, I've made an exception here because, like me, Britain became his home. Russell Hoban 1925-2011, was American and wrote The Mouse and His Child while he commuted between his home in Connecticut and New York City. He moved to London after he finished writing the book where he lived until his death over 40 years later. He's well known for his series of children's books about Frances the badger. One of his most noted adult novels was the science fiction novel Riddley Walker.
The 2001 illustrations are by David Small who says this book was "one of the reasons I went into children's literature. If books like this were possible, I wanted to help make them." The images are all drawn with charcoal pencil, ink and ink washes.

2001 edition with pictures by David Small, available on US Amazon .

Original version with pictures by Lillian Hoban (Russell Hoban's first wife) available on UK Amazon.
Top Children's book classic
My personal opinion is that I agree that The Mouse and His Child is one of the top children's book classics. I 'm not surprised that many top literary critics and reviewers deem this novel as a modern classic. It's a book I will forever keep on our bookshelves at home and reread in the future. I believe my children, like many other reviewers, will read it themselves when they're older…and then again as adults.
If you've read The Mouse and His Child, do you view it as one of the best children's book ever? If you haven't, which is one of your favorite classic children's books that you've had to or want to reread as an adult?