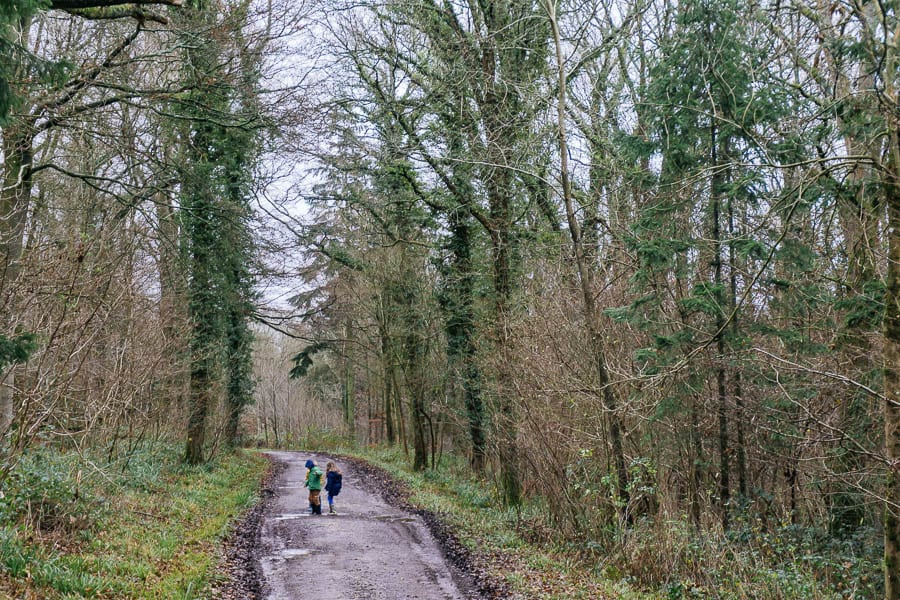 When we see mud puddles, we avoid them. When kids see mud puddles, they jump and splash in them. That is, if we adults let them. During the holidays in between rainfalls I took my kids and a friend of theirs for a walk where I let them go wild in mud puddles.
Turns out a muddy walk is actually good for them. Too often we're worried that dirt and germs will harm our kids, but the opposite is true according to experts.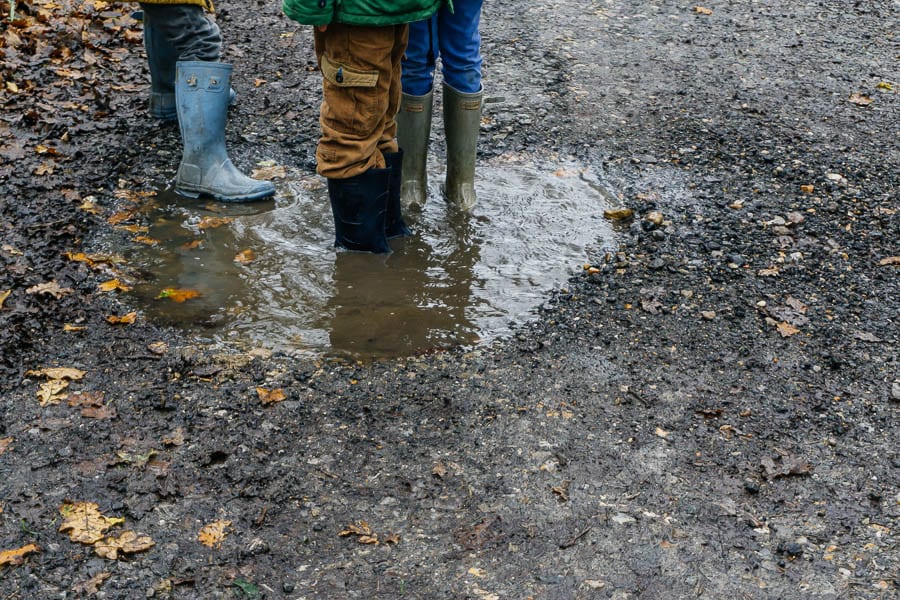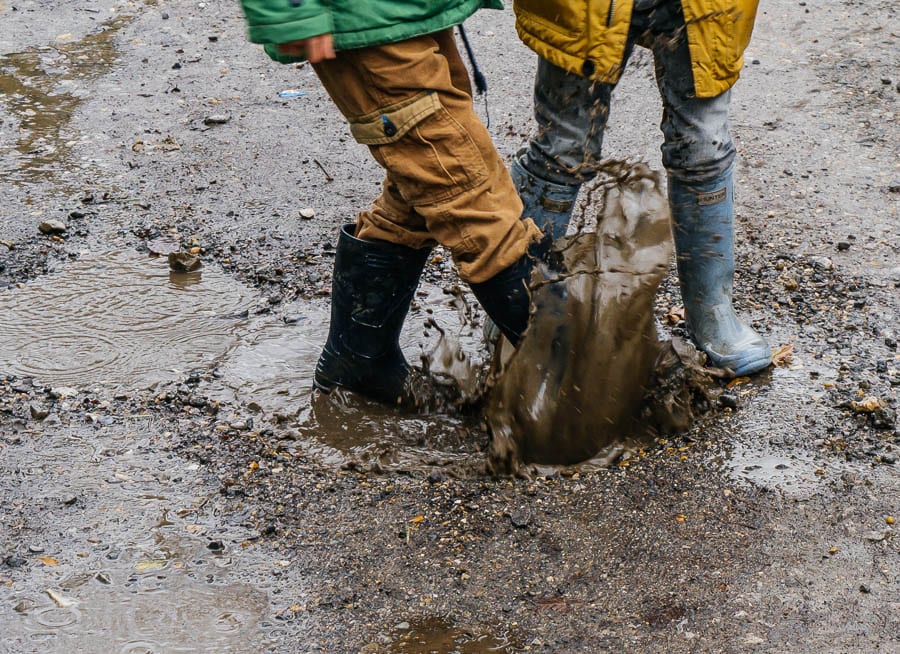 A mud splashing walk is good for health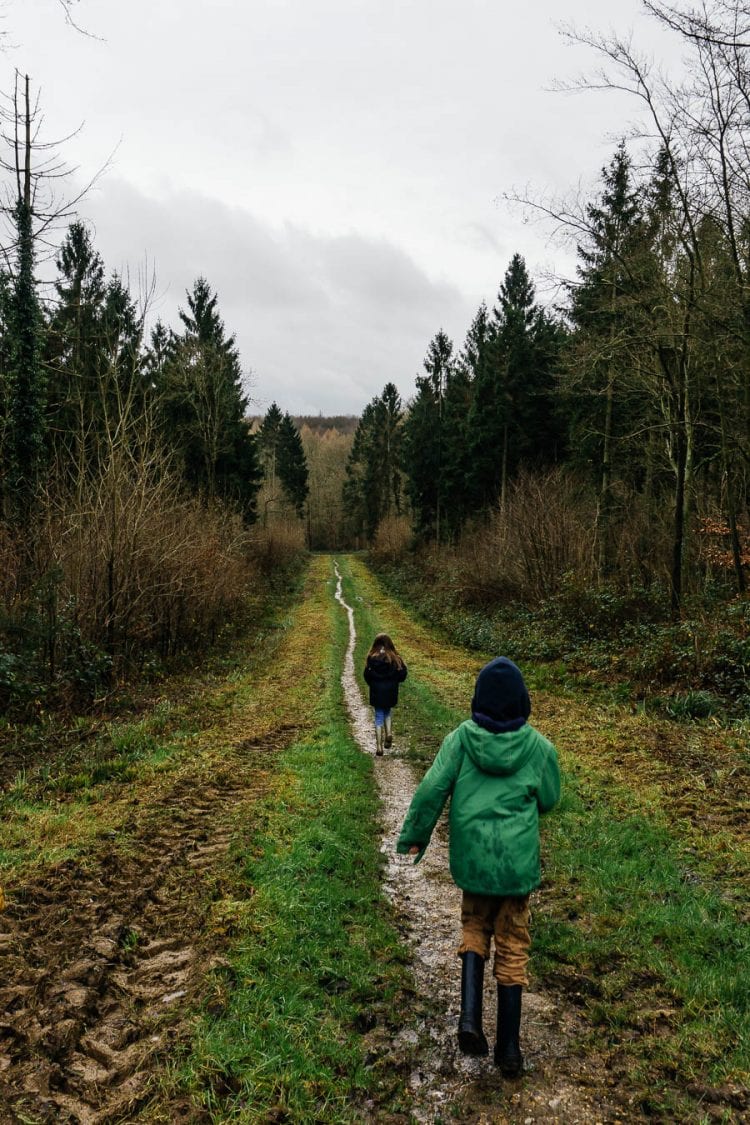 Dirt and mud can make kids healthier by helping build up their immune systems. Just look at some of these headlines reporting study after study:
Let kids get dirty. It's good for them. (Futurity – Research news from top universities)
Babies know: A little dirt is good for you. (NY Times)
Dirt can be good for children, say scientists. (BBC News)
Playing in the mud is good for kids (India Times)
NU study: Dirt's good for kids (Chicago Tribune)
Immunologist Dr Mary Ruebus, author of "Why Dirt is Good: 5 ways to make germs your friends" explained in an interview: "But it's so important for children to develop their immune responses. And without exposure, this cannot happen. It's called the hygiene hypothesis. It's been around since 1989. It's not new information. But, absolutely, the failure to expose your children to normal environmental things causes the immune response to turn inward on itself. So the development of allergies and what we call auto-immune disease is clearly related to the increase in cleanliness in our society." (CBS News)
A mud splashing walk is good for happiness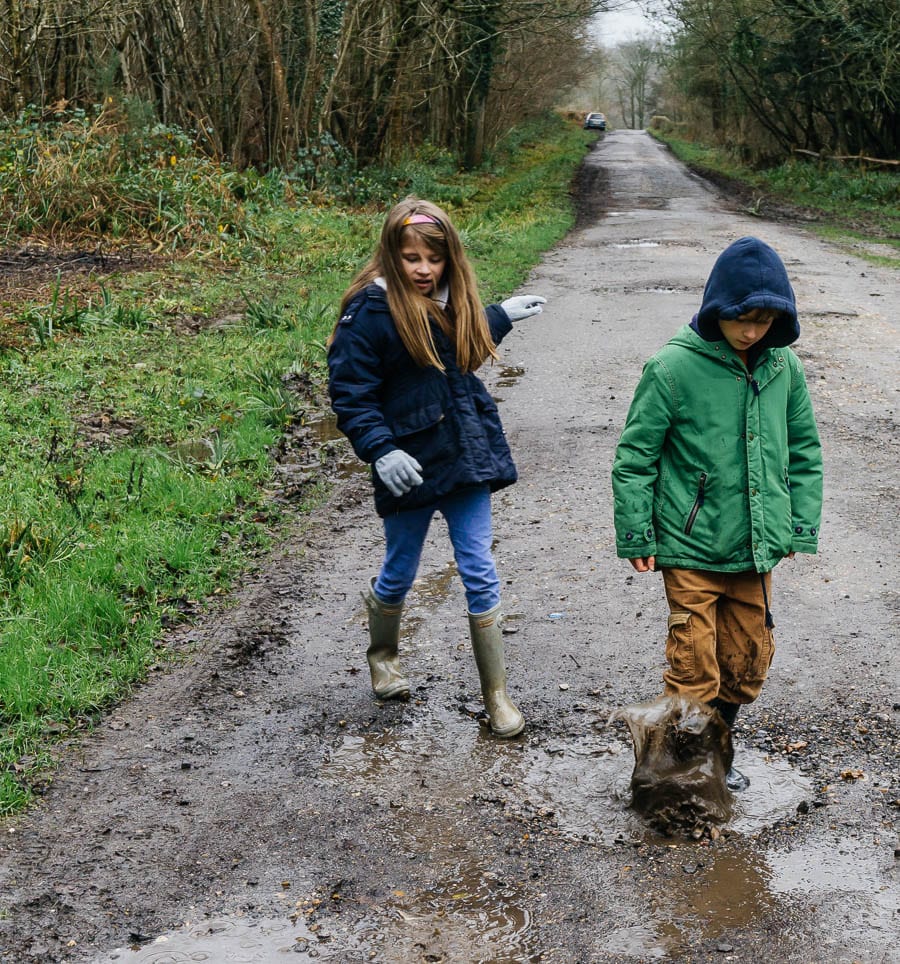 I love watching the sheer childhood joy when my children splash away. Research has shown that soil bacterium, Mycobacterium vaccae, in other words dirt, can alleviate depression and improve mood. In fact M. vaccae – dirt – might even make us smarter as well as less anxious according to another study.
In 2012 the US National Wildlife Federation released a 'Dirt report' on How Getting Dirty Outdoors Benefits Kids. I've also written before about how a nature walk can make kids healthier, smarter and happier.
A mud splashing walk is good fun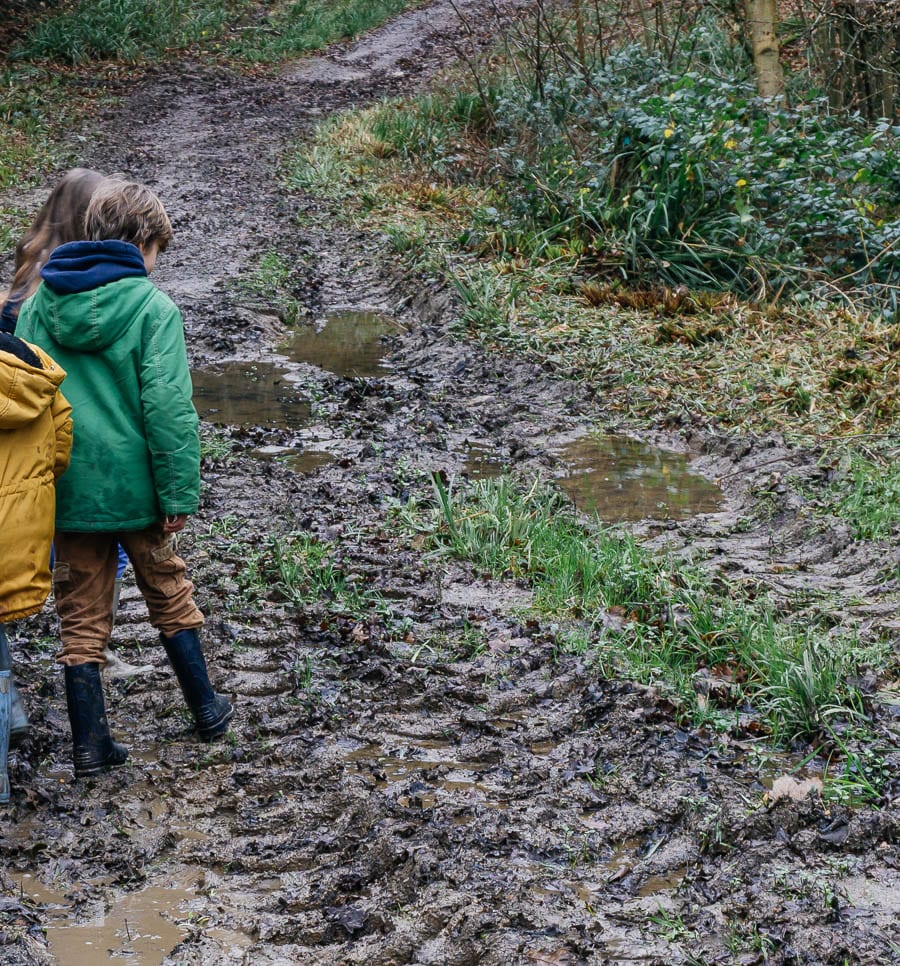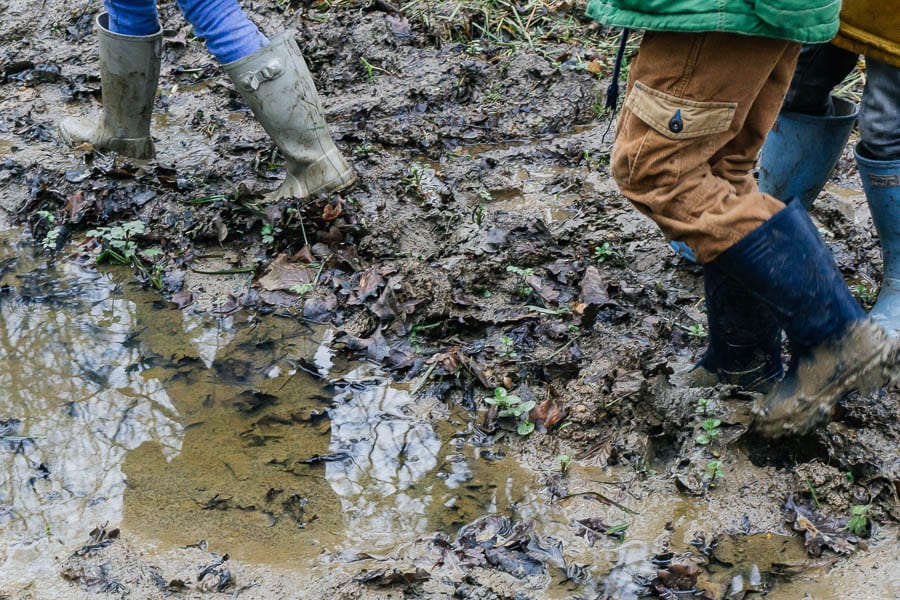 I watched three children having a great time outdoors. They ran from path to path in search of the next best puddle. Despite grey skies and rain, they just had fun enjoying a nature walk. Then they found deep mud to explore! Instead of tears when one of them lost their boot in the mud and then another fell in trying to rescue them, I heard huge squeals of laughter and squelches of thick mud as they tried to get back to firmer soil.
'Mud, Mud, glorious mud
Nothing quite like it for cooling the blood!
So follow me, follow
Down to the hollow
And there let us wallow
In glorious mud'

(The Hippotamus by comic duo Flanders & Swann, 1960)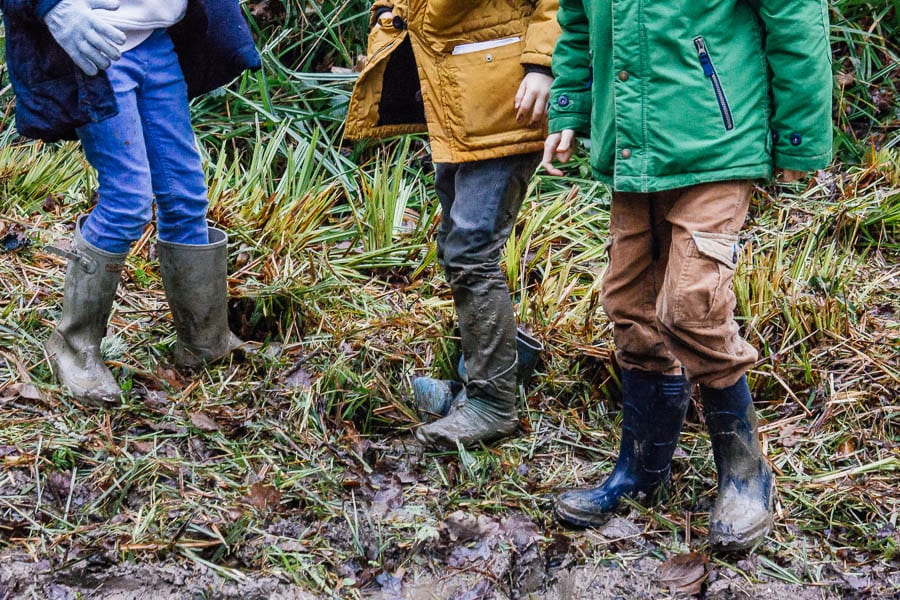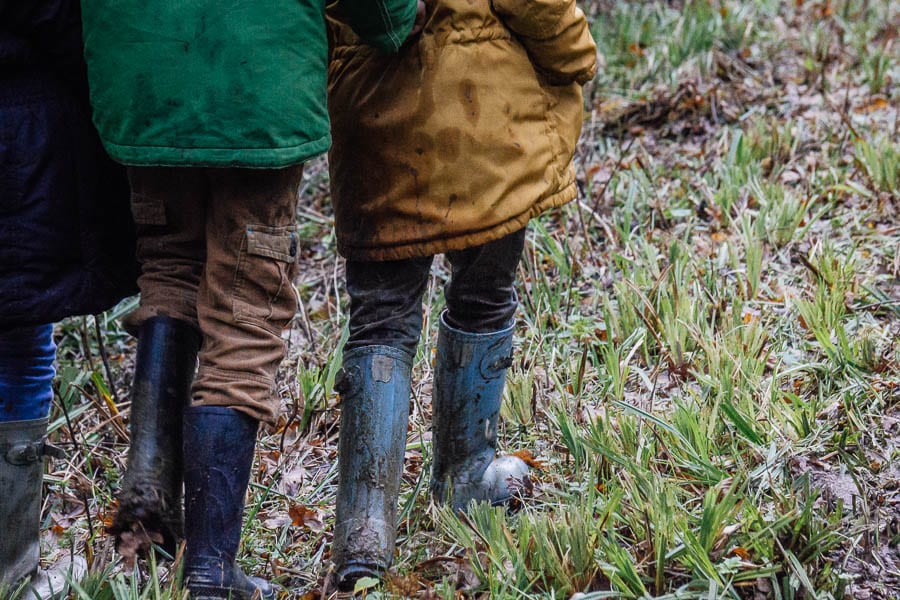 Back home I spent the next hour pouring dirty water out of boots, rinsing mud out of clothes and wiping away muddy footprints by the door, while three relaxed children smiled and laughed…and smiled and laughed. They clearly had enjoyed their messy, dirty, mud splashing walk.