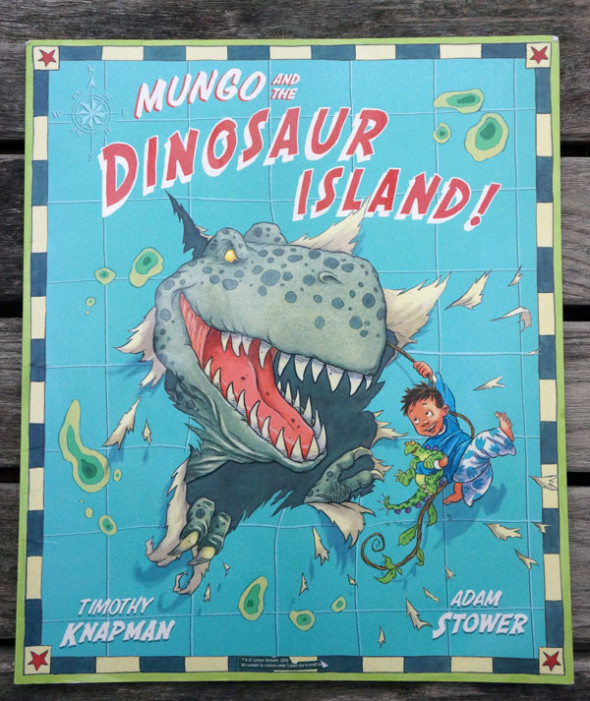 One of our favourite children's books about dinosaurs is Mungo and the Dinosaur Island. Why?
There are baddies in it – and that's not the dinosaurs, not even T-Rex. No, they're Scarface Sam and his gang hunting for the 'Utterly Flutterly Butterfly.'
The book comes alive. The dinosaurs come running out of the book into Mungo's room because he 'turned the page too soon.'
There's a lost island with a secret.
And the pages are filled with vibrant and colourful illustrations which move the story along from page to page.
And, of course, it's a kids book about dinosaurs. Brave Stegosaurus, bellowing Brachiosaurus, scary Tyrannosaurus Rex and others all join forces with Mungo to stop Scarface Sam.
Mungo and the Dinosaur Island, written by Timothy Knappman and illustrated by Adam Stower, tells the story about a boy called Mungo who loves dinosaurs. He chooses a dinosaur book from the library called The Amazing Secret of the Lost Island. That night, when he's reading the book in bed, he turns a page too soon which results in the dinosaurs all rushing out of the book into his bedroom in midst of a key scene. Mungo then has to enter the book and help save them from Scarface Sam.
Timothy Knappman wrote three books featuring thrilling action-packed tales with Mungo. I've mentioned before in a post on space travel ideas for kids about Mungo's adventure in outer space. All three books in these series are illustrated by Adam Stower.
Also available on UK Amazon.
British author Timothy Knappman not only has written children's books – such as his bestselling Dinosaurs in the Supermarket – but also operas, plays and musicals. I keep hoping he'll write another Mungo sequel as they're entertaining and dynamic children's picture books.
But, in the meanwhile, if you have a child like Mungo who's crazy about T-Rex or diplodocus or triceratops, then this is a fun kids book about dinosaurs to read to them.