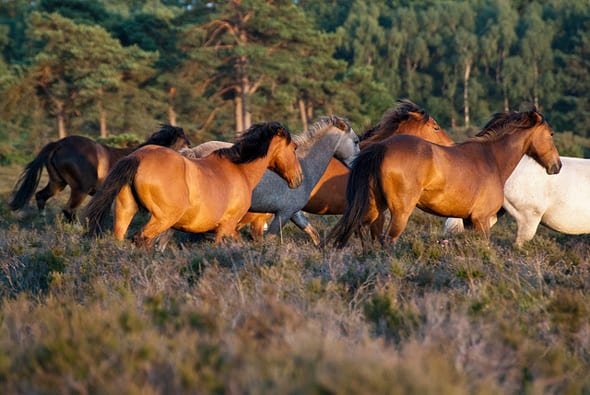 IMAGE: New Forest ponies- photo credit : Chris_Parfitt  cc  via Photopin
It's called the New Forest but it's ancient and magical to visit with kids. When I was young, I spent weekends and many holidays sailing in the waters off its shore. My father was a keen sailor so we kept our boat in Lymington, a Georgian market town on the southern edge of the New Forest in Hampshire, England.
I rediscovered the beauty and wonders of the New Forest Hampshire when I had kids. We no longer had our sail boat, but it didn't matter as the heaths, villages, coastline and forest welcomed me and my young family back.
In 1079 William the Conqueror named this area his "New Hunting Forest." Now it's filled with ancient woodlands, grassland and wild heaths. It's still called "New" although the old laws from the 11th century mainly still apply. Such as animals are owned by 'commoners' but roam freely.
There's more than 200 sq miles in the New Forest in Hampshire to discover and enjoy.  The New Forest National Park extends to the coast along the Solent, the strait of waters between the mainland and Isle of Wight.
So here are 10 cool things to do and see with kids in the New Forest:
1. Let ponies be wild
Ponies wander freely and haunt the heaths and villages.  But if you want to ride like the wind find a stable.
2. Ride a steam train through flowers
His parents wouldn't let him have an electric train set so Leopold de Rothschild built his own steam railway when he grew up. Be like Queen Elizabeth II and climb aboard the steam train in Exbury Gardens. Admire the flowers and gardens during the ride.
3. Hug an ancient in the New Forest
You'll need to have a big family to give the Knightwood Oak a hug. The ancient tree has a girth of more than 24 ft (7.4 m) but that's not surprising at it's been around since Queen Elizabeth I's reign (1558-1603).
4.  Look out for wild wolves in the forest.
Don't wear a red cape when you find the wolves. But don't worry, otters, deer, wallabies, and other small critters safely live with them at the New Forest Wildlife Park.
5.  Watch sunbathing snakes
If it's a sunny day then watch snakes, reptiles and lizards basking in the sun in their pens at the New Forest Reptile Centre.

6. Cruise and lunch where warships once launched
Admiral Nelson built warships in Buckler's Hard in the 18th century to fight in the Battle of Trafalgar. Visit the former shipbuilding hamlet on the banks of the Beaulieu river. In summer have a barbecue lunch outside with kids at the Master Builder's before or after you peacefully cruise the waters in a river boat. Sail if you have a boat.
7.  See fast cars and pea pod cars where monks use to pray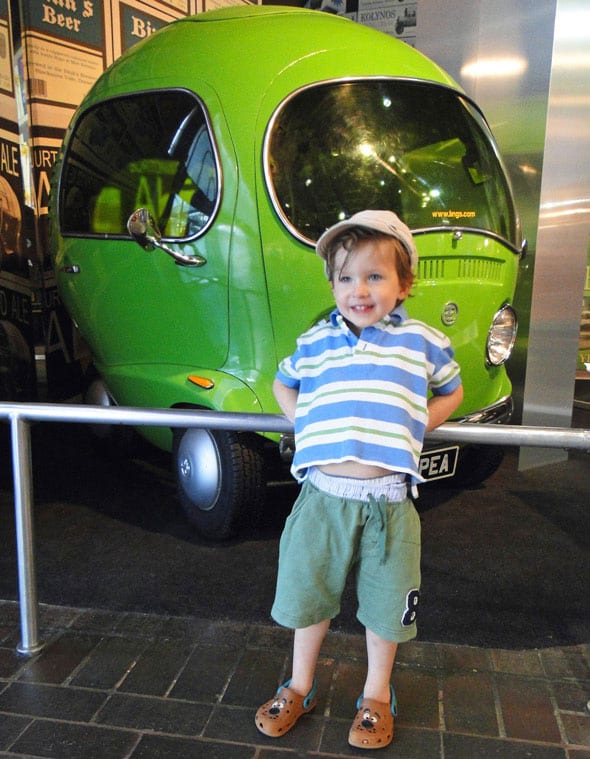 Admire Formula 1 racers, Top Gear wrecks, James Bond Astons, Mr Bean's Mini or even a small green car at Beaulieu's National Motor Museum. Take a ride on a monorail or in a 1912 open-topped London bus. Let the kids feel the speed behind the wheels of a mini motorized car or racing a go cart. Wander the ruins of a 13th century abbey where monks first began praying in 1204. All at Beaulieu in the heart of the New Forest National Park.
8.  Rejuvinate or be juvenile in seawater baths
Whether you are 2 or 82, dip into the water or play in the sandpit at England's oldest outdoor seawater baths. With views of the Isle Wight and dating from 1833, Lymington's Sea Water Baths are a perfect place for a soak on a hot summer day.
9. Be historically active
Rain or shine kids can try on costumes and steer like a pilot in a boat wheelhouse at the St Barbe Museum in Lymington, Hampshire. Interactive and hands-on activities keep children entertained while they learn about the history of the local town and the New Forest.
10. Tour the New Forest on two legs or two wheels.
Go for a bike ride or a walk in the New Forest whether by the sea, over heaths or in the woods. There are trails and walks throughout the area. You can hire bikes or bring your own. Just look out for wandering New Forest ponies in your path.
This is my top 10 list. The wonderful thing about all the things to do and see in the New Forest is that they're cool for kids and adults.
IMAGE 1 is a Creative Commons photo of New Forest ponies – photo credit : Chris_Parfitt  cc  via Photopin
Any more suggestions of magical outings with the kids in the New Forest?