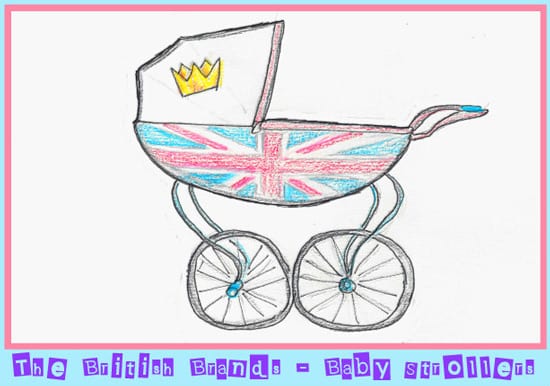 When my kids were born in London, there was often confusion when I was talking with family in the US about British baby strollers. My conversations roughly went like this:  "You say baby carriage, I say pram…  What I need is the best pushchair for my babies…that is.. a buggy…I mean a stroller." Baby carriages, prams, coach-built prams, strollers, pushchairs, carrycot on wheels, buggies… Whatever you want to call it, I now always mix up British and American terms when I'm talking about baby transportation!
****For a list of  the latest and most popular "The British Brands – Baby Strollers" see further below in the post after the brief history****
Pram is short for perambulator 
Prams were originally called perambulators, originating from the Latin words per (all over) and ambulare (to walk). The British would perambulate – walk around – for pleasure or perambulate a property to check its boundaries. In the Victorian times perambulators were shortened to 'prams.'
Queen Victoria bought perambulators (or baby carriages or prams depending on your preference) from Hitchings Baby Store in the 1840s for her Royal babies.
But the British also called prams baby carriages! A 1913 ad in Country Life magazine for Hitchings describes them as a baby carriage. Moreover, in this ad it's ALSO called a car:  "A smart car of distinctive registered design. Coach-built by Hitchings." Apparently a Hitchings pram featured in the Downton Abbey TV series.
Queen Elizabeth II was pushed around in a Silver Cross as well as a Leveson baby-car. Levesons had built a pram especially for the Queen of Spain back in 1908. Some of the most prestigious baby carriages and pram makers back in the 20th century were Millsons, Marmet, Osnath, Silver Cross and London Baby Coach (LBC).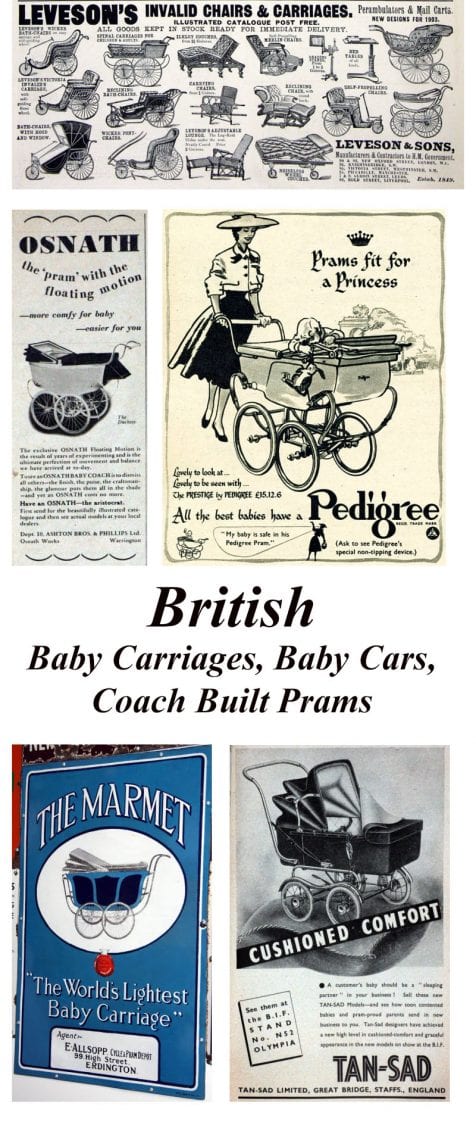 Marmet was established in 1912 by Edward Thompson Morris and became known for its chrome, iron and steel prams. Some of the brands merged or produced coach built prams in the same factories. LBC was founded in the 1920s and taken over by Marmet in the 1960s. The luxury LBC prams were particularly popular with the royals. Osnath prams were built by Ashton Brothers and Phillips Ltd from 1873 to the mid 196s. Osnath was an anagram of Ashton! Millsons prams were built in the Marmet factories as well.
Queen Elizabeth II chose a Silver Cross for Princess Anne and Charles but then pushed Andrew and Edward in a Millson pram which was 'brought out of the attic' recently for Princess Charlotte's 2015 christening. Arthur G Millson of 303 Oxford Street began manufacturing baby carriages in the 1910s. The company was dissolved in the 1960s when old fashioned baby car shapes were no longer trendy.
So what do you call these baby cars now? To make matters even worse, when I started looking at the choices of pushchairs – prams, baby carriages, strollers, buggies – it became even more complex. I had to choose between travel systems, 3-wheelers, 4-wheelers, joggers, twins or tandems and all terrain strollers.
The British Brands – Baby Strollers
Here's a list of the top British brands of strollers. Many of these brands have a wide range of types and colors depending on your needs…and budget! I have given examples of many of the brands available either with my US or UK Amazon partners.
Silver Cross
According to the British baby stroller brand Silver Cross their founder William Wilson designed the first baby pram in 1877. In the 1930s Silver Cross received a Royal Warrant.  Queen Elizabeth II was pushed in one as a baby (when she was Princess Elizabeth). She then chose the same brand for her Royal babies. Silver Cross baby carriages carried Prince William and Prince Harry when they were kids.
When Alan Halsall acquired the historic company in 2002, he expanded its range. The luxurious trademark 'Balmoral' baby carriage is still hand-made in Britain, but the company also have strollers and a wide range of pram systems designed in UK and manufactured abroad. They also released a limited edition as a collaboration with Aston Martin.
iCandy
The iCandy brand of British baby strollers was only launched in 2005 but fast became a top favorite in Britain. The family business itself dates back to the early 1930s. The strollers and travel systems are designed in the UK and manufactured in China. The company's aim is to have strollers that are beautiful as well as top quality with cutting edge design. The iCandy strollers are very popular with the younger hip crowd. They're a hit with the younger rich crowd too as billionaire's daughter Petra Ecclestone was seen pushing her baby in an iCandy.
Mamas & Papas
Prams and strollers by Mamas & Papas were the most popular brand in Britain – according to UK consumer group Which? in January 2013. Despite major international expansion, it's remained a family run business based in Huddersfield, UK. The founders David and Luisa Scacchetti first started selling Italian prams 30 years ago. Now baby products as well as strollers are sold in Mamas & Papas stores and stockists across Britain and are available in a growing number of markets worldwide. Fans of their pushchairs included Natalie Portman and Gwen Stefani.
Maclaren
Owen Finlay Maclaren, a former test pilot and aeronautical engineer, went from inventing the Spitfire's undercarriage to designing and patenting the collapsible "baby buggy" in the mid-1960s. The British company which produced the iconic umbrella fold stroller is a leading brand worldwide with its innovative designs. Maclaren still has active operations in the village of Long Buckby in Northhamptonshire, England where millions of its buggies were first manufactured.
Out 'n' About
If you want a top single or double buggy to push your kids smoothly over high city curbs or bumpy terrain, then Out 'n' About is your answer. I know from experience as I had an Out 'n' About Double Nipper (picture in the post above with my sleeping babies and dog). The lightweight three-wheel strollers are designed to be used from the delivery room – you can put the seats in a lie-flat newborn position – until they start school. I chose mine from a private showroom displaying top examples of strollers when I used the baby personal shopping service Babylist before my children were born.
Micralite
Micralite's slogan is "designed and engineered in Britain." Their strollers are incredibly light and easy to maneuver over bumps and pavements (sidewalks). One of my favourite things about their design was the multi-position handlebars which could be adjusted to the height of whoever is pushing it. These lightweight pushchairs fold quickly and easily. Not surprisingly these British baby strollers have become super popular in Japan. Micralite strollers also can carry carrycots and car seats and their latest design can be converted from a single to double.
Cosatto
With its funky designs Cosatto is living up to its mission of "Saving the World from Boring Baby Stuff." They have 3 in 1 travel systems and umbrella fold up strollers to suit all your needs. The Supa strollers are extra cool for kids as they also have a multimedia gadget pocket in the hood with speaker! Just plug in a smart phone or tablet to entertain your kids. Under the ownership of entrepreneur Andrew Kluge, Cosatto and its range of nursery products has flourished in the past decade. Based in Bolton in Northwest England, the company prides itself on creating a happy workplace. There's even a slide from the office floor to the showroom! Check out their fun and vibrant designs to make a stroll cheerful for parents and babies alike.
Mothercare
If you want good quality at great prices then UK retail giant Mothercare has a wide variety of travel systems and strollers on offer. Mothercare has over 260 stores in Britain and more than 1000 stores worldwide selling parenting and children's products. It even brought in a new CEO – Simon Calver – in April 2012 who's focusing on making sure customers are happy.  Mothercare closed down its shops in UK in 2019 although some international franchises remain.
Britax
Britax launched its own brand buggies in 2007. With corporate headquarters in Andover, Hampshire in England, Britax is renowned for its top range of children's car seats – made even safer with its own in house-crash test systems and state of the art facilities in Germany and the UK. The brand's emphasis on quality, safety and comfort is reflected in its range of strollers. Using their "click & go" system, Britax infant car seats can be used on their strollers turning them into practical buggy travel systems.
British baby strollers
Luckily I discovered many of the best brands were British baby strollers. I owned three different types and makes of British strollers for my children.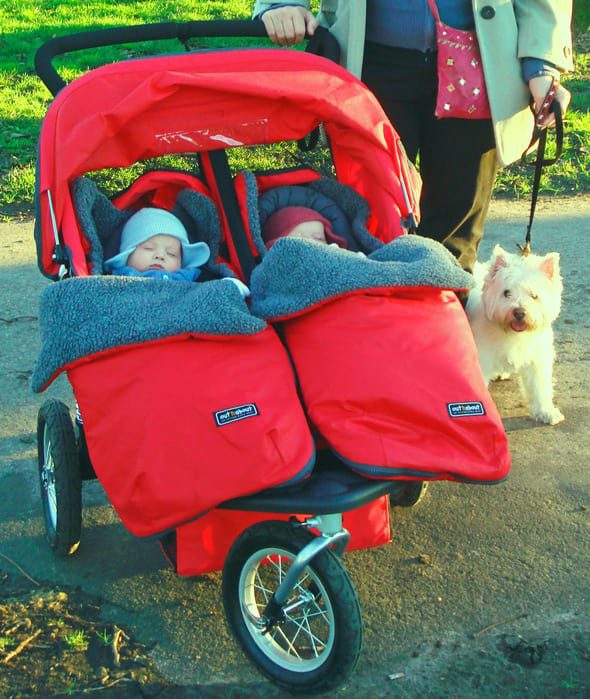 I first bought an Out 'n' About Nipper. I used this from when they were newborn until they no longer needed a stroller. As it had three wheels and was easy to manoeuver it was perfect for visits to the park or walks in the English countryside.
When they were old enough to sit up in their twin strollers, I bought a Maclaren. I kept it in the boot – trunk – of my car to use on shopping trips and whenever I was in central London.
My last stroller was a Micralite with an extra buggy board. My kids would take turns sitting in the single seat or standing on the running board.
Basically the types of strollers I bought depended on my needs for transporting my kids. If you're interested in a jogger or twin stroller or baby carriage or a travel system, I would suggest researching and deciding which suits your circumstances best.
Whatever you like calling your baby transport vehicle, whether it's a buggy, pram, baby carriage, stroller, pushchair, travel system, many of the best are available amongst the top British brands.  Let me know if you have a favorite brand of British baby strollers.
Will your baby call you Mom or Mum or Mam?