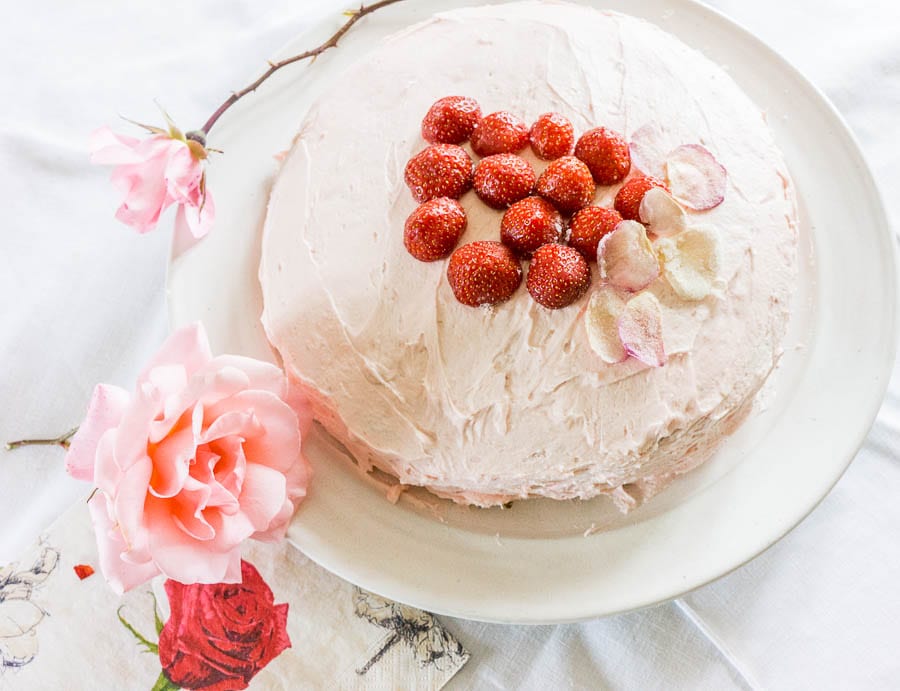 Normally I would have made my rose and strawberry cake for a celebration. But my daughter decided we didn't need one. She has been watching me cutting and bringing in beautiful roses from the garden. We have one English climbing rose in particular whose pink blooms are so lush and fragrant that she kept saying she wanted to eat it. I fulfilled her desire by letting her make crystallised rose petals.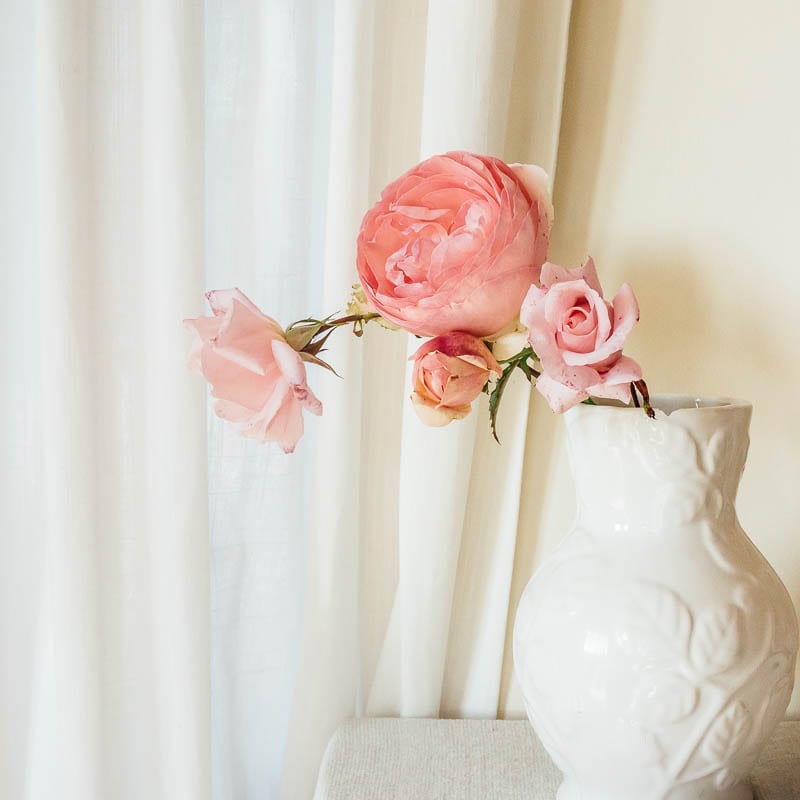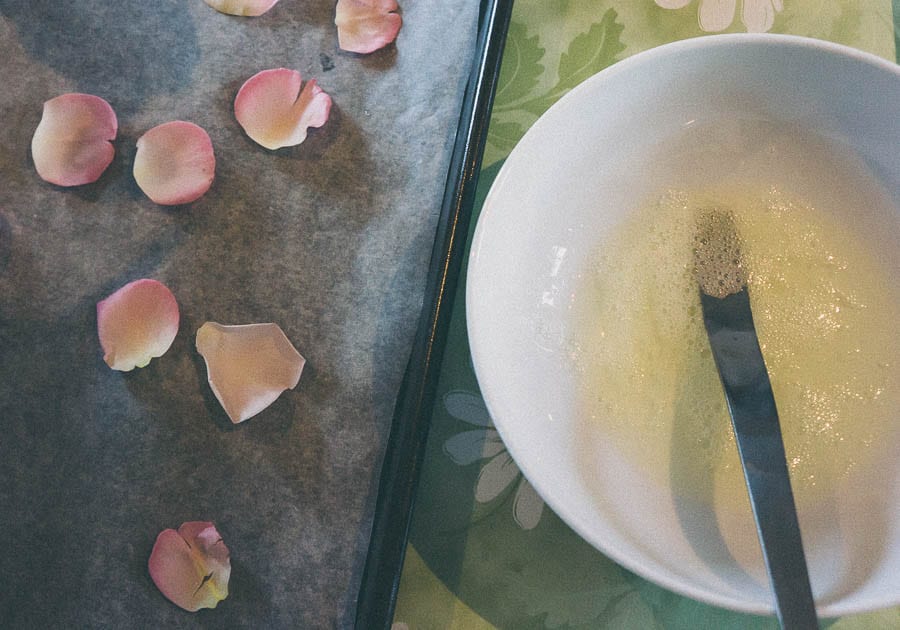 We never use pesticide or any other chemicals in our garden so I cut some roses one dry and warm early morning for her.
My daughter whisked some eggs whites with a fork and prepared the table for her task. I made sure she brushed every teeny surface of the pink petals with the egg whites and then sprinklings of caster sugar.
Impatiently she waited and checked on them. Finally a good 24 hours later they were completely dry. Of course, she had to nibble some of them straightaway.
My duty was to make a perfect cake to accompany her edible rose petals. We chose light sponges reminiscent of a classic Victoria Sandwich cake. Instead of just whipped cream we made a more luscious cream and mascarpone filling. I added just a few drops of rose water as well as vanilla extract to give it the subtlest reminder of a perfect English rose.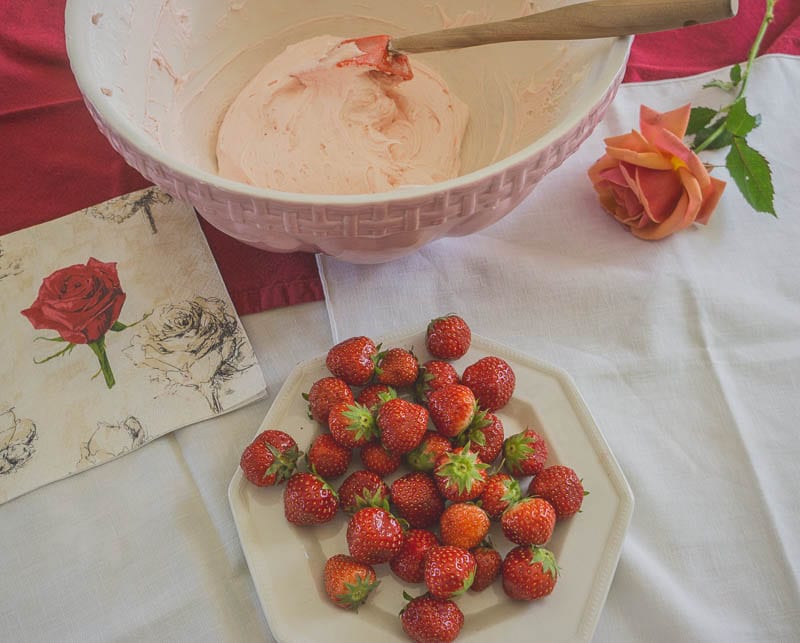 I had recently made rosehip syrup so contemplated brewing my own rose water. But I opted for the easier version of buying some rose water instead. I needed to make my daughter her rose cake and stopped myself from going off track. Such as spending days looking for the best recipe while my daughters fingers tapped on the table.
When we had assembled the cake – with strawberries mixed in the filling – it was time to add the frosting.
Some more rose water was added to the buttercream – after all it was a strawberry and rose cake. Here we had to do taste tests. Too much rose water would be too much but we still wanted to have that delicate rose flavour. I only added an eighth of a teaspoon. My daughter wanted more while my son – who now decided he also wanted to join in the rose affair – wanted less.
Rose and strawberry cake recipe
INGREDIENTS
For the cake:
225g soft unsalted butter (in pieces plus extra for greasing cake tins)
225g self-raising flour
1 teaspoon baking powder
4 eggs
1 teaspoon vanilla extract
225g golden caster sugar
For the buttercream frosting:
130g soft unsalted butter
380g icing sugar (sifted)
50ml milk
1/8 teaspoon rose water (more depending on taste)
red natural food colouring
For the filling:
150ml double cream
3 tablespoons icing sugar (sifted)
2 drops rose water
2 drops vanilla extract
200g strawberries (hulled and sliced but put some whole strawberries aside for decorating)
DIRECTIONS
For the cake:
Preheat oven to 190 C, fan 170 C, 375 F, gas 5.
Grease two round 20 cm cake tins and base-line tins with parchment.
Sift flour and baking powder and set aside.
Lightly beat eggs and then add flour, baking powder, golden caster sugar and vanilla extract. Use food processor or hand held electric whisk but mix together gently for a light sponge.
Divide the mixture evenly between the two tins.
Bake in the oven for 25 minutes or until well risen. You can check if a skewer comes out clean.
Leave to cool in the cake tins for a couple of minutes, then carefully turn out onto a wire rack to cool.
For the buttercream frosting / icing:
Beat the softened butter and sifted icing sugar together using a electric mixer with a paddle attachment or hand-held electric whisk until smooth.
Add an 1/8 to 1/4 teaspoon rose water to milk (less if you want a subtler flavour) then slowly whisk in to mixture.
Add drops of red natural food colouring depending on how pink you want the buttercream frosting.
Beat again at high speed for at least 5 minutes until the mixture is light and fluffy.
For the filling:
Whip the double cream into soft peaks and then add 1 tablespoon sifted icing sugar as well as some drops rose water water and vanilla extract.
Whip the mascarpone and then add 2 tablespoons sifted icing sugar. Fold the whipped cream into the mascarpone and add the sliced strawberries.
To assemble put one layer bottom side up and then add filling on top. Top with the second layer of sponge. Cover the layers and sides with the buttercream. Place cake in fridge for at least an hour for the buttercream to slightly harden. Decorate the top with fresh strawberries and serve immediately.
You can also decorate the cake with crystallised rose petals.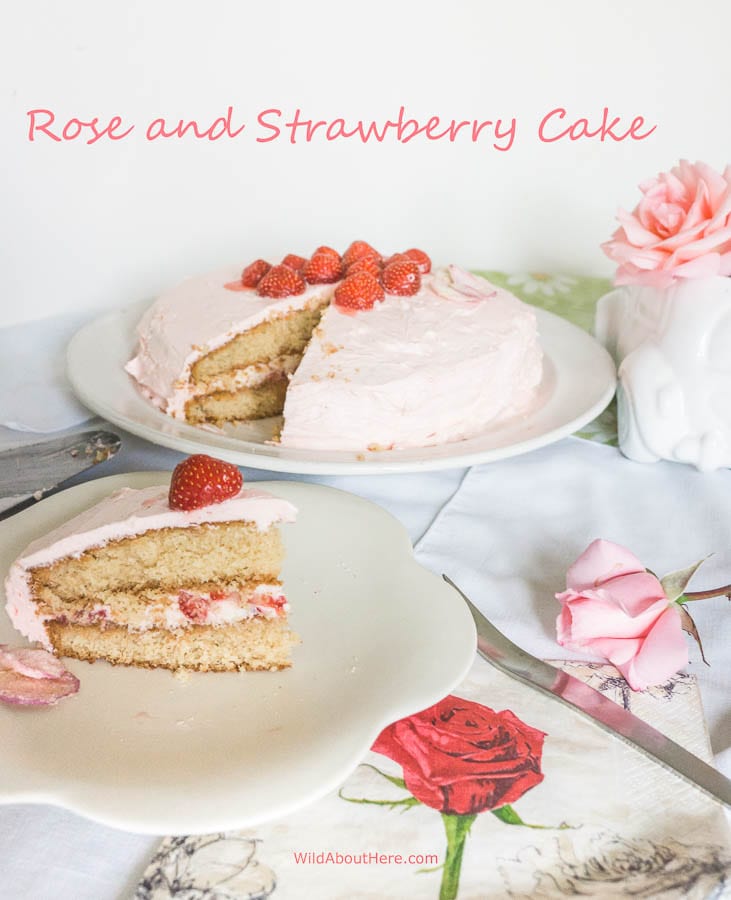 We did celebrate with a tea party at home. On each plate with a slice of rose cake I added her rose petals. I brought in more roses and we felt like our English garden had followed us indoors.