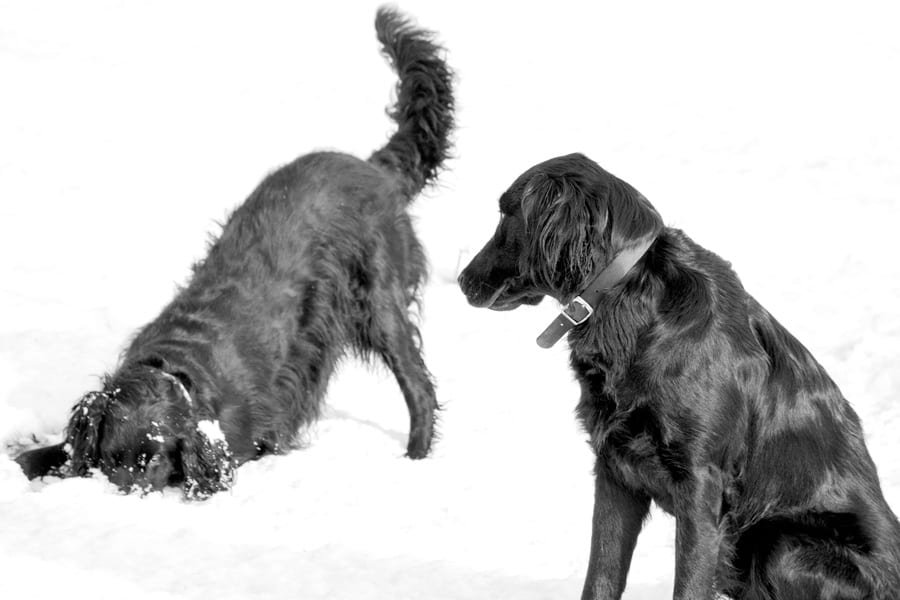 Last weekend Theo excitedly woke us up to tell us it was snowing. While Luce and Theo made snowmen, I went for a walk with two Flat Coated Retrievers. We were taking care of them for close friends who were away for the half term holiday. They're a Mum and a Daughter….the dogs, not the friends! Mum – on the left – kept rolling and digging in the snow. Daughter – still under a year old – was a bit perplexed by all this fluffy white and wet stuff on the ground.  Ten minutes later Daughter was off chasing a herd of deer! Luckily she didn't catch one although she came pretty close to her goal. The snowfall soon turned to rain so by lunchtime the only clues that there had been snow were two melting snowmen. Mum and Daughter chose to cuddle together in one of their beds in our kitchen for an afternoon nap after their snow play all morning.
The lovely Katie at What Katie Wrote Next nominated me today to join in the '5 day black and white challenge.' Please stop by her blog to see her atmospheric capture for her day 2. I'll either be publishing photos here on Wild About Here or on Instagram during the five days or both!
'5 Day Black and White Challenge' – The two rules are: (1) Post a black and white photograph each day for 5 days (2) Invite another photographer to participate each day.  Today I'm nominating Xandi at Lattes and Little Ones who takes gorgeous portraits of her three children. Like me, she's also a mother of fraternal twins.
The snow gave me a perfect excuse to take some more photos of these two Flat Coated Retrievers which my family adores – we regularly babysit them. I'm doing a triple whammy as I'm linking this up with Eco-Gites of Lenault's Animal Tales, Podcast Dove's Black & White Photo Project and it's my Day One monochrome for the '5 day black and white challenge.'