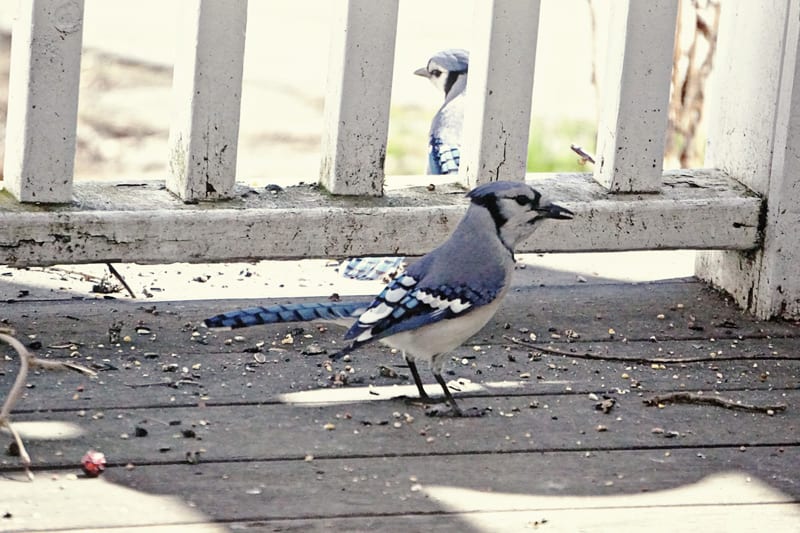 We used to share our garden with two blue jays. They would strut around our back deck and prowl from tree to tree. They didn't always appear together although they do bond for life.
They weren't too fond of the bird feeder as it was made for birds smaller than they.
What do a squirrel and a blue jay have in common?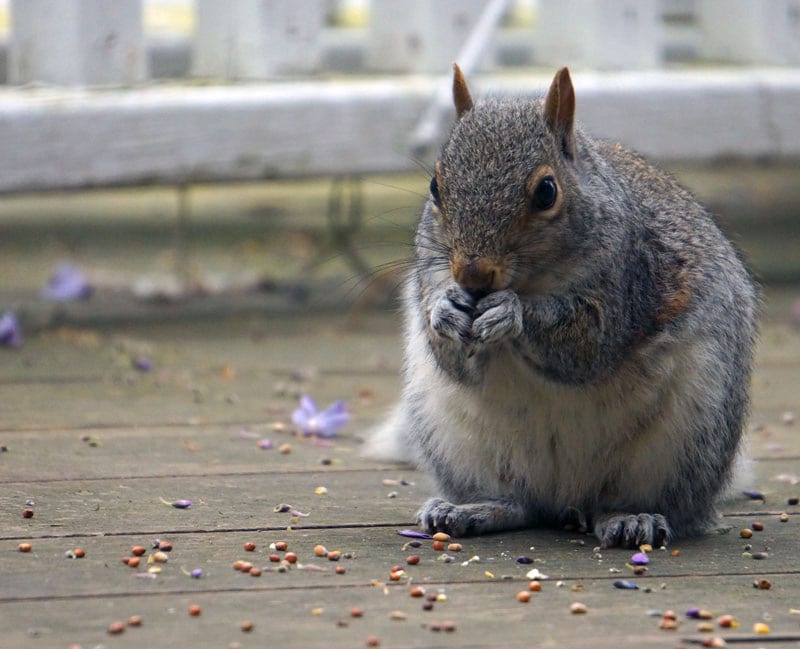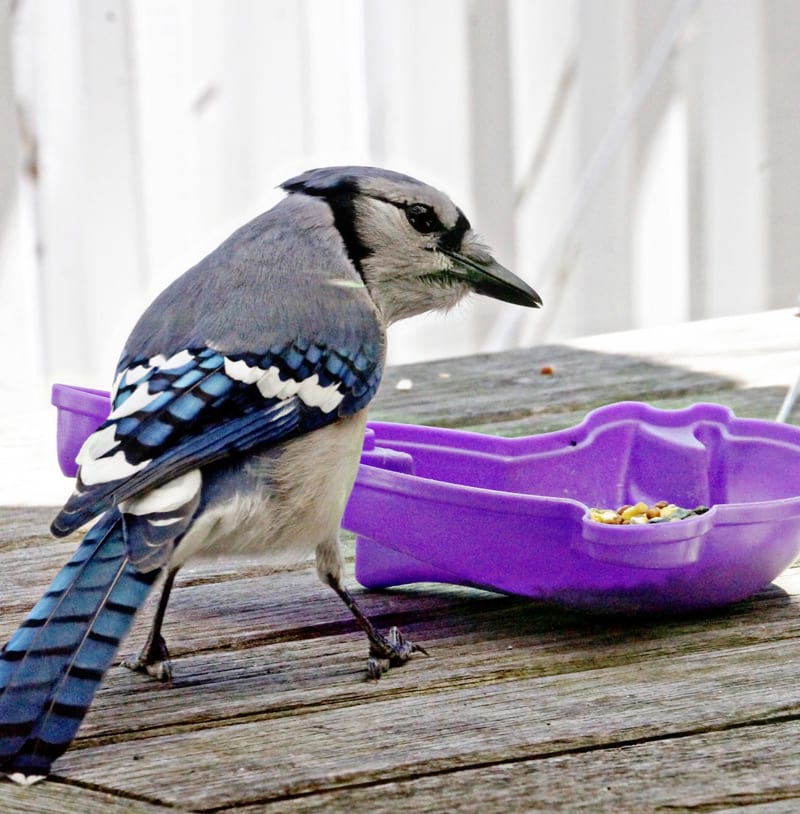 But between them and a squirrel (who I nicknamed Jack the Lad) every seed was collected that fell on the deck – or left on the outdoor table. Strangely enough blue jays, a member of the corvid family (crows and ravens), store and hide nuts!
They were showy, fierce and noisy North American birds. For – yes – these blue jays lived alongside us in the Hamptons in Long Island, USA. There are none across the pond here in the UK. They can also put their crest up and down. When their crest is lowered it's a sign they're peaceful.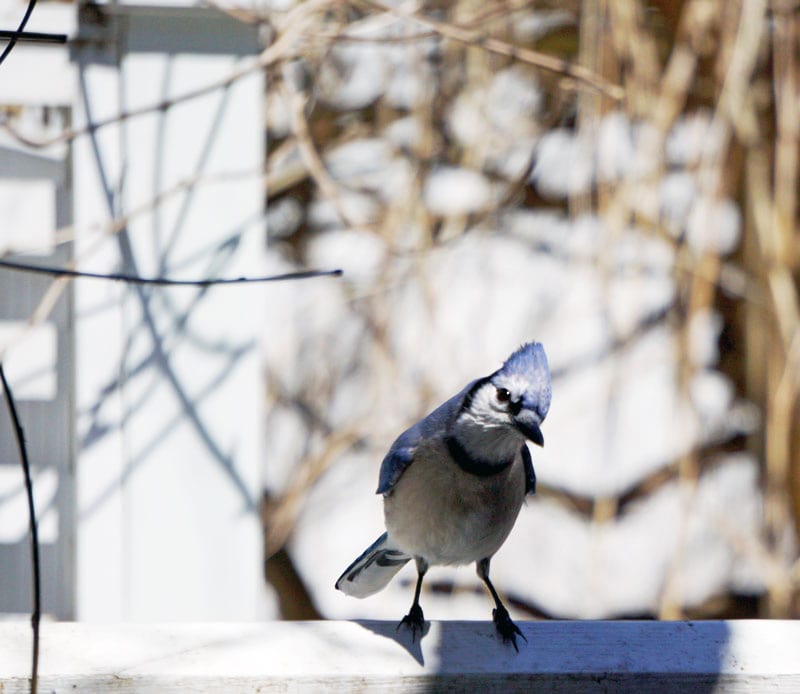 They had a variety of calls to make sure you knew they were around. One day  I was watching with the director of SoFo, the nature museum in the Hamptons, red-tailed hawks soaring in the sky above a nature reserve. A blue jay flew past us and landed in a nearby tree. Suddenly I heard the loud screeches of the hawk coming from the tree. The director laughed at my quizzical look and explained that blue jays are great mimics – especially of hawk cries.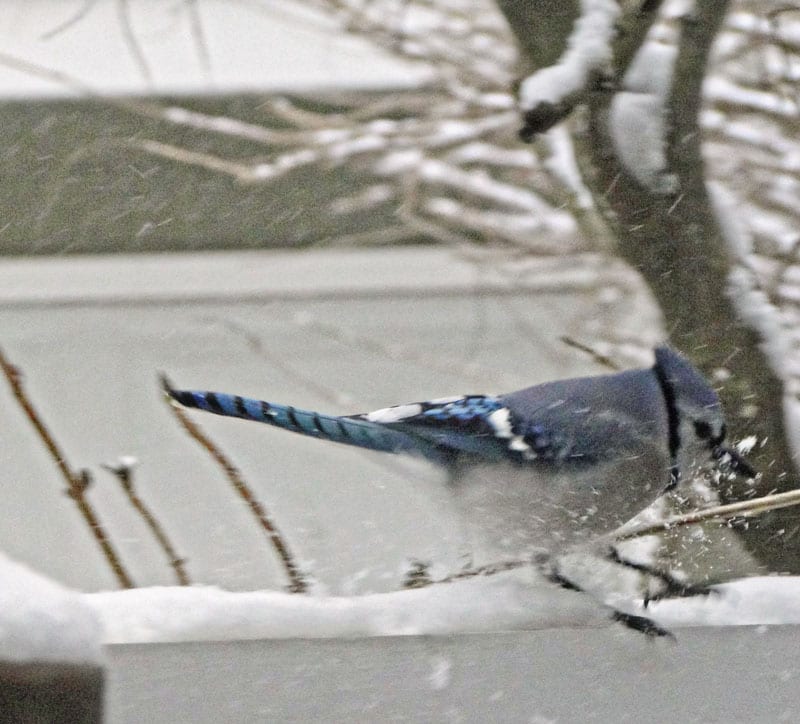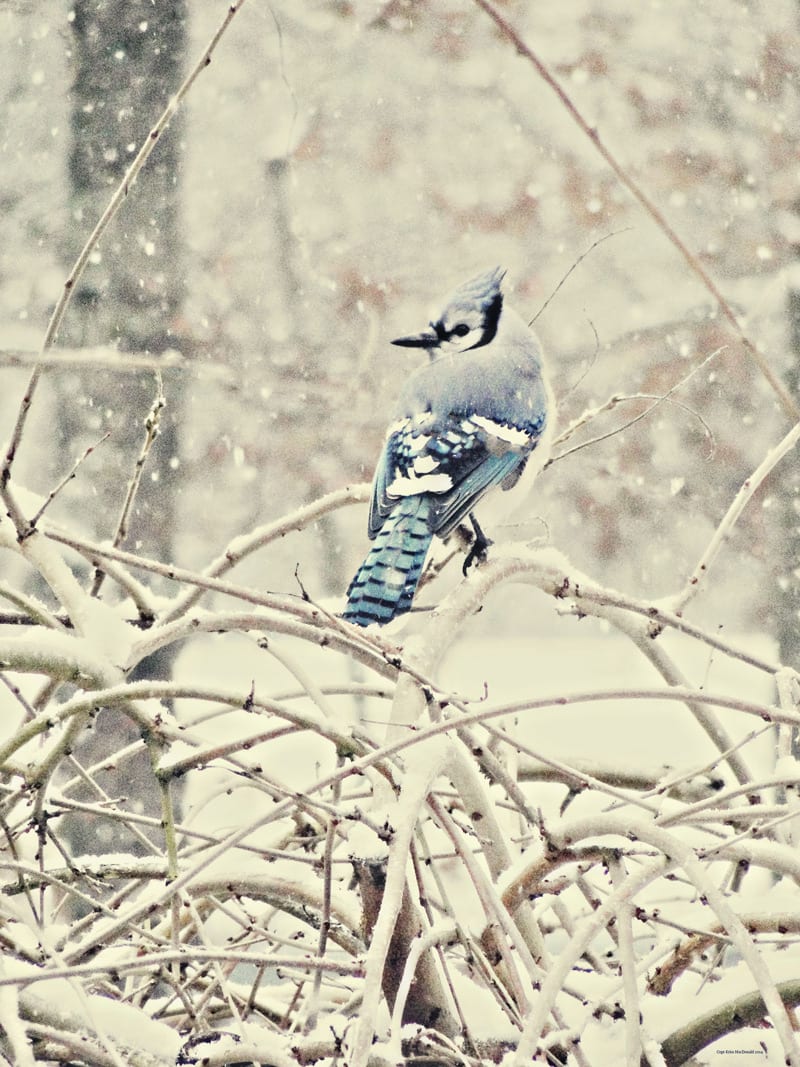 Neither did they seem to mind the snow.
The English writer, poet and essayist DH Lawrence (1885-1930) not only wrote the controversial Lady Chatterley's Lover and other famous novels, but also a book of poems called Birds, Beast, and Flowers. It was published in 1923, when he was in living in New Mexico, USA.  It included a poem about the blue jay who visited his cabin and rankled him and his dog. Here's some extracts from The Blue Jay:
The blue jay with a crest on his head
Comes round the cabin in the snow.
He runs in the snow like a bit of blue metal,
Turning his back on everything.
_Ca-a-a_! comes the scrape of ridicule out of the tree.

_What voice of the Lord is that, from the tree of smoke_?
It's the blue jay laughing at us.
It's the blue jay jeering at us, Bibs.
Free printable card featuring a pair of blue jays in the snow
To mark this site's new name Wild About Here – formerly Over there to Here – I've included a free printable card of this pair of blue jays in the snow. Just download on A4 or Letter and cut in half, then fold in two, for two cards with blank interiors.
Download here – > Blue Jay Pair in Snow printable cards
(The card is for personal use only – no commercial rights)
I don't know if our pair of blue jays still rule our former garden in the Hamptons. Apparently blue jays sometimes migrate and other years don't. No one has figured out why. Nevertheless I miss our Hamptons duo. They were quite strident characters to have in our backyard.  I'm going to conclude with the words of the American poet Emily Dickinson (1830-1886) who, in her poem The Blue Jay, described the bird as "A neighbour and a warrior too" and "His character a tonic."