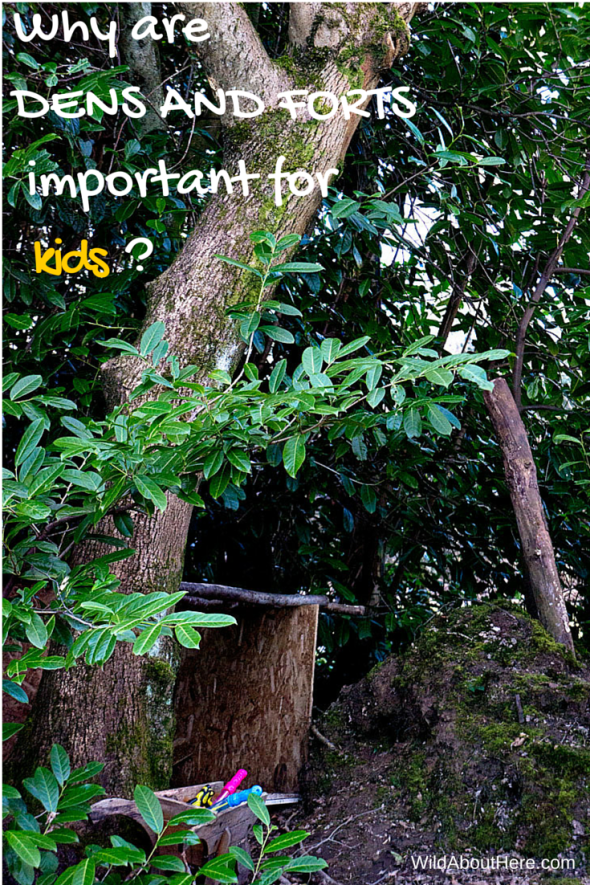 Last November my children found where to build their secret den. They wanted an outdoor place where they could hide and play. They didn't care whether it was a den, a hut or a treehouse as long as it was their secret place with one rule: adults not allowed.
At first they found 'the' place nearby but it was right next to a public bridal path. I admit we were worried about letting them out there all alone where strangers had the right to walk or ride right past them.
Luckily there's a small private wooded area right next to our private drive which had the perfect spot. An adult can only enter this clearing by ducking down through the trees whereas my kids can easily reach it without bending their knees.
In the Autumn wild fungi like to grow in this clearing. The red Fly Agaric might look like they're out of a children's fairytale but they're poisonous. In late Winter snowdrops take their place. Soon there will be a carpet of bluebells.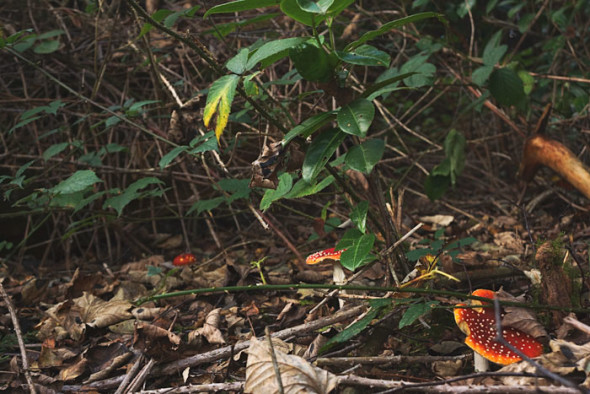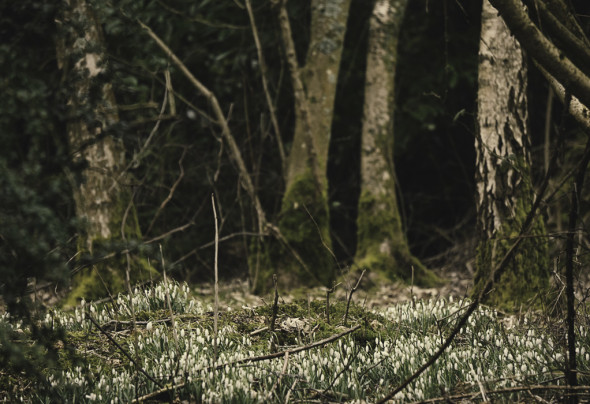 I gave them some planks of wood and bricks to build a den. Slowly they have been adding sticks to create a roof to their mini fort.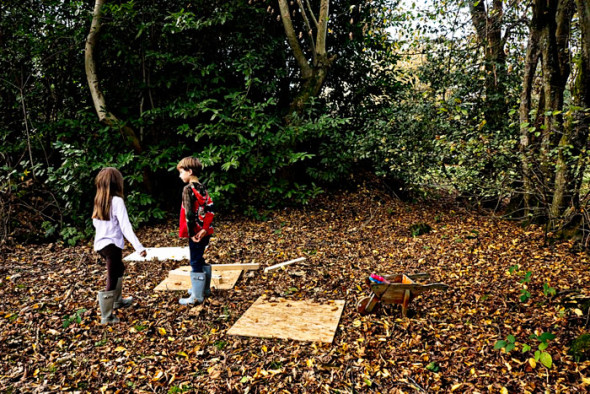 Why are dens and forts important for kids?
The famous naturalist, researcher and author E. O. Wilson said that it is a "fundamental trait of human nature" for children to want a hideaway. They are magical places where kids are not only inspired by nature but allow them to dream and make up their own worlds.
Another renowned US educator, David Sobel, wrote Children's Secret Places: Exploring the Role of Forts, Dens and Bush houses in Middle Childhood to explain that: "In these secret places, children develop and control environments of their own and enjoy freedom from the rules of the adult world. Children's Special Places enters these hidden worlds, reveals their importance to children's development and emotional health, and shows educators, parents, and other adults how they can foster a bond between young people and nature that is important to maturation."
Dens, or forts, or tree houses, are a place where children can have unstructured play and let their imagination soar. They learn how to use natural materials to build their own special place, often working as a team with siblings or friends.
It is a safe place where kids can make their own rules and decisions without adult interference. Educators say this helps children become more self confident and gain self esteem.
Dens are childrens' little havens. They also learn how nature is a wonderful place for natural play.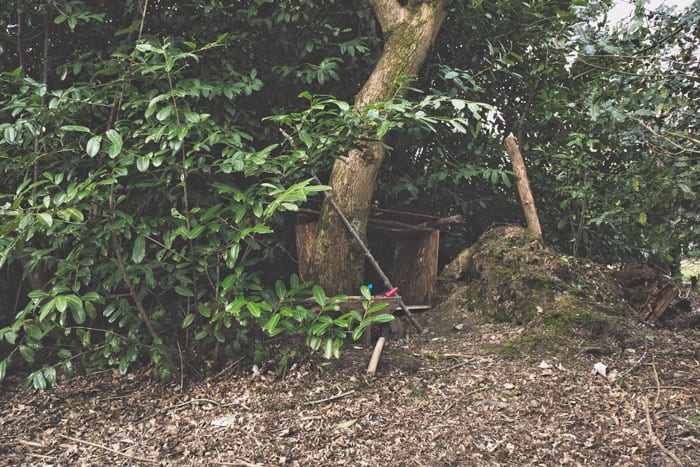 Since the last days of winter and the first days of spring, Luce and Theo have been spending hours in their den. Sometimes they call it their little fort. I think they have another name for it but they won't reveal it to me!
Then this week Theo told me they wanted to go there when it was dark. Perhaps even have dinner there on their own? he asked. Personally feeling that these secret dens or forts are something special to have in one's childhood, I agreed. I remember as a child wishing that I had a treehouse all to myself.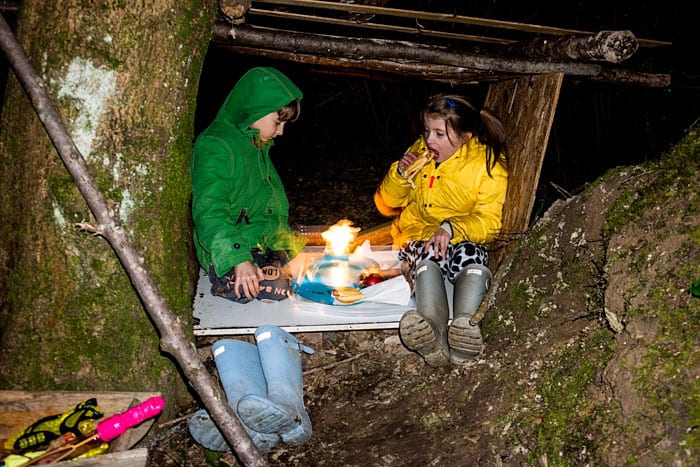 I was only allowed there to bring them their tray of hot dogs and fruit. Soon they were back asking for more. They each ate three hot dogs in their den! I was asked to leave as soon as I brought them their food. I stood nearby and could just see their light behind the trees.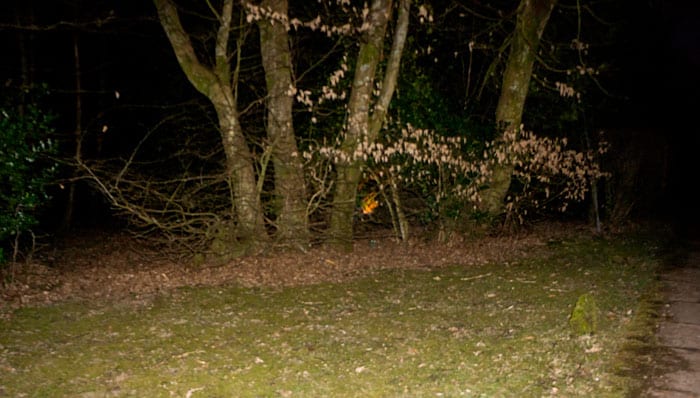 I'm happy that they have now an outdoor special place as often in the past we've had to make a temporary forts indoors with blankets, cushions and chairs. It's wonderful for their imagination as I've overheard them making up tales with this den as a central player.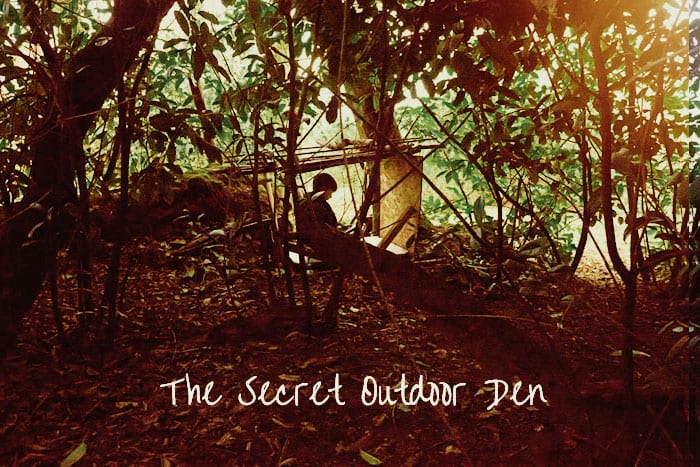 I like to think that someday they will look back on their childhood and remember with a smile the adventures they had in their secret den. Did you have a secret place or den as a child?
I've also been collecting ideas for dens, forts, tree houses and other special outdoor places on my Pinterest board:
Follow Wild about Here's board Wild Kids Outdoor Dens on Pinterest.