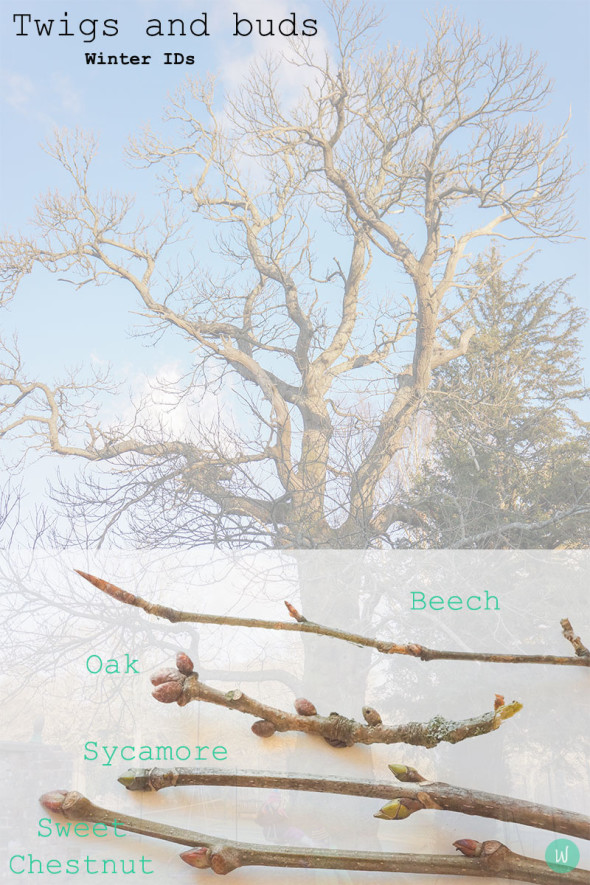 On a recent walk I found myself looking at all the bare winter trees and humming to myself, 'Who's that tree? It's..umm' (If you've watched the TV show 'Who's that Girl? you'll know the tune and words).  Without any leaf foliage to help me in the winter I was fairly clueless about identifying way too many trees.  But I want Luce and Theo to be able to point at a tree – even in the winter – and say that's a sweet chestnut instead of 'what's that tree?' …or like me 'who's that tree?'
So I decided we'd go for a wander all together and learn to identify some trees without any leaf clues. Instead, we'd look at the twigs on them and try to figure out what they were by the buds.
Of course I had to turn this winter twigs and bud lesson into an outdoor adventure. My aim was to subtly teach them (and me!) while they had fun. I also didn't want to overwhelm them so I decided we'd try to only identify four different types of trees during our outing. Now, in case you've seen the TV show, and also have the tune in your head (sorry!), I'm going to try and keep it to 'what's that tree?' instead!
What's that tree? A sweet chestnut.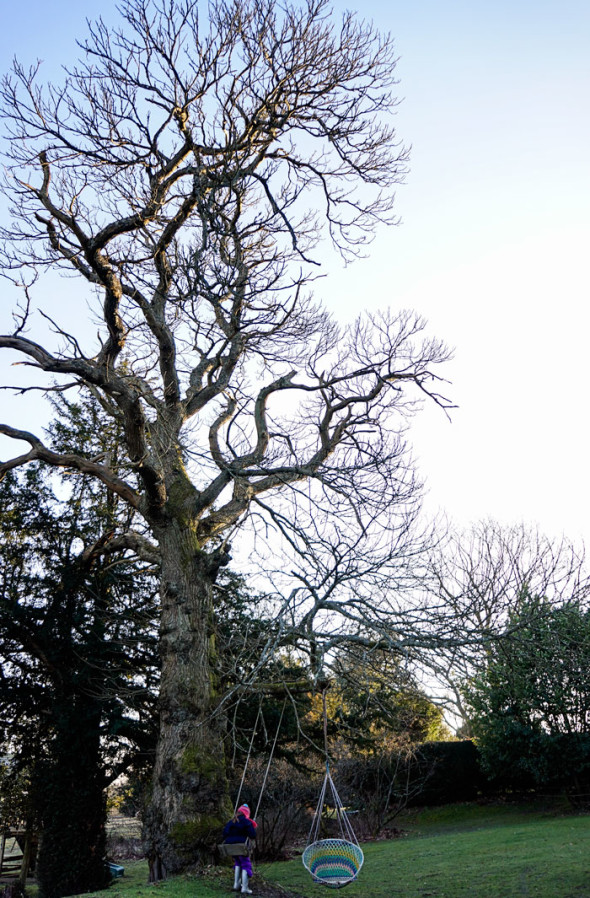 First stop was a tree with their favourite swings.  While they took turns in the air, I showed each of them how the sweet chestnut has reddish-brown buds, sort of oval shaped, that alternate along the stem.  Other easy clues were that we found seed pods that look like mini hedgehogs on the ground as well as some chestnuts.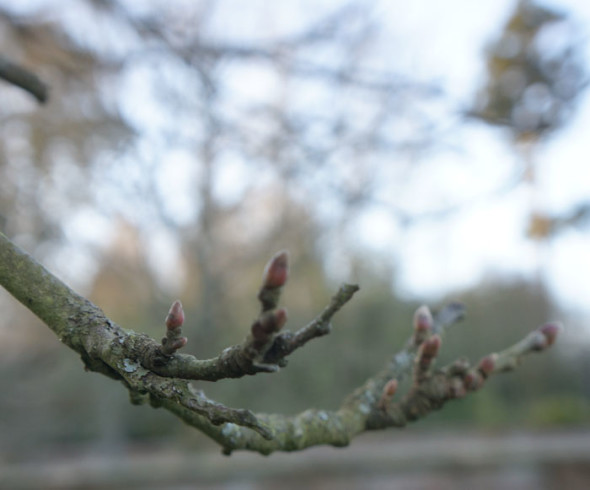 I also had to explain that the sweet chestnut is not the same as the horse chestnut. Not only are the seed pods different but you can safely cook and eat sweet chestnuts. Conkers from horse chestnuts are great for games but toxic to eat.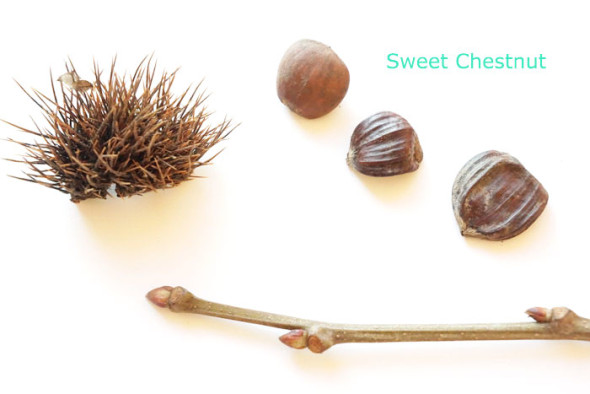 Luce took a selfie with the sweet chestnut before we headed to our next destination.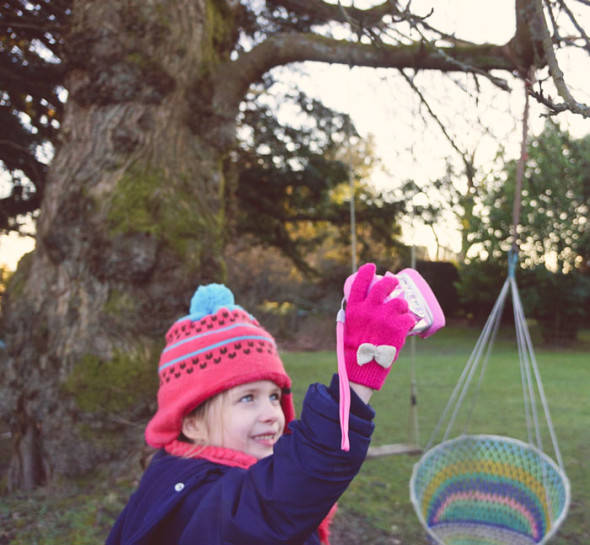 What's that tree? A sycamore (Acer pseudoplatanus)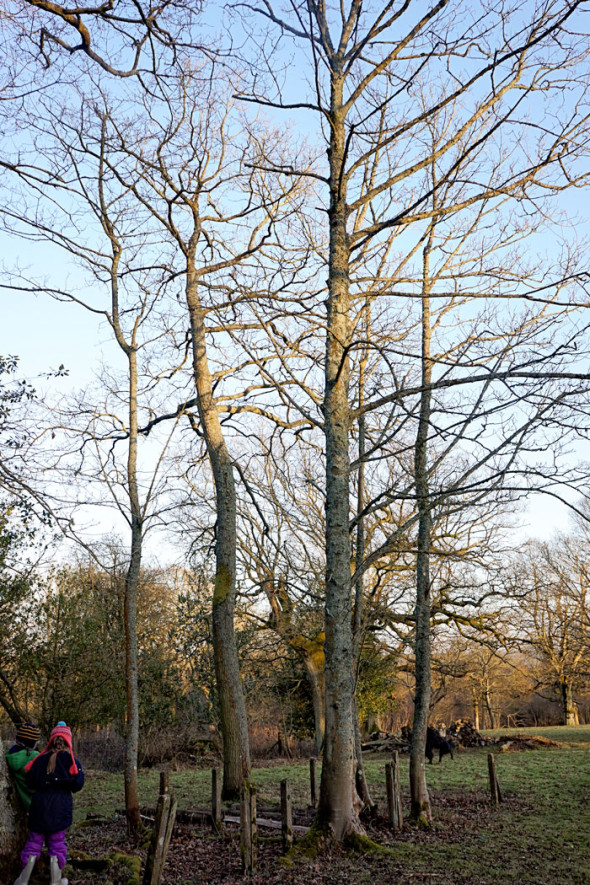 The sycamore trees didn't hold my children's attention very long as they couldn't see any climbing potential. The bark was too smooth and the branches out of their reach. We did find some lower twigs with the distinctive green egg-shaped buds which grow in opposite pairs up it.
UPDATE BRITAIN VS USA SYCAMORES: This tree Iin my post – Acer pseudoplatanus – is known as a sycamore in Britain and Ireland and is not the same as the North American sycamore – Platanus occidentalis. One of the differences between them is that the Acer pseudoplatanus (known as sycamore in Britain and sycamore maple in USA) has buds and leaves arranged as opposite pairs unlike the Platanus occidentalis (known as sycamore in USA and plane tree in Britain) which has alternate ones.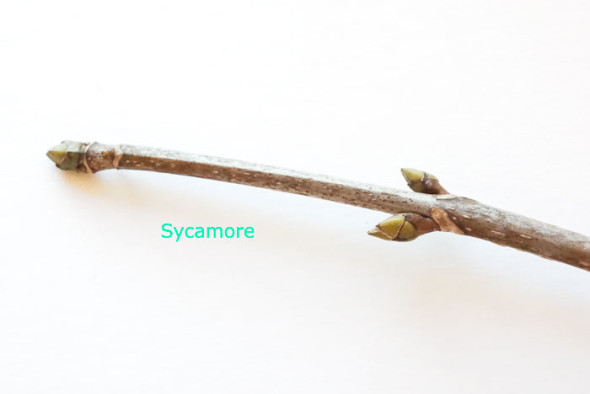 What's that tree? An oak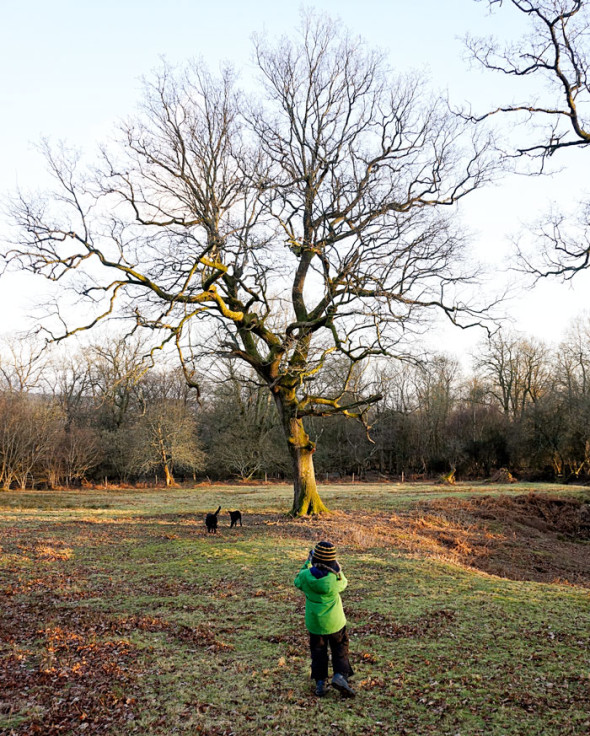 Luce and Theo had brought along their cameras so took some photos of oaks spread across a field. They were English( pedunculated) oaks. The buds on the oaks are pretty easy to recognise as they are orange-brown and grow in bunches at the tips of the twigs.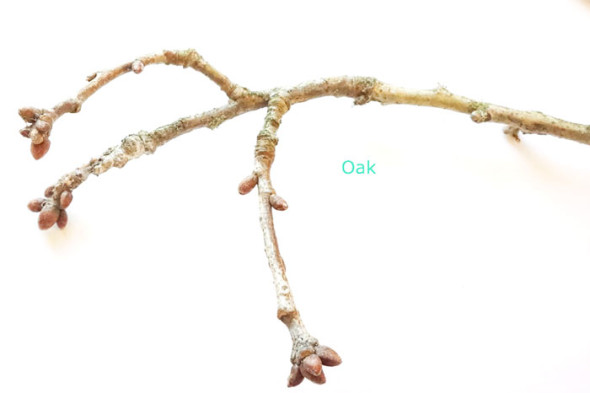 Off into the woods we went.
What's that tree? A beech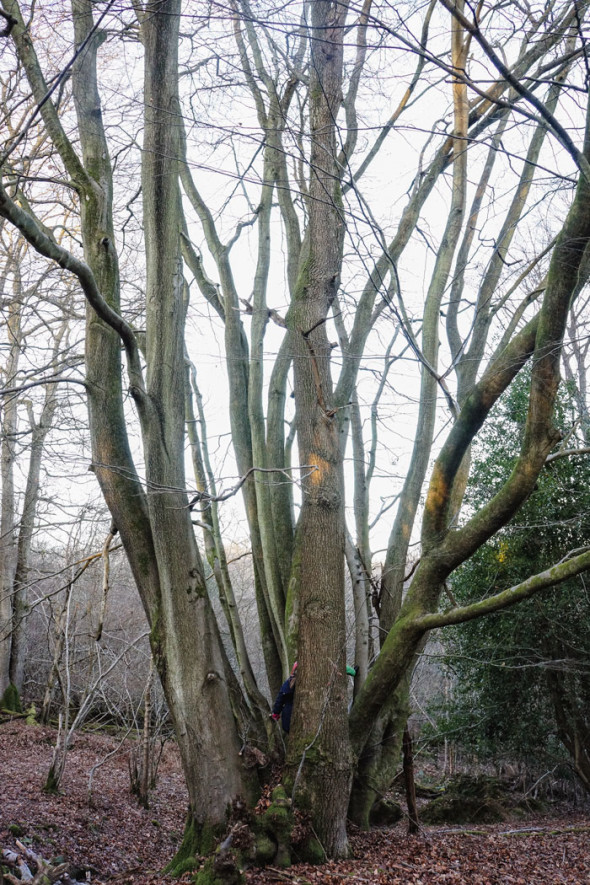 Luce and Theo then headed for the perfect climbing frame – a cluster of beeches that had grown and twisted together.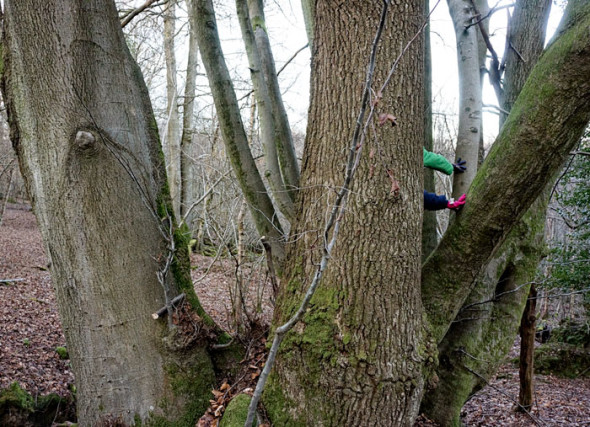 It looked like there was an oak that had also clung to this group as it's rough bark contrasted with the smoother grey of the beech.
The main 'climbing frame' was beech because its twigs had long pointed coppery buds zigzagged along them.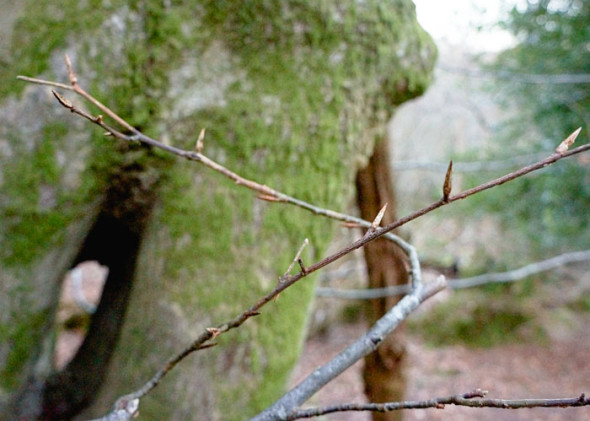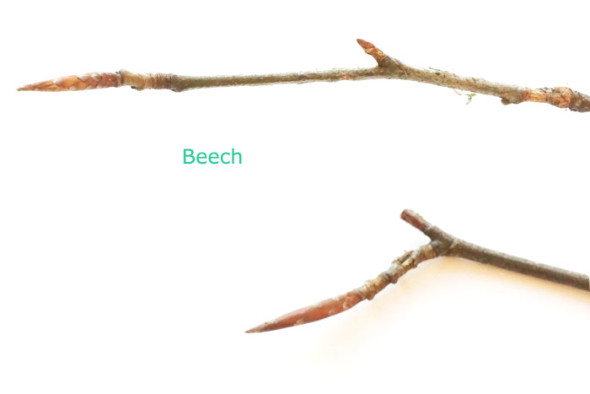 Luce and Theo didn't want to leave our last stop as they were having too much fun climbing, clambering and checking out all the holes and nooks and crannies.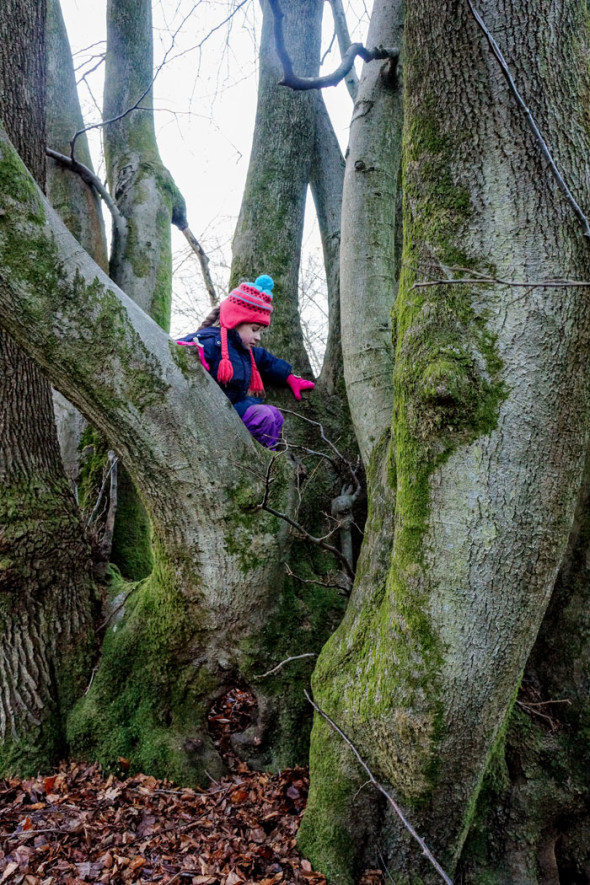 But the sun had begun its descent and it was time to head back.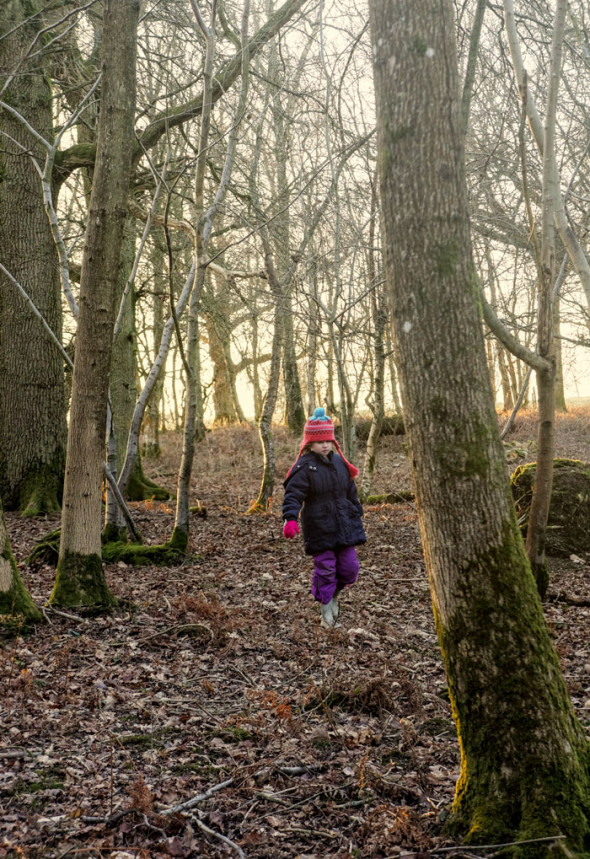 Free printable spotter sheet with twigs and buds winter ids
>>>I brought samples back home and made a winter twigs and buds id spotter sheet which you can download here:Twigs and Buds Winter IDs   <<<<
(note – the guide refers to the Acer pseudoplatanus tree known as a sycamore in Britain and a sycamore maple in USA. This is different from the North American Platanus occidentalis known as a sycamore in the USA)
My kids were very keen on each having their own copy of the spotter sheet after I promised them a small treat if they could identify correctly the names of the twigs this weekend.  Four trees was a good start as I think it's better they slowly learn to spot and recognize trees in the winter rather than giving them an information overload.  Trees provide them with an awful lot of fun – even in the winter – so they at least should start learning these friends' names. And, personally, I'm looking forward to my next walk when I can stop, examine the twigs and buds and sing 'Who's that tree? It's oak…or sycamore…or sweet chestnut…or beech.