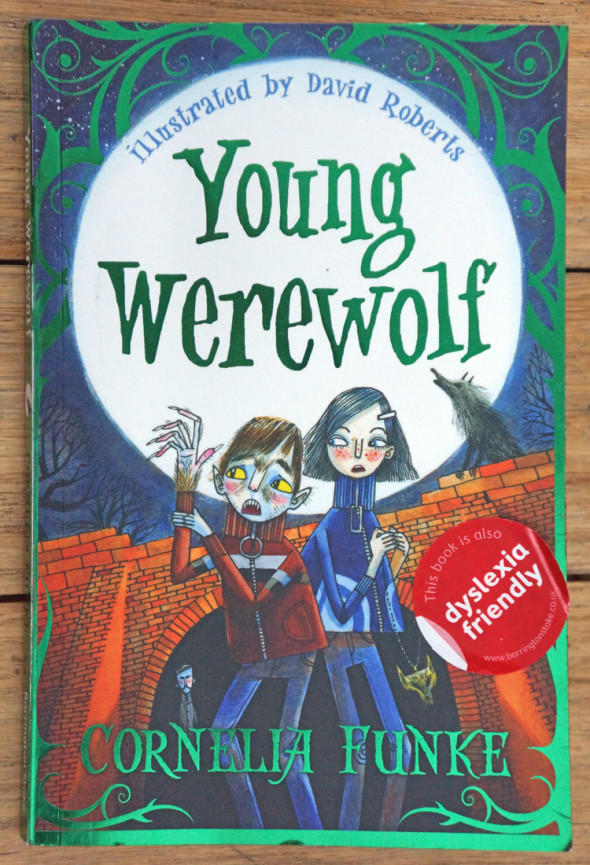 Whoohoooo! And in case you're wondering…that's me giving a howl of delight after reading Young Werewolf by Cornelia Funke and illustrated by David Roberts.
And – yes – this is by THE international bestselling children's author Cornelia Funke, best known for her Inkheart Trilogy, The Thief Lord and Dragon Rider. I'm going to give one major spoiler about this fantasy tale straightaway – it's ideal for struggling, reluctant and/or dyslexic readers. (More about this below)
So what is Young Werewolf about?
One Sunday evening Matt gets bitten on the hand by a yellow-eyed beast as he's walking home with his best friend Lisa. At home he's soon hiding in the bathroom from his family as he undergoes 'weird' body changes. His eyes turn yellow. His bitten hand has 'little pointy claws where his nails used to be.' He growls when he talks. He doesn't even have to put on the bathroom lights as he can easily see in the dark. His metamorphosis has begun.
And in two days – when there is a full moon – he will become a werewolf forever. But he has his best friend Lisa and a trusted teacher Mrs Ruskin to help him find a cure. As the full moon approaches Matt has to deal with nosy neighbors, a villainous biology teacher, school bullies, and his developing animal instincts.
It's a fun, often comic, supernatural adventure about Matt's transformation. I don't want to give away the whole story except to say the ending leaves room for the reader's imagination.
"Stories never really end…even if the books like to pretend they do. Stories always go on. They don't end on the last page, any more than they begin on the first page." Cornelia Funke, Inkspell

It also has an underlying message about the power of friendship. Although the boys at school tease him for 'being the only boy who sat next to a girl,' it's his best friend Lisa who he can depend upon during his transformation. They even have a hideout, in the attic of the apartment building they both live in, hidden behind a wardrobe. It doesn't lead them to Narnia but it's his safe haven.
Portal for struggling, reluctant and/or dyslexic readers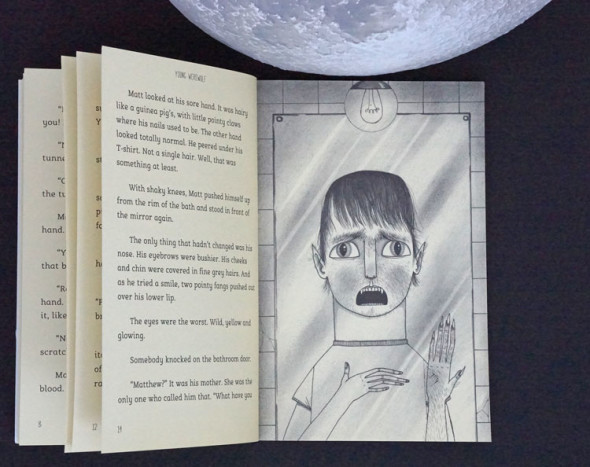 But the supernatural magic about Young Werewolf is that it's a portal to awaken the passion for reading by struggling and reluctant readers. The content is aimed for readers 9+ but it's written for a lower reading age (8+). So a reluctant or struggling reader will have a book appropriate to their age.
Young Werewolf is also dyslexia friendly. The font, the spacing, the color and even thickness of the pages are all formatted to make it easier for readers with dyslexia. Once again they can read an age appropriate book written by an author popular amongst their peers.
Bestselling children's author Cornelia Funke
Moreover it's written by a literary blockbuster author.  Cornelia Funke, often referred to as the German J K Rowling, wrote this book for the British independent publishers Barrington Stoke. They commission the best authors in the business so that children feel no stigma reading them. Reluctant, struggling and dyslexic readers don't have to resort to books aimed for younger children.
As Mairi Kidd of Barringston Stoke explained, "Cornelia is well known as a great supporter of those who are reluctant to pick up a book and Young Werewolf will be a great way in for these readers – who will then, hopefully, want to move on to read her other books."
But Young Werewolf is such a great fantasy novel for kids that it can be enjoyed by all readers.

Here's a prime example: I found a wonderful quote by a young reviewer at a junior (middle) school  in England: "I would rate this book 10/10 for everything. I loved this book. I loved the cover because there's a full moon with Matt turning into a werewolf. I also like the words used because they are adventurous. This is probably my favourite book ever so why don't you give it a try?"
AVAILABLE ON US AMAZON and UK AMAZON.
Illustrated by David  Roberts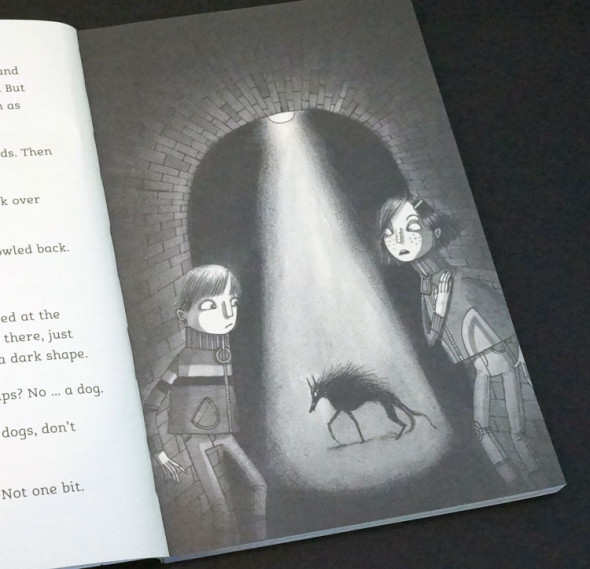 This 110 page novel also has a colored front cover and inside fantastic black and white drawings by one of Britain's leading children's illustrators David Roberts.  He has worked with some of Britain's top children's authors such as Julia Donaldson, Jacqueline Wilson, Philip Ardagh and Chris Priestley. He's also the author and illustrator of the Dirty Bertie books.
Young Werewolf has 10 full page illustrations which enable readers to have a better understanding of the storyline while showing the transformation of young Matt.
I'm a huge fan of Barrington Stoke – as you can see in my previous review of The Snake who Came to Stay by Julia Donaldson. If you want to find out more about their books and commitment to supporting young readers then read here. Look out for some more books from them I'll be reviewing by subscribing to my newsletter.
Disclosure: I was given this copy of Young Werewolf by Cornelia Funke by Barrington Stoke for an honest review – all opinions expressed are my own.