Every year when my twin's birthday approaches, I have a dilemma trying to decide what type of cake to make for them. As a result my kids often remember their birthdays by what cake (or two or even three) was served to them.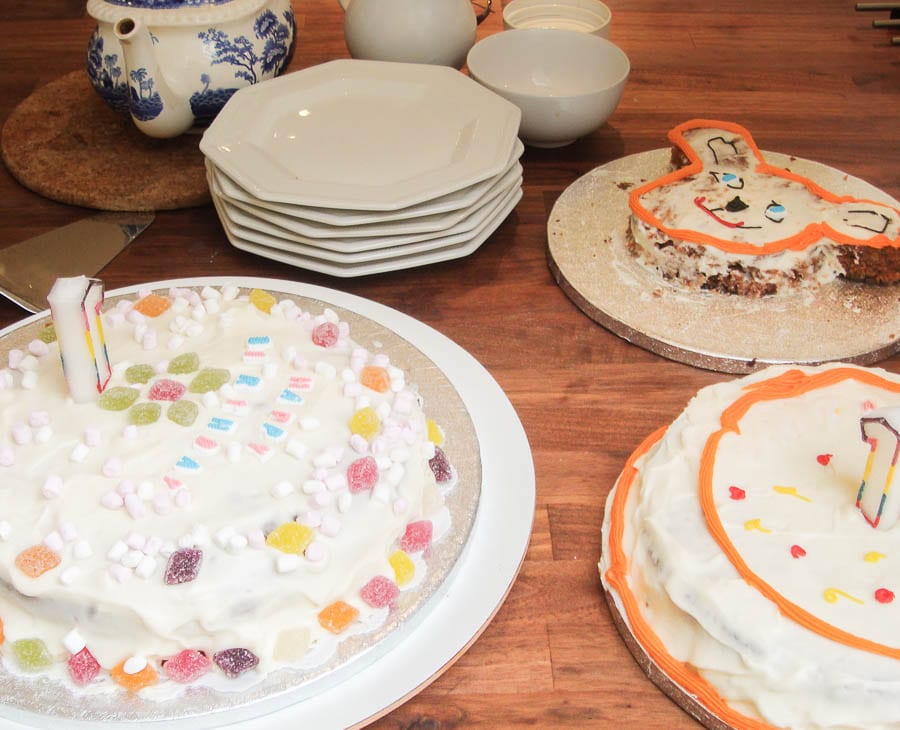 Of course, they don't remember their first birthday party. But I do. I couldn't make up my mind and made three cakes.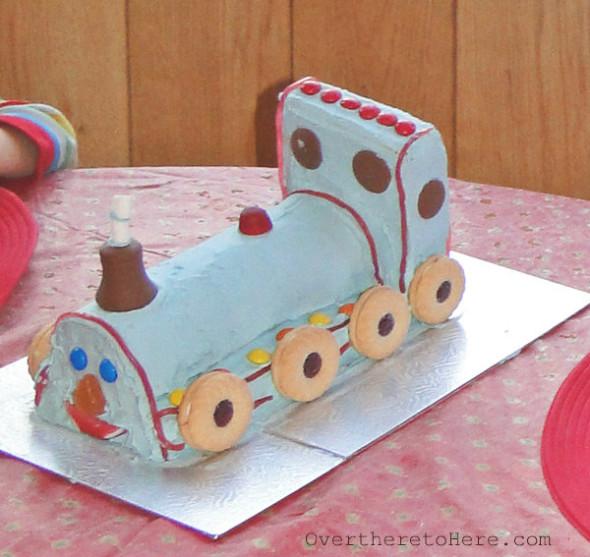 Both of them loved trains so I made them a "choo-choo" cake for their second birthday.
I discovered The Australian Women's Weekly kids' birthday cakes book which was my inspiration for this cake. I decided jammie dodgers were perfect for wheels. (Jammie dodgers are a British shortbread cookie with a raspberry jam filling.) Chocolates, smarties and licorice rope made up the rest of the decoration. I used some of the buttercream icing to stick small marshmallows on the funnel to look like smoke.
And then we went all out for their fourth birthday. My husband and kids all joined in to decorate the birthday cakes for their pirate and princess party.
I have a Princess and Pirate birthday invitation which you can download and print.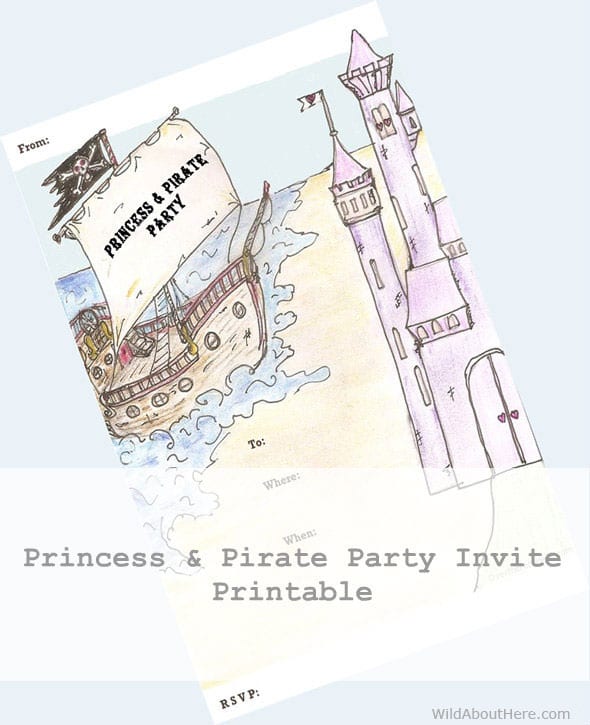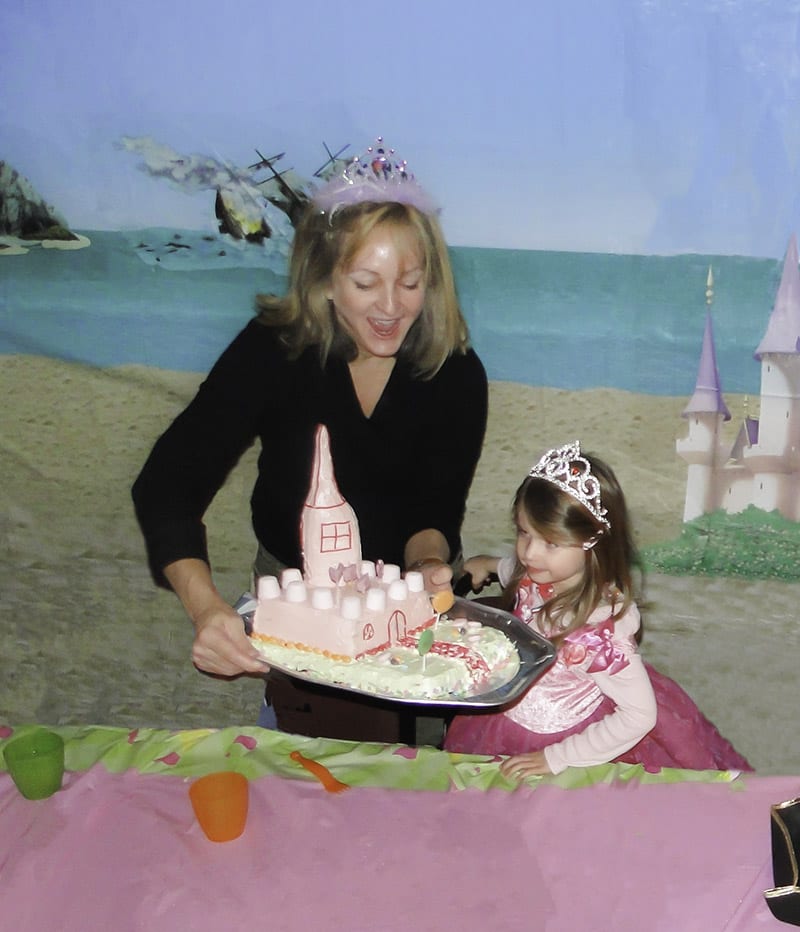 For the princess castle birthday cake I made a large rectangular cake and then added two layers of cake to one half of it. All with buttercream frosting in between the layers and over the top. For the tower we added a jelly roll with an ice cream cone on top. We used a wooden skewer to fix the tower to the cake. My children loved helping me decorate the cake with candy and sprinkles.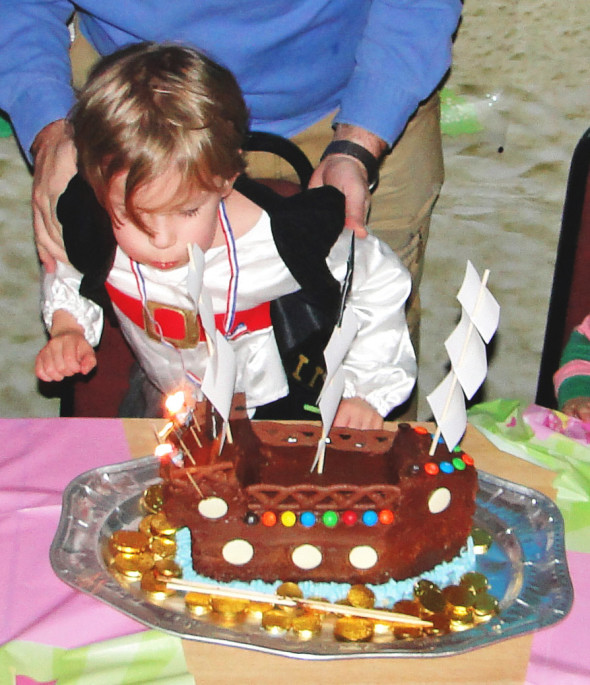 As my son was a pirate, we made him a pirate galleon following the instructions in The Australian Women's Weekly kids' birthday cakes book. The book even includes paper patterns for some of their really fancy shapes. We added our own flourishes for the decoration including chocolate gold coins to the tray to look like pirate treasure.
As we had just moved to the US a month before their big day, I bought them kids birthday cakes from the bakery section in the local supermarket for their fifth birthday.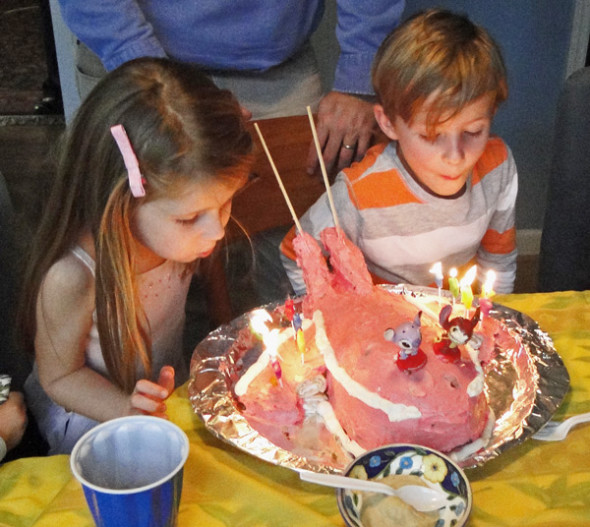 I wanted to buy again this year but my daughter and son insisted they wanted us to bake them a cake for their birthday party. And they insisted that they wanted the rocket jet from their favorite film Lilo & Stitch. We somehow managed to make one that resembled it and added six candles to each wing. They loved it and now have a new memory for their sixth birthday: the space ship birthday party cake.
Birthday cake books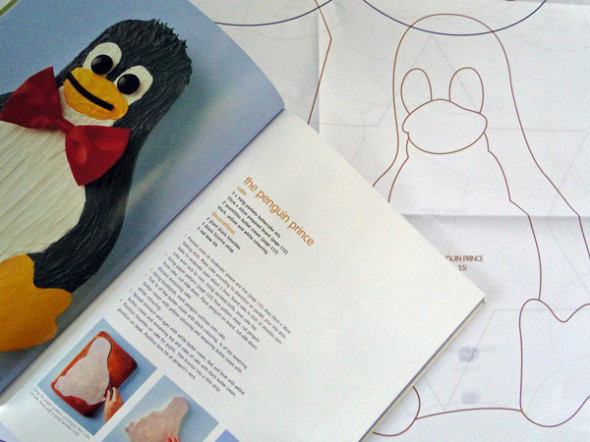 I highly recommend Women's Weekly kids' birthday cakes as it has over 100 cakes to choose from or be inspired by as well as paper patterns for lots of the cakes.
For children's birthday cakes ideas have a look at some of the most popular kids cakes cookbooks in UK:
The Australian Women's Weekly Kids' Birthday Cakes is available on UK Amazon and US Amazon. It's so good that over 200,000 copies have been sold.
Birthday Cakes for Kids by Annie Rigg has great reviews on UK Amazon. Also available on US Amazon.
50 Easy Party Cakes by Debbie Brown is very popular and has top reviews on UK Amazon as well as on US Amazon.
The Birthday Cake Book by Fiona Cairns. She's the one who made the wedding cake for Kate and William!! Available on UK Amazon and US Amazon.
Buttercream Frosting or do you say buttercream icing?
My husband passed on to me his mother's easy buttercream frosting recipe which I've used for all the kids' birthday cakes I've made.
(You'll notice I use both the terms buttercream frosting and buttercream icing but I'm referring to the same recipe. I believe in the US it's usually called frosting rather than icing?)
BUTTERCREAM FROSTING / ICING
INGREDIENTS
I cup milk (240 ml)
2 tablespoons cornstarch
1 cup granulated sugar (200 g)
1/2 lb butter (230 g)
1 teaspoon vanilla extract
DIRECTIONS
Pour milk into small saucepan and add cornstarch. Cook over medium heat stirring constantly until thick. Remove from heat and set aside to cool completely.
Let butter soften to room temperature and cut into chunks. (Do not melt it)
Mix sugar and butter in large mixing bowl. Stir in cooled milk mixture and then add vanilla. Beat with electric whisk for up to 15 minutes until buttercream frosting is light and fluffy.
For chocolate buttercream frosting add a couple of tablespoons cocoa.
I add cocoa to the recipe for chocolate icing and food dye to get the coloring I needed. Once I've decorated the cake with the frosting I put it in the fridge overnight to harden.In the UK natural food colorings are available in most supermarkets to add to the icing recipe.
I also sometimes use this buttercream frosting in my Rose and Strawberry cake recipe. Meanwhile my twins have turned into teens since I first wrote this and they still want this icing, although sometimes the chocolate version!