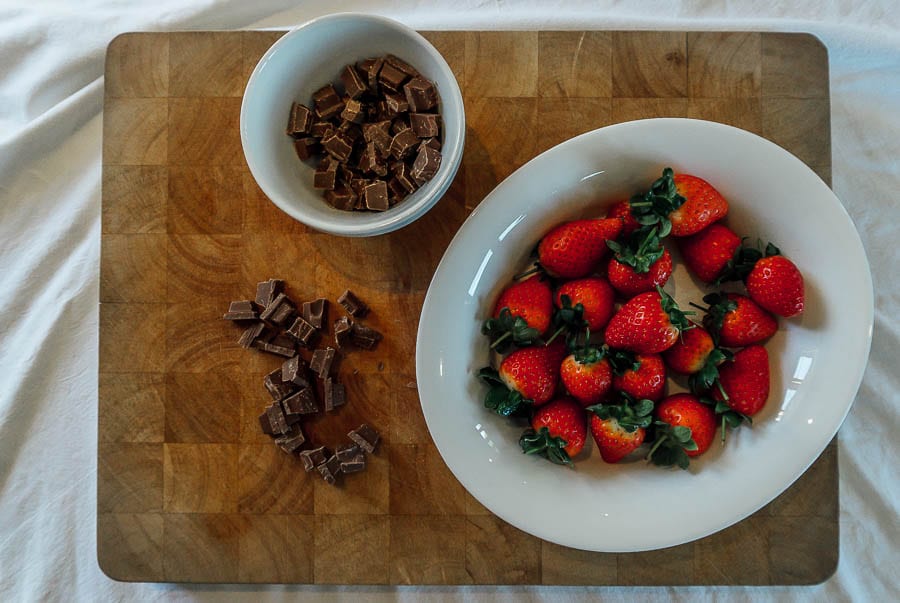 I've been making lots of chocolate treats recently, not only for the family but as gifts. During the winter holidays I gave friends homemade blackberry vodka and chocolate truffles. Personally I adore it when someone gives me a box of luxury chocolates although the hard part is having to share them.
With Chinese New Year and Valentine's Day both approaching, I decided to make chocolate covered strawberries for my twins. But I wanted to decorate them with white chocolate to mark each of the celebrations.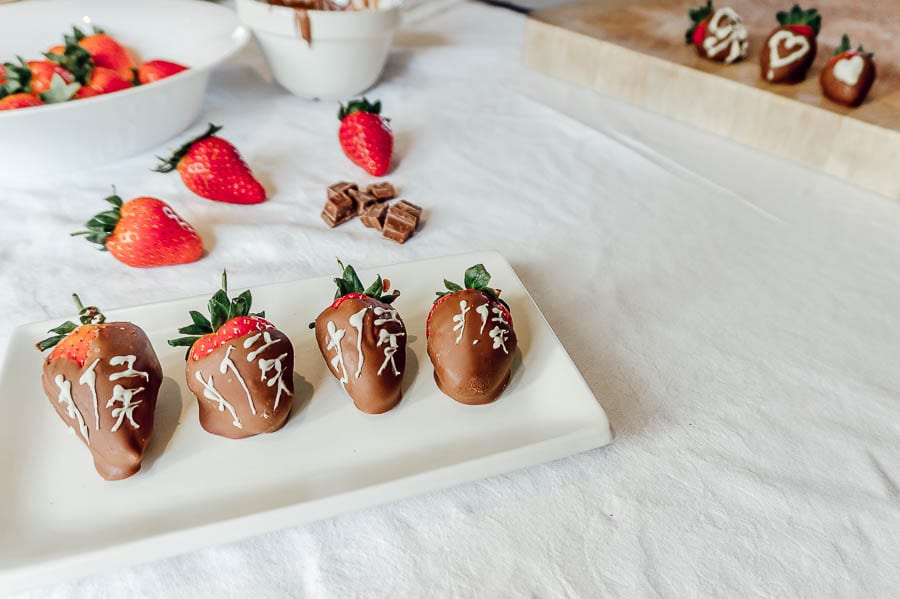 For Chinese New Year it had to be chocolate dipped strawberries and bananas with a Zodiac theme. According to Chinese astrology, each year is associated with one of the 12 animals which appear in the Chinese zodiac.
My children have just finished reading a great children's book called The Zodiac Legacy in which the characters gain superpowers based on these animals, so I thought it would be a fun – and tasty – way for them to learn that this is the Year of the Monkey.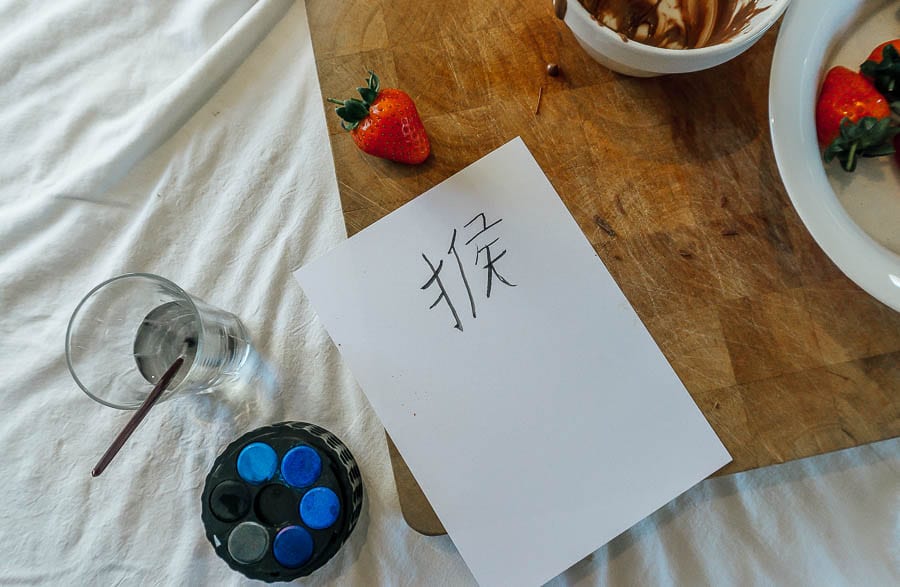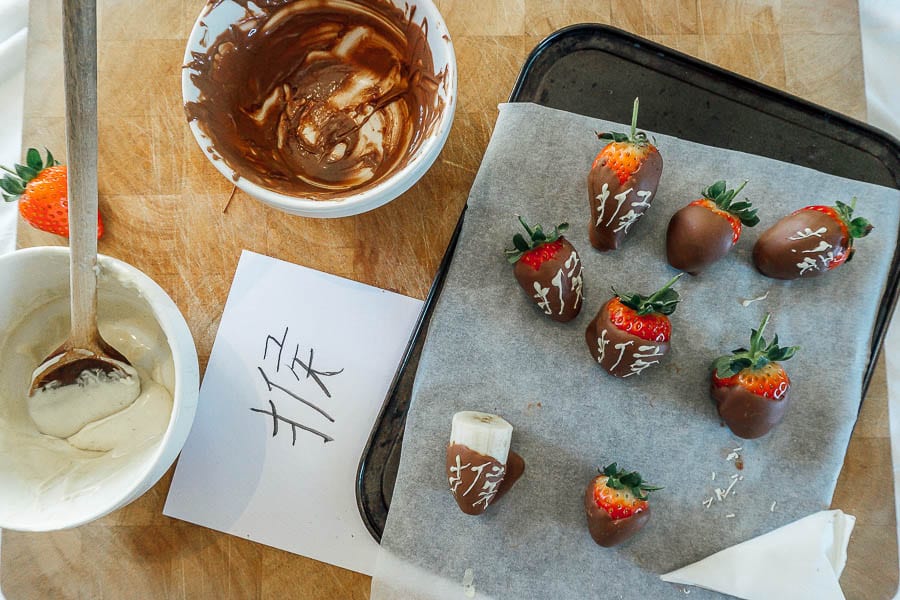 I contemplated decorating the chocolate fruit with a picture of a monkey, but decided it would be simpler to have the Chinese symbol for monkey. I could also declare that I was being artistic with my calligraphy if my decorating was a bit messy! I used to speak and write Mandarin but I still had to remind myself of the Chinese character for monkey.  As I couldn't find my old calligraphy brushes, I borrowed one of my daughter's paint brushes and first practiced on a piece of paper.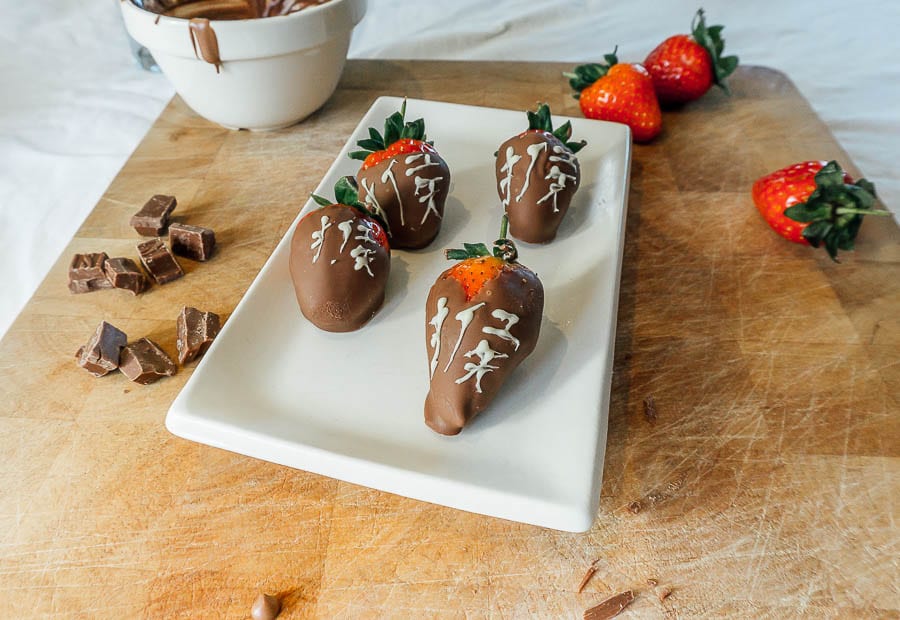 It had to be milk chocolate rather than dark chocolate as my kids prefer it, but, of course, you can use either. I also use the simple way to temper the chocolate. I first cut up the chocolate in little pieces and then put over half of them in a microwaveable bowl. About every 15 seconds I take the bowl out of the microwave and give the chocolate a stir. When it's only partially melted, that is there's still small lumps in it, I take the bowl out, add a few more pieces and keep stirring gently until it's smooth. The key is not to let it overheat.
White chocolate was used to decorate the chocolate strawberries with the Chinese character for monkey. A paper cone made with non-stick baking paper is the easiest way to pipe small designs but I had to work fast as the chocolate sets quickly. The best thing about homemade cones is that you just throw them away afterwards rather than having to worry about cleaning a piping bag. I also made sure that I bought big strawberries so that they would be easier to decorate.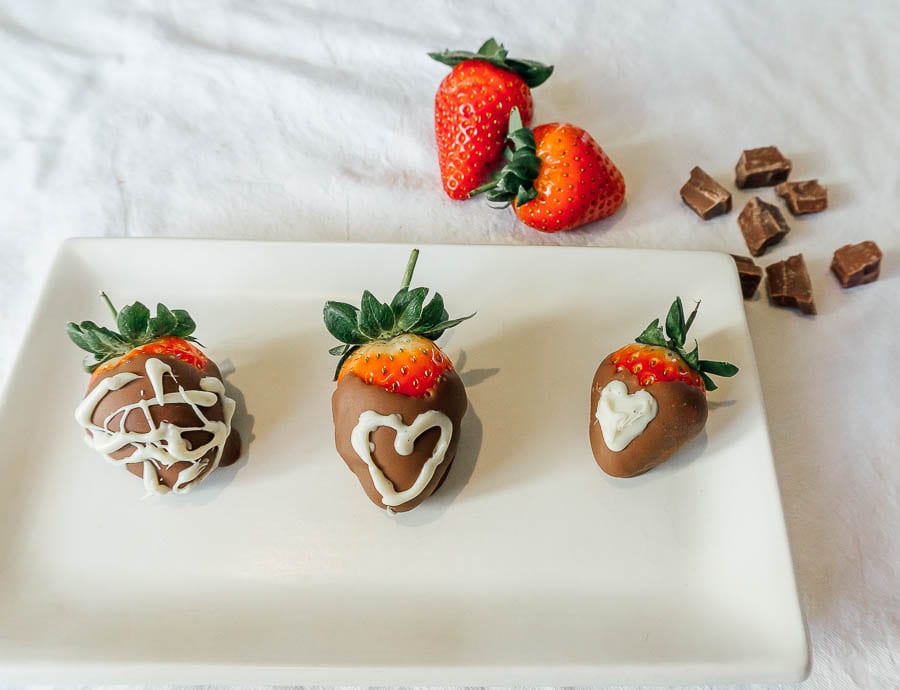 Since Valentine's Day is in February too, I also made chocolate strawberries decorated with white chocolate hearts. And an abstract design to use up every last bit of white chocolate.
strawberries and bananas in chocolate
INGREDIENTS
200g milk or dark chocolate (chopped into small pieces)
100g white chocolate (chopped into small pieces)
225g strawberries (leave the stem on)
2 bananas (peeled)
DIRECTIONS
Wash and dry strawberries. Peel bananas and cut into large segments.
Place half of the milk or dark chocolate pieces in a microwaveable bowl and place in microwave. Microwave at 15 to 30 second intervals to make sure you don't overheat. Take out the bowl before the chocolate has completely melted and then slowly add chocolate pieces while gently stirring until the melted chocolate is smooth. (I did mine in small batches and only needed to microwave each bowl for 30 seconds in total.) Let cool slightly.
Line a tray with baking paper. Hold the strawberries by their stems and dip one by one into the melted chocolate, spooning on extra chocolate if needed. For the bananas you can stick a lollilop stick into the end before dipping it into the chocolate. Allow any excess chocolate to drip off before setting on the tray. Chill in the fridge for about 20 minutes or until the chocolate has hardened.
Prepare a couple baking paper cones or a piping bag with narrow nozzle. As the chocolate can set quickly, melt a quarter of the white chocolate at a time. Place in the microwave at 15 second intervals until it begins melting. Keep stirring while adding any extra pieces if needed until the chocolate has melted completely. Spoon the white chocolate into the paper cone and fold the top edges over. Snip the end so that there is a very small hole. Squeeze gently to make your design with white chocolate on the chocolate covered fruit. Make additional cones with melted chocolate as needed. Chill in fridge until white chocolate decoration hardens.
Keep the chocolate covered strawberries and bananas with white chocolate decorations in the fridge until about 15 to 30 minutes before serving.
I'm planning to make these chocolate dipped strawberries every year for Chinese New Year as it's a delicious excuse to practice writing Chinese characters.