When my children were 5 we first started bird watching. There was an empty bird feeder in the tree outside our back deck and out of a whim I bought some bird feed one day to fill it up. Soon I had two very excited twins pointing at the red, blue and multi-coloured birds landing on it. Soon they were putting out treats to bring in the birds! In the last 3 years we've discovered lots of great ways for my kids to learn about birds, spot them on outdoor adventures and attract them to our gardens. Now my kids are becoming mini experts at identifying birds whether an American blue jay (a scary looking one feeding from their sand toy below) or a blue tit munching on a coconut shell treat. Ever since those first wild bird arrivals I've encouraged my kids to learn more about birds or go on outdoor bird adventures.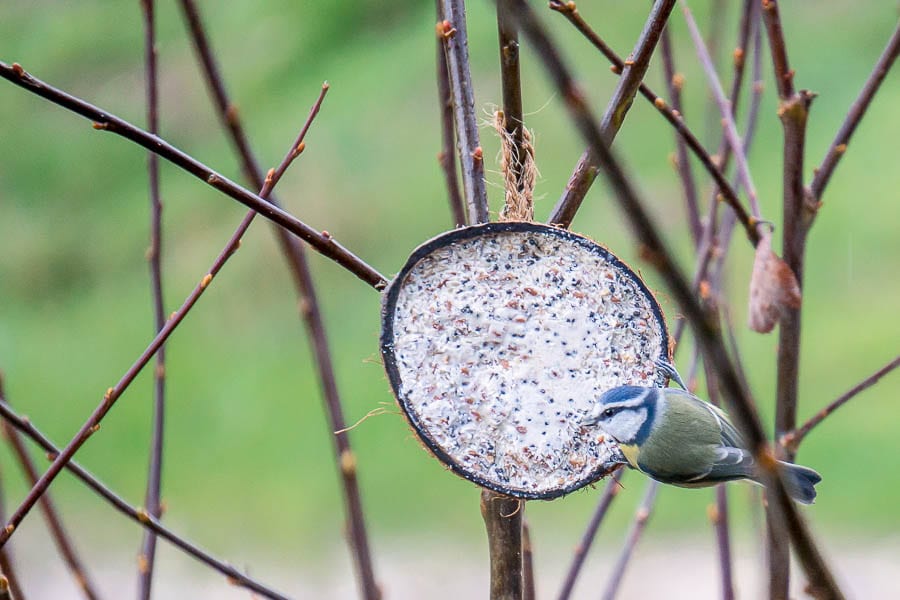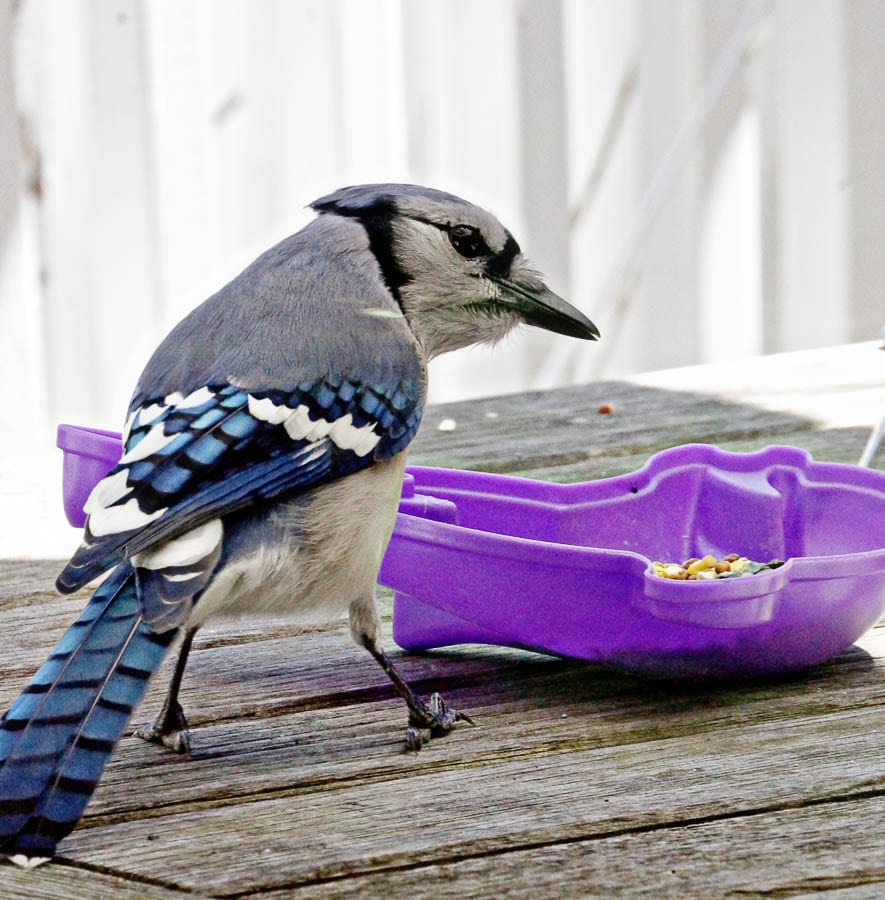 As it's time for this year's Big Garden Bird Watch, I decided to share some of my ideas and activities for making bird watching fun for kids.
Make bird feeders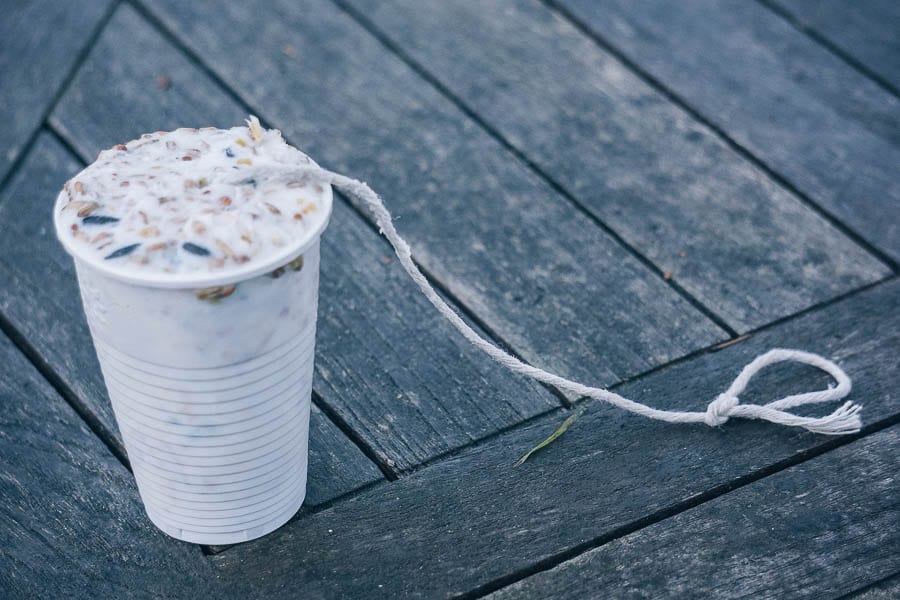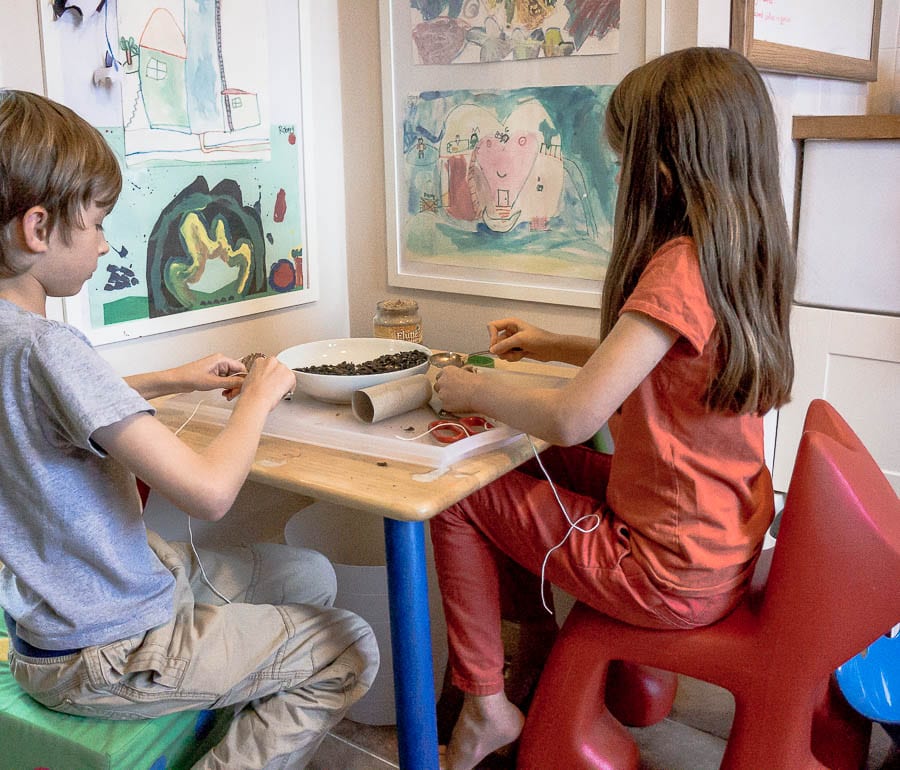 When my kids have made bird feeders they are extra keen to see if their creations bring in the wild birds.
Some ideas are:
Collect cones and coat with suet or lard and seeds then hang with strings in your garden. We first put our cones on a radiator for a few days to make the scales open up.
Roll toilet rolls with suet or lard or peanut butter and seeds and then hang in your garden. I have instructions in this post.
Fill yoghurt pots or cups with suet or lard and seeds with a string attached.
I've also been collecting great ideas for DIY Bird Feeders on my Pinterest board Wild Birds and Kids.
Make a Lego bird feeder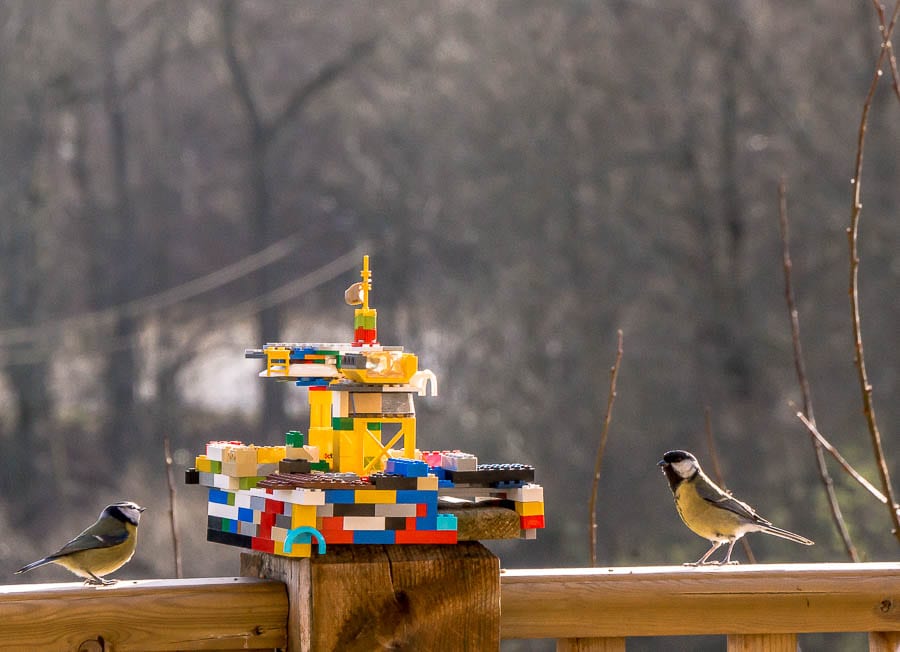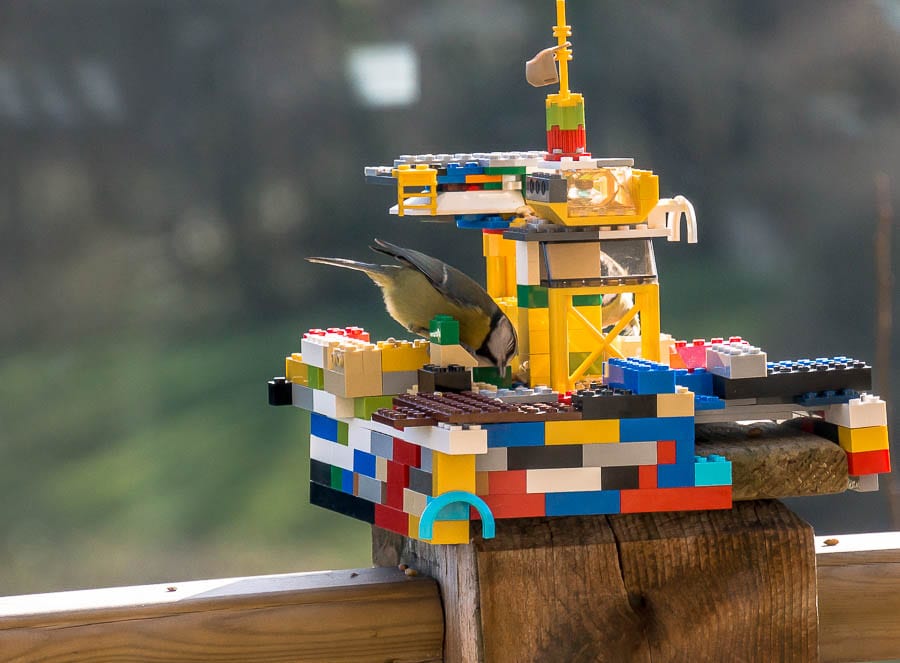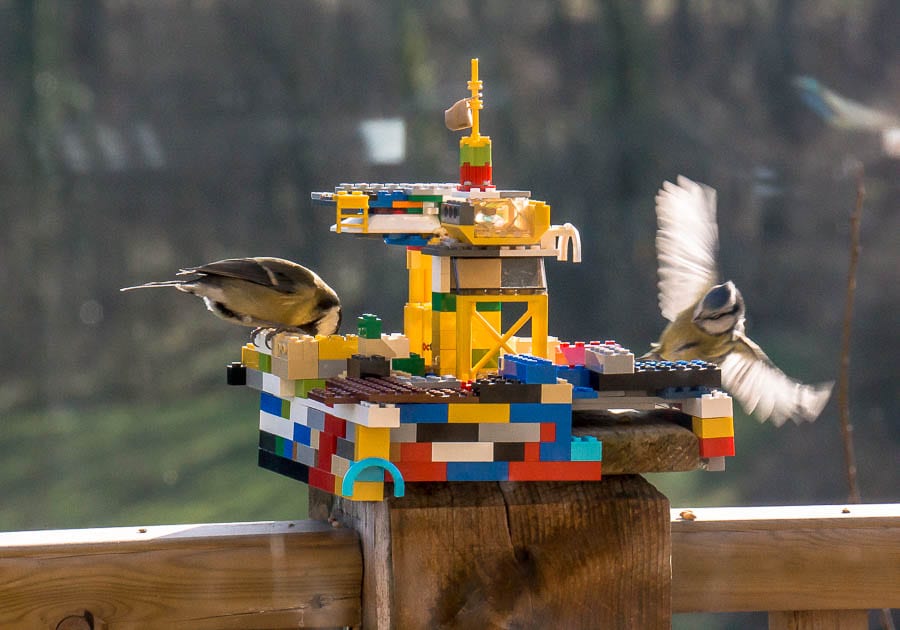 Without a doubt the ultimate bird feeder as far as Luce and Theo are concerned is the Lego bird feeder they made this week. It was constructed so that it could fit right onto the railing post on the back deck. I was told off by my daughter as I put seeds in the top part which in fact was meant to be a water bowl for the birds. They now are coming up with ideas such as make a bird feeder table with a Lego bird feeder castle! Of course I will get the tricky job of keeping these Lego feeders clean to prevent spreading diseases among visiting birds. BTO has advice here on why it's important to keep feeders clean.
Make bird feed recipes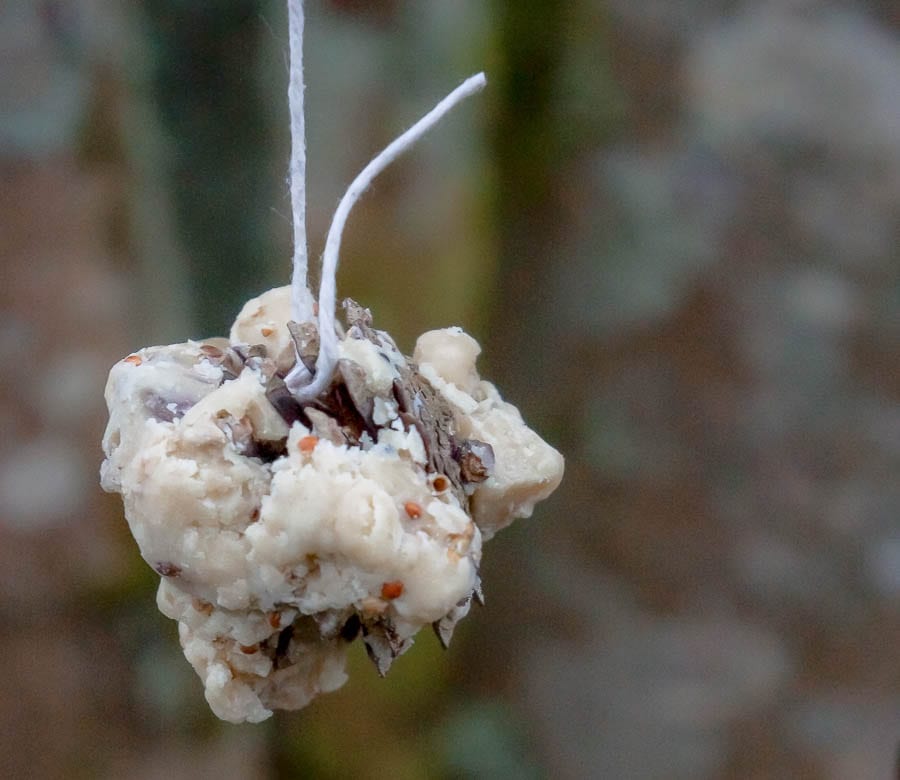 We often make our own bird feed recipes. It's cooking with kids for birds!
A good ratio is one part fat to two parts dry mixture. You can use lard or suet for the fat then mix with a variety of dry food such as good quality bird seeds, crushed unsalted peanuts for birds, mealworms, digestive biscuits, mild grated cheese, uncooked dried porridge oats or even dried fruit such as cranberries or raisins. (Note – It's usually best to soak dried fruit first but don't use if you have cats or dogs in the garden. According to the RSPCA: "Grapes, sultanas, raisins and some artificial sweeteners are toxic to dogs.). And don't use chicken, turkey or vegetable fat.
We've ordered and used peanut butter made especially for birds filled with bugs! Please always double check that your ingredients are safe for wild birds. You can find advice from the RSPB here and RSPCA here on which foods you can safely give to birds. The US Cornell Lab of Ornithology also has tips on what you can feed birds here  and here (including how to use peanut butter!). Avoid bread, milk, desiccated coconut and any mouldy or stale food.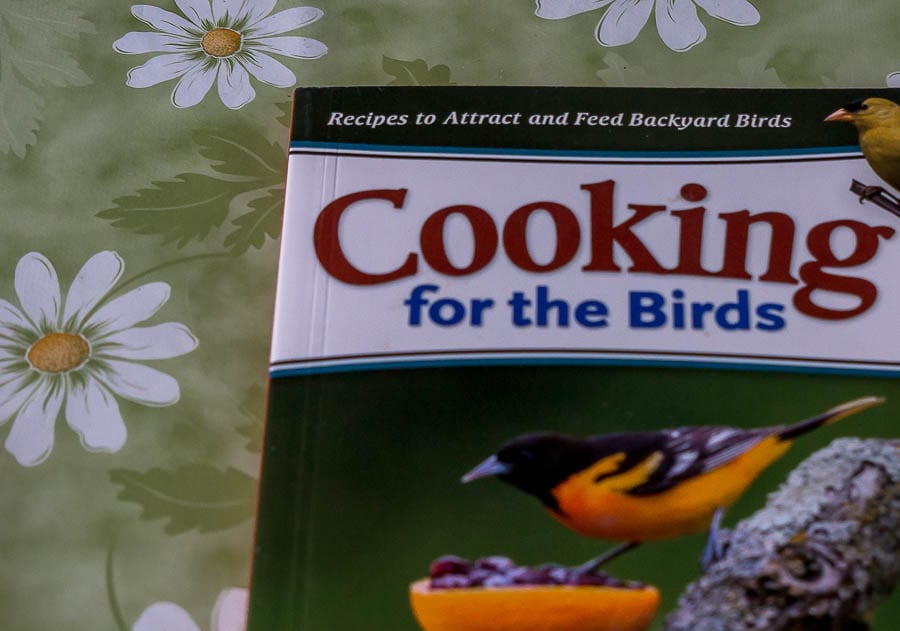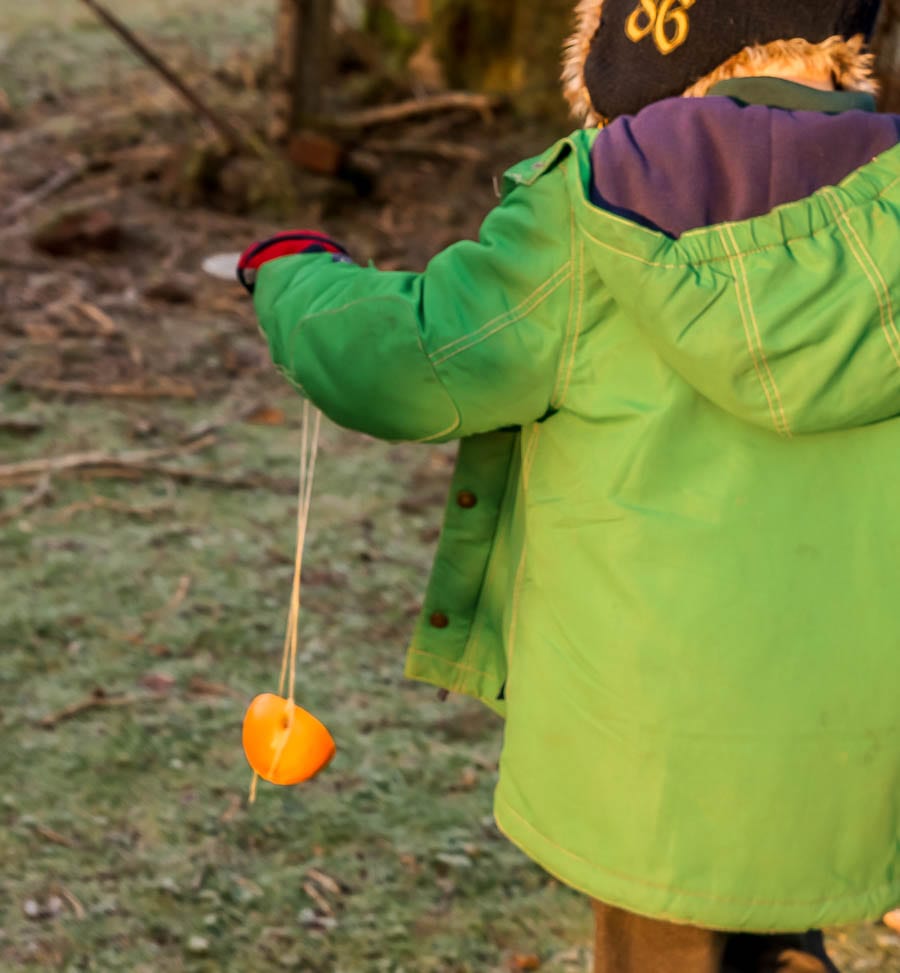 We have a fantastic book Cooking for the Birds which has 25 fun-to-make recipes. And they really are a blast for kids such as the recipes for a banana split or happy bird-day cake or woodpecker waffles. This book is aimed for North American birds with recommendations of which recipes for different species of birds. But many of them can be adapted for British birds.  (Available here on US Amazon and you can order here on UK Amazon)
Important: Make sure you regularly clean your bird feeders!
Bird Cake recipe: This is a great simple bird cake recipe from the Eden Project which you can use alone or with cones or with empty yoghurt cups.  Crush 5 digestive biscuits and a cup of bird seeds or unsalted peanuts in a mixing bowl with the back of a wooden spoon. Add half a pack of lard cut into small pieces then mix it all together. For bird cakes on their own just make different shapes and then put them in the fridge to harden. If you're using cones, then spread the bird cake over and in between the scales, then tie a string to the cone.
Watch Wild Birds in the Garden
Hang your bird feeders where kids can watch the wild birds through a window. You could also tape some black paper to the window with slots at your children's eye height for them to watch the birds without disturbing them.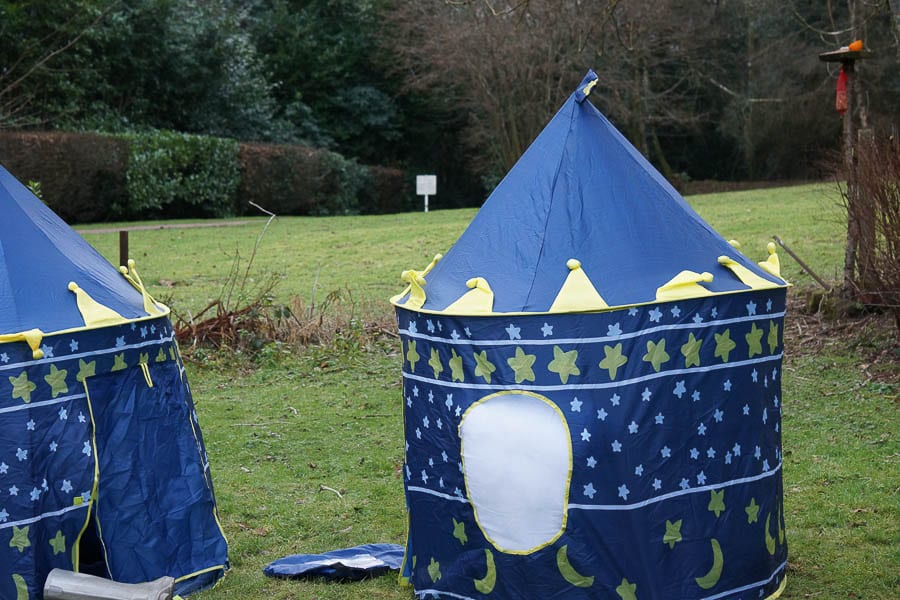 Last year for the Big Garden Birdwatch I set up these castle tents in the garden so my kids could use them as hides to count the birds without being seen.
Children's bird books
I keep handy good reference and pocket guide books to identify birds – such as the Collins BTO Guide to British Birds, RSPB Pocket Guide to Birds and Peterson First Guides Birds of North America – but I also have a collection of books aimed just for kids.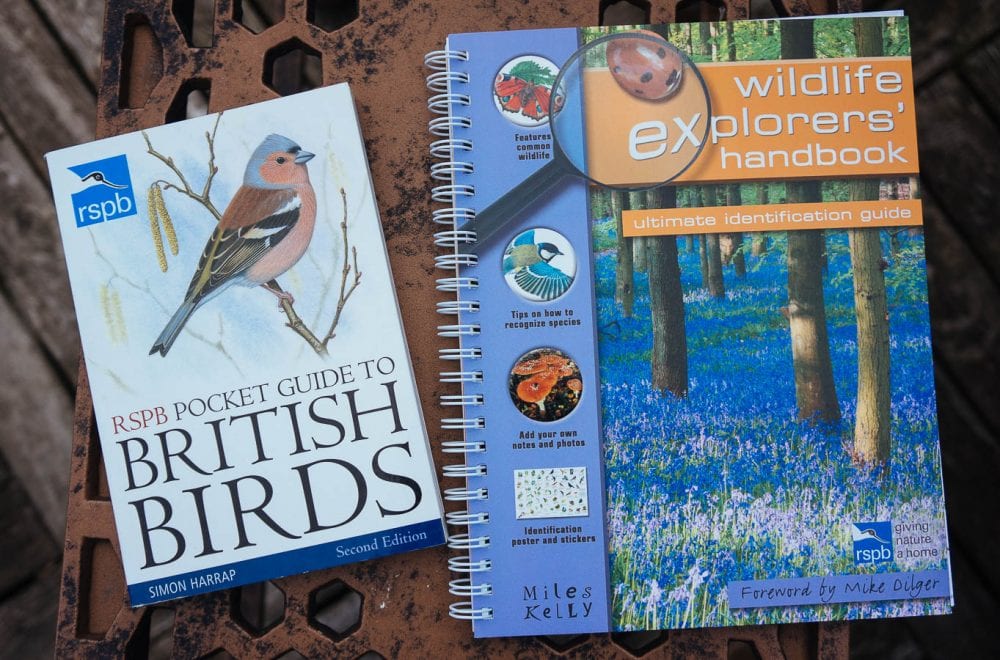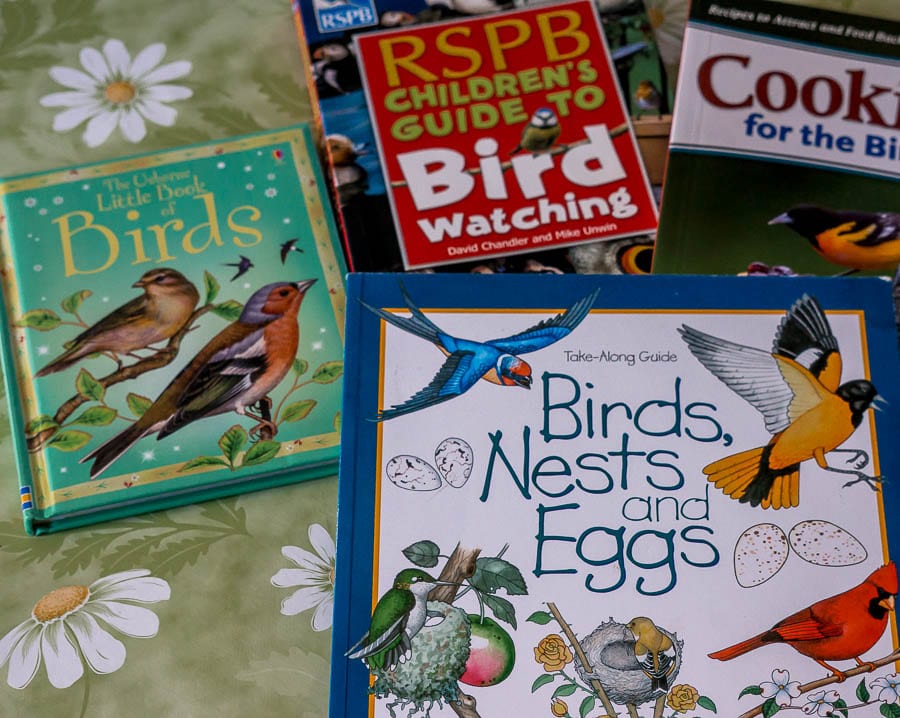 Here are some I recommend:
I've also bought them fiction and non-fiction books on birds such as It's a Hummingbird's Life or the classic Owl Moon.
Outdoor Bird Adventures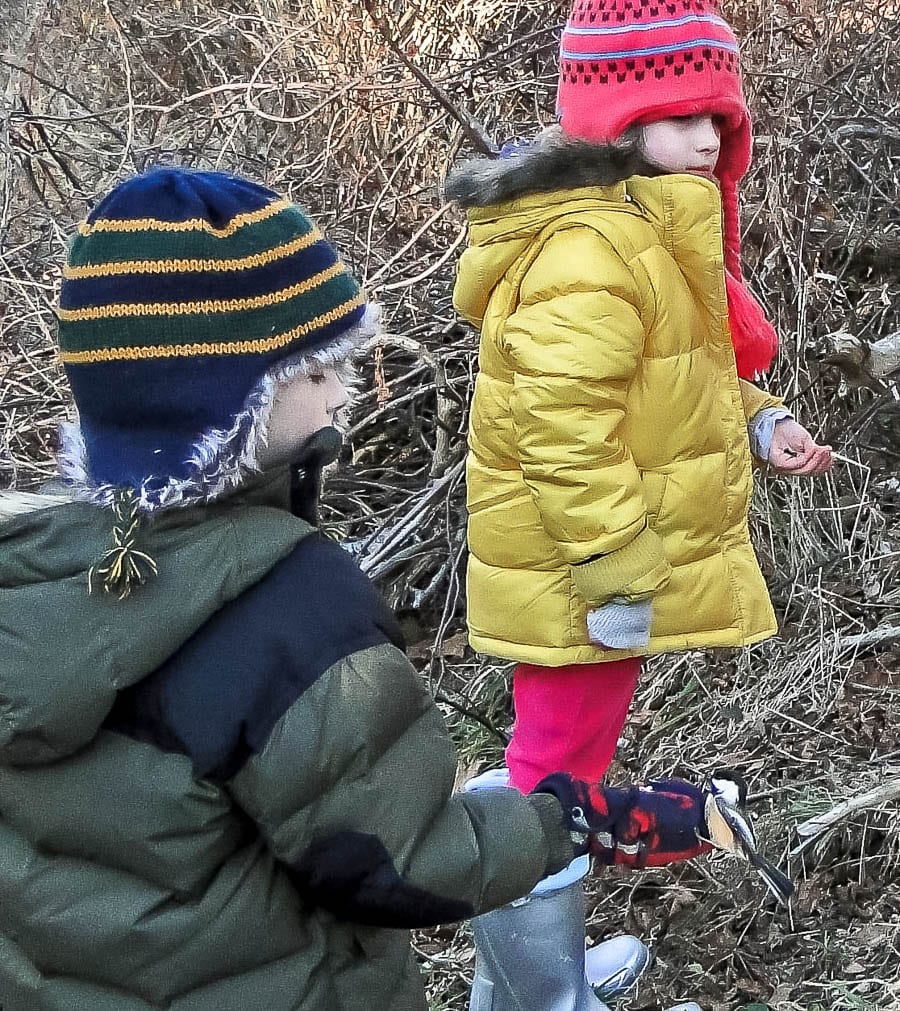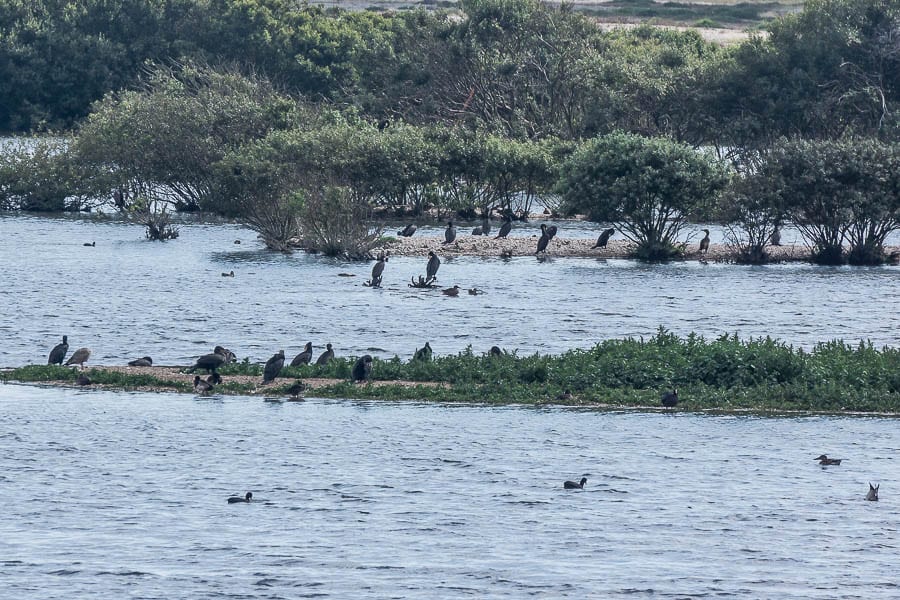 Take them to a nature reserve to observe birds in different habitats. My twins have fed wild birds from their hands at this wildlife refuge in the US and watched them in the water from a hide at this RSPB nature reserve on the British coast.
I'm hoping someday to find a place nearby for them to see an amazing murmuration of starlings.  Mother's Little Steps took her daughter on such an adventure in Cornwall. I also want to take a trip and see puffins like this one by A Family Day Out.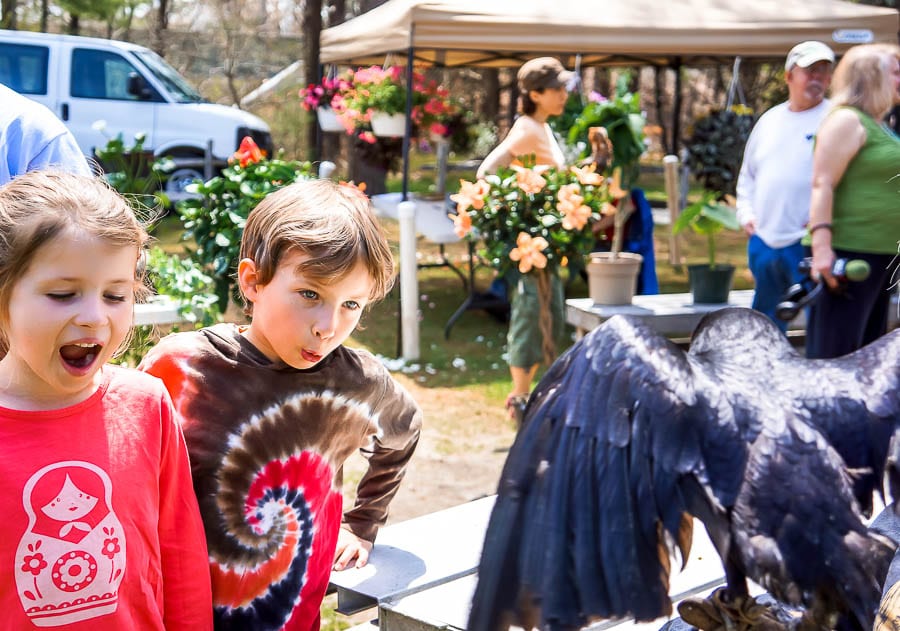 To be honest I'm not fond of observing birds at zoos. But we've learnt a lot about them at animal sanctuaries. Who knew crows were considered one of the top 10 smartest animals? And who knew that my kids would go crazy talking to a crow?
Bird Cuddlies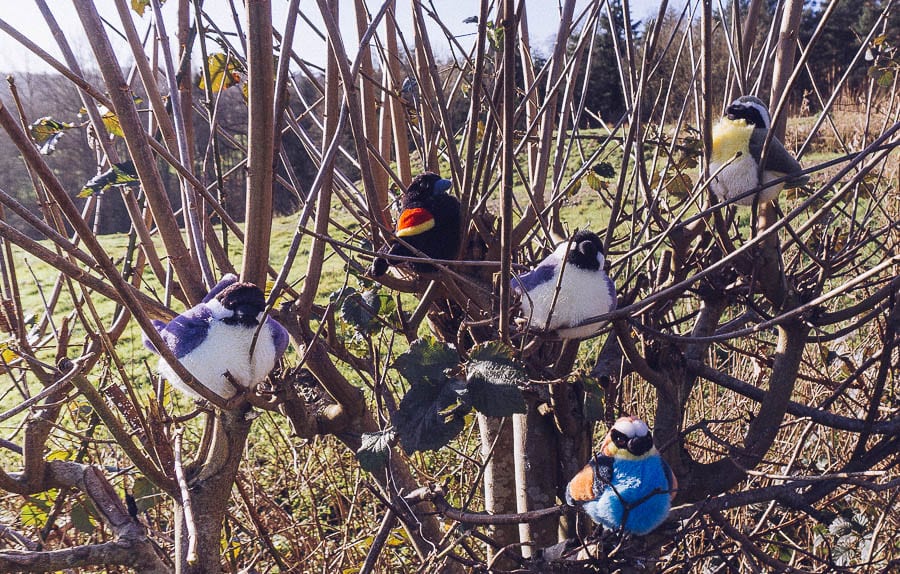 Last but not least there's nothing better sometimes than a bird you can cuddle. Our favourites are the birds by Wild Republic which make real bird calls when you squeeze them. They're soft and huggable but also a fun way for kids to learn different bird species and calls.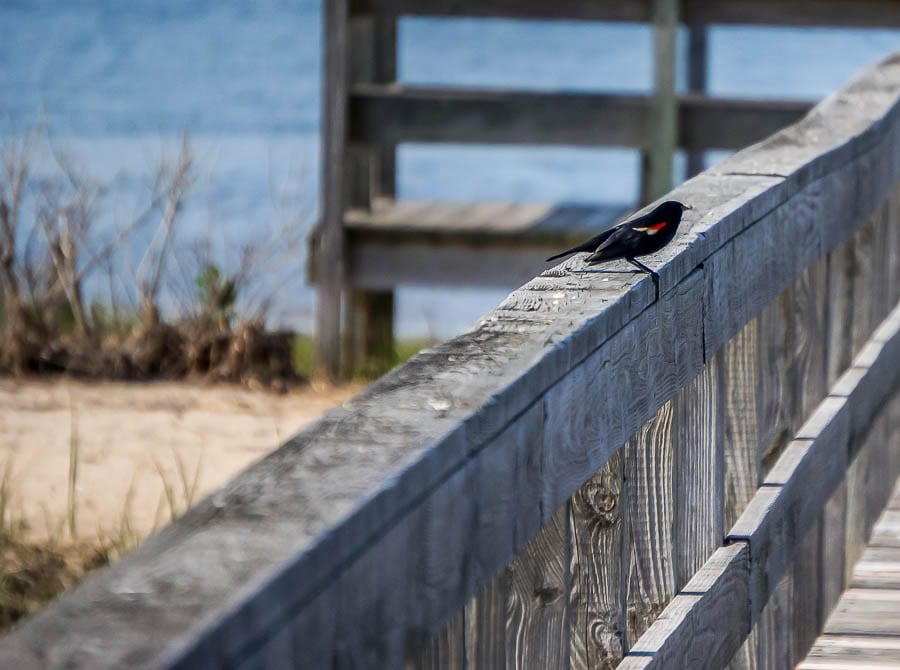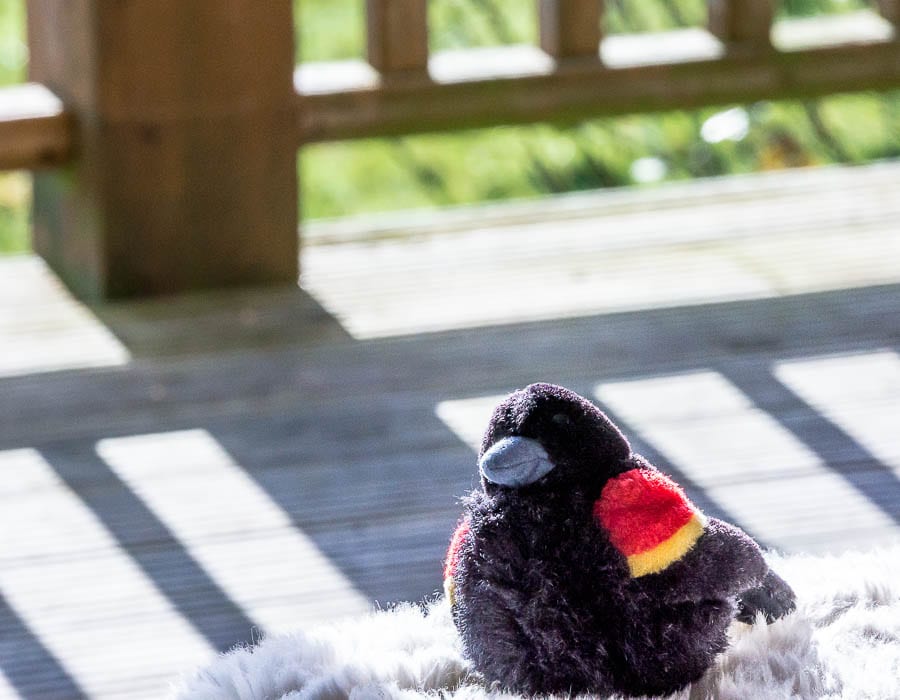 One time I became rather confused in the Hamptons when I was observing a red-wing blackbird ahead of me but kept hearing another one right behind me. Turns out my son had brought along his red-wing blackbird plush toy and was secretly squeezing it behind me! My daughter is owl crazy so she now just want to collect owls.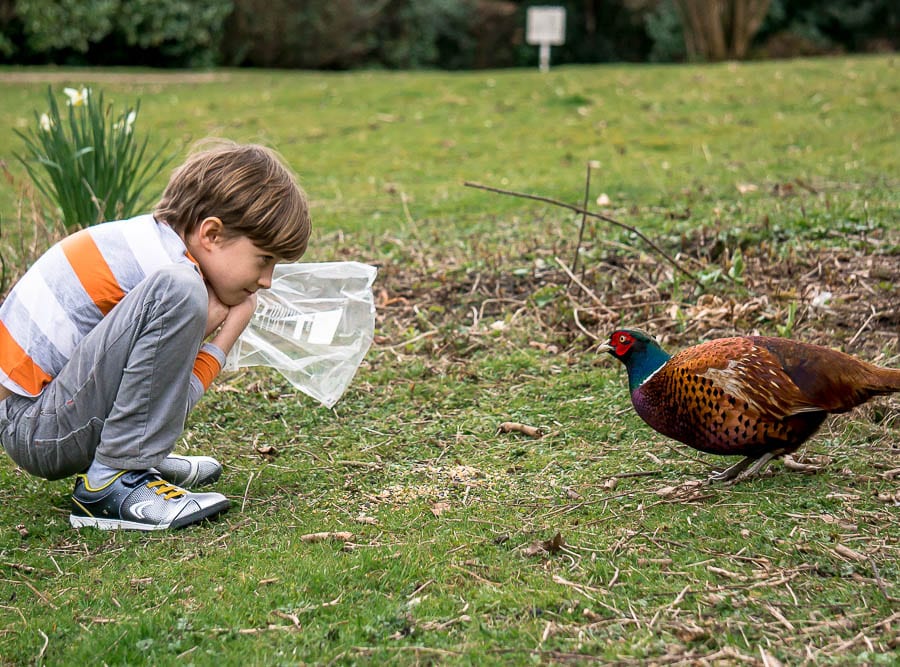 When they're older I'll get my kids to take notes on field trips and find out more about the behaviour of all sorts of birds. But they'll only want to do that if I've made bird watching fun and they want to learn more.
Do you have some fun ways or ideas that have made your children interested in birds and keen to go on a bird watching adventure?