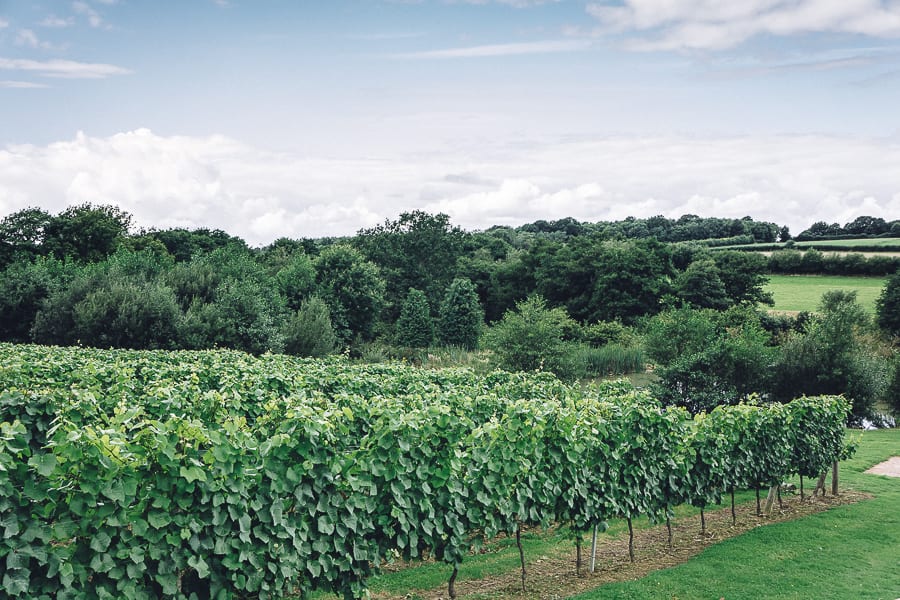 Mother's day is approaching which has made me think about Bluebell Vineyards for numerous reasons. One is that I have a bottle of Bluebell Vineyard's sparkling wine waiting to be popped. After all as a mum of twins I'm looking forward to a little relaxing celebration this Sunday. But I'll also be thinking of my mom when I'm drinking it. And finally I'm a big believer in local produce and drinks – even better when it's bubbly, hand-crafted and with a delicious fruitful taste.
Last summer when my mother was staying with us I took her and my twins Luce and Theo to Bluebell Vineyard in East Sussex. As she's a wine expert – my mother writes about wine and food – I knew this would be an excursion perfect for her. We'd already enjoyed a glass or two of this lovely English fizz at some of the best local restaurants and pubs. After a special mother and daughter dinner at Gravetye Manor Hotel, where we talked and sipped Bluebell sparkling wine on a warm evening in the garden, I checked whether it was possible to just show up for a tasting visit.
Bluebell vineyard is open for visitors…Relax and wander around our Estate and extensive woodlands. Bring a picnic and enjoy the spectacular views of our vineyard from our terraced seating area. Visit our Tasting Room and Shop and sample our current releases for £5 per head." Bluebell Vineyard website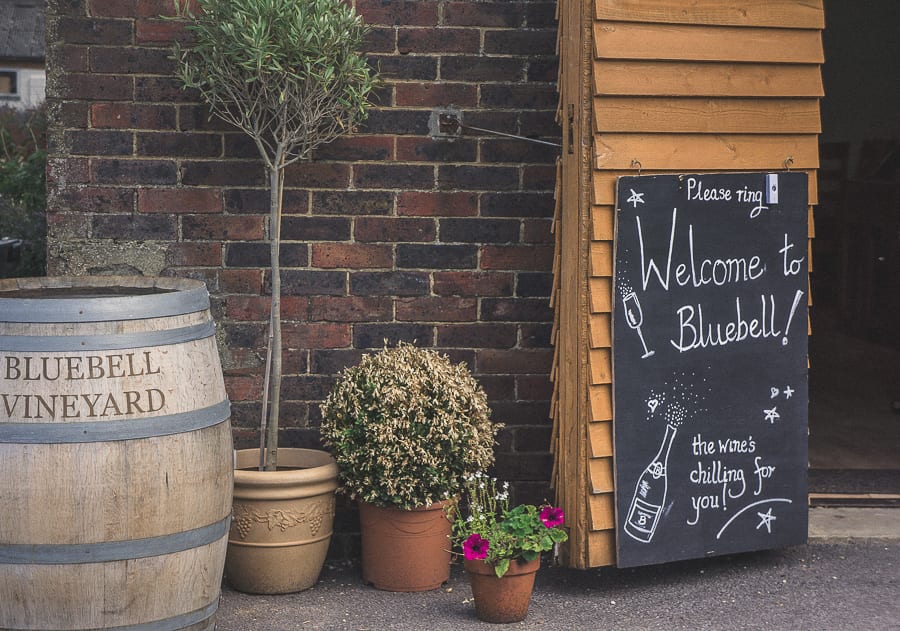 Bluebell Vineyard Estates has become a top English sparkling wine producer after winning a series of international medals. For quite a while now the buzz amongst wine experts is that English sparkling wines are winners – and a wonderful alternative to French champagne. Interestingly the climate and soils in southern England are not very different from the Champagne region. Of course it's Blighty so on this summer day the weather went from sunshine to rain and back quite a few times!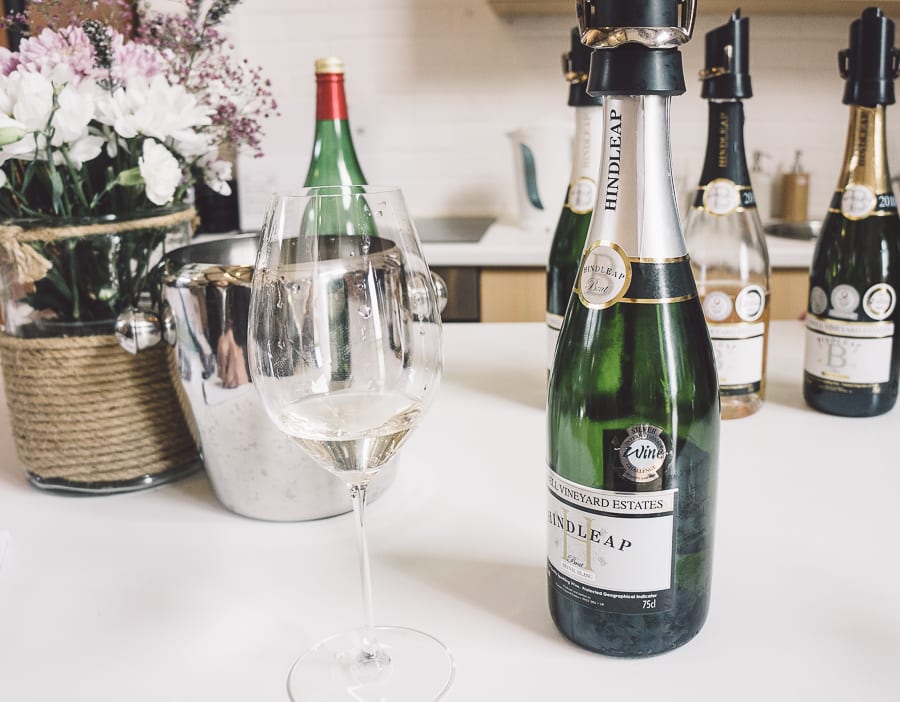 I sadly had to leave my happy Mom tasting the different sparkling wines produced by Bluebell Vineyards while talking to their expert to go off for a walk with Luce and Theo.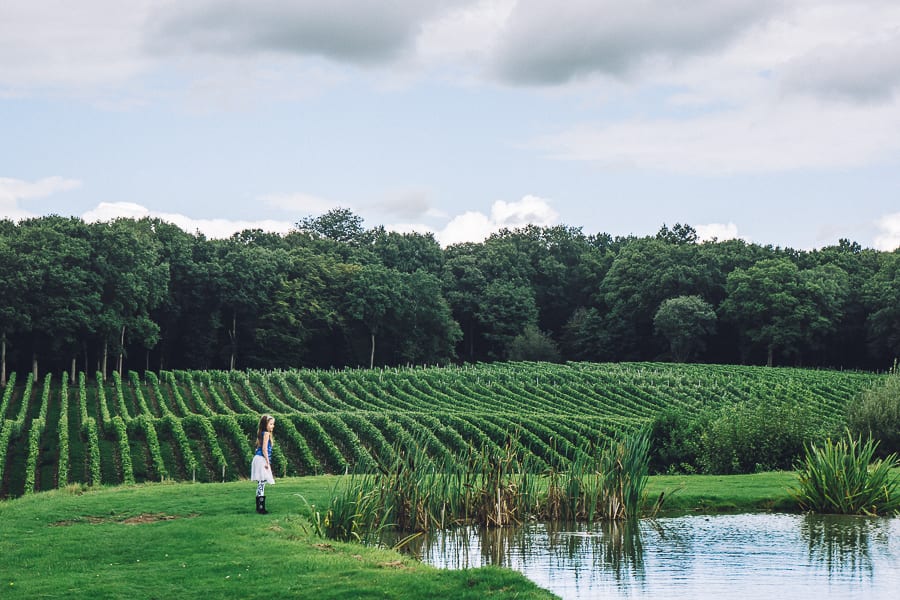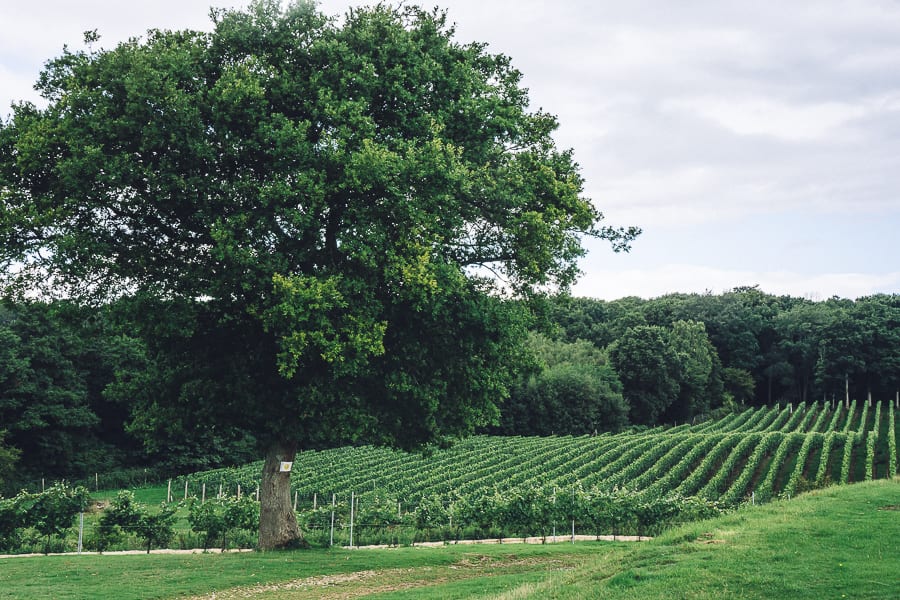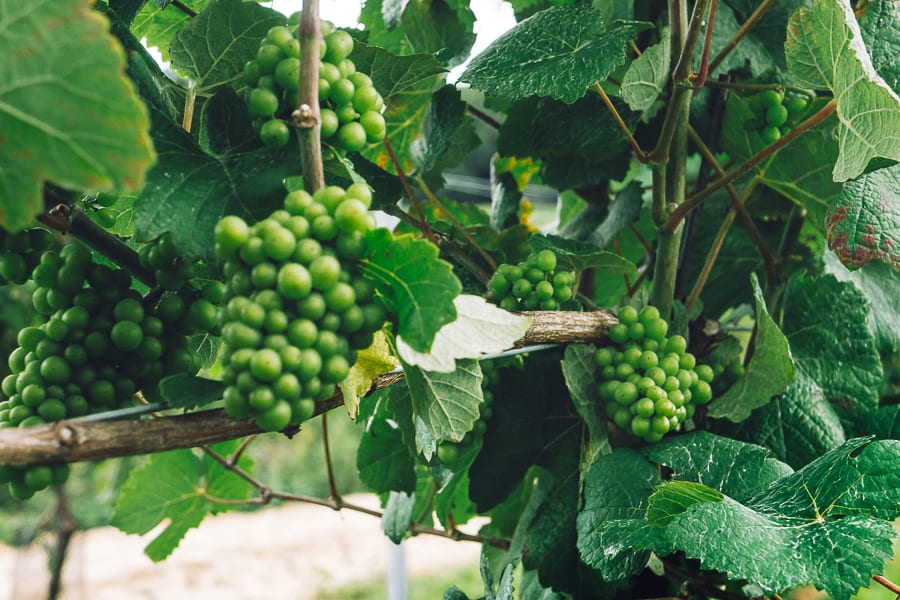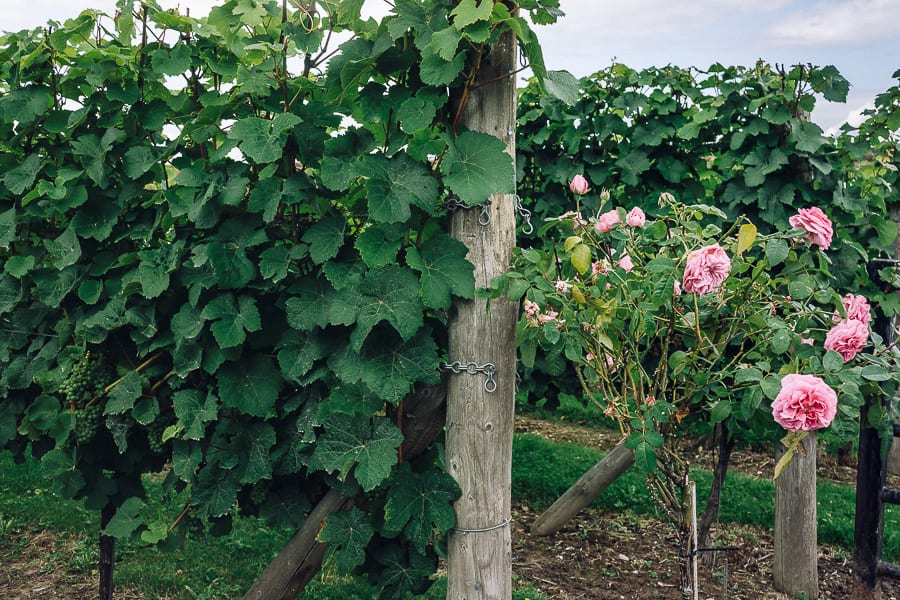 Swine to vine!
Nevertheless it was rather beautiful seeing rows of vines with plump grapes growing across the East Sussex hills.  Strange to think that once this had been a pig farm. The change from swine to vine happened in 2005 when the owners Barry and Joyce Tay turned it into Bluebell Vineyard Estates.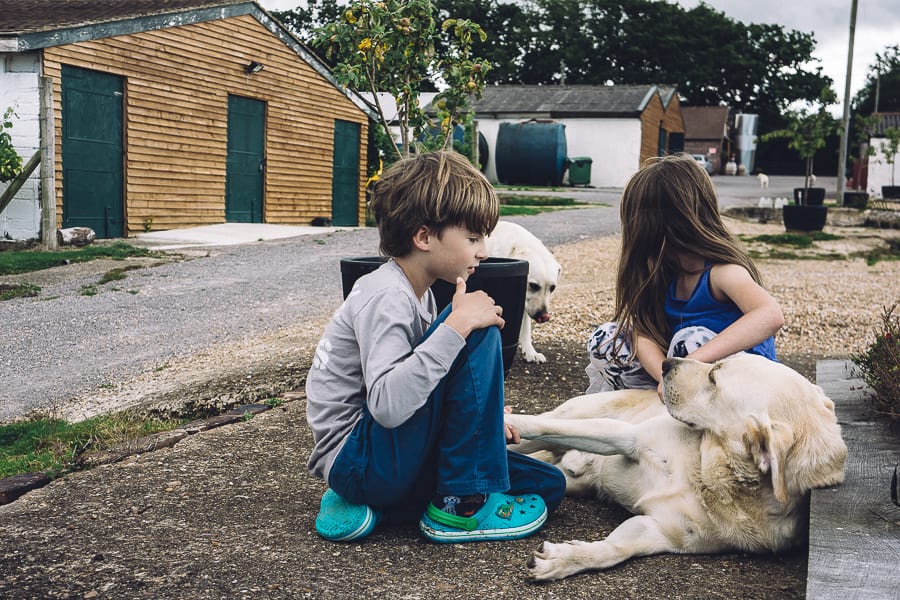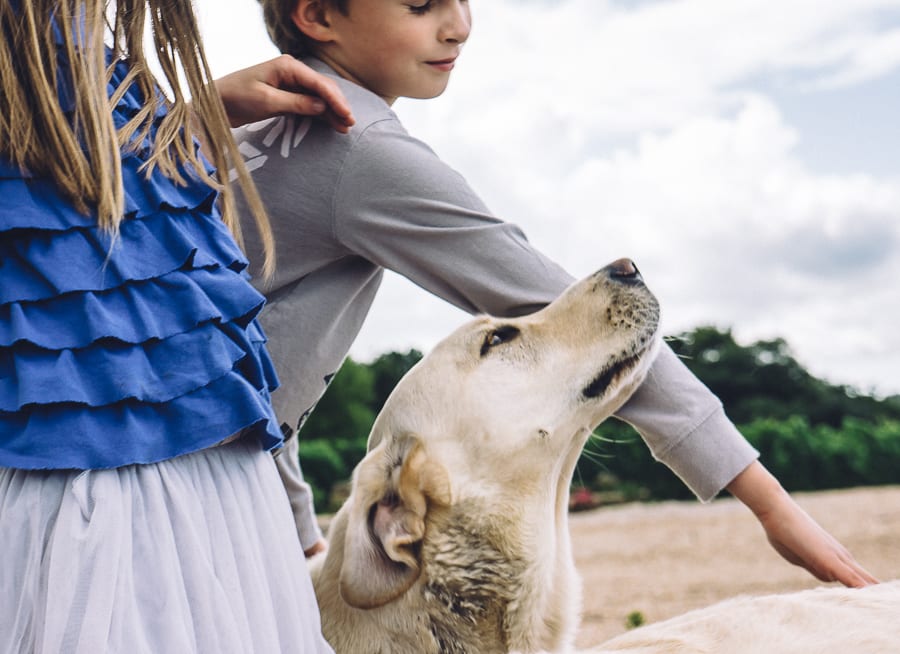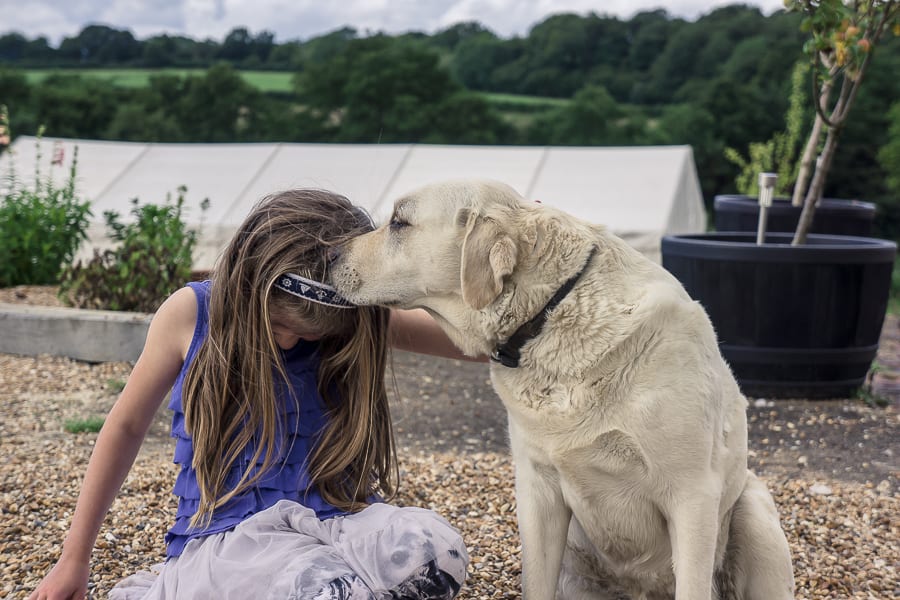 Rather a win-win place as my kids can roam around in the stunning landscape and I can enjoy the fruit of the land. My two also became rather enamoured with the vineyard's dogs. Not surprisingly I nipped back into the tasting room to check on their grandmother. (If you've noticed that I've written both 'mum' and 'mom' that's because I'm American and British. I've talked about why they're different here.)
My master plan is to do a proper excursion to the vineyard when we have some wine buff friends visiting. If there are four or more (obviously not including young ones like my twins) then you can book a private tour. This includes a glass of bubbly, a walk around the vineyards where they grow the grape varieties Chardonnay, Pinot Noir and Pinot Meunier, a visit to the winery and then a tasting of all their current releases!
Perhaps we could tire the kids out first in the natural play trail at nearby Sheffield Park and Gardens? Also Bluebell Railway's Sheffield Park station and museum is only about five minutes away. Some of the local lanes are also rather idyllic to drive along.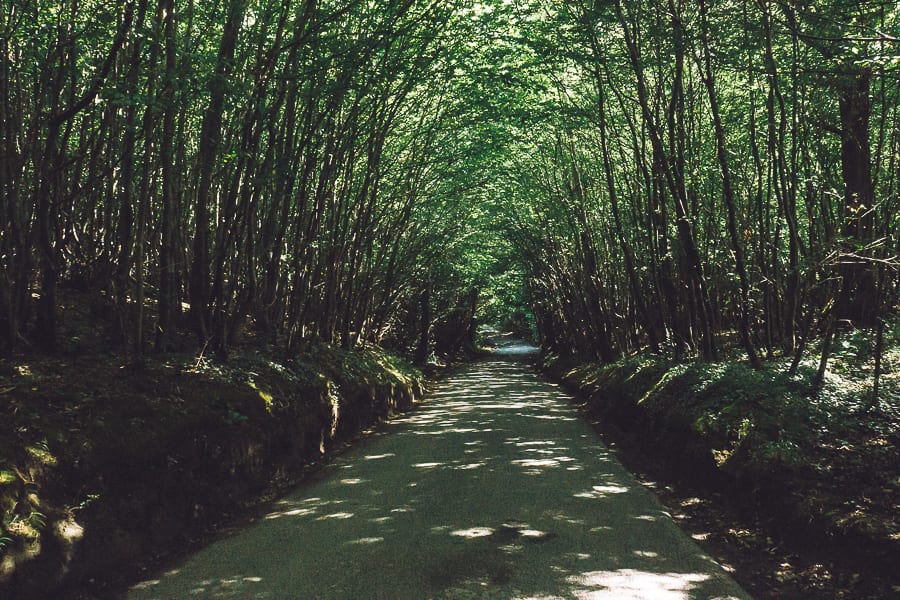 Bluebell Vineyard Estates.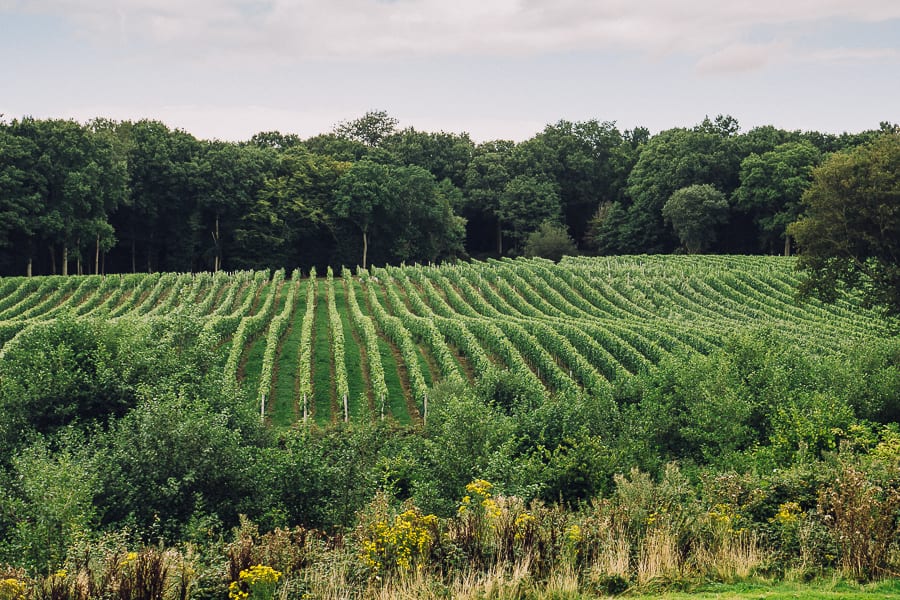 This Sunday I'll be raising a glass of Bluebell's Hindleap Brut Seyval Blanc in salute to my mother. Anyway, how better to celebrate and support local producers than sipping English bubbles?