It was very early in the morning when I was awakened from my sleep by my twins. Lightsabers swooshed and made battle noises around me.
My son Theo was dressed as an X Wing fighter pilot from Star Wars: The Force Awakens.  His twin sister Luce was Rey, the heroine in this same sequel. They had brought me breakfast on a tray because it was my birthday. Soon the tray was set aside and I was combing and twirling my daughter's hair into three buns like the scavenger Rey. It's all true, I told them, the stories about the Dark Side and the Jedi.
It was a perfect excuse to head off into the woods for a Star Wars adventure.  My kids would have a lightsaber battle in the woods just like Rey and the Dark side warrior Kylo Ren. The Force was calling them.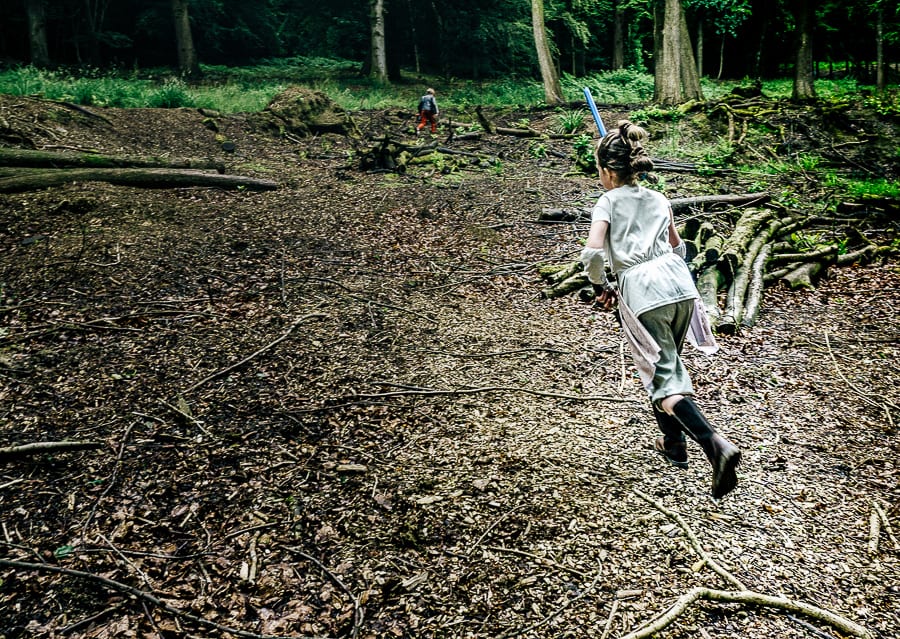 I know a place nearby in the woods which has an otherworldly feeling. Theo had found a deer skull here when we were scavenging for the Doll House bug hotel.  Foresters had cut down trees leaving a clearing filled with cut wood and sawdust so that it looks like an alien planet's surface.  The surrounding forest is dark and moody.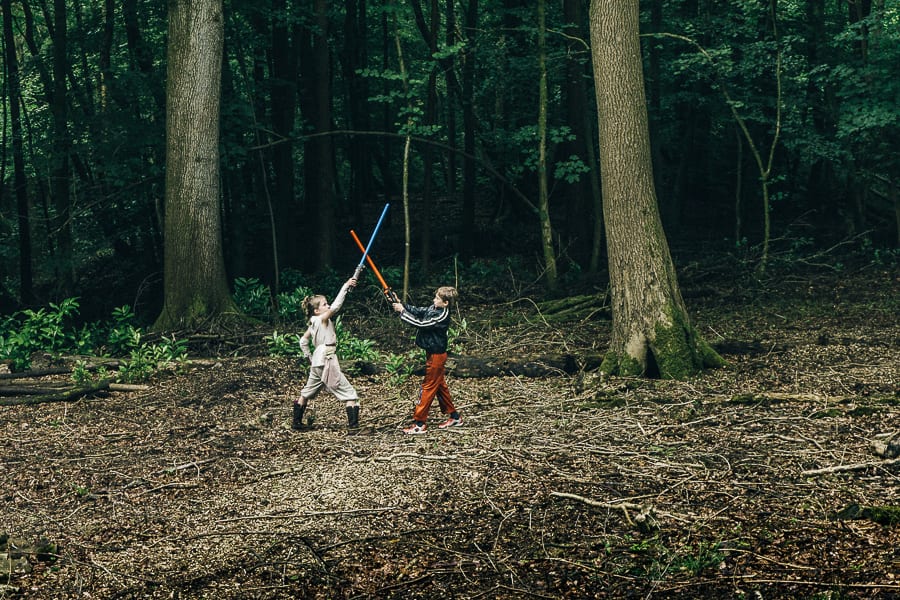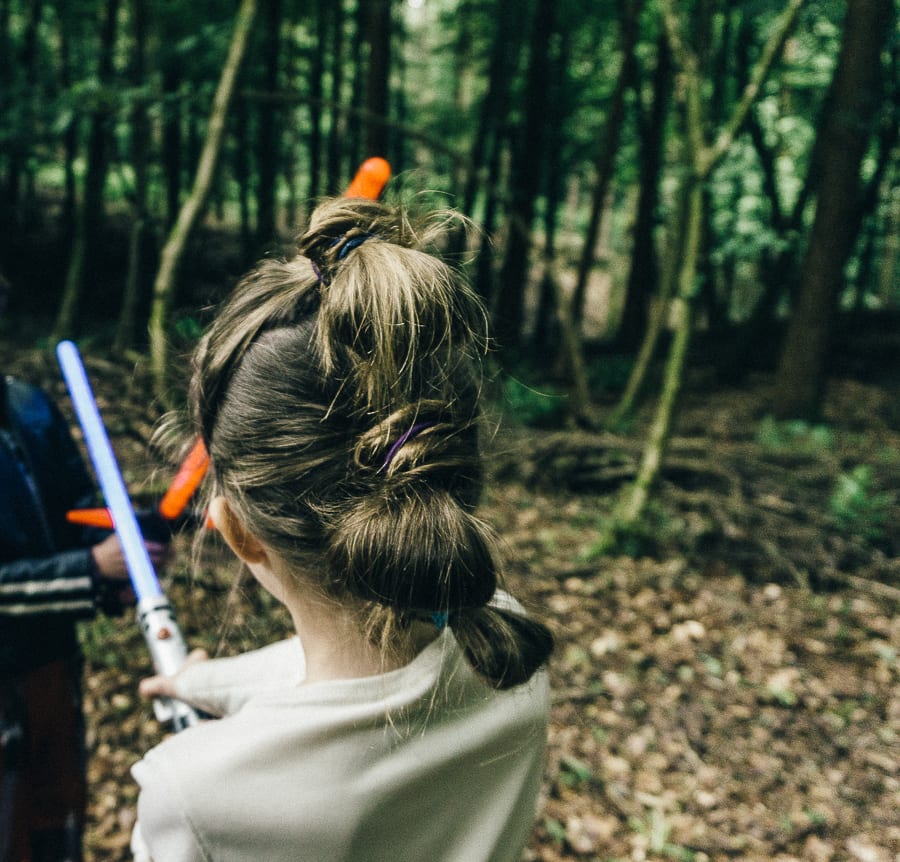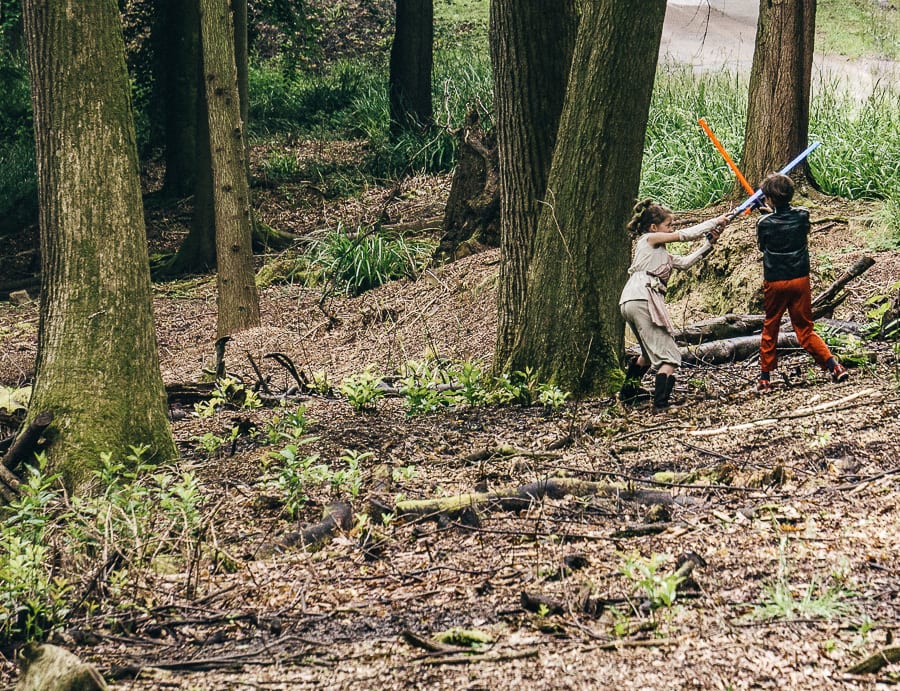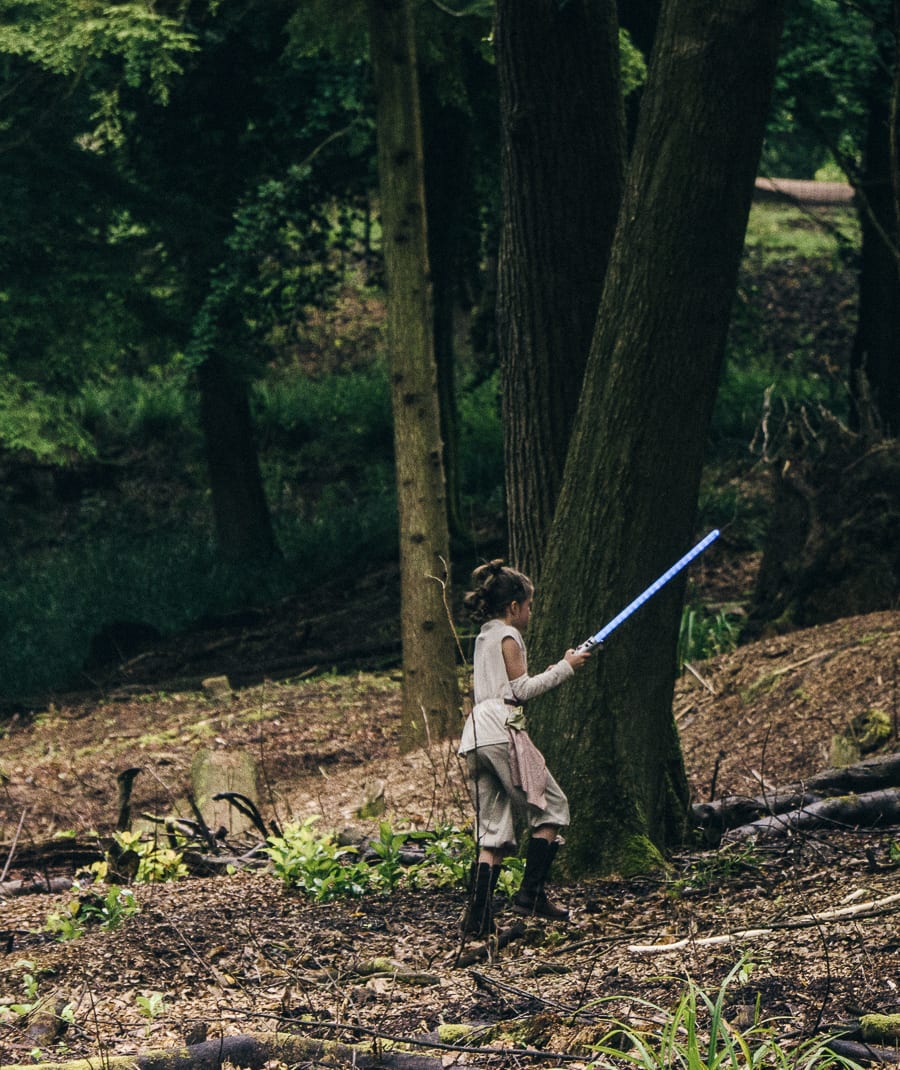 Theo had wanted Kylo Ren's red lightsaber while Luce naturally insisted hers had to be blue like Rey's. Rey's lightsabre had once belonged to the Jedi Luke and his father, Anakin Skywalker. Their toy versions make battle noises when the blades engage.
My two warriors soon fought their battle within the dark forest. Actually they just wanted to be in the darkest areas so that their lightsabers would glow in the early morning light!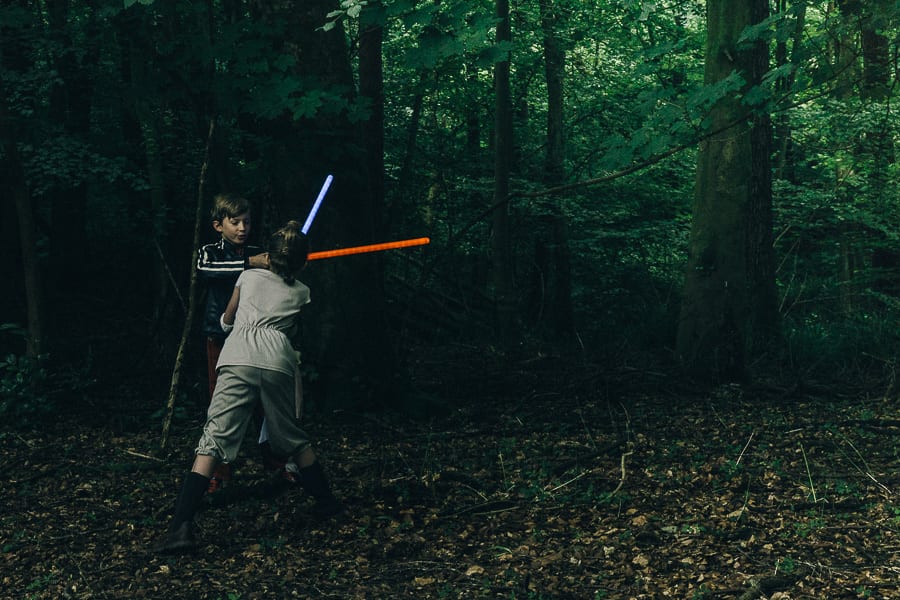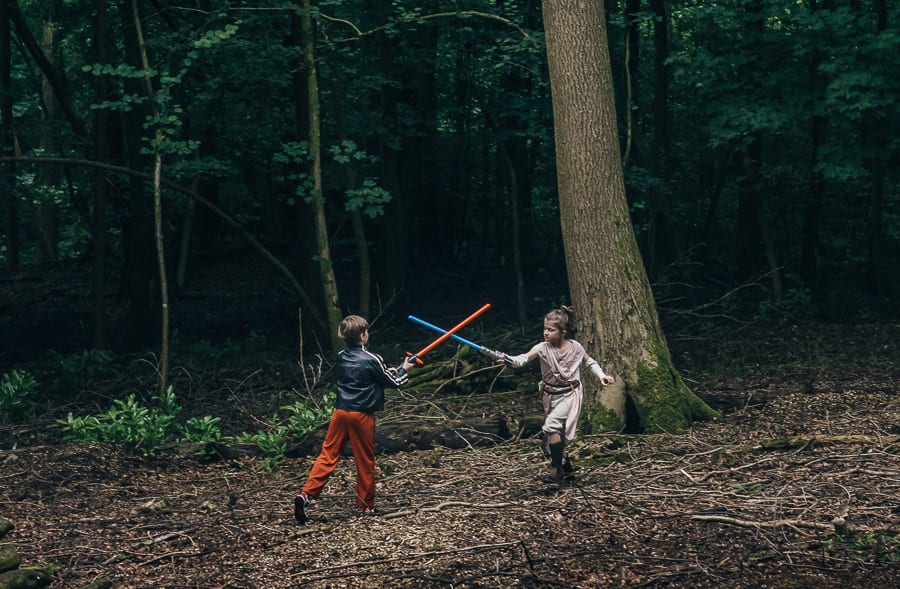 The best part of my birthday was watching the huge smiles on my twin's faces as they imagined they were real Star Wars fighters on a distant planet far, far away in our woods.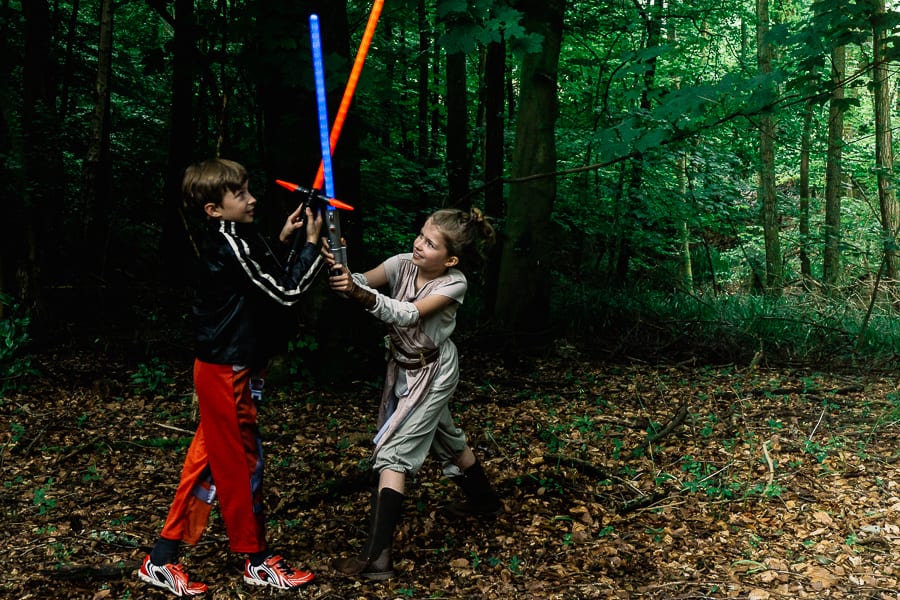 Who won? I dare not say in case you haven't seen this Star Wars sequel. There are glimpses of this epic lightsabre fight scene in the official trailers which you can see here or here.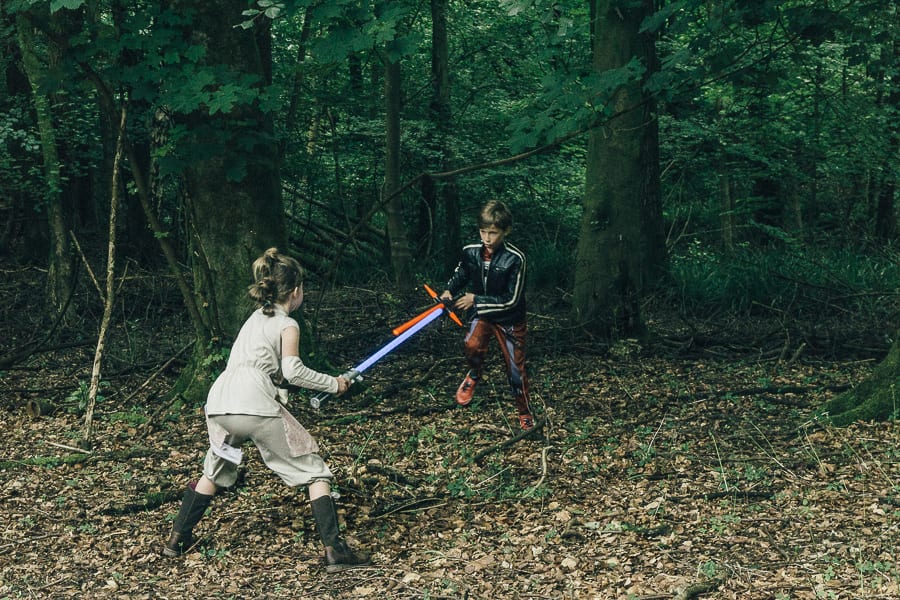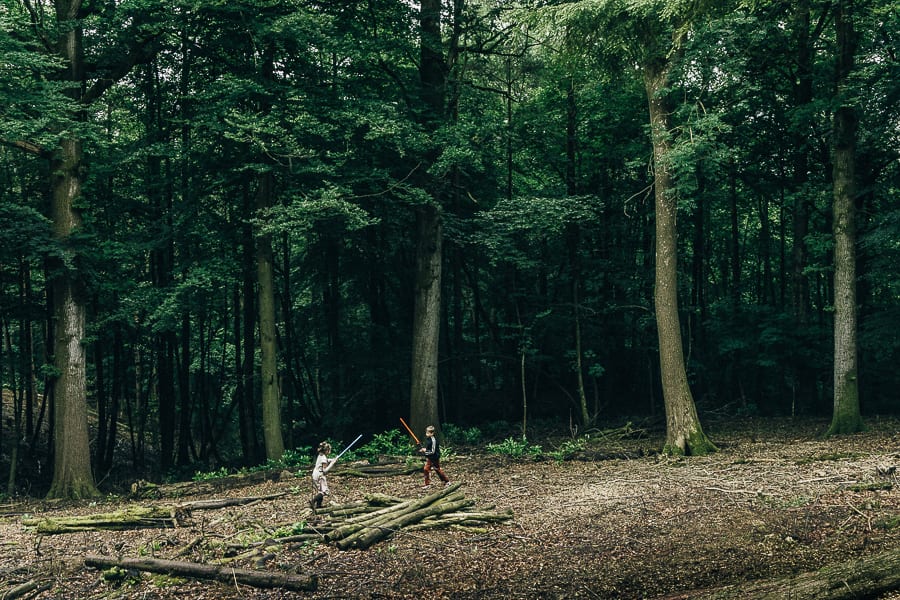 I have a feeling that this winter when it snows they'll want to head back into the woods for another lightsaber battle. If you've seen the film you'll understand why.
Later in the day my twins attended a Star Wars themed party filled with aliens, heroines, resistance fighters and stormtroopers where once again they began battling with their lightsabers.