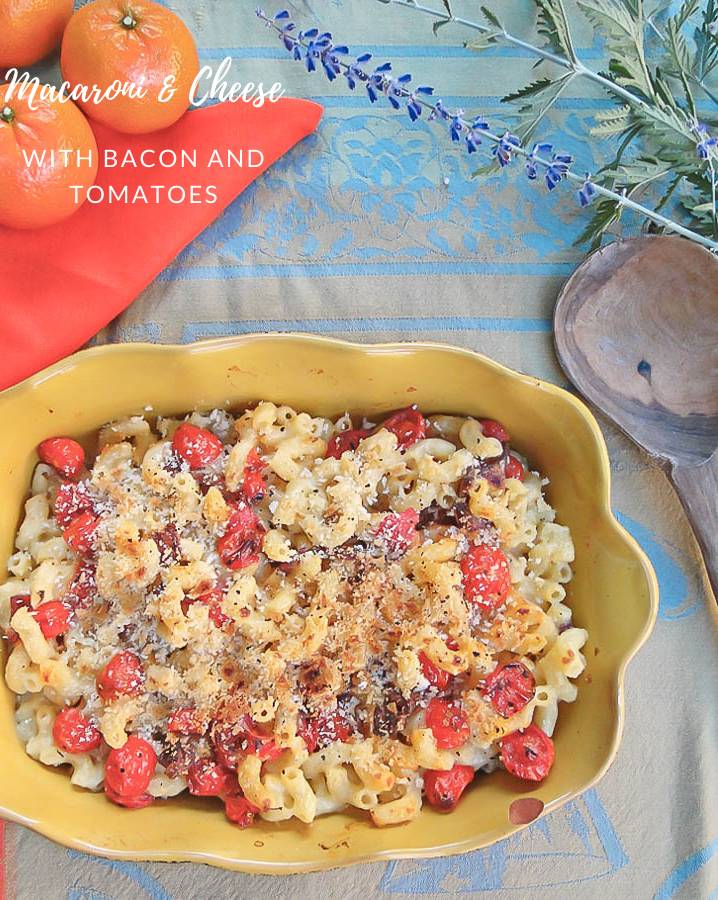 My ultimate comfort food is mac 'n' cheese, but I also like to jazz it up – as in this recipe for macaroni and cheese with tomatoes and bacon.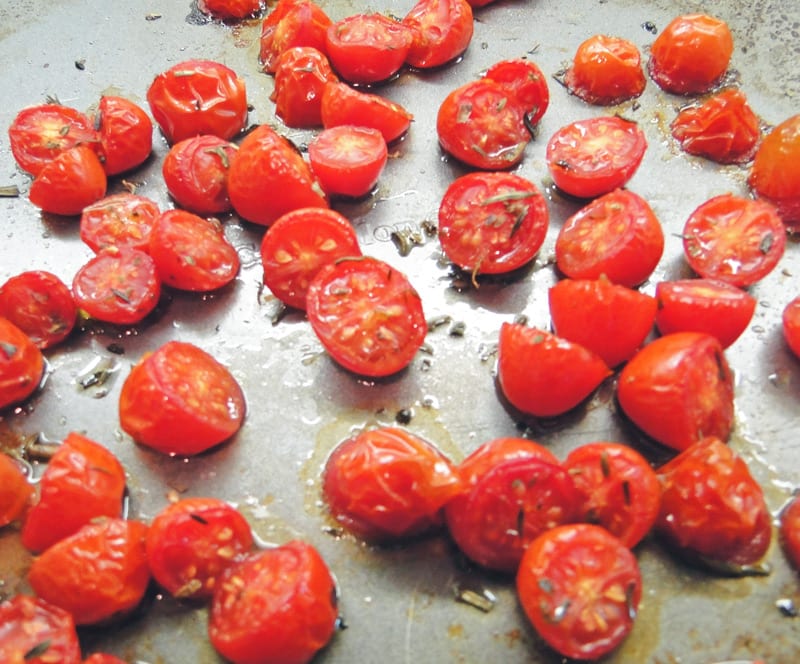 I roast cherry tomatoes in the oven and then add them to the macaroni and cheese with bacon. I grow thyme in the summer in the garden but if I don't have fresh thyme I sprinkle the tomatoes with dried Herbes de Provence herbs before placing them in the oven.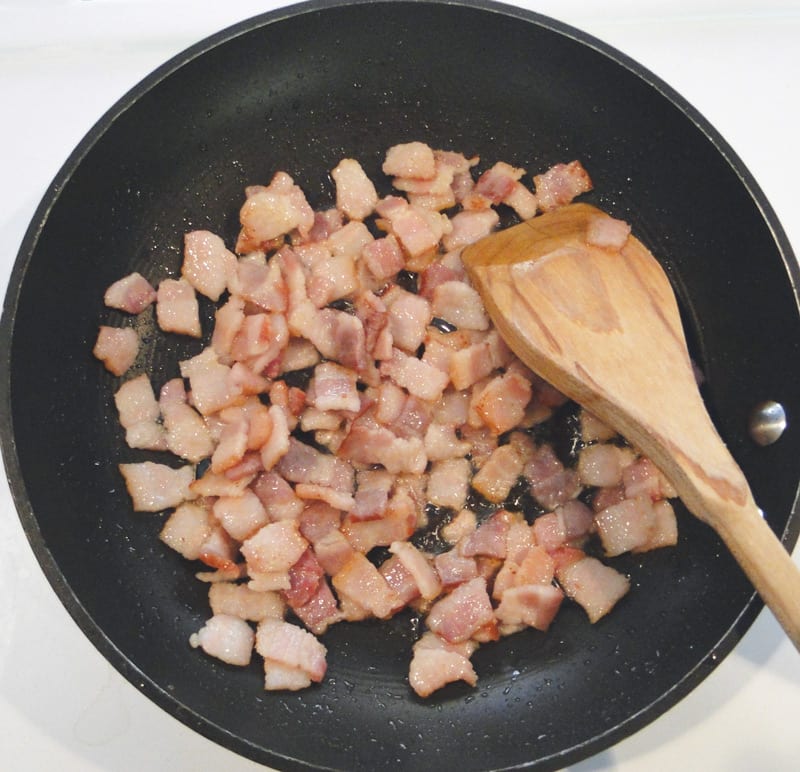 Instead of bacon lardons, in Britain I sometimes use chopped traditional back bacon. In the US I dice thick slices of bacon. Whatever I use, I make sure I drain them well after frying them.
A nice change is to use a mixture of cheddar and Monterey Jack cheese instead of just cheddar to add to the Béchamel sauce. I find this gives a lovely flavor when I'm making macaroni and cheese for the kids.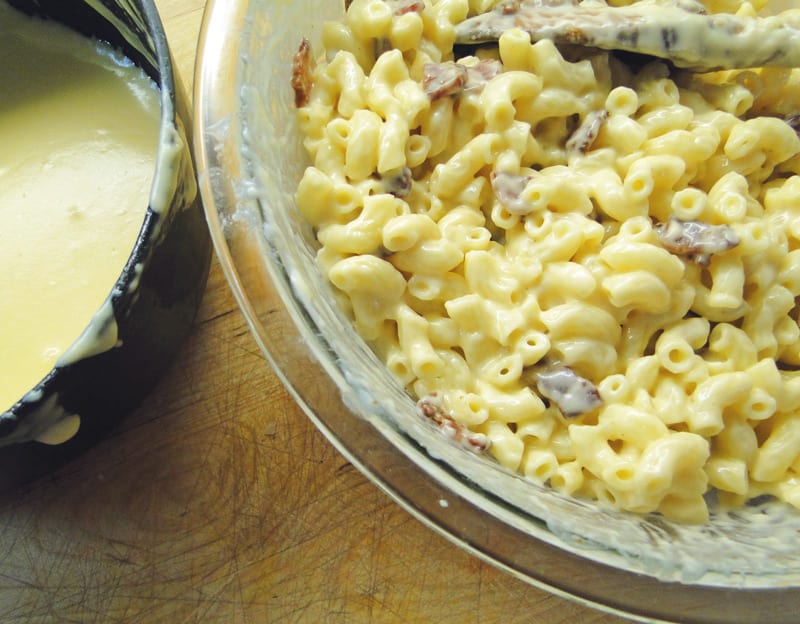 I think it's worthwhile making extra cheese sauce so I can be sure I have the right amount when I mix it in with the boiled pasta.
Another great dinner to cook for the family is Puff Pastry Chicken Parcels which you can decorate. Or this healthy Salmon pasta.
I have noted in the recipe that it's optional to use breadcrumbs or grated Parmesan on top of the mac and cheese with roasted tomatoes and bacon before placing the dish under the grill. My kids prefer the breadcrumbs and I tend to use Parmesan if I'm serving the dish to friends.
MACARONI & CHEESE WITH BACON AND TOMATOESingredients
course sea salt and pepper (for seasoning)
2 cups elbow / macaroni pasta (roughly 300 g)
1/3 cup breadcrumbs – handful to sprinkle over top
7 oz bacon (200 g bacon lardons or chopped thick slices of bacon)
bunch fresh thyme or 2 tsps dried Herbes de Provence
1 cup cherry tomatoes (appx 130 g)
drizzle olive oil (for roasting the tomatoes)
4 heaped tablespoons all purpose (plain) flour
1 to 2 teaspoons Dijon mustard (or 1 tsp dried mustard powder)
2 1/2 cups milk (600 ml)
1 1/4 cup shredded (grated ) cheddar (160 g) or double this if you only want to use cheddar as the cheese ingredient.
 1 1/4 cup shredded Monterey Jack cheese (160 g)
Optional – grated parmesan instead of breadcrumbs
DIRECTIONS
Preheat the oven to 375 F (190 C)
Slice cherry tomatoes in half. Spread in single layer on a baking sheet with a mixture skin side up and down. Drizzle with olive oil. Sprinkle over fresh thyme leaves ( I have used 1 to 2 tsps dried Herbes de Provence instead in this recipe.)
Roast the cherry tomatoes in the over for 20 minutes. Note: take them out as soon as they are slightly charred. Remove from oven and set aside.
Bring water to a boil over a high heat. Add a pinch of coarse sea salt. Cook the macaroni until al dente or slightly tender. Drain and set aside.
Heat a sauce pan over medium heat and fry chopped up bacon. Drain the bacon on paper towels.
In a saucepan, heat the butter until melted over medium heat. Add the flour and the mustard, stirring constantly. Pour in the milk in a steady stream, whisking continuously, until thickened and very smooth. Season with a pinch of salt. Remove the bechamel sauce from the heat and add the shredded cheese and stir until melted.
First mix well together the macaroni, cheese sauce and bacon in a bowl. Then lightly mix in the roasted cherry tomatoes.
Transfer into a baking dish /oven dish. Sprinkle the top with a thin layer of breadcrumbs. (Instead of breadcrumbs you can grate over Parmesan cheese).
Grill/broil the top of the macaroni and cheese with tomatoes and bacon for 10 minutes until golden brown. Serve hot.
Why do I love this recipe? Macaroni and cheese with tomatoes and bacon is a great family meal but also a slightly fancier way to serve mac 'n' cheese when you have friends over for dinner on a cold winter's day.