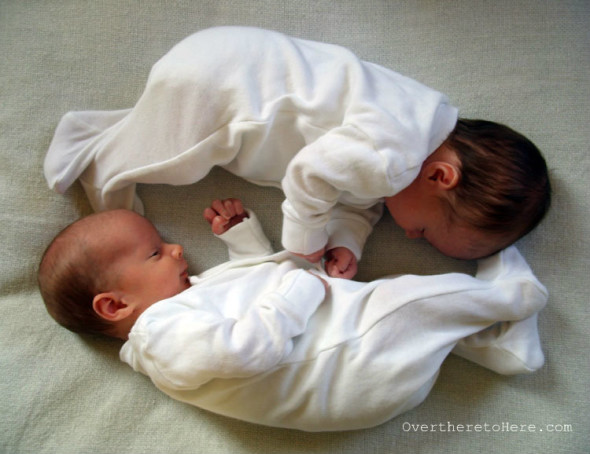 When it comes to maternity leave, I'd rather be a Mum than a Mom. There is more than an ocean divide between the US and UK in terms of maternity leave. Actually a big difference.
I was asked by a financial website last year to give a quote on what advice I'd give to US moms planning to take maternity leave. My reply: "Don't feel guilty. Don't feel guilty about taking maternity leave as it's your chance to bond with your newborn. Don't feel guilty if you take a short or long maternity leave, or decide to become a SAHM or return to work."
It was the best advice given to me as a new mother – by other Mums – when I made the choice to leave my career as a successful international journalist to be at home with my twins. And the same advice was given to a close friend who decided she wanted to only take a short time off from her company.
( A quick side note – I'm using Mum to refer to British mothers and Mom for US although there are also Moms in UK!)
But I wasn't fully aware of US laws on maternity leave. My knowledge and guilt issues were based on UK policies in relation to taking time off when you give birth to a child. I was also surprised by the reactions in the US that Prince William was taking paternity leave to be at home with his newborn Prince George.
UK maternity leave rights
In Britain you can take a year off for maternity leave without losing your employee rights. No matter how long you've worked for a company. Just let the company know 15 weeks before the due date.
You're eligible for pay during maternity leave if you've been employed for at least 26 weeks up to the 'qualifying week' – the 15th week before the expected week of childbirth.
What does this entitle you? The official UK maternity leave policy – known as Statutory Maternity Leave (SMP) – means that employees will still earn money for up to 39 weeks. During the first 6 weeks you receive 90% of your average weekly earnings before tax. Then for the next 33 weeks either £136.78 pounds sterling (about $225 US  per week) or 90% of your average weekly earnings before tax depending which is lower. Your employee rights, including holiday entitlements and pay rises, are safeguarded during the time you take off.
For the ins and outs about UK maternity leave, find out the latest rules on the UK government website here.

If you don't have a work contract you can still get maternity leave allowance. For up-to-date information on this check out the UK government website here.

There are also rules allowing for UK paternity leave. Under new rules starting in April 2015, fathers will be allowed to share a year of parental leave after the birth of a child.
What about in the US? My reaction on finding out about US maternity leave versus UK maternity leave was that I was gobsmacked. Translation – utterly astounded.
US maternity leave rights
According to the 1993 US Family Leave and Medical Act employees can take off 12 weeks of unpaid leave after the birth of a child. But the company must have at least 50 workers and women must have been employed with the company for at least a year and worked at least 1,250 hours in the past 12 months to be entitled to this time off.
This is a federal law affecting all of the US. Only a handful of US states offer better terms with some partial wage compensation. Individual companies can also offer special maternity leave deals. If they want to … but they're not obligated by law.
First of all did you notice the word unpaid. Sorry but I have to repeat it…UNPAID.  A 2013 study of US Census bureau statistics showed that 40% of women are now the breadwinners in households with children under the age of 18.  How can a mother take unpaid leave if she is the sole or primary source of income for a family?
Oh, and in comparison, the UK law states that "you must take 2 weeks' leave after your baby is born (or 4 weeks if you work in a factory)."
The United States is one of only eight countries, out of 190, without paid leave. The eight countries are: USA, Suriname, Liberia, Papua New Guinea and four small Pacific islands (Palau, Nauru, Western Samoa, and Tonga). The US leading the way? The wrong way. Frankly I'm surprised that the US lags behind the rest of the world in their treatment of mothers – and the care needed by a newborn child.
I know my British friends juggled with how long to take off for maternity leave. There is always the fear of being sidelined at work when you return. Or feeling guilty about taking too much time off. Or not enough.
But I don't know how American Moms manage when it comes to deciding whether to take leave or not. Do you quit your job completely because no leave is available? Do you feel guilty or angry about taking unpaid leave? Do you feel guilty because you can't afford to take time off to be with your newborn child? How do you cope with breastfeeding – if at all – if you can't take maternity leave?
I was inspired to write this post comparing UK and US maternity leave laws by a new linky called The Prompt –  this week's topic is "Guilt to motherhood is like grapes to wine" – created by the wonderful blogger Sara at MumturnedMom.