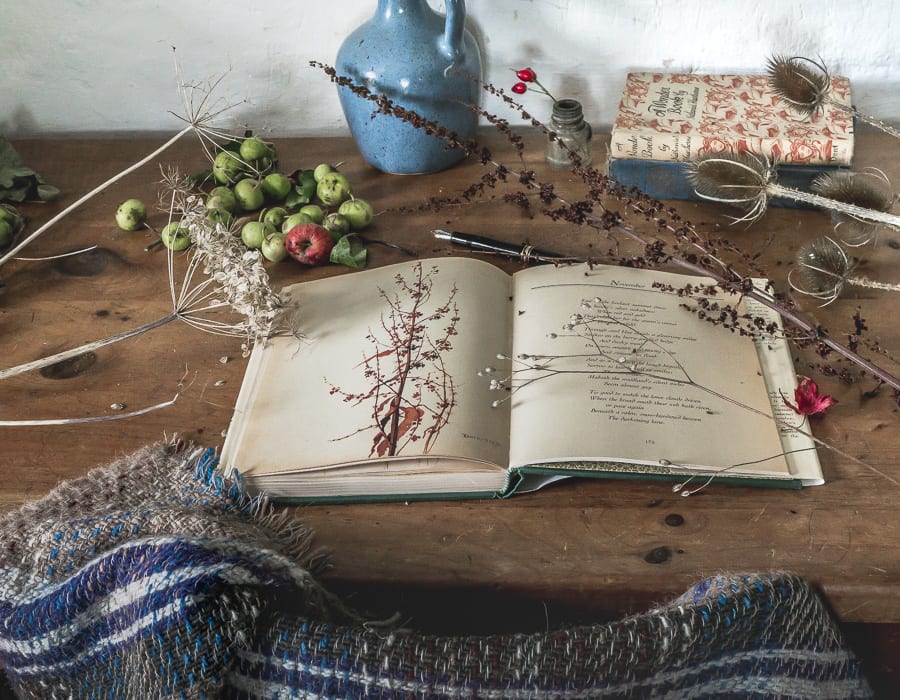 "Nature never did betray…The heart that loved her…For she can so inform the mind that is within us." From The Nature Notes of an Edwardian Lady by Edith Holden
And so begins The Nature Notes of an Edwardian Lady – open on my botanical desk on a November day with its drawing of dock seed. I also have collected here dock seed, teasels, crab apples and umbellifers.
A year ago I turned a small garden room into my office studio where I have two desks. One I call my botanical desk while the other has my computer and all the modern paraphernalia I need. But it's the 'botanical desk' that has become my nature diary. I study and record both the wild and garden flowers where I live in West Sussex in Southeast England.
My original intention was to write a post every month with my findings and photos. I was inspired by so many who in the past had written and painted nature diaries. Such as Edith Holden (1871-1920) whose notes and art were made famous in The Country Diary of an Edwardian Lady and The Nature Notes of an Edwardian Lady.
What happened? I continued to wander, walk, collect,  and then study and take photos while seated at my botanical desk, often sharing them on Instagram, but failed miserably at posting them here on my blog. In fact I've been way too silent on Wild About Here for way too long. I've been busy working on creating fabric patterns based on my botanical art photography and nature findings – which hopefully I'll reveal soon. And somewhere along the way I stopped writing on my blog.
So as the meteorological Autumn season ends I'm starting with a catch up of my recordings for September, October and November. I also often include some of my growing collection of nature and botanical books.  Where I can I'll add some information on these books (and my Amazon partnership link) but I do hope to start writing up some short reviews on my books whether old second hand ones, new or even aimed for children.
My botanical desk – September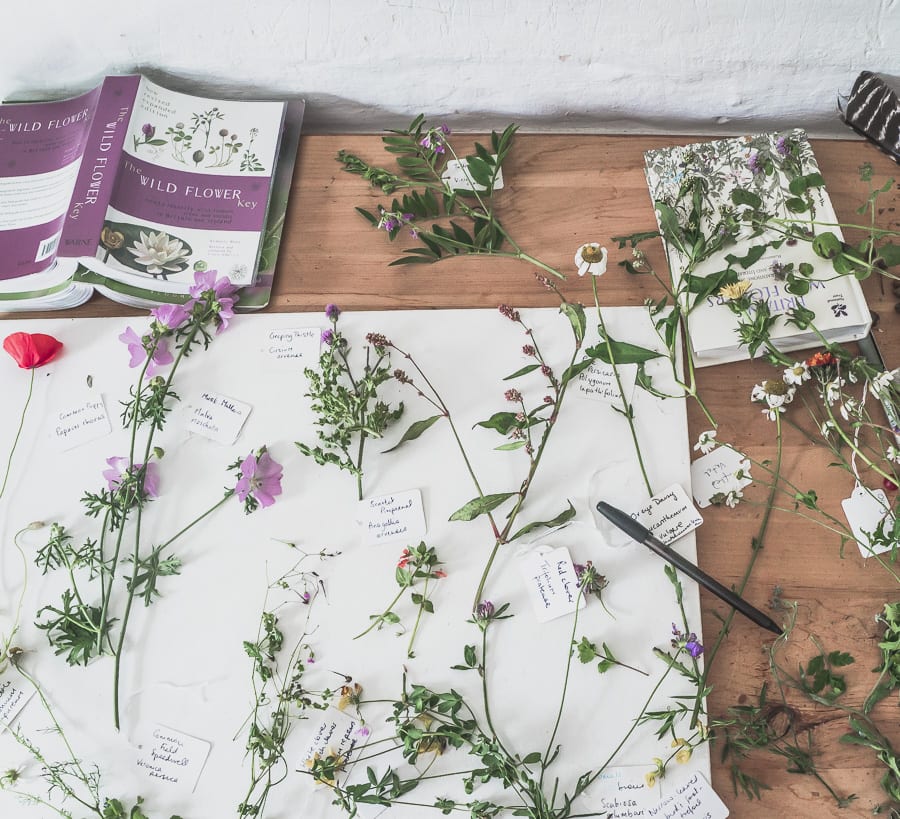 I admit I have a thing about wild flowers. If you peek at my Nature Diary in the blog menu you can see I've been writing posts for years recording them.  I get rather obsessed by identifying and learning their names. And I especially like getting to know not only when they show up in the valley and woods around me but where exactly I can find each one of them. I have so many wild flower identification books but I think The Wild Flower Key is the best and beats them all. And yet again another post on my to do list on the pros and cons of various wild flower books! September is one of my favourite months for wild flowers too.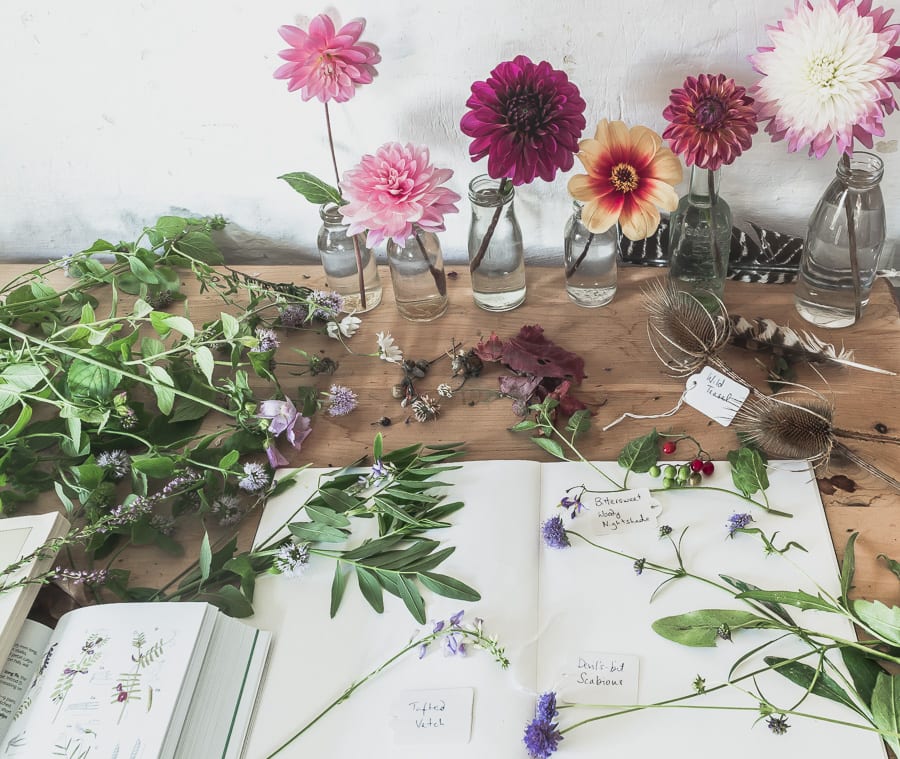 Here are Dahlias picked from my garden in September and wild flowers from the valley. The tufted vetch amazed me as it regrew in no time after the farmer mowed it all away.
My botanical desk – October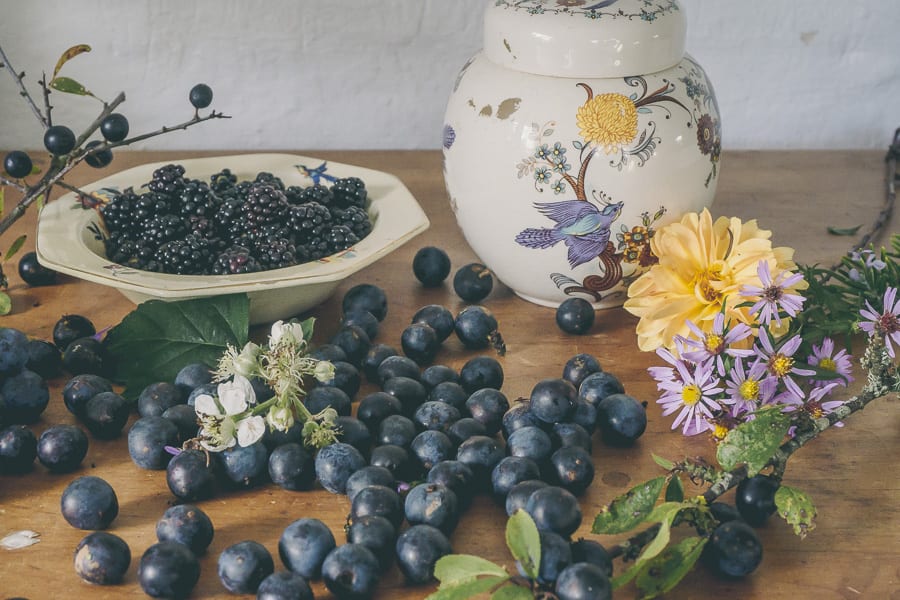 In October our hedgerows are covered in blackberries and sloes. There are also a couple of hybrid wild plum trees in our valley which you can see in the foreground on the branch with leaves. Unlike the sloes they have no scary long thorns. I've written more about foraging for fruits and berries in this September post.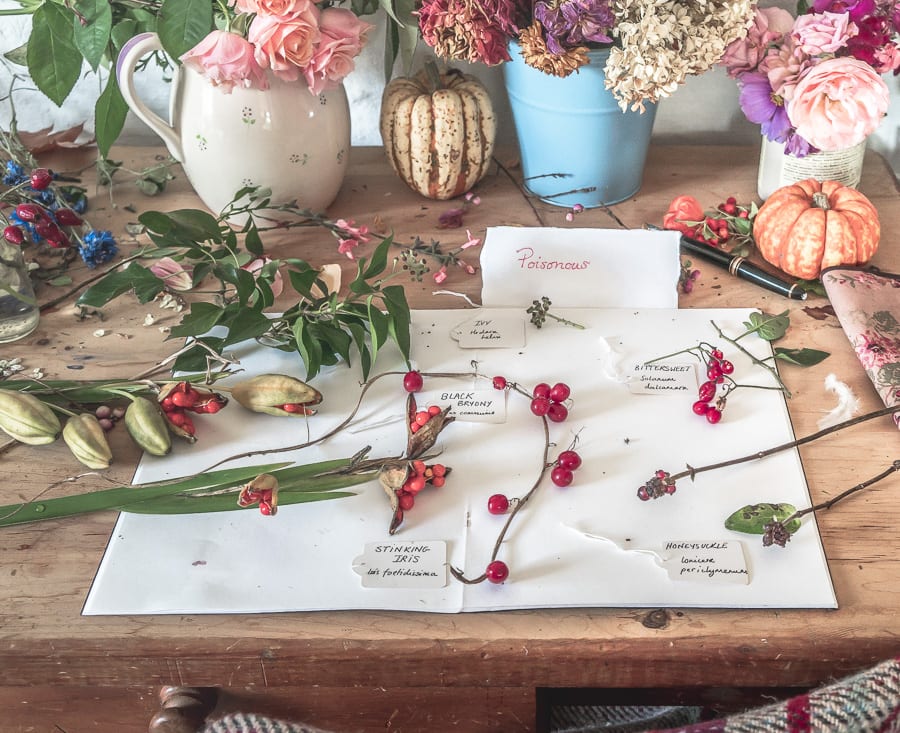 And so many other berries appear in October which it would be wise to avoid.
My botanical desk – November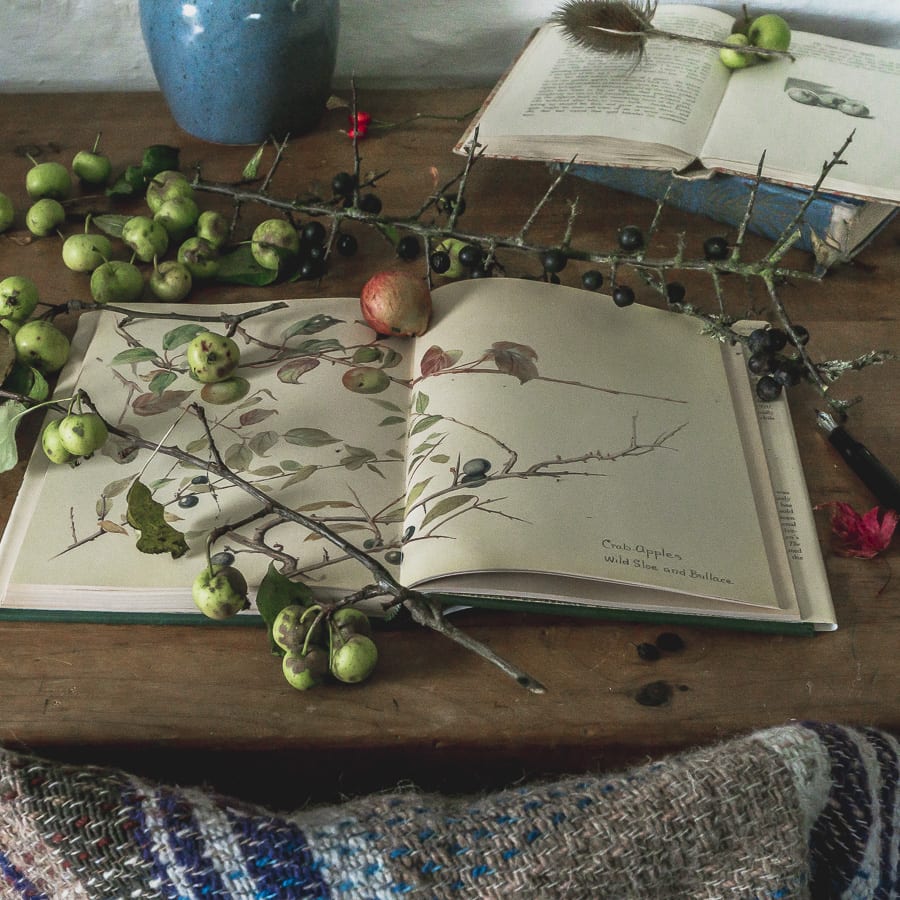 These little green crab apples – Malus sylvestris – I gathered from a wild tree forgotten near the edge of the woods. Last year it was brimming with crab apples while there was none this Autumn.  Often apple trees bear fruit biennially especially if they're not tended. The Woodland Trust has an interesting fact about them: "unlike many trees, the crab apple grows singly, and sometimes woods will only have one tree."
Although I still have plenty of sloe gin left which I made last year I wish I had brewed some more this year as it's wonderful to give little bottles during the festive season.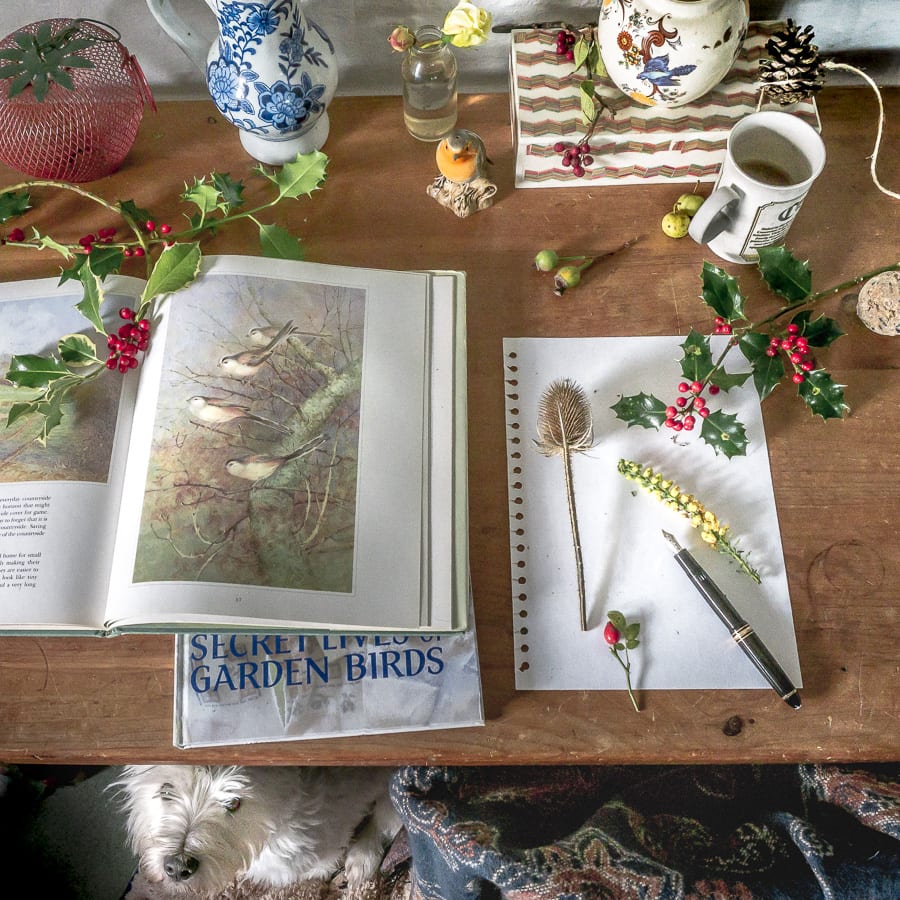 When the cold winds and frost show up in November I make sure I always refill the feeders every morning. Although there are a variety of fruits, seeds and wild flowers that the birds depend on in our garden and hedgerows – which you can see displayed here – it can make a difference when they are nourished with some bird feed. Last week I actually saw three long-tailed tits (as seen in this painting in my book Beningfield's Woodlands) feasting away at the bird feeder. We also regularly watch the blue tits filling themselves with nectar from our Mahonia plants which are covered in yellow flowers from late Autumn into the winter.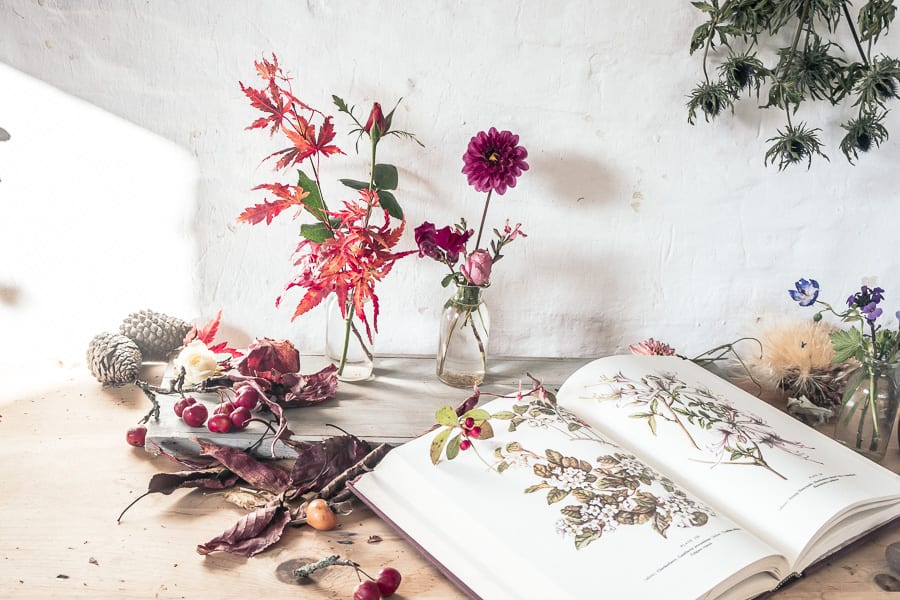 Although the green crab apples didn't appear this year I do know where there's another tree covered with beautiful small red ones. The leaves on my small Japanese acer tree also finally turned bright red while there was a couple last blooms in the garden. This book is amazing for American wild flowers. The Macmillan Wild Flower Book was first published in 1954 although my edition is from 1980. I'm tempted to get a first edition as the colour plates of botanical drawings are rather gorgeous.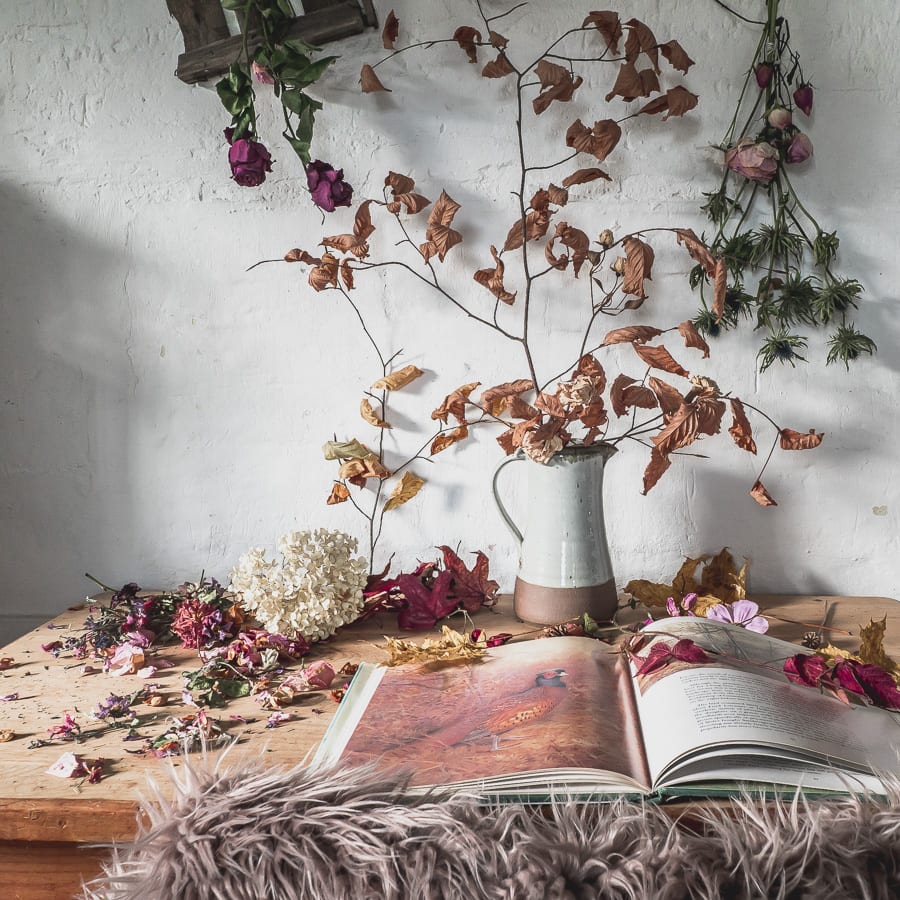 This is the time of the year when beech leaves turn golden and copper but many will still cling onto the branches. Botanists have come up with a rather marvellous word  – marcescence – to describe how leaves shrivel but don't drop. The jug contains a branch of beech leaves I cut a year ago. Leaning against the wall is another small branch which I had recently picked. Meanwhile there are pheasants everywhere in our valley. Often I have to beep my car horn to shoo them away when I'm driving on our lane. I think they view our valley as a sanctuary as there's no shooting here.  The pheasant drawing is also from Beningfield's Woodlands.
You can see what I was reading and which flowers I was studying on my winter botanical desk.
My photos have become my visual nature diary which is why I often include name tags of the wild flowers. Also it's probably time to give my desk a new coat of wood varnish after the last sanding. But that just might be too ambitious for me at the moment….that is the varnishing.