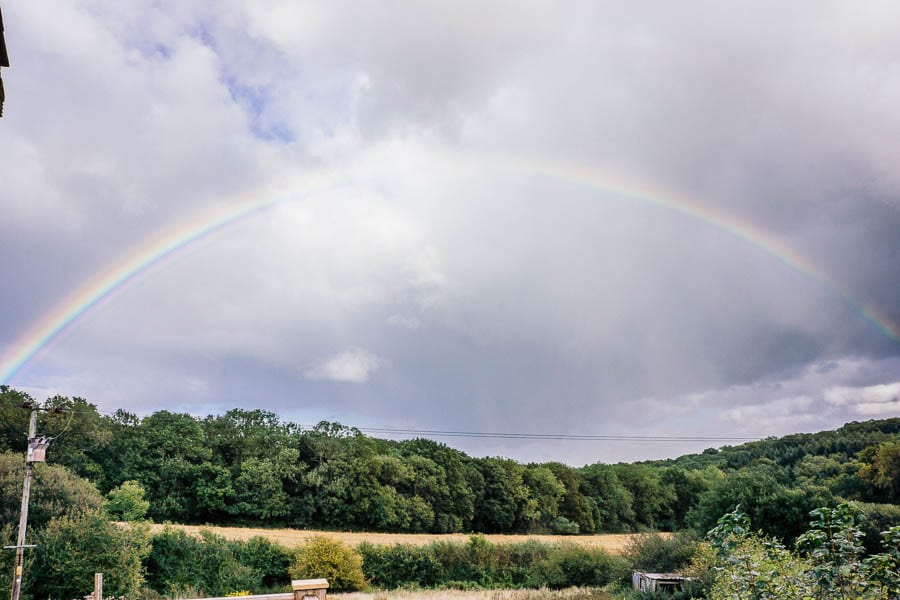 I don't have to go far to forage. In fact I can do it in my garden and in the hedgerows around us. The rainbow over our valley and hedgerows this week didn't lead me to a pot of gold but a treasure of berries, fruit and more. I've already written about the overabundance of Blackberries in some of our hedgerows. So many in fact that I've frozen masses for crumbles and more Blackberry fool this autumn. (Tip – first freeze the blackberries in rows on a baking tray and then put the frozen berries together in freezer bags)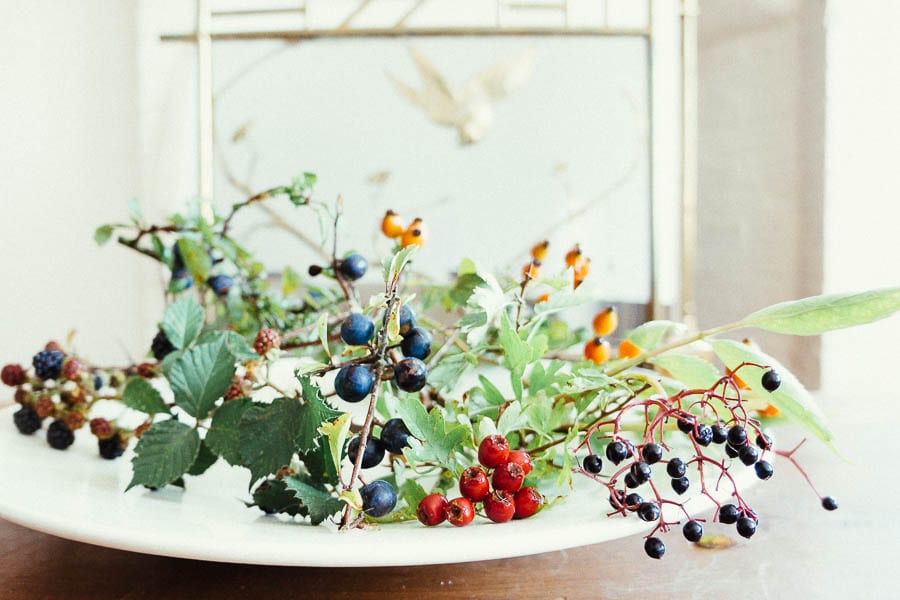 But in recent foraging expeditions I've found Sloe patches, Wild Plums, Haws, Rose hips, Dewberries, Elderberries, Water mint and even Wild Marjoram! There's also been some poisonous berries lurking amongst them like dangerous bodyguards. Here and there Honeysuckle show up adding their sweet fragrance amid the thorns. Did I mention Wild Plums?! At first I thought they were Sloes …anyway more below.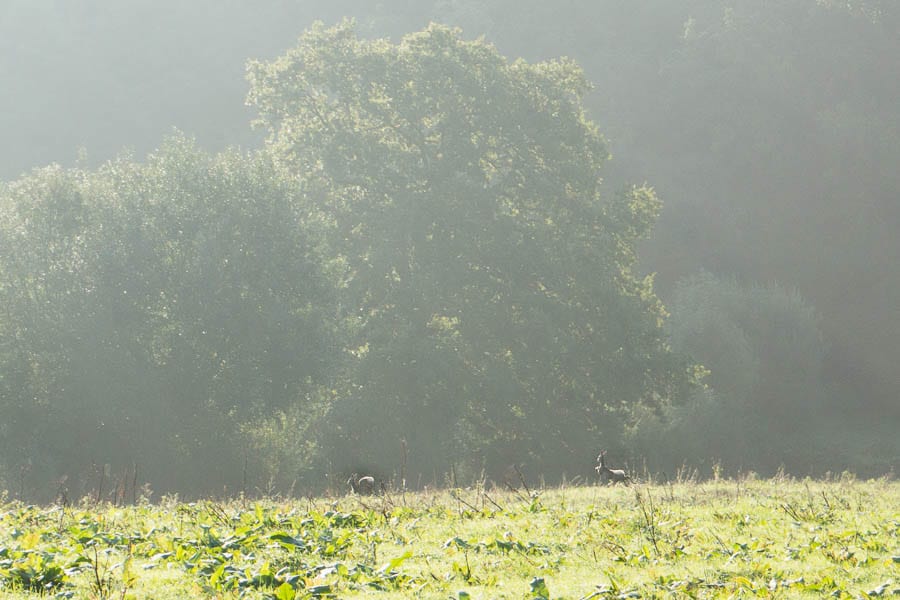 The deer are also clearly fond of some of the fruit as they love to shelter – or hide from me – in the undergrowth and trees by the hedgerows. Here are a couple this morning fleeing towards a hedgerow as I walked along the back of ours in the same field.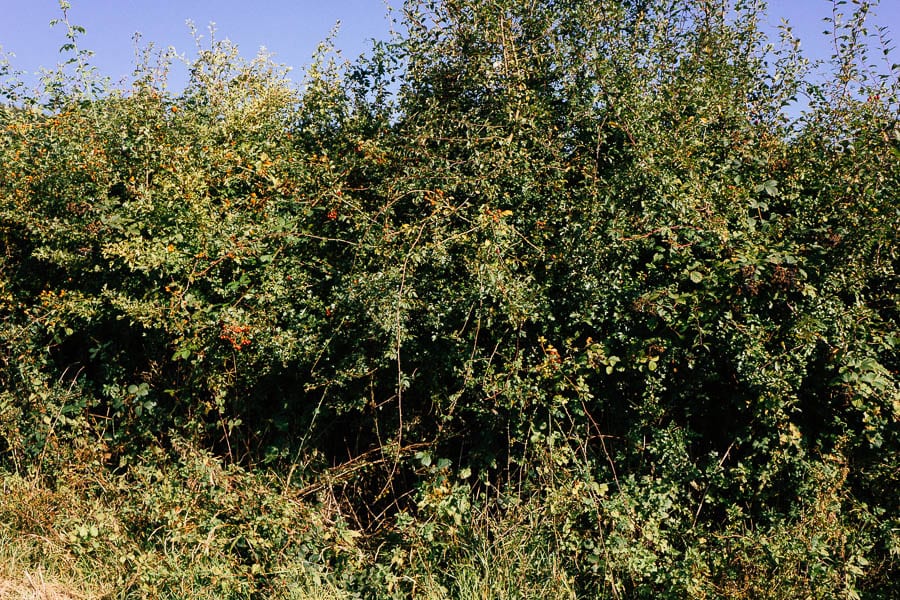 So without further ado, here's what I found in the hedgerows, some of which I brought back home: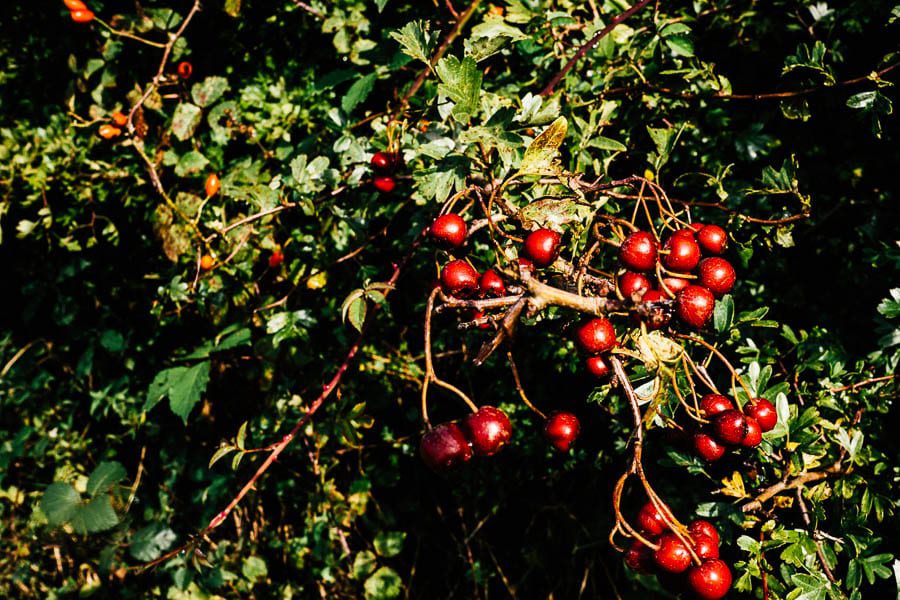 Hawthorn berries – Haws – and  Wild Rose Hips.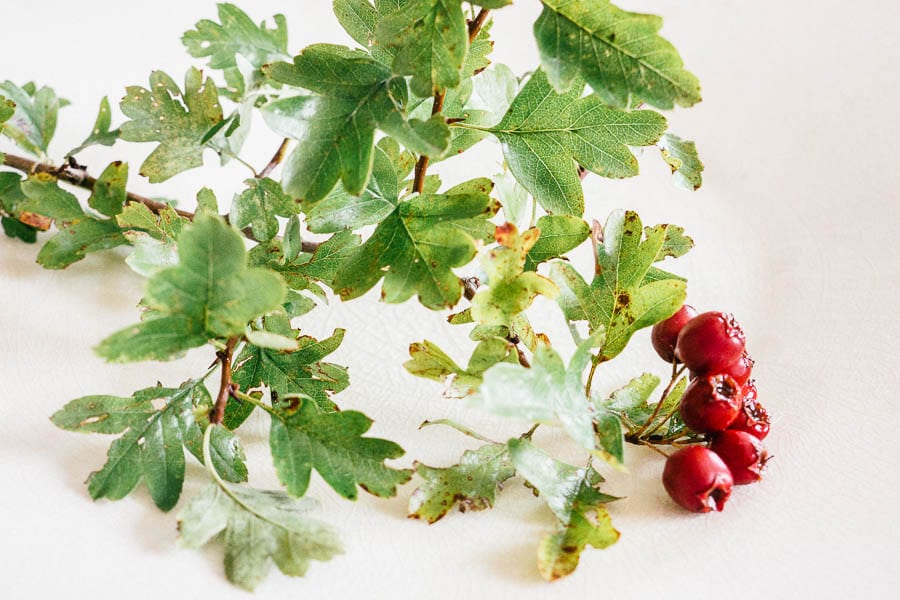 Haws and Hawthorn spiny branches and leaves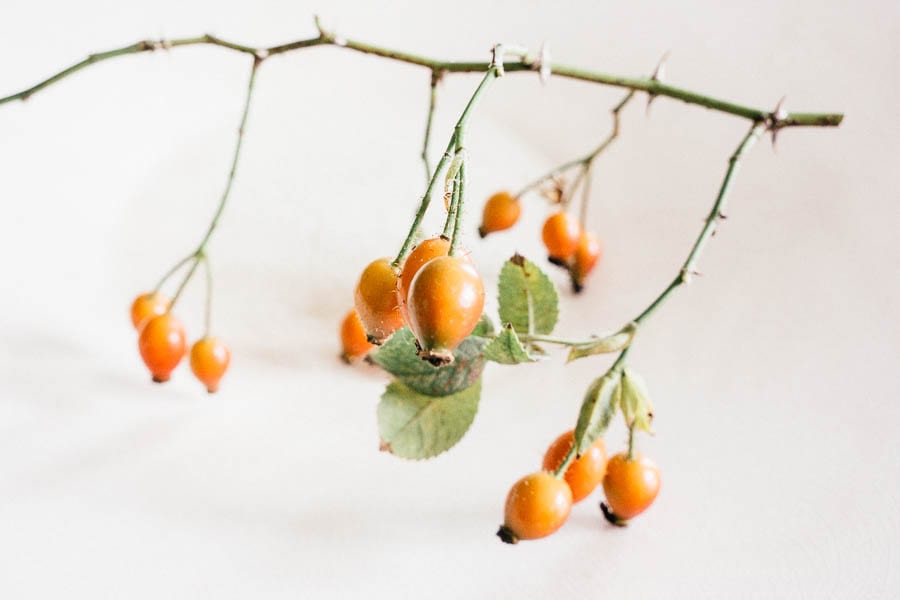 Wild Rose Hips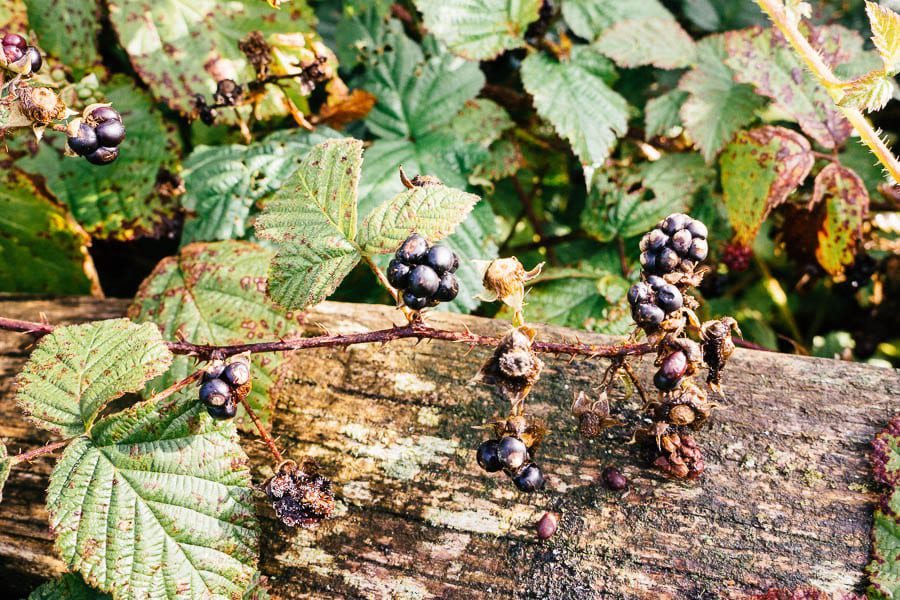 Dewberries – they look like Blackberries with extra large druplets.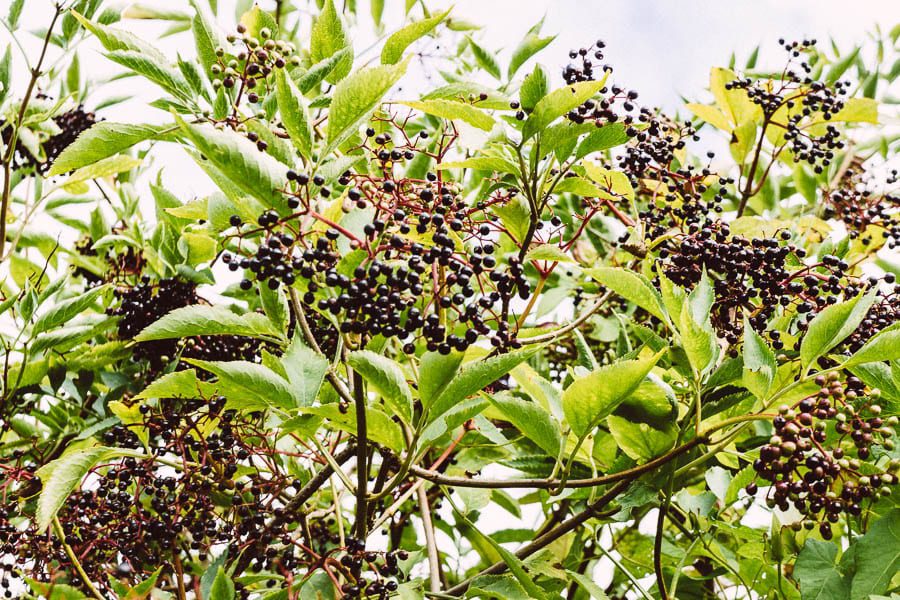 Elder shrub covered in berries.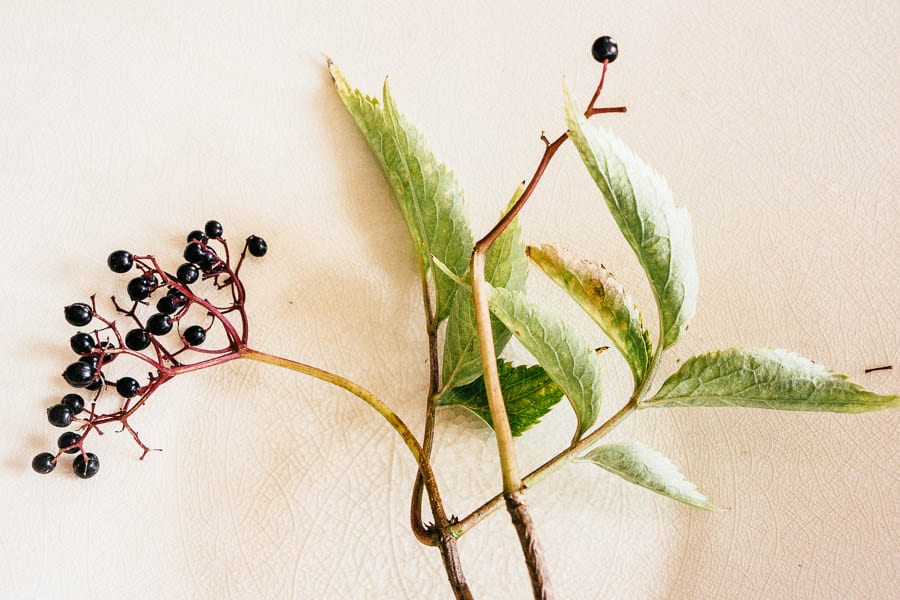 Elderberries
Poisonous berries also made an appearance here and there – the little devils! When I've gone picking with Luce and Theo I've pointed them out to make sure they avoid any toxic berries.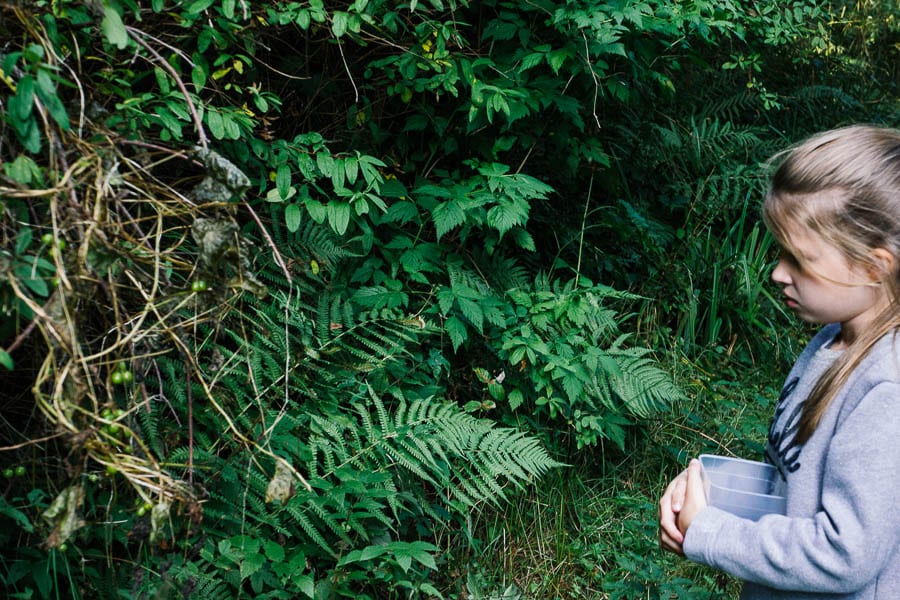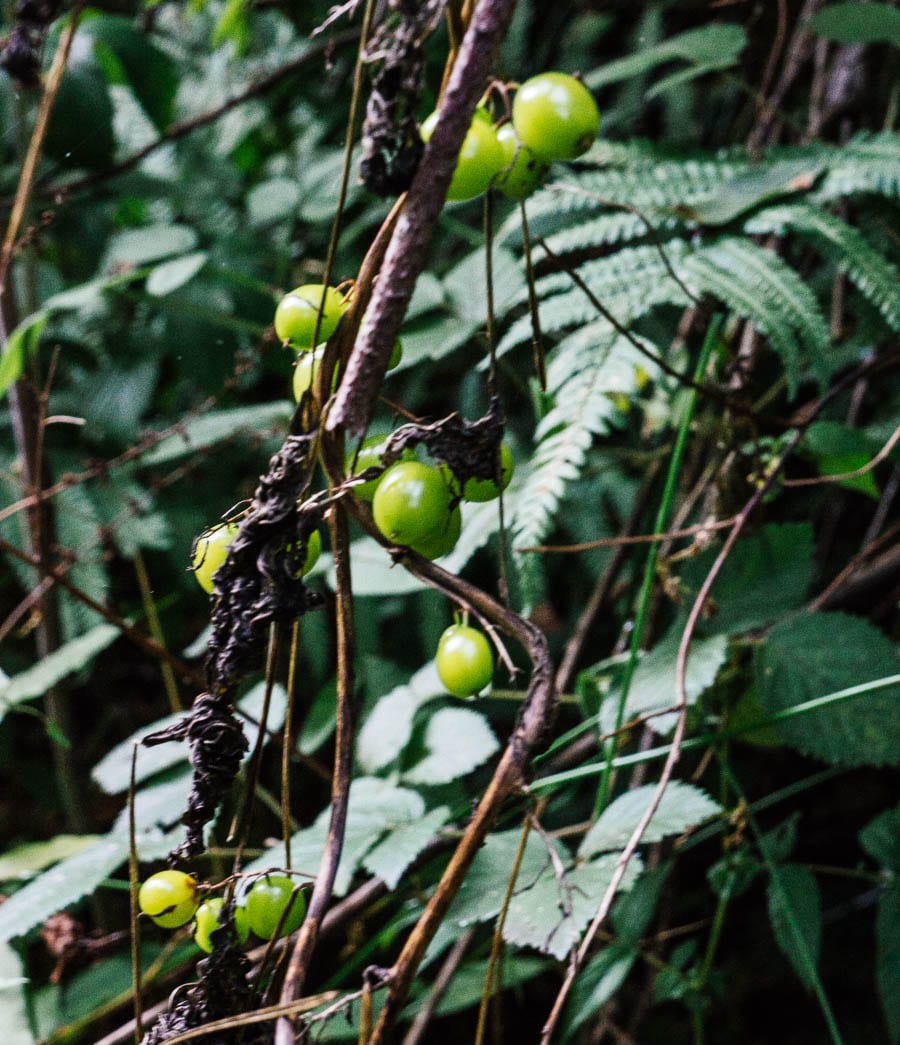 Warning it's poisonous! The climbing Black Bryony has heart shaped leaves and the green berries will soon turn red.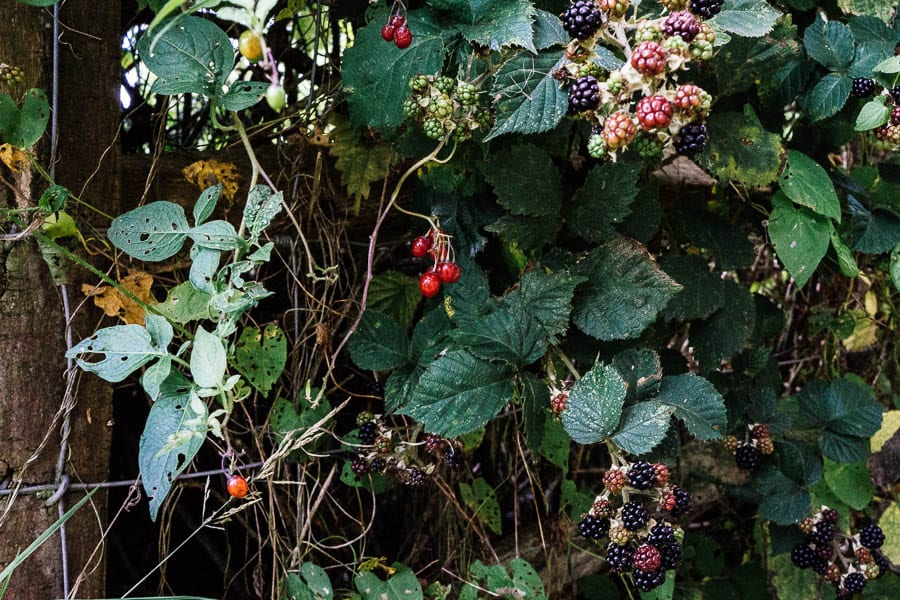 The small red berries hiding amid the bramble and delicious Blackberries are poisonous. Whether you call them Bittersweet, Woody Nightshade or Poisonberry, the berries turn from green to red in the autumn and are very toxic. On the bottom left you can see a red berry of the poisonous Black Bryony.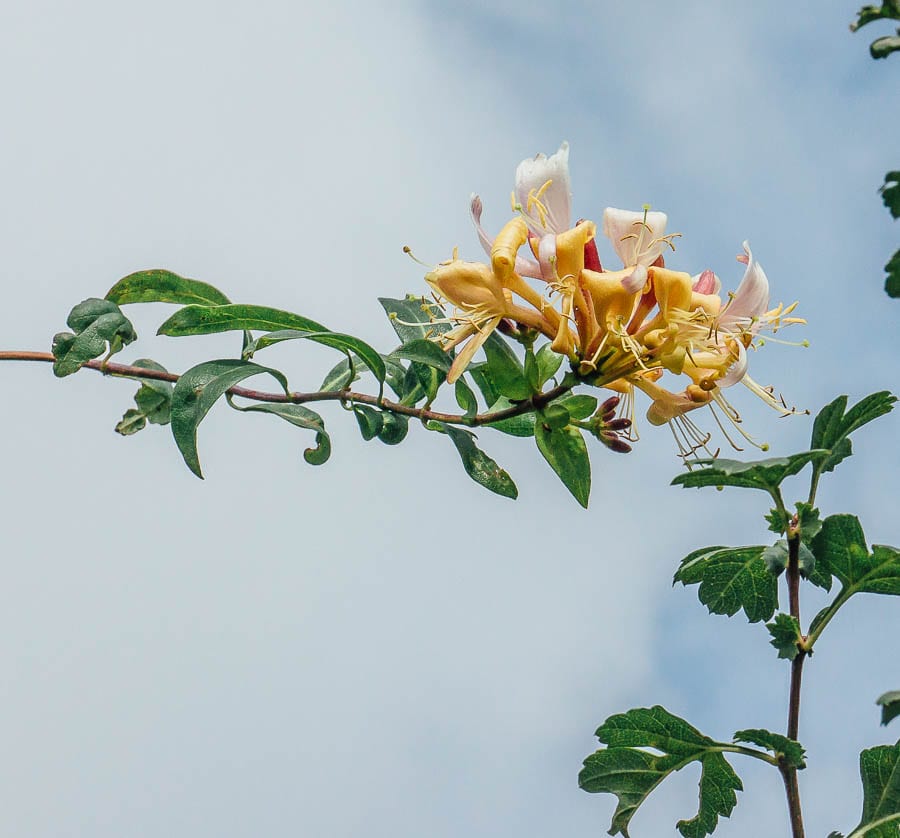 And on a pleasanter and more fragrant note, I'm still finding Honeysuckle flowers growing in the hedgerows. But I have noticed that the non-edible Honeysuckle berries are also now forming.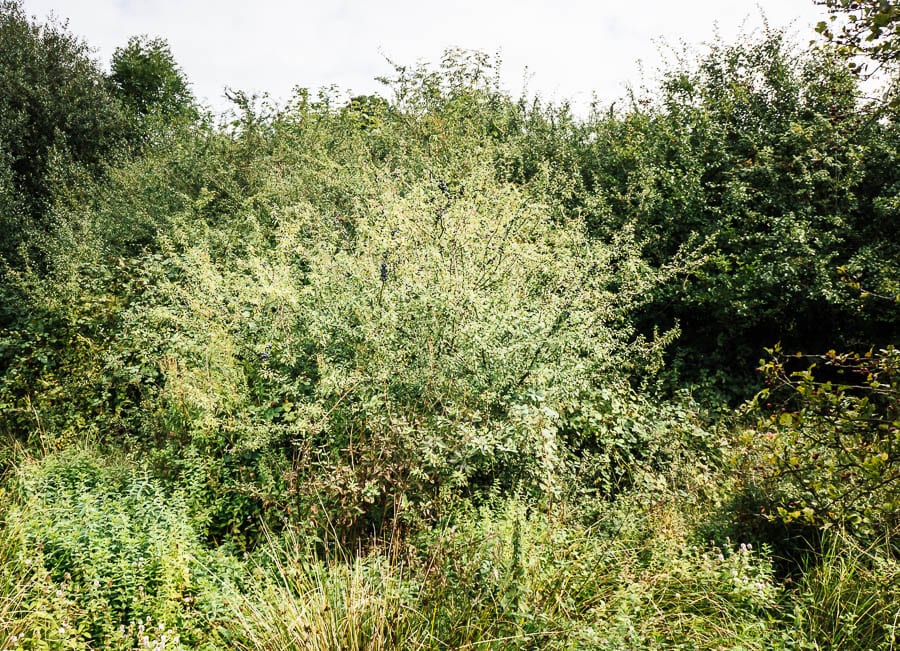 Wild Plum tree in centre middle ground – plus water mint growing in left and right foregrounds – plus Wild Rose hips on right.
Now the best bit – I'm going to be making quite a few fruit flavoured gins this autumn. Yes, I found Wild Plums. And not just one bush or tree but many. At first I thought they were Sloes as they were small purple-black berries. Admittedly I was perplexed as the berries of the Prunus Spinosa (Sloe/Blackthorn) and the Prunus Domestica (Wild Plum) looked almost identical. But I could pick the latter without any fear of thorns. I also cut off some samples and checked with an expert. Apparently there are quite a few different hybrids of Wild Plums including the Bullace.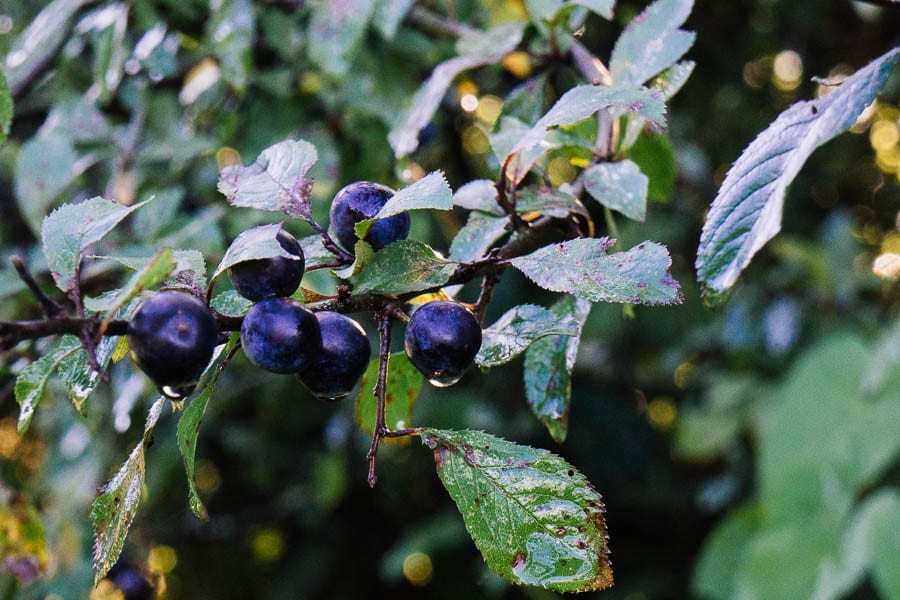 Wild Plums with dew drops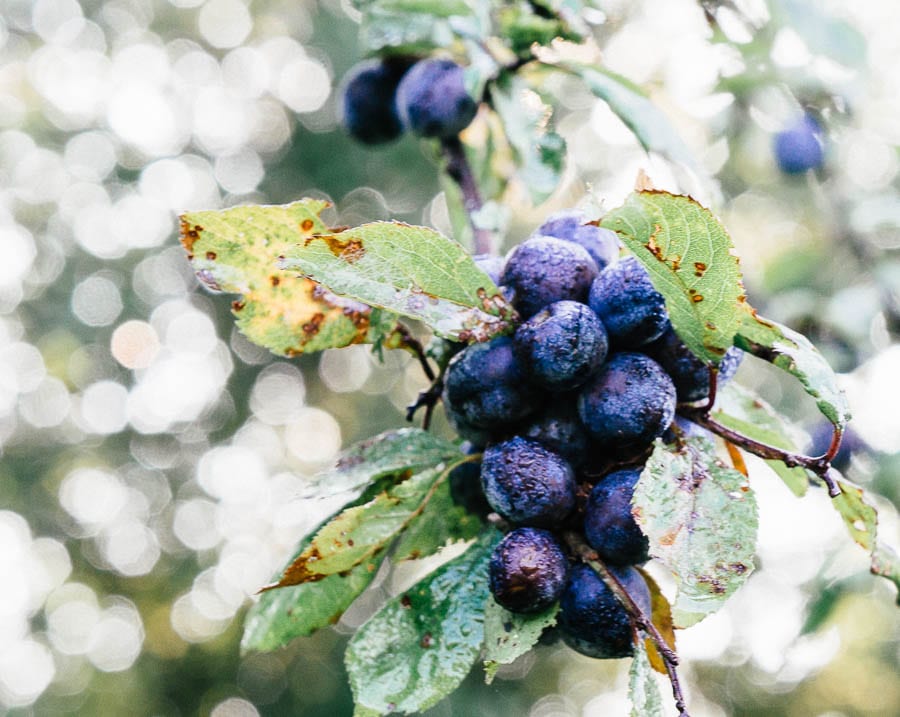 Cluster of Wild Plums – Prunus Domestica.
Blackthorns were already covered in Sloe berries. They have rather scary looking thorns.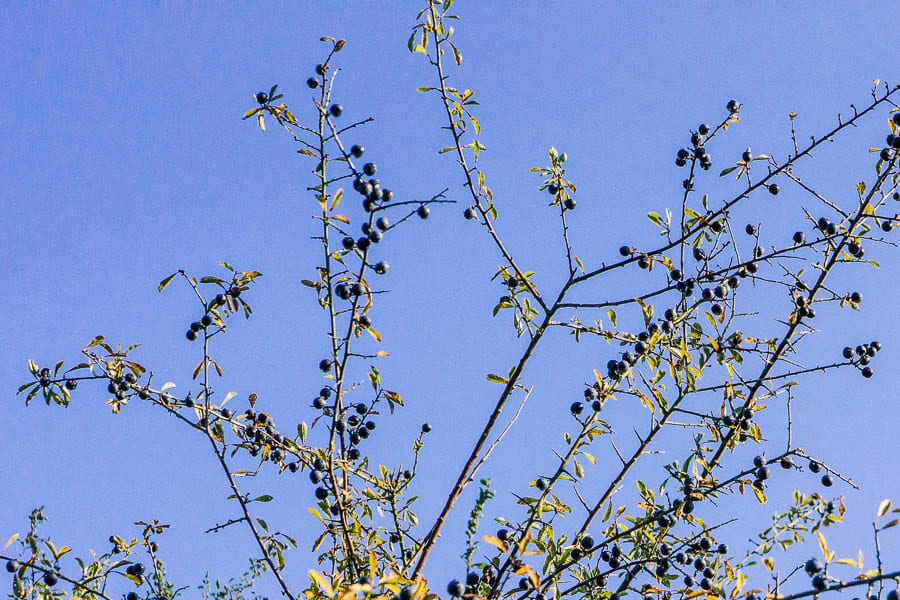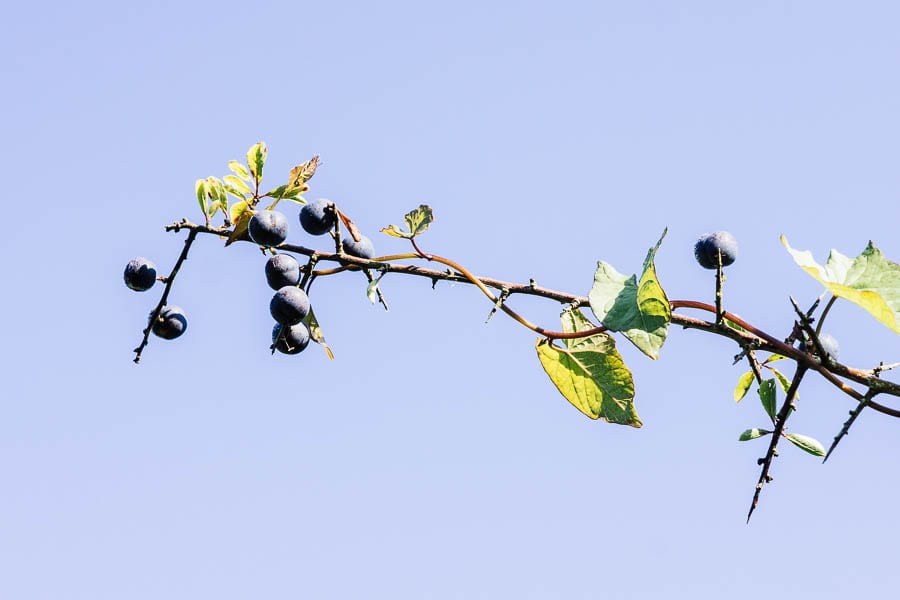 Blackthorn with Sloes
Another difference between the Sloe berries and the Wild Plum berries was the leaves. The Blackthorn had small oval shaped leaves while the Wild Plum tree had larger pointed oval leaves with blunt-toothed edges.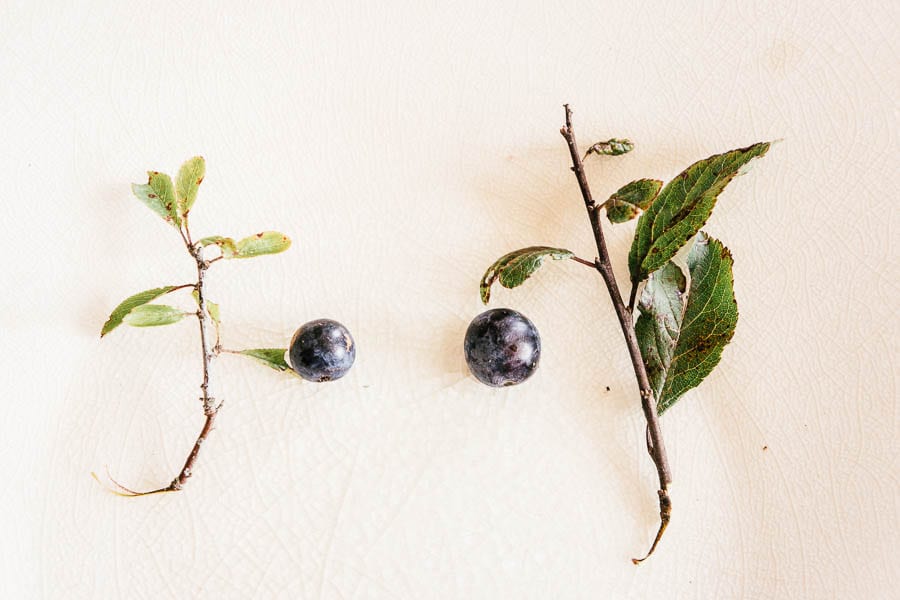 On the left is a Sloe plus a small stem from a Blackthorn. On the right is a small Wild Plum and a stem from its tree. The leaves were not at all the same.
So I'm going to be feasting and drinking soon with the fruits from my hedgerow foraging. Time for Sloe Gin, Wild Plum Gin and  Blackberry Vodka! I've already picked one batch of Wild Plums which I've frozen but they're still quite bitter. Luckily, as all the bushes and trees are practically in our garden, I can regularly check on how they're ripening. I also don't have to worry about foragers nicking them before I pick them!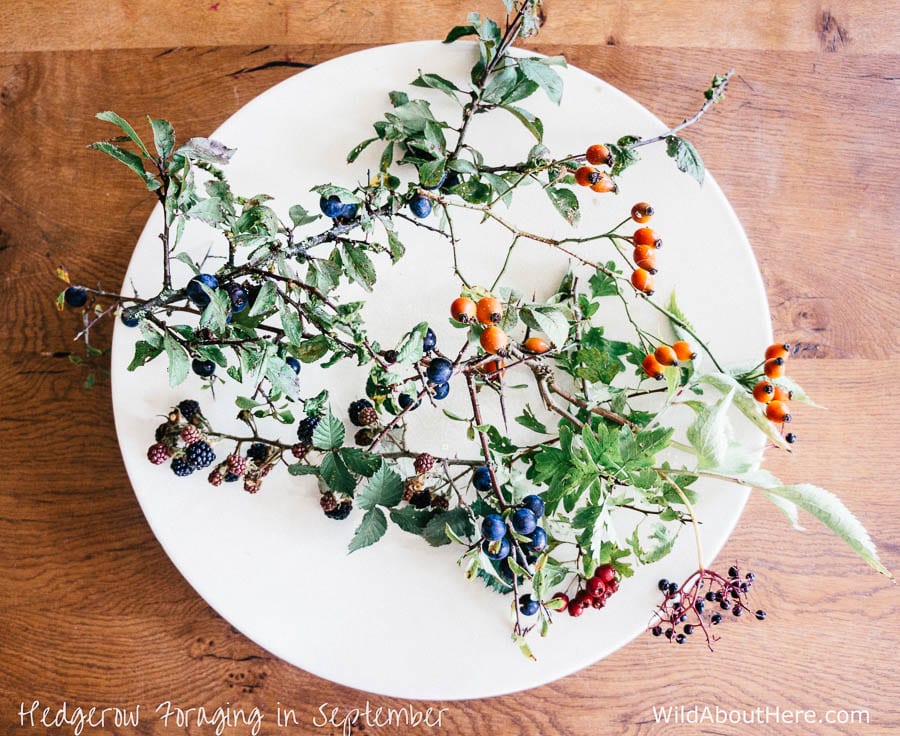 So autumn is rather fruitful and I'm looking forward to some good tipples this winter. Next week I'll show you the results of a mushroom foray with a guide on a friend's estate. I've also been collecting some of the flowers from our garden as well as these treasures from the hedgerows to fill up the vases in our home. Have you been foraging too?