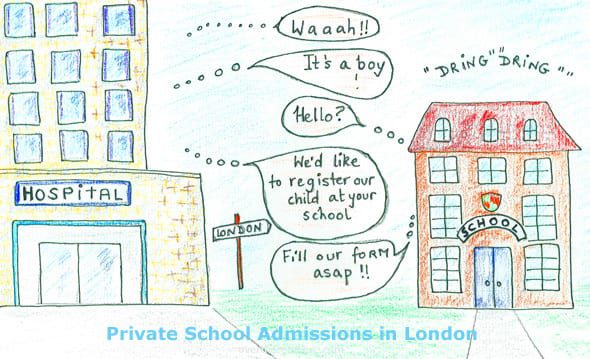 When my twins were about two months old, a couple of the women from my prenatal class asked me what I had done about private school admissions in London. Which schools had I applied to? At that time I was lucky to get one hour of uninterrupted sleep at night, if any at all, let alone think about schools when they were four or five years old. In my exhausted haze, I just wondered what they were talking about. School? What about a good night's sleep? What could I do to synchronise my two babies' sleeping and feeding times?
I was then horrified to find out that I should have started applying for schools as soon as they were born. Forget about the first cuddles with your newborn (plural in my case), I should have been on the phone. (What…?!) If I wanted them to attend a private – also known as independent – school then I should have been preparing for their future schools as soon as I became pregnant?
"Conception: Congratulations! Not only is it time to get used to the idea of parenthood but, if you live in London, and are considering an independent school education, we recommend purchasing The Good Schools Guide …at the same time as 'Your Pregnancy Bible' that way you will know exactly which schools to phone on delivery day." From the Good Schools Guide.
Obviously I hadn't done my homework. I went into a mad panic (even more crazed due to the lack of sleep) to find out which schools I needed to fill out registration forms for school admissions. We had decided we wanted the option of sending them to an independent school, so I needed to get the ball rolling straightaway.
State school admissions
Some mothers also advised me that I should protectively apply for private schools even if I later decided our kids would enter the free state school system. What if I didn't get my top choices of local state schools? What if the area we lived in didn't have a decent school? You don't automatically get a place in the local school in your district (known as catchment area in England) as many are oversubscribed. Rental and house prices are usually incredibly high around the good state schools. Even if you live within a half a mile from them you aren't guaranteed a place.
English state funded schools call their elementary sections 'primary' schools. In contrast independent schools usually refer to the first years from 4+ to 7+ as pre-preparatory (pre-prep) and then preparatory (prep) from 7+ to 11 or 13 years old.
Even if we changed our minds I needed to start applying for private schools in London – just like an insurance policy.
First come first Served
I had heard stories of places like New York City where it's harder to get your young child into a private school than in an Ivy League college, but I had been clueless that I had to call from my London maternity hospital. My husband registered our twins' births while I was still in the hospital but I hadn't instructed him to also register them for schools!
Many of the top and most popular schools in London had and still have admissions policies which are 'first come first served.' The first ones to register get admitted into the school when they're 3 or 4 or 5 years old depending on the school's starting class.
Only 2 months old and I was registering them for private schools in London
After frantically doing my research, and visiting some schools with two babies in tow, I started the process. The private school admission policies were all different for my four top choices.
One school guaranteed me places for the reception year when they turned four.
One confirmed I was on the main registration list but they would still have to go through a competitive assessment at four.
One confirmed they were registered but when they turned three the school would just need to meet them to make sure they were ready for school.
One told me I was too late and they would be on the waiting list. With this fourth school I then spent weeks chasing the registrar to send me a registration form anyway. I wanted to scream at her but I had to remain terribly polite during all my dealings with her. Not surprisingly I received a letter four years later from this school telling me I was still on the waiting list.
Were the rumors true?
What really shocked me at the time was the rumors I began hearing about the lengths some mothers were going to get first on the list. Planning their birth timings to be first on the list for private school admissions in London? Arranging caesarians so they could be one of the first come first served? I have no idea if these are true rumors. The English tabloid newpaper the Daily Mail ran a story in early 2007 with the headline 'Mothers time their caesarean to get baby into school.' One great comment I've recently seen on one of the UK forums was from someone working at a school saying they get calls from parents after the first pregnancy scan.
The Good School Guide also warns that you need to plan your birth date ahead, "Sadly we're not joking: a handful of schools literally demand name down at birth; another reason to plan the month of arrival with care. Come July the books may be full and waiting lists closed."
Examples of early private school admissions in London
First of all, if you're planning on sending your child to a private school in London check their latest admission guidelines. One of the schools my children were admitted to have since changed their rules. I loved the school when I saw it as it had a new head teacher – principal – who I thought was inspiring. It's now incredibly popular which is probably why they've had to change their current admission policies. Quite a few schools expect you to register as soon as possible but then assess them before making their final selections.
Here are just some examples of private schools in London with early registration requirements:
WETHERBY SCHOOL This pre-preparatory school for boys in Notting Hill Gate is non-selective and admits students from 4 years old. Prince William and Prince Harry both attended here. Elle Macpherson, Elizabeth Hurley and Stella McCartnery also chose it for their kids. According to their Admissions Policy: "Registrations are accepted from birth (we do not register babies before they are born). …parents are advised to telephone the school office as soon as possible after the birth of their son."
GARDEN HOUSE SCHOOL This Chelsea based school offers Kindergarten, Pre-Prep and Prep schooling for boys and girls 3 to 11 years old. From pre-prep onwards boys and girls are taught in separate schools. Apparently it's become very popular with wealthy Americans and Russians in London. The school recommends an early application and then will meet with you and your child a year before entry after which they will confirm if you have a place.
EATON HOUSE BELGRAVIA Non-selective pre-prep for boys which advises, "We are proud to operate a first come first served entry process into our schools at Nursery and Kindergarten level. As a result we recommend early registration where possible."
FAULKNER HOUSE Located in South Kensington, the main school teaches girls from 4 to 11, while the nursery is co-ed. Early registration is recommended but children are assessed a year before entry for final acceptance.
GLENDOWER PREP SCHOOL "Early registration is recommended. Registrations will be considered in the order they are received" at this girls school in South Kensington. But girls will be assessed before being offered a place at 4+.
PEMBRIDGE HALL Another sought after girls school in Notting Hill. One again first come first served, but according to the school, "Applications are processed by calendar month, to ensure even distribution of birthdays throughout the year. The places are allocated once the month is over. The month is divided into thirds and an even number of girls is randomly selected from each third. Thereafter, names are added to an on-going waiting list."
FULHAM PREP SCHOOL This co-ed school is also non-selective and first come first served, although siblings are given priority. The school says, "We aim to achieve a balanced intake, taking into account both gender and date of birth."
Once again this is just some examples of schools in central London requiring early registration whether or not it guarantees a place.
If you do plan early and pick a non-selective school, you can register your newborn and not have to worry about schooling until they're at least seven or eight years old. However, there are many fantastic top schools where you cannot put in an application until a year before entry.
As well as the Good Schools Guide, there are other good sources for finding out more about private schools such as London Pre-Prep, the annual Tatler Schools Guide, Angels & Urchins or the Independent Schools Council website.
And then we moved and moved again
Ironically I scrambled to fill our registration forms and had their schooling mapped out until they were seven, but we moved when they were three years old to the other side of London. But we were incredibly lucky. I managed to get them places, starting in nursery, at what I considered was the most wonderful pre-prep school in London for young children. We then moved again after they completed Kindergarten and luck stayed on my side as they are now in a fantastic local state school in the U.S..
Private school admissions in London are not straightforward, but if you're interested in one of the top or most popular check if you need to register your newborn!