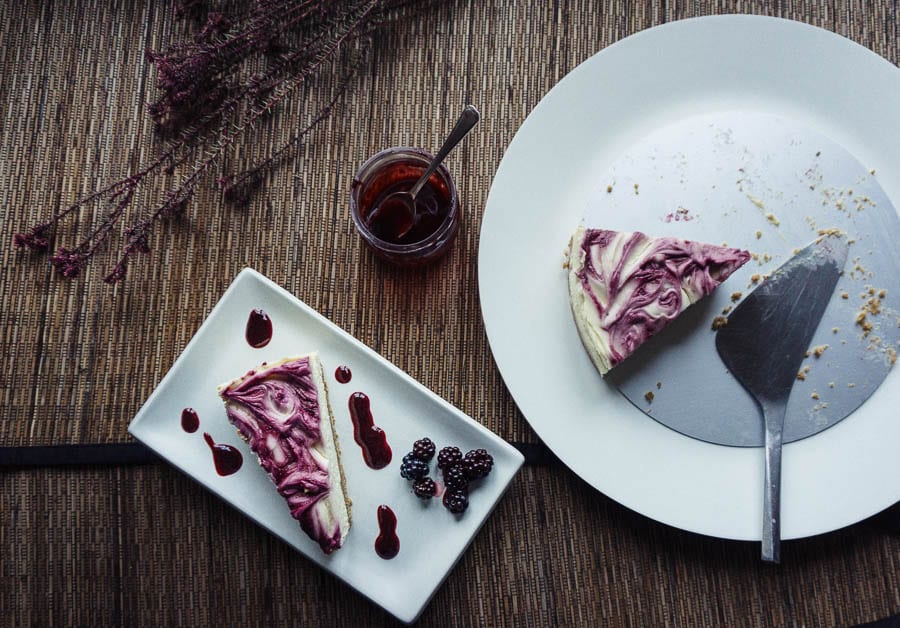 I can get quite obsessed. I have a freezer drawer full of blackberries picked right from the hedge in our garden. I like to experiment with recipes and these were calling me. When you defrost them in the bottom of the bowl there's that sweet juice that stains your fingers as you nibble away at the fruit that reminds you of warm Autumn afternoons.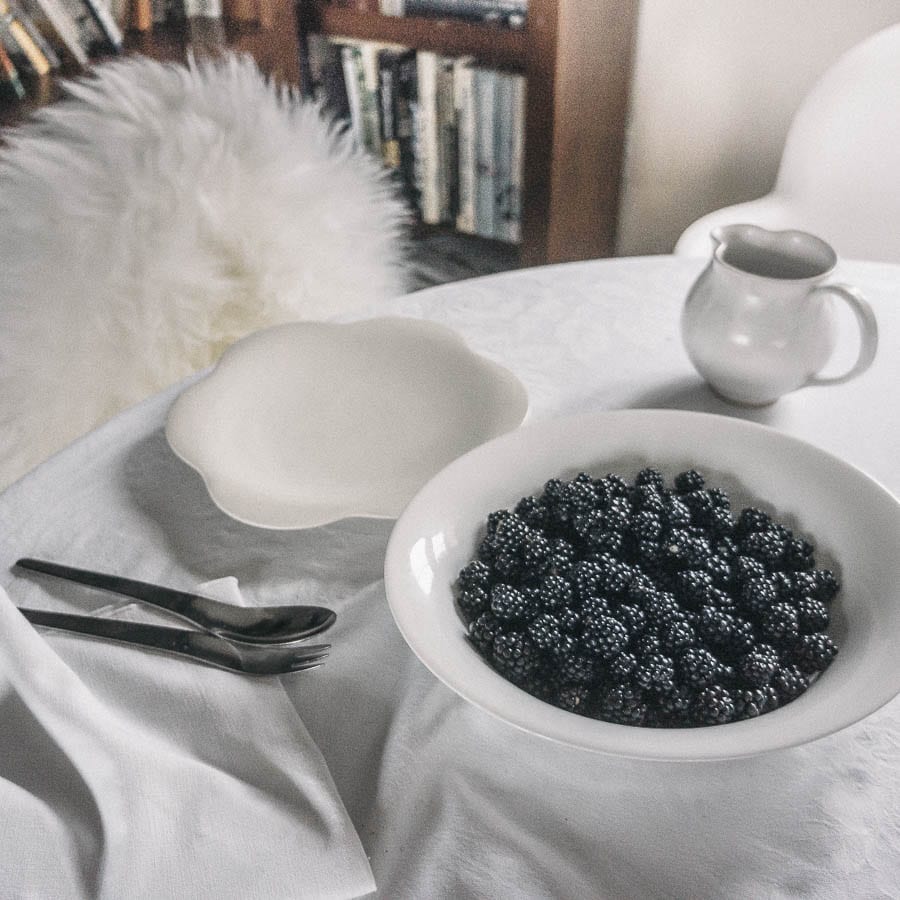 I decided to make a non-bake white chocolate cheesecake with blackberry ripple. The ripple is made with a blackberry coulis. I was hoping to have leftover blackberry coulis to drizzle on my homemade vanilla ice cream but I'll have to make some more. Luckily it's simple to make.
The tanginess and sweetness of blackberries worked like a dream with the white chocolate cheesecake as if they were ideal dance partners. I usually feel a bit awkward and uncomfortable when I'm complimented but this time I agreed with my husband and a friend visiting that this was the best cheesecake we had ever tasted. The non-bake cheesecake was actually light as I folded in double cream whipped into soft peaks with the cream cheese before adding the slightly cooled melted white chocolate.
Another recipe I like making with all my blackberries is a light Blackberry Fool.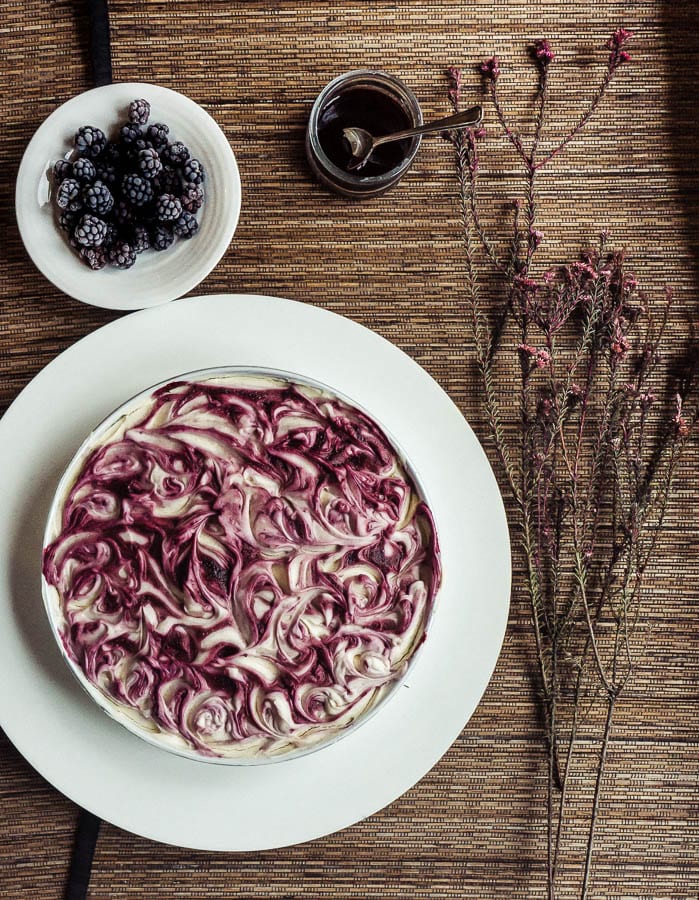 For the crust I used Graham Crackers as we had bought a few boxes to make S'mores over the campfire at my children's bushcraft party. I wanted my children's British friends to discover this American treat. But you can use digestive biscuits instead. I added some brown sugar and melted butter so that I had the perfect crust.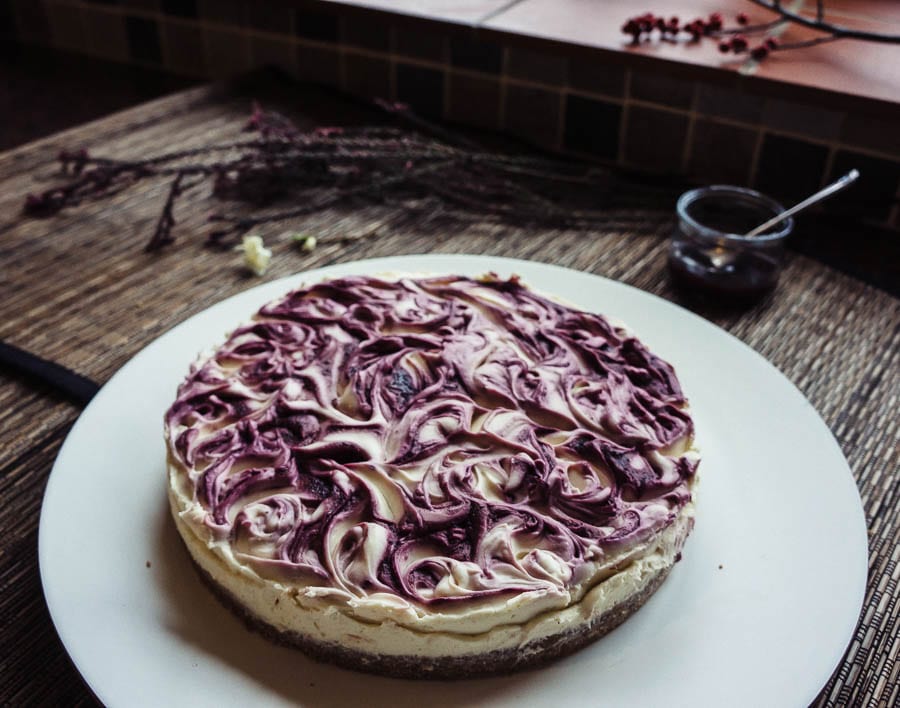 Blackberry Ripple White Chocolate Cheesecake
INGREDIENTS
80g golden caster sugar
250g blackberries (Put 100 g aside to serve fresh with cheesecake)
250g digestive biscuits (Or Graham Crackers if available)
3 tablespoons unsalted butter, melted
85g soft brown sugar
300g white chocolate (good quality)
750g cream cheese (full fat)
100g golden caster sugar
300ml double cream (heavy cream)
DIRECTIONS
Blackberry Coulis:
Place 150 g blackberries in a small saucepan with 85 g golden caster sugar PLUS one tablespoon water. Simmer gently on low heat for about 5 minutes while stirring. Pour into blender and mix until smooth. Then press through fine meshed sieve. The blackberry coulis can be made ahead.
Cheesecake Crust:
Put Graham Crackers or digestive biscuits in a plastic food bag, seal and then crush with a rolling pin until they are fine crumbs. Put into a bowl with brown sugar and then mix in thoroughly the melted butter. Put into a loose bottomed pie tin and then press crumbs down very firmly. Chill for at least an hour in the fridge.
White Chocolate Cheesecake with Blackberry Ripple:
Beat the cream cheese and 100 g caster sugar until they are blended. In a separate bowl whip the double cream until it forms soft peaks then fold into the cream cheese mixture.
Break the chocolate into small pieces and place in a heatproof bowl over a pan of lightly simmering water. (Do not let the bowl touch the water). Once melted let it cool slightly before folding into the cream cheese and whipped cream mixture. Pour onto chilled crust and smooth with palette knife. Drizzle about a third of the blackberry coulis over the cheesecake and make swirls with the tip of a knife. Chill cheesecake for at least an hour or overnight.
Carefully remove cheesecake from tin and place on serving plate. Serve the white chocolate cheesecake with blackberry ripple in slices with fresh blackberries and extra blackberry coulis.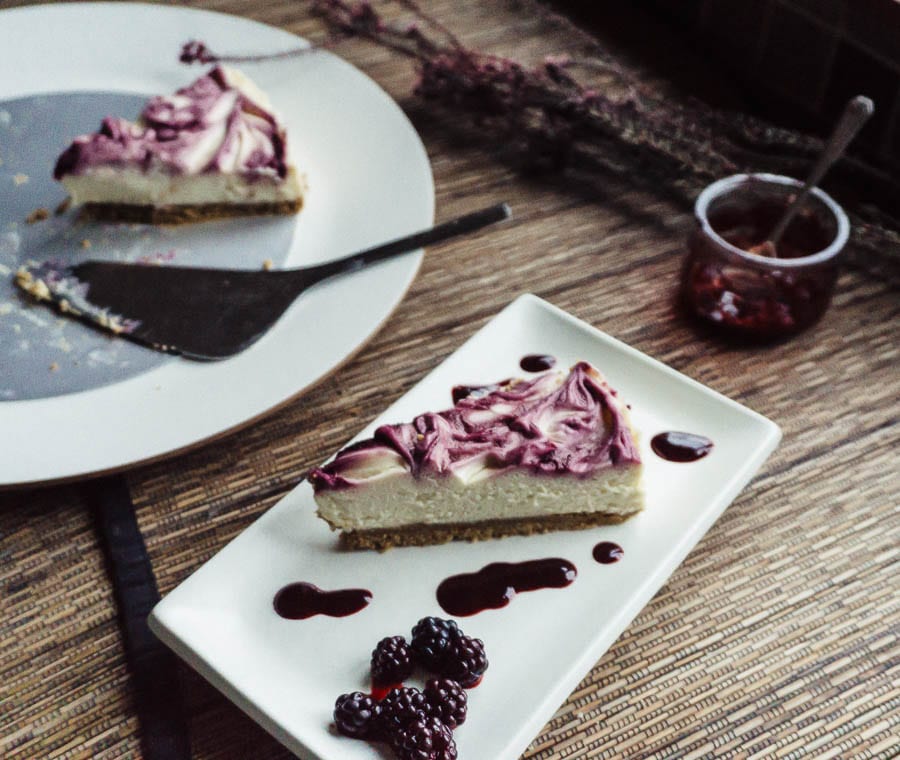 After I rippled in the blackberries I left the cheesecake overnight in the fridge to set before taking it out of the cake tin with a loose bottom. I served the slices with more blackberry coulis drizzled over it and blackberries. I was hoping to freeze some of it for another day but none of us could resist extra slices. Again and again. My husband has even asked me to make it for Christmas. It will be my sweet gift to him.