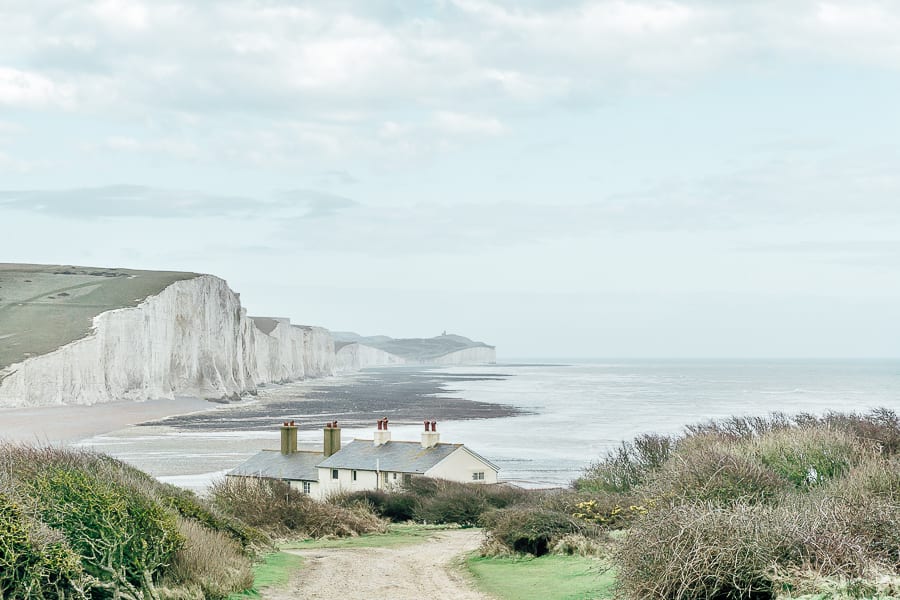 I spent a couple of days with Luce and Theo on the East Sussex coast this past week. It was really a spur of the moment 'let's go and be by the seaside.' One afternoon we headed for Cuckmere Haven where you have a perfect view of the chalk cliffs of The Seven Sisters.
I actually didn't realise when I took this photo that this is one of the iconic landscape scenes in Britain.
In the foreground are the Coastguard Cottages which were built shortly after the Coastguard Service was formed in 1822 to crack down on smuggling. The beach at Cuckmere Haven just below, where the South Downs meets the sea, was frequented by smugglers between the 16th and 18th centuries. Defences were put up during World War II in Cuckmere Haven due to Luftwaffe air missions considering the beach as a possible invasion landing site.
Behind are the dramatic chalk cliffs called The Seven Sisters. Each sister has a name: Haven Brow, Short Brow, Rough brow, Brass Point, Flat Hill, Bailey's Hill and Went Hill. Just after the last peak, in the far distance, stands the Belle Tout lighthouse.
I took Luce and Theo there to go fossil hunting after a morning feeding baby lambs. Despite forgetting my mobile charger at home and no WiFi in my hotel room, I managed to do a quick search on my tablet in the lobby. I found out there was a free parking area in the Seven Sisters Country Park. My satnav told me I had reached my destination in Chyngton Way in Seaford – the nearest post code is BN25 4JQ – but luckily I had read that I should keep driving and follow a small lane up to South Hill Barn. (I'm adding these details in case you plan a visit here!)
Then we walked down a path and saw this view of The Seven Sisters.
Nearby the beaches are perfect for a rockpooling adventure or a cliff walk with an amazing view.