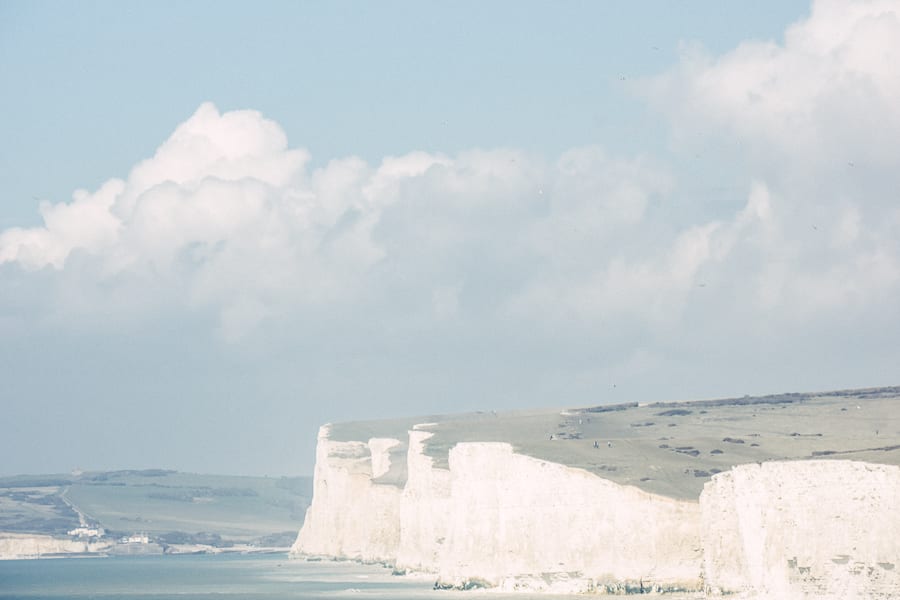 Whenever I go on a walk with my children, they're interested in adventures and have simply ignored me when I stop to 'ooh' and 'aah' about some spectacular view. Now that they're a bit older – Luce and Theo are eight year old twins – they're finally beginning to appreciate views. We went for a coastal walk in the South Downs National Park where the landscape stretches out to the sea horizon and you can see clearly the Seven Sister chalk cliffs. Inland you can gape at the rolling hills of the South Downs.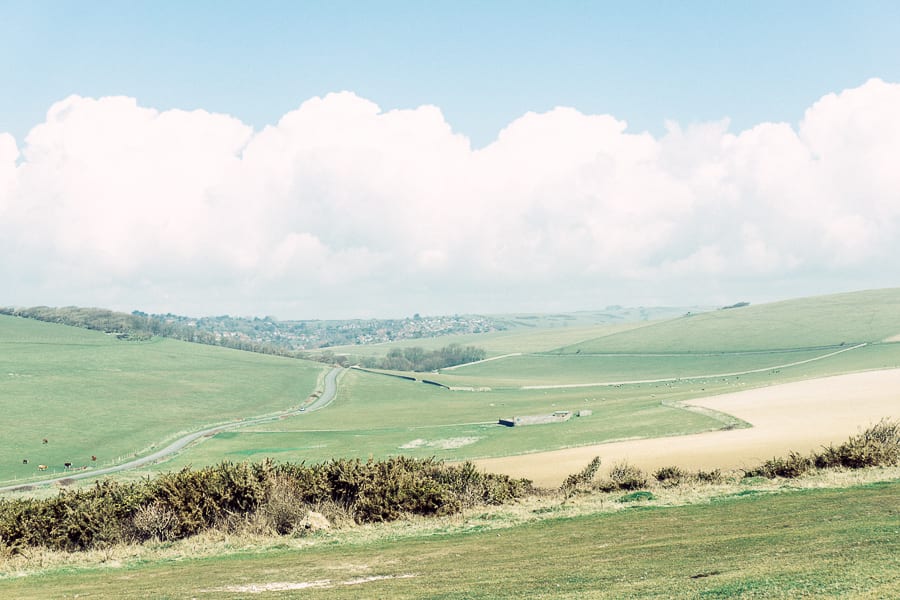 I think there was a bit of the thrill factor to this walk with a view. You have to keep to the paths as it's too dangerous to go off track and get close to the crumbling edges of the cliffs. 
We started off at the National Trust's visitors centre at Birling Gap. While I was picking up some second hand books they became rather animated about reading and interacting with the displays inside explaining about the formation of the cliffs as well as the history of this coastal area of the South Downs National Park.
I planned ahead and brought along a picnic. I knew this was a sure fire way to keep them happy while I enjoyed the sea views.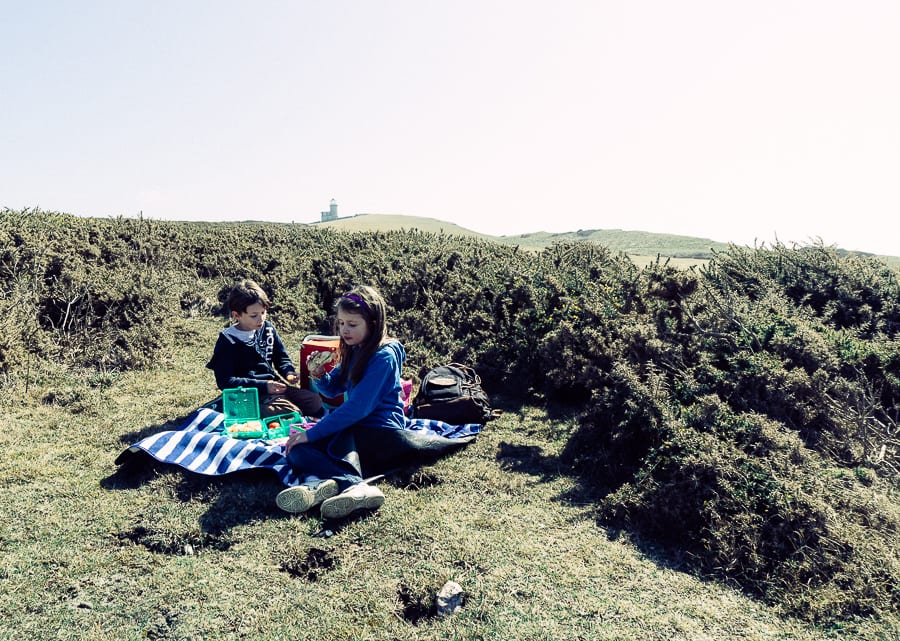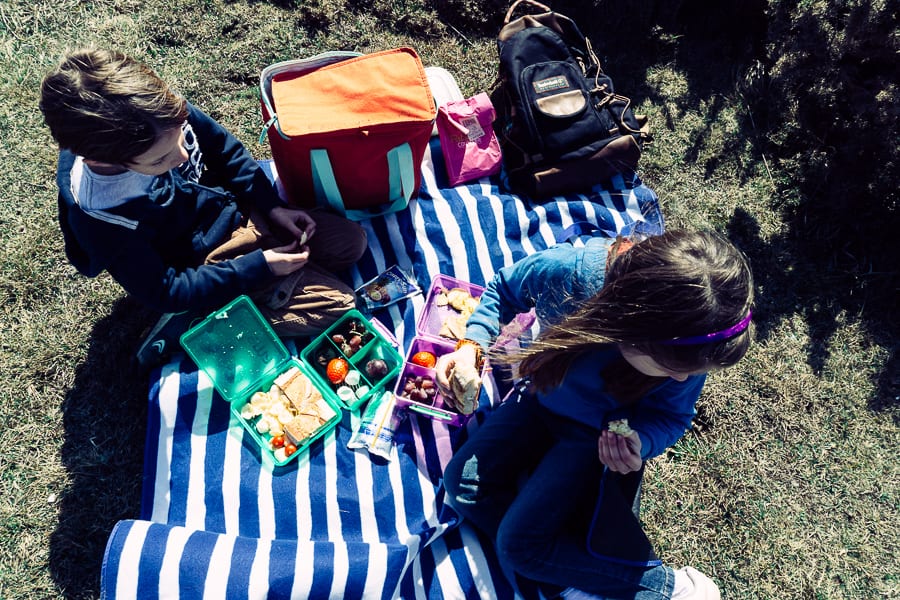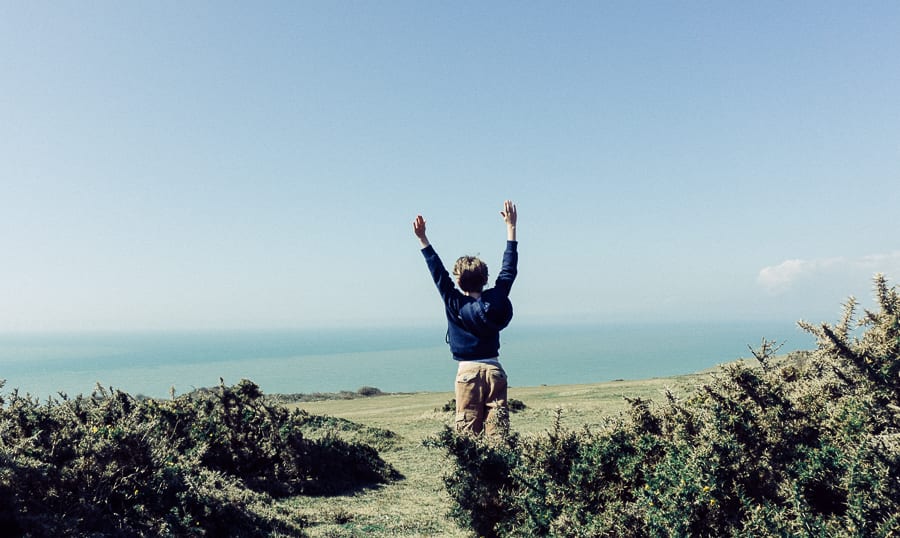 I wanted to complete the whole walking route but I let them be in charge. They wisely insisted that we kept strictly to the official trails as they didn't want to get close to a cliff's edge after I warned them of the dangers. Plus they wanted to protect me as I told them I was 'too scared' about getting anywhere close. (Actually that's true!) They kept asking me questions such as how many houses had fallen off the cliffs or were the cliffs as tall as the tallest building in the world.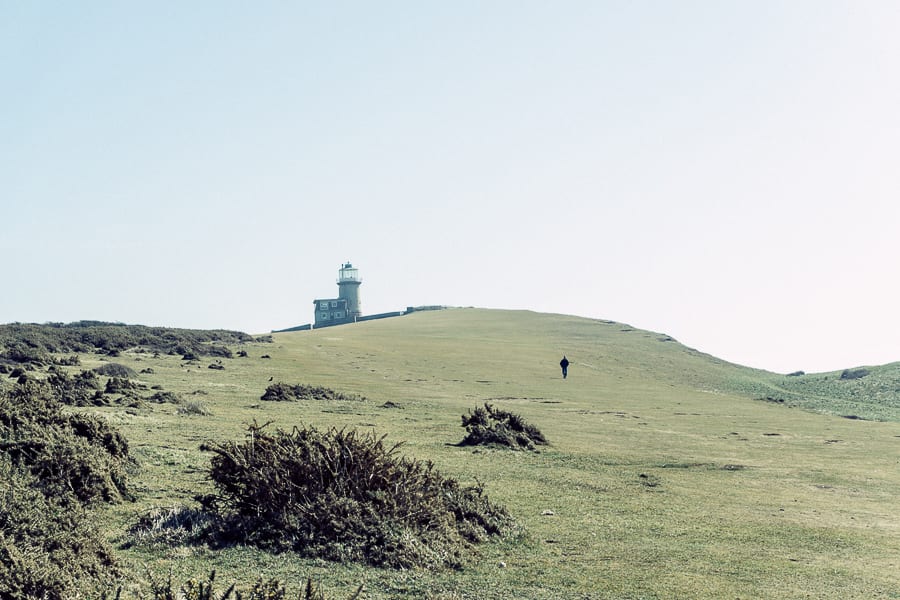 They were also fascinated that the Belle Tout lighthouse, built in the 1820s, had been moved in one piece withouth breaking in 1999. To save it from falling into the sea an engineering company lifted it up and slid it along greased concrete rails to a new safer site 17 metres inland (57 feet). Since it was decommissioned in 1902 it was has been a tea shop, a family home, a film set and now a bed and breakfast hotel.
Up to now the landscapes they've mainly marvelled at are city skylines when we're at the top of a skyscraper or on some Ferris wheel such as the London Eye or the Brighton Wheel. At Birling Gap we had a perfect Spring day for gazing and looking at the landscape around us.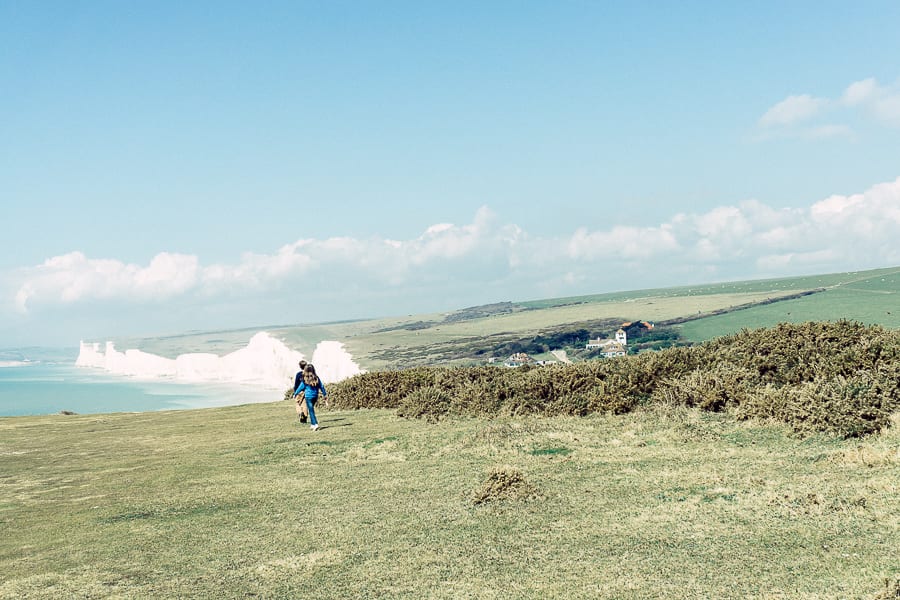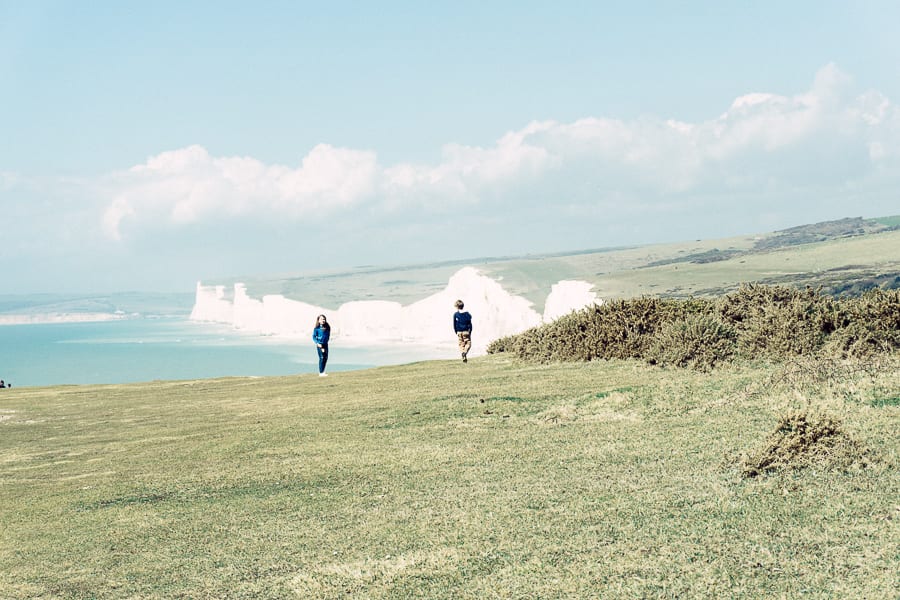 And then they paused and just admired the view.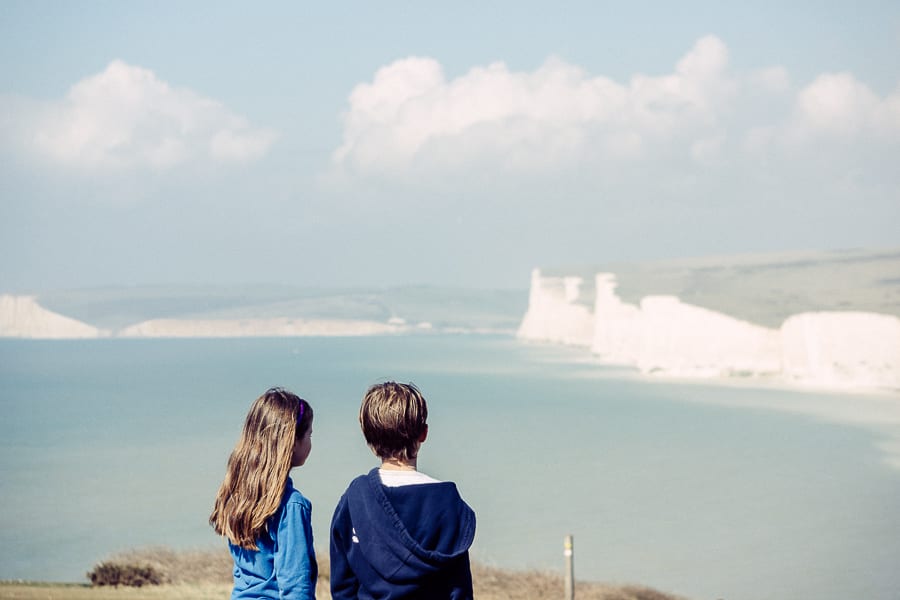 They also wanted to see if they could count each of the 'Seven Sisters.' So sea view mission accomplished. We headed back and I rewarded them with ice creams from the van in the Birling Gap car park. 
We plan to do this same coastal walk with a view again because if we had gone further we would have been able to see another famous lighthouse in the waters near Beachy Head. This time Luce and Theo were too excited about heading down to the beach for some fossil hunting. However we did get another iconic view of the cliffs when we went to the Seven Sisters County Park.
Meanwhile I'll continue to bring picnics to areas which have eye candy landscapes. I'll read up beforehand so I can answer their questions about any special features or historic sites within the panorama. I know spotter sheets are always a winner. And, as often we do, we'll pretend we're on some awfully big adventure. 
I know they're still young so we'll still be going on walks where I'll be the main one admiring some breathtaking landscape while they'll just be seeing a big hill to roll down or run down as fast as they can. (Obviously not one near cliffs!!) But I'm going to find some more places where they'll stop for a moment or two and take in the view.
For a coastal walk with a view in the South Downs National Park – Birling Gap and the Seven Sisters:
Pick up a printout with a map of the walk at the Birling Gap National Trust visitor's centre. More information available here.  It's a 2 miles (3.2 kms) walk which follows the coastline up to Belle Tout lighthouse and then heads down the hill back to the car park at Birling Gap. It's beautiful walk for the family while you're waiting for low tide so you can go on the beaches below. There are steps down to the beach next to the Birling Gap visitor's centre and cafe. 
What are your tips for getting children to appreciate scenic views? If you have older kids when did they start realising it's rather wonderful to be on a walk with fantastic views?