How could I know so little about Kate Greenaway when her children's books helped launch the modern picture book? Once upon a time there really were no children's picture books available.
Amongst a pile of books handed down to my children, I recently discovered the book Marigold Garden by Kate Greenaway. Her name and illustrations were familiar but I needed to find out more.
Step back 150 years ago and I would have had a hard time finding a picture book for my children. Of course, there were children's books but not filled with illustrations like we're now used to. Then, in the late 19th century, along came three artists who changed the children's book landscape: Kate Greenaway, Walter Crane and Randolph Caldecott.
These artists had such an impact that prestigious awards for distinguished children's picture books are named after two of them: the Caldecott Medal and the Kate Greenaway Medal. The Kate Greenaway Medal is awarded annually for "an outstanding book in terms of illustration for children and young people."

Coincidentally Kate Greenaway and Randolph Caldecott were born in the same month and same year: March 1846.
So what did I discover about Kate Greenaway? Who was she?
From a young age she started training as an artist, including at the London Slade School and what is now known as the Royal College of Art. By her 20s (and remember I'm talking about the 1860s and 1870s) she was earning a living from her art including drawings for Christmas cards – by then a Victorian craze – and selling works at Dudley Gallery and the Royal Academy of Art.
Then Greenaway's children book Under the Window was published in 1879 and was an overnight bestseller.
Over 100,000 copies were sold! It was published by George Routledge & Sons and printed by Edmund Evans who also backed the children's book careers of Randolph Caldecott and Walter Crane. Evans used a breakthrough color printing method for the illustrations in what were then known as "toy books."
Greenaway's books were incredibly popular not only in England but also in the US, Germany and France. For example, her first in a series of Almanacks, published in 1883, sold 90,000 copies. During her career, she illustrated over 150 books.
And she made money from them. According to her printer Evans in a 1905 book: "Miss Greenaway considered that she should have half the profits of all books we might do together in future, and that I should return to her the original drawings after I had paid her for them and reproduced them. To both these terms I willingly agreed."
Her depictions of children and mothers in Regency-era clothing started a fashion craze. The department store Liberty's of London even based a clothesline on her illustrations. The fashionable set in Paris dressed their children in Greenaway style. And even the disciples of the Arts and Crafts Movement were influenced by her, attiring their children in Greenaway smocks and bonnets.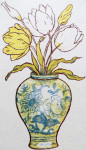 French art critics adored her. Her drawings were viewed as fresh and expressive.
The Parisian art world praised and paid serious attention to the works of the three top British children's illustrators. (Yes, same three again – Crane, Caldecott and Greenaway).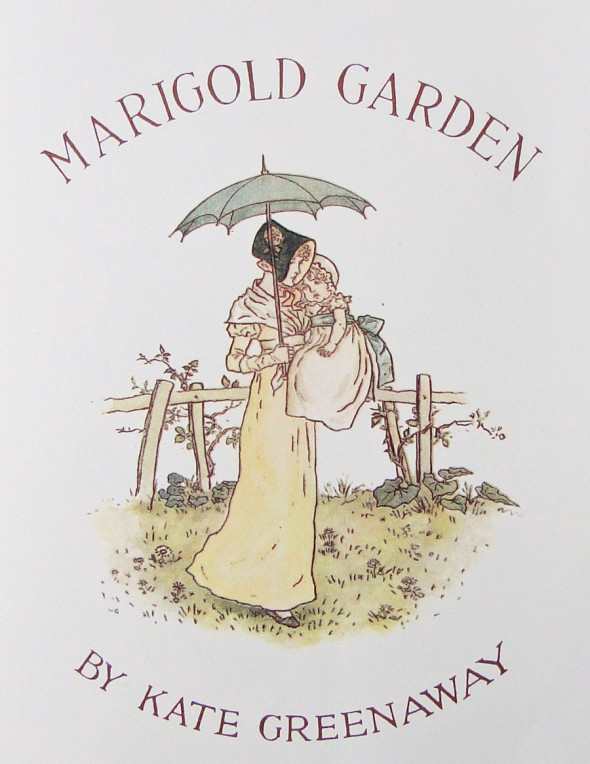 Kate Greenaway's art, including drawings from Marigold Garden, were sold at the 1889 International Exhibition in Paris. She also sold the title page of Marigold Gardens in a Chicago exhibition.
The famous British art critic John Ruskin also admired her work. Their friendship resulted in over a thousand letters between them from 1880 until his death in 1900. She never married and died of breast cancer in 1901.
Why haven't I spoken about the writing in Marigold Garden? Basically they are sweet little verses that suit the pictures. They are similar to simple nursery rhymes that can easily be read or sung to a child. It's the illustrations that turned her into a top children's book name in the US and Europe in the 1880s and 1890s.
Famous children's illustrators such as Beatrix Potter and Cicely Mary Barker (see my post Are flower fairies real?) were influenced by Greenaway and her two contemporary illustrators.
The era of the children's picture book had begun.
Under the Window and Marigold Garden were the only two books both illustrated and written by Kate Greenaway.
Note: To see more of Kate Greenaway's books have a look on US Amazon and UK Amazon. A free e-book version of Marigold Garden is available through The Project Gutenberg.