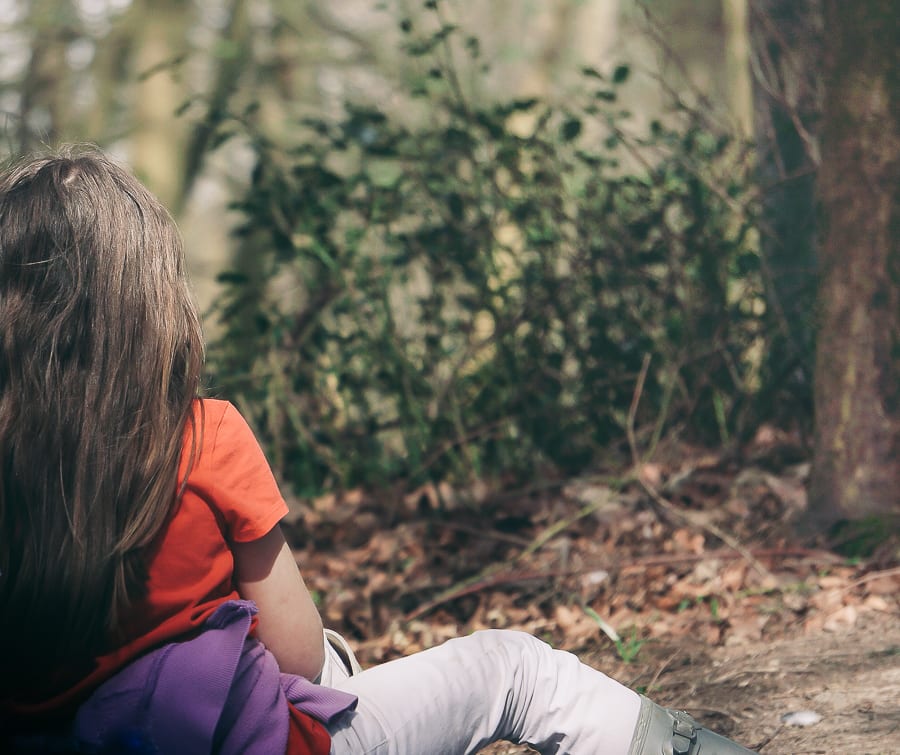 If it's a sunny day with no sign of wind or rain, I know a surefire way to get my kids away from the TV and ready to spend time in the great outdoors within minutes. All I have to ask is…
Would you like a picnic in the woods?"
Now with grown ups picnics without fail mean lots of planning ahead. Usually they entail lots of preparation with wonderful food for eating outdoors. Too often you also have to worry about bringing along a cooler filled with beer and wine, hampers of food, chequered blankets and various accoutrements to present that ideal notion of a picnic in the wild.
Kids are not fussy. Whether I'm just taking my twins alone or with their friends, they just want something that's simple and easy to eat with their hands. Fresh air and a walk will make them hungry but food always seems to taste better when eaten outdoors. I bring along wipes but I'm not worried about dirt as it's actually good for kids.
From experience I've found an impromptu picnic is the best. Weather is so often fickle that if we have to cancel I end up with two very disappointed children to deal with! Perhaps if we lived in a sunnier and more steady climate but we're in Britain after all. As long as the sun is out and the ground is dry it can take place any time of the year. My twins Luce and Theo just want to wear their wellies and comfortable clothes. Unlike me they're not in the least interested in re-enacting a scene out of Brideshead Revisited.
The icing on the cake is to allow Luce and Theo to choose the picnic spot somewhere in the great outdoors. And talking about cake I always bring along some treats as well as healthy food for their picnic.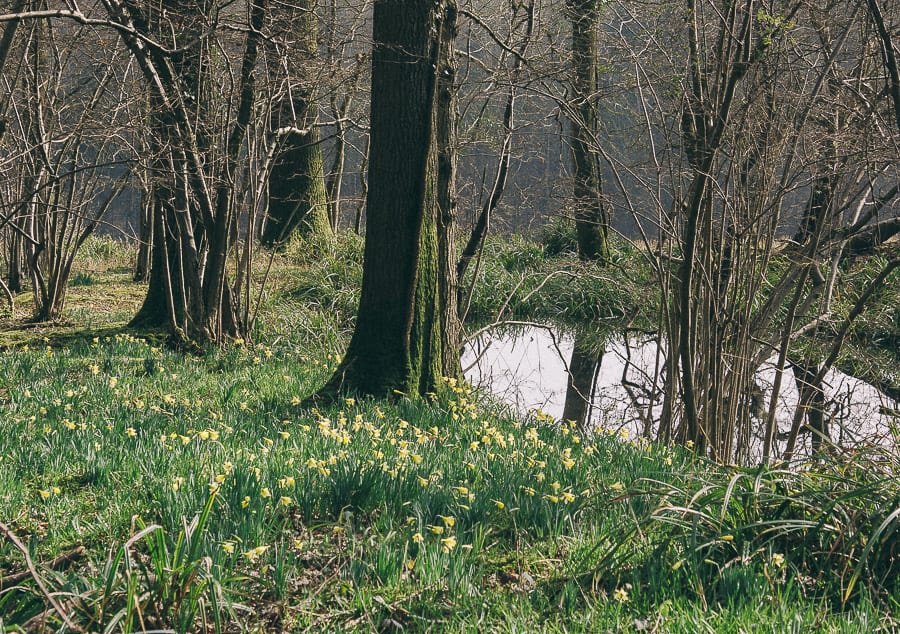 We went for a picnic last weekend in the woods near our house.
I might think that an ideal spot to eat and daydream at our leisure is next to wild daffodils and a vernal pond but my twins had other ideas. Theo focused on the trail ahead while Luce insisted on carrying the picnic bag. Theo mumbled that he'll help carry it on the way back. Hmm – guess who does?  Then I see them stop next to a wood path and put down the picnic bag. Nope, they just found a large stone that they want to bring with them. If I'd known we would be hiking for a while I would have brought the picnic along in my backpack like many times in the past.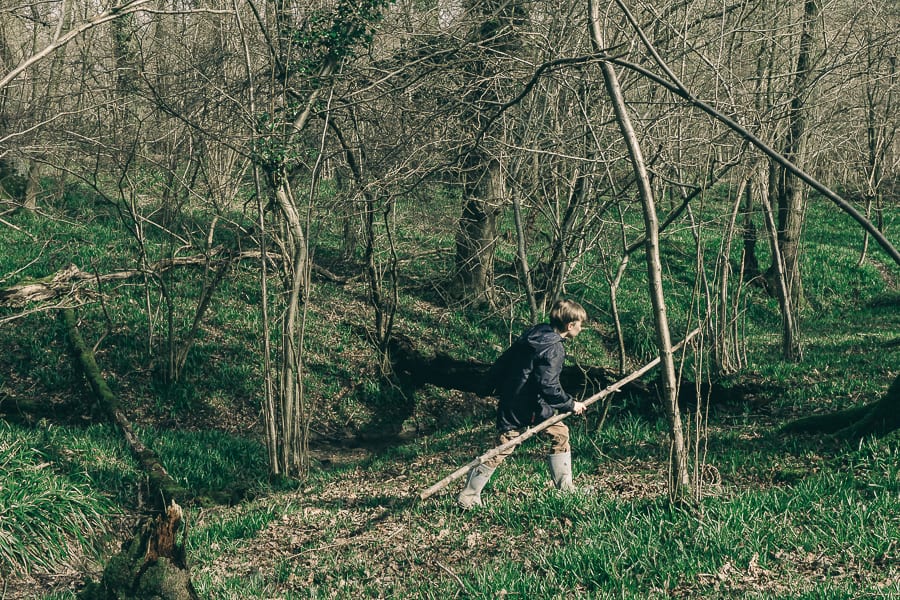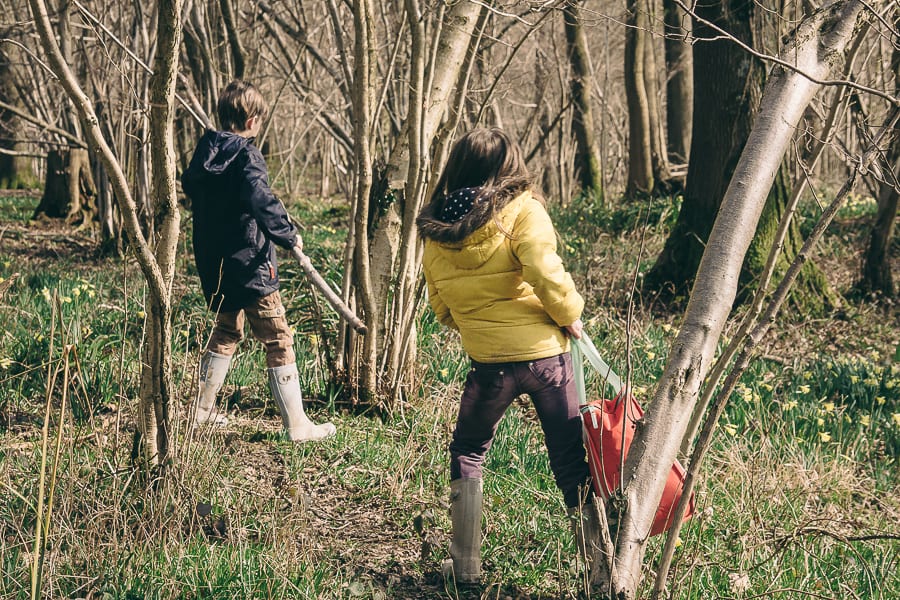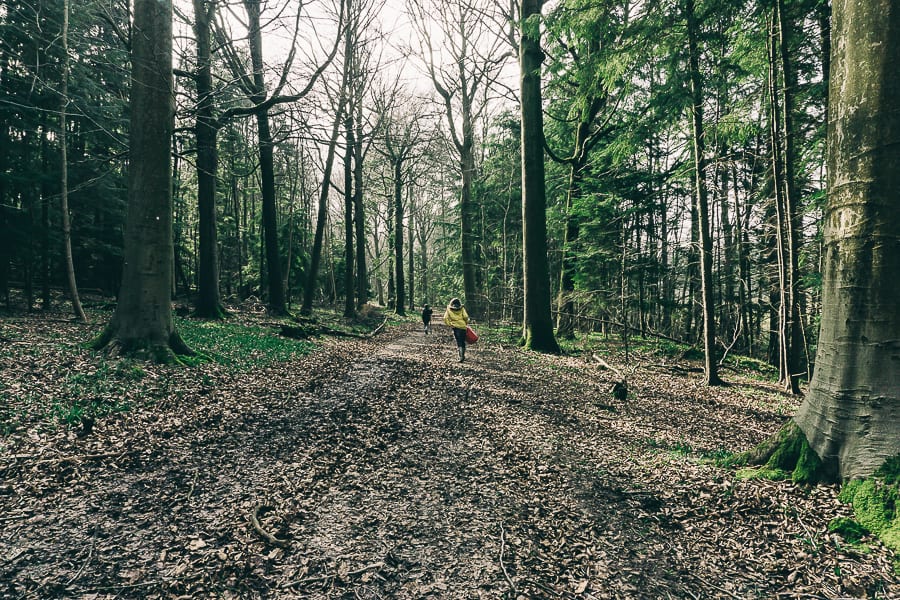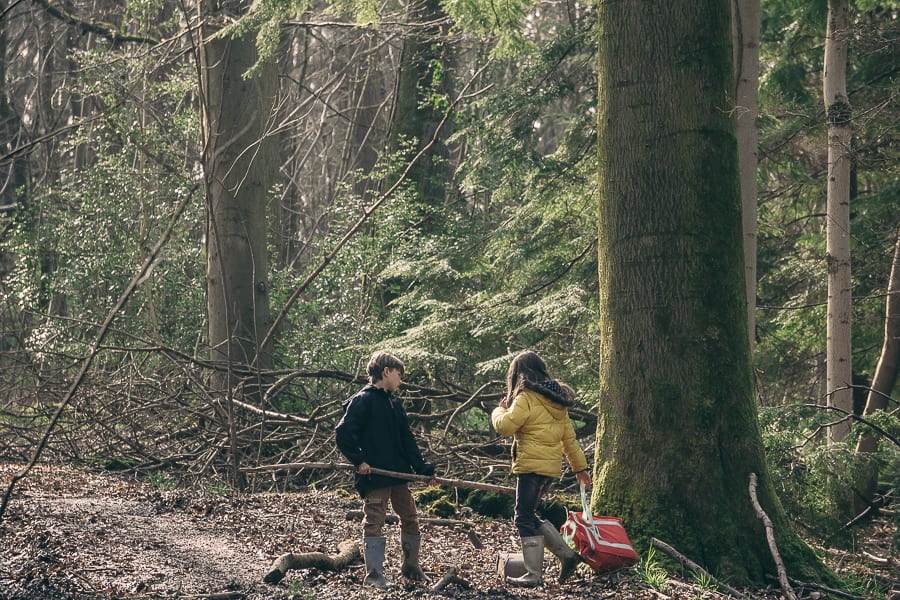 Finally we've reached their ideal location for a picnic. I should have known! It's in the clearing right in front of the den they made in the woods. As it's full of bluebell shoots and their 'tyre seat' is wet, they're easily persuaded to sit down on the picnic blanket I brought along. (If you're wondering about the tyre, they found it in the woods one time with friends and immediately decided they had to add it to their den as furniture!)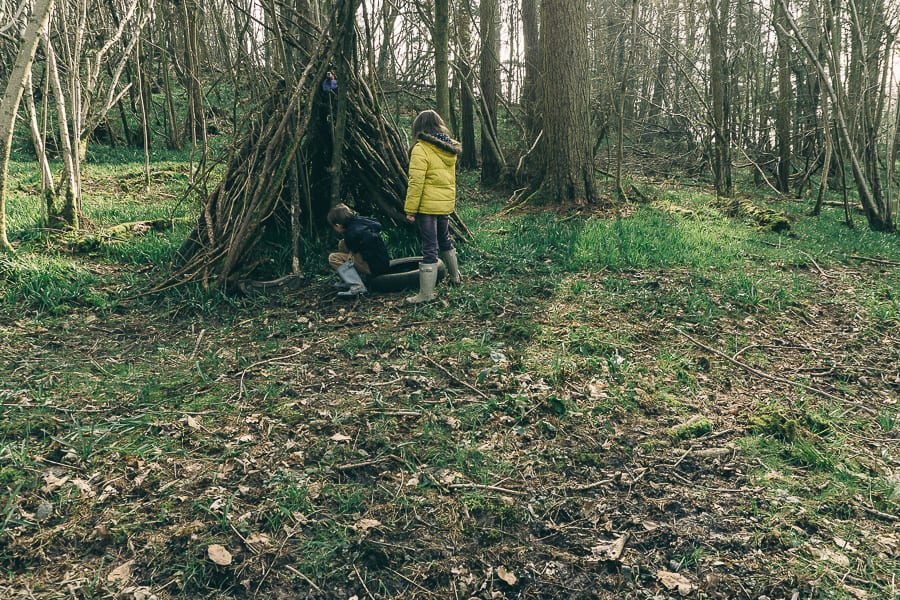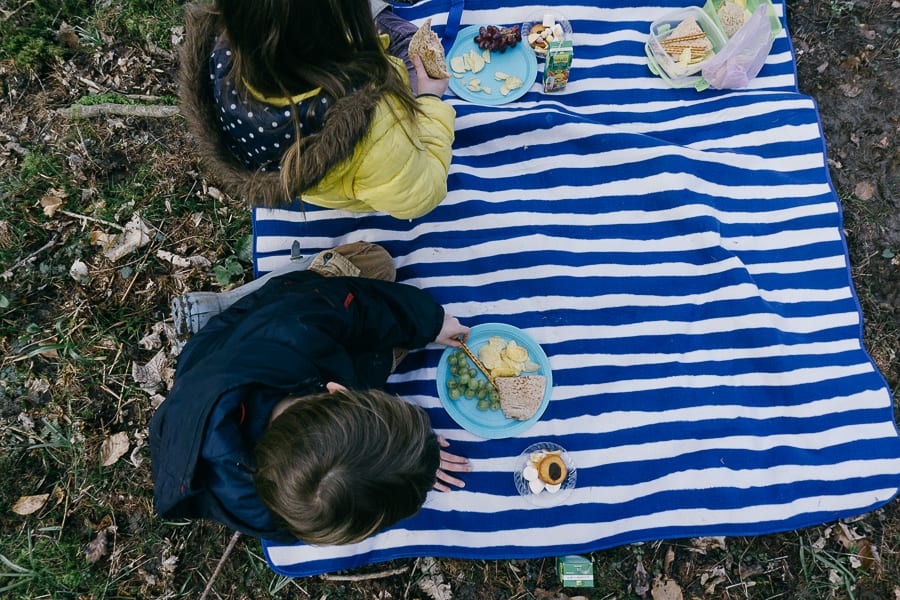 It's a good thing that I didn't bother making a 'picture perfect' picnic. Luce and Theo won't even pause to pose for a photo as they gobble up the food. Soon they're finished and off to swing from their favourite branch next to the den. Then they want to go off exploring again. I just make sure they help me clear up before we head off with a reminder that we should never leave any litter in the wild. Like tyres!!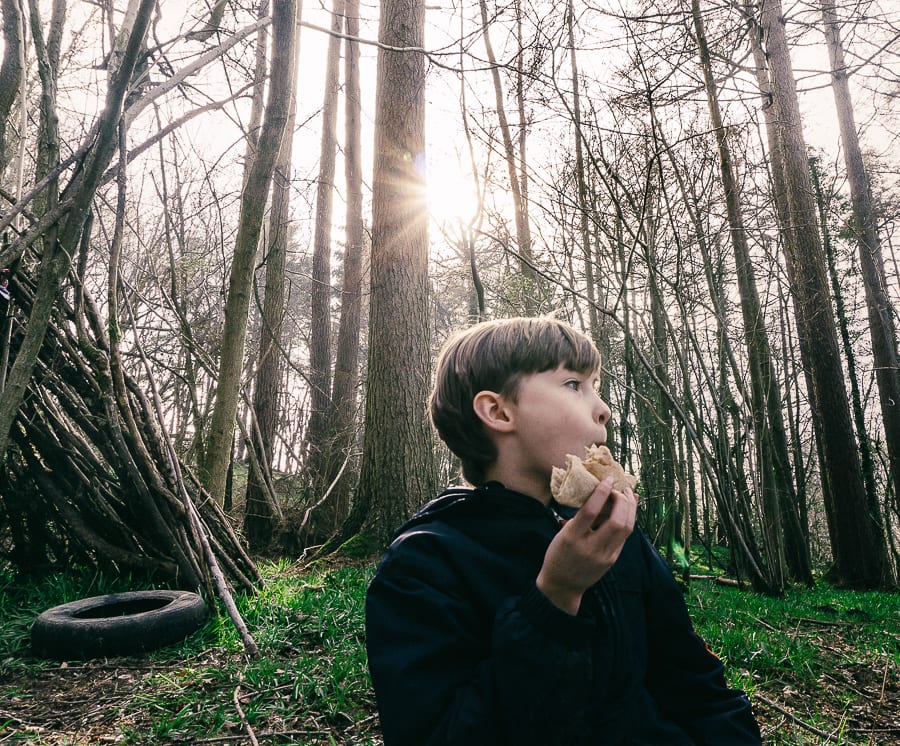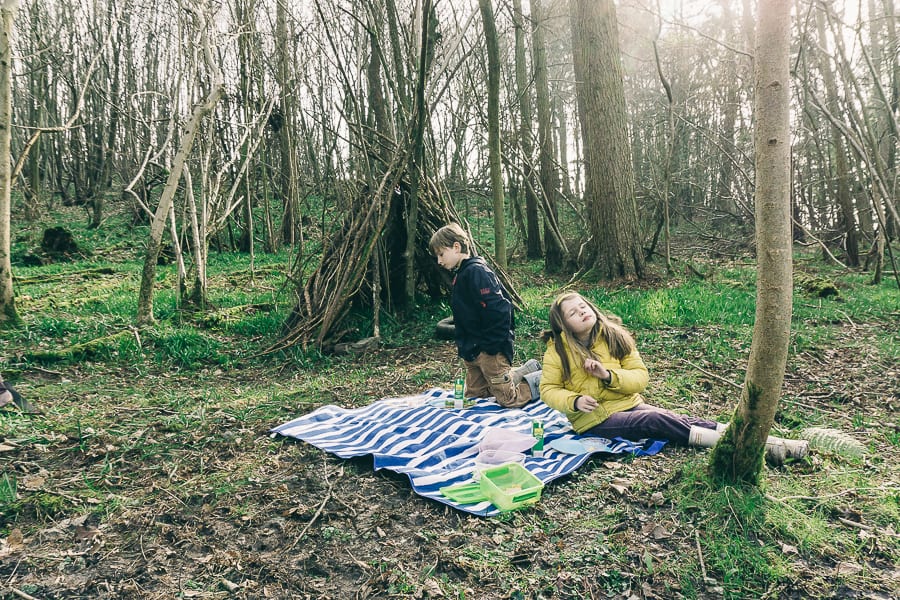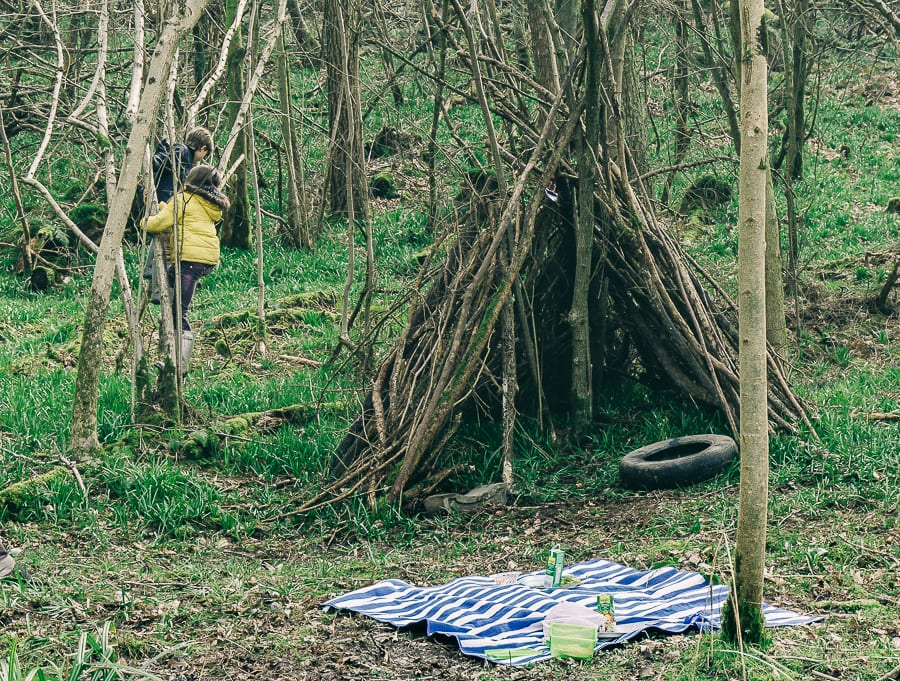 In sum, what I find works best for a picnic with kids in the woods is for the mini feast to be impromptu, keep the food simple and let them choose their ideal place. Don't be surprised if they eat it in a flash and are ready to play again while whooping loudly with joy in order to hear their shouts echoing noisily through the woods. Forget about your adult dreams of the magical location, exquisite dishes brought in a wicker hamper, all laid out beautifully on a picnic rug as you relax and drink champagne while listening to wild birds singing and a light breeze rustling through the trees. After all if you did arrange a gourmet outing outdoors, the reality is that it would probably rain or after two minutes and one sip you'd be off searching for the kids who had disappeared somewhere in the forest.
Yet, I will admit that the best meal in the woods with adults and kids was this!! What's your perfect picnic with children?