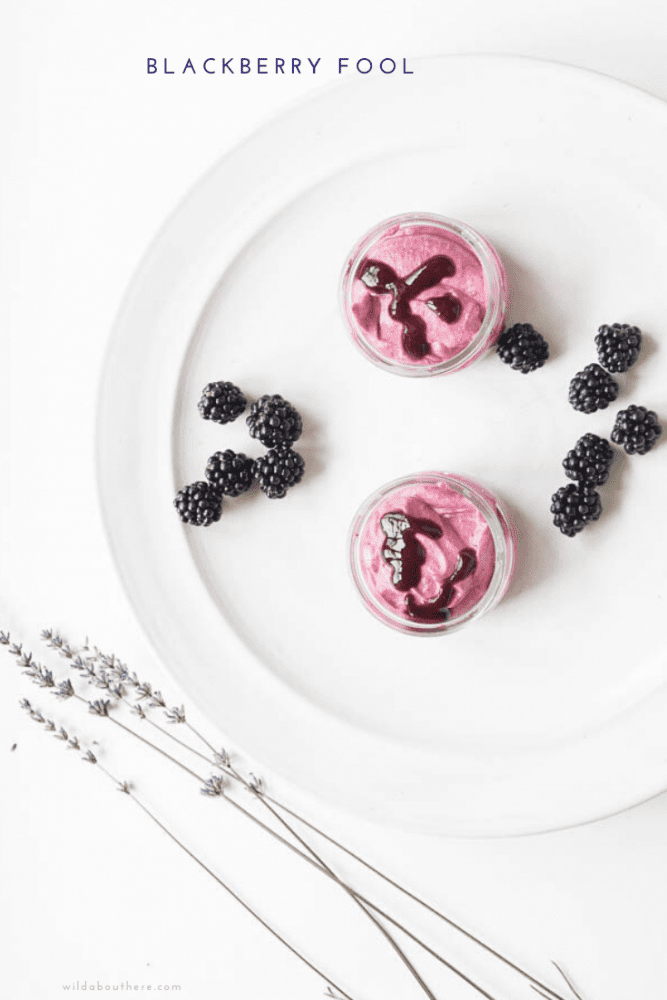 There's something terribly English and refreshing about a fruit fool. The end of summer and start of autumn meant it was perfect timing for the charms of a blackberry fool.
We have an overabundance growing in our garden so I didn't even have to wander down the lanes picking wild blackberries from hedgerows. I must admit it was rather delightful having freshly cut flowers and fruit from one's own back garden at the dinner table.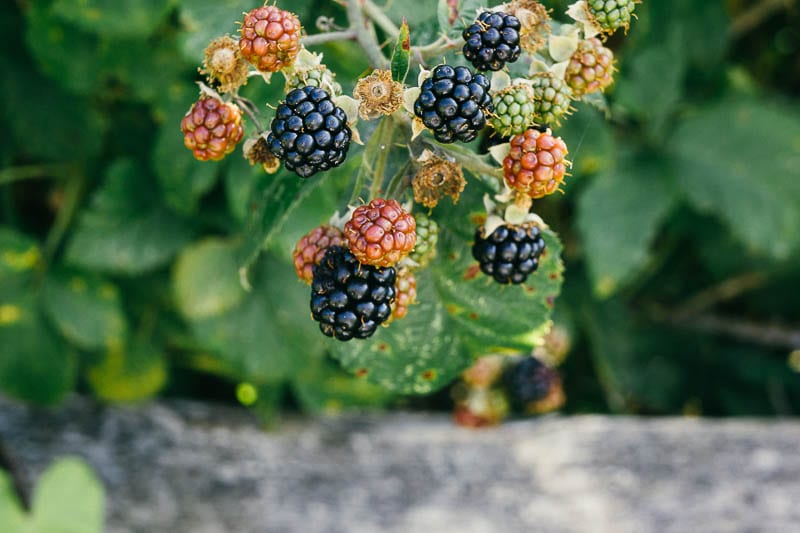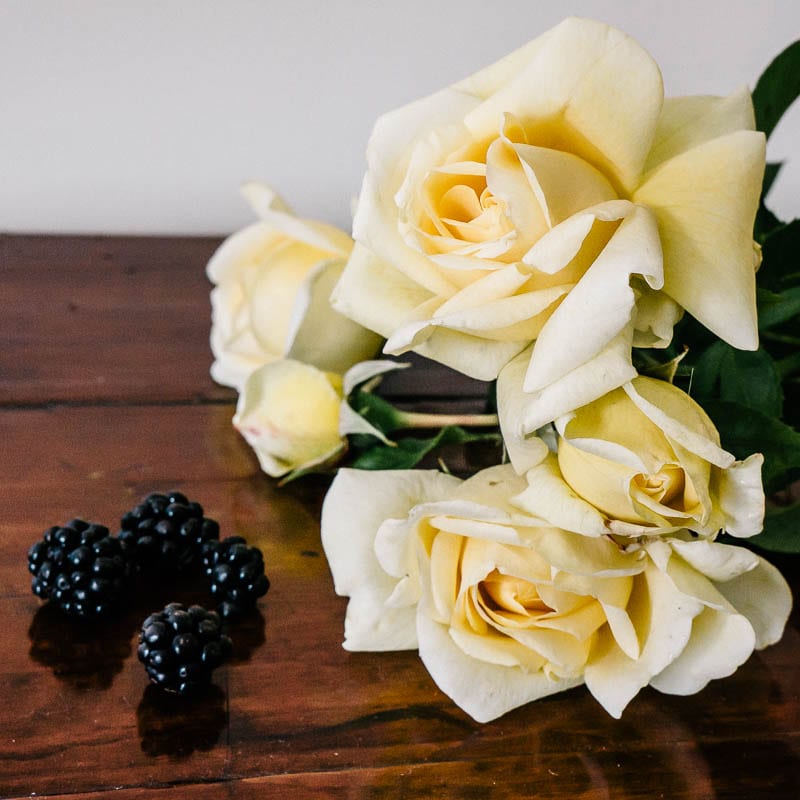 I always wondered about the origin of the word fool which first appeared in the 16th century. It seems it's debatable whether it's an English word or derived from the French verb 'fouler.' Gooseberry fool recipes became popular during Elizabeth 1's and Henry VIII's reigns. Since the 17th century this pudding has also been made with other seasonal fruits.
I definitely prefer this traditional pudding made by folding in cooked fruit puree with whipped cream rather than custard. It's rather important to make sure the cream is chilled before folding it in with the fruit compote so that it doesn't become runny.
And what is the lovely twist in this recipe? I mix the cooked but cooled blackberry puree with vanilla yoghurt before folding it into the chilled whipped cream.
Blackberry fool with cream and yoghurt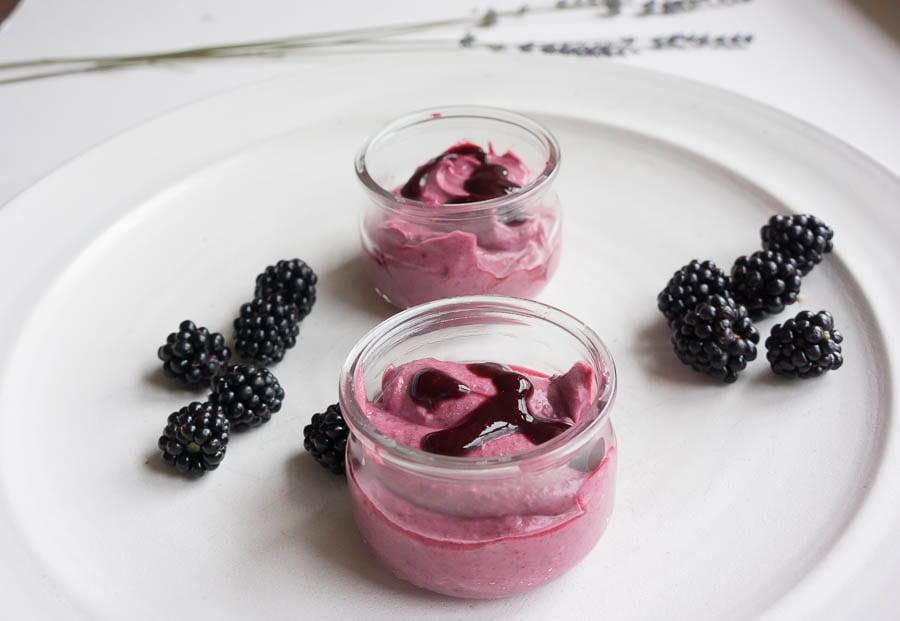 ingredients
500g Blackberries (US 3 1/2 cups)
1 tablespoon Lemon zest (freshly grated)
2 tablespoons Water
170g Caster sugar (US 3/4 cup superfine sugar)
120ml Vanilla yoghurt (US 1/2 cup)
350ml Chilled double cream (US 1 1/2 cups heavy whipping cream)
2 teaspoons Lemon juice (freshly squeezed)
DIRECTIONS
Reserve some blackberries and lemon zest for garnish before adding blackberries, water and grated lemon zest in saucepan. Simmer for up to 10 minutes. Remove from heat.
Pour cooked blackberries in a blender and puree until smooth. Mix in sugar and lemon juice.
Strain blackberry puree through a sieve into a bowl. Set aside puree to completely cool.
Mix vanilla yoghurt with approx 350 ml (3 1/2 cups) of the blackberry puree. Chill and store remaining fruit puree.
Whisk chilled cream into thick peaks then gently fold into blackberry and yoghurt mixture.
Serve blackberry fool in small bowls, cups or glasses and add some of the chilled blackberry puree on top of each serving. Garnish with some sprinkles of lemon zest and raw blackberries.
I had extra reserved blackberry puree – or should I say fruit compote – after drizzling it over the servings of blackberry fool. I then had the simple pleasure of mixing this compote with plain Greek yoghurt for breakfast. Since we've had so many blackberries in our garden, I've frozen them in trays before putting them together in bags to store in the freezer.
A favourite dessert is my white chocolate cheesecake with blackberry ripple. Ooh yes I'm going to have to make this non-baked treat this week.
This means I not only can have more blackberry desserts this Autumn but I can also make again blackberry fools with whipped cream and vanilla yoghurt.