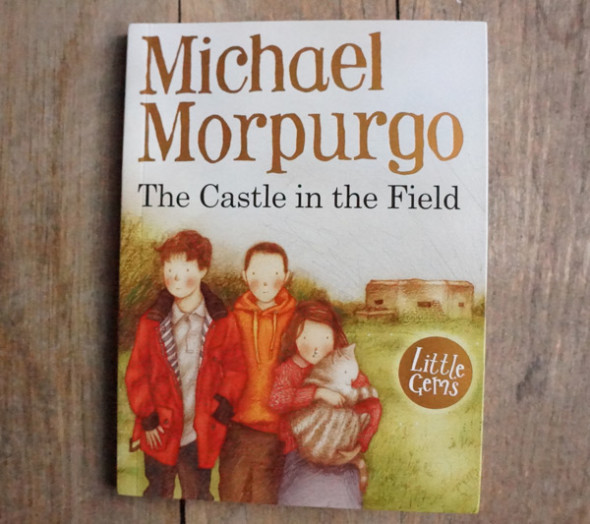 There's something about hideouts that children just love. Whether it's a tent in the house or a treehouse or a fun nook, hideouts become magical places for kids to play….and imagine in.
In The Castle in the Field by Michael Morpurgo, three children find their own special hideaway. When they get caught in a downpour, Chris, his younger sister Lisa, and his friend Tom find refuge in a shelter in a field on private property. It's an abandoned old army guard post built during World War 2, known as a pillbox. As they are trespassing on land owned by 'old Mr Rafferty' – who dislikes children – they keep their hideout a secret.
They name the shelter 'The Castle.' Soon they are clearing it out and decorating it with pictures and old furniture. For two years 'The Castle' remains their hiding place. Often they have to be careful getting to it as old Rafferty's sheep graze in the field outside it. At one point they're almost discovered. It's only when some bullies find their hideout that the game is over.
When I read this wonderful countryside tale, I found myself happily remembering the wonders of secret hideaways when I was a child. I could immediately relate to why the 'Castle' was so special to them. Just last week when my kids were home during a school holiday, I helped them build a tent in their bedroom. Soon their tent hideout was filled with books and toys – and I even allowed them to sleep in it for two nights.
I was also impressed on how The Castle in the Field touches upon World War 2 history. Pillboxes are a poignant reminder of the dark days of the war when thousands were built across the British countryside as a defense against a feared invasion by Hitler. Inside this old guard-post the three children even find a helmet with a bullet hole in it. I immediately thought of the soldiers who camped in these mini fortifications with their slit windows waiting for the enemy.
The children also call the field they have to cross to get to the pillbox 'no-man's land.' During the First World War this was often the name given to the land between the frontline trenches.
It's not surprising that there are references to Britain's military heritage and World War II as the book is written by Michael Morpurgo. The former British children's laureate is now probably best known for his children's novel War Horse. This tells the story of a farm horse used by the cavalry during World War I. It's also been made into a film by Steven Spielberg and turned into an award-winning play. Many of Morpurgo's books are set in the First World War.
The illustrations for The Castle in the Field are by the talented Faye Hanson. I've written before about her beautiful work as an illustrator.
The Castle in the Field and another book called Snug were especially adapted from Morpurgo's first book called It Never Rained about the adventures of this group of children in the countryside. They are published as part of Barrington Stoke's 'Little Gems' series of early readers aimed for 5-8s.

Available on US Amazon and UK Amazon.
The illustrations, font and even colour of the paper are specially designed to help and encourage children to read independently while also being dyslexia-friendly. Have a look at Barrington Stoke's website for more information on why this independent British publisher is attracting so many top children's authors to write books specially for their young readers.
Disclosure: I was given this copy of The Castle in the Field by Barrington Stoke for an honest review – all opinions are my own. But, I will admit I'm a huge fan of Barrington Stoke. I first discovered them when I bought our first Little Gems book The Snake who Came to Stay by Julia Donaldson. Another recent review was Young Werewolf by Cornelia Funke. (See what I mean about top children's book authors!)
In the UK, I would recommend visiting with your kids one of the preserved pillboxes  – or even a reenactment event involving them – at a National Trust site after reading this book.
After finishing The Castle in the Field, I keep finding myself day dreaming about a wonderful hideaway I made as a child in a bedroom closet. It was a reading nook-of-my-own. Did you have a special hideout during your childhood?