I'm lucky as we have a winter garden. It's my winter therapy to see that there are some plants growing and flourishing in the winter months. Not surprisingly inside our house and in a sheltered area of my side garden I have lots of potted bulbs. I also have vases filled with tree twigs in water so I can watch leaves grow on them. Slowly I'd like to add more plants so that there are flowers and foliage that will add colour non-stop to our garden to contrast with the grey skies of the winter months.
"There ought to be gardens for all months in the year, in which severally things of beauty may then be in season." Francis Bacon Of Gardens essay 1625
In winter the leaves fall off and the flowers bloom on our sweetest honeysuckle shrub – Lonicera fragrantissima. It's also known as the winter-flowering honeysuckle. It actually surrounds and hides our fuel tank!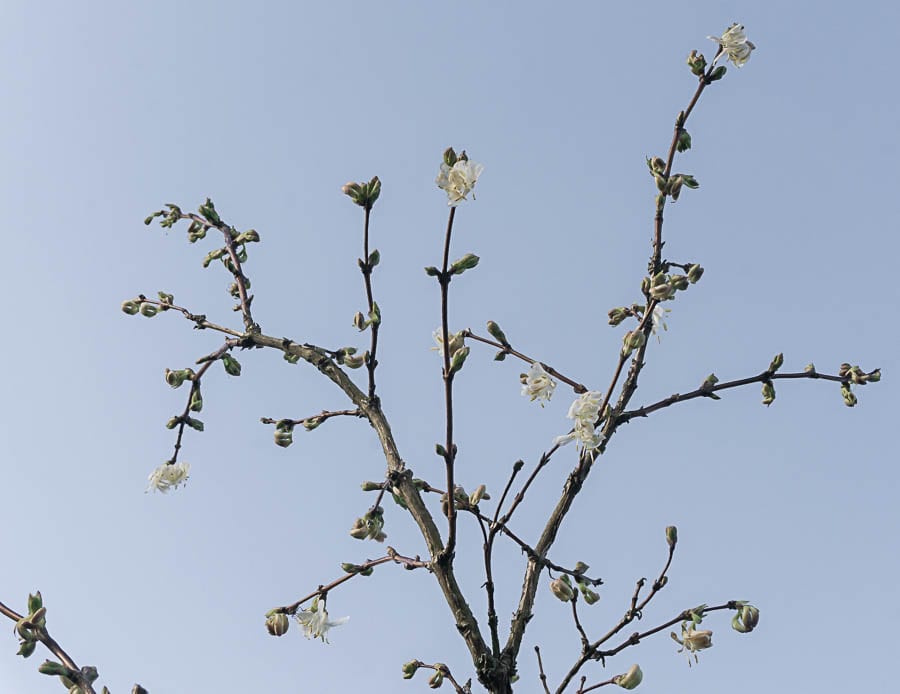 Winter-flowering honeysuckle (Lonicera fragrantissima)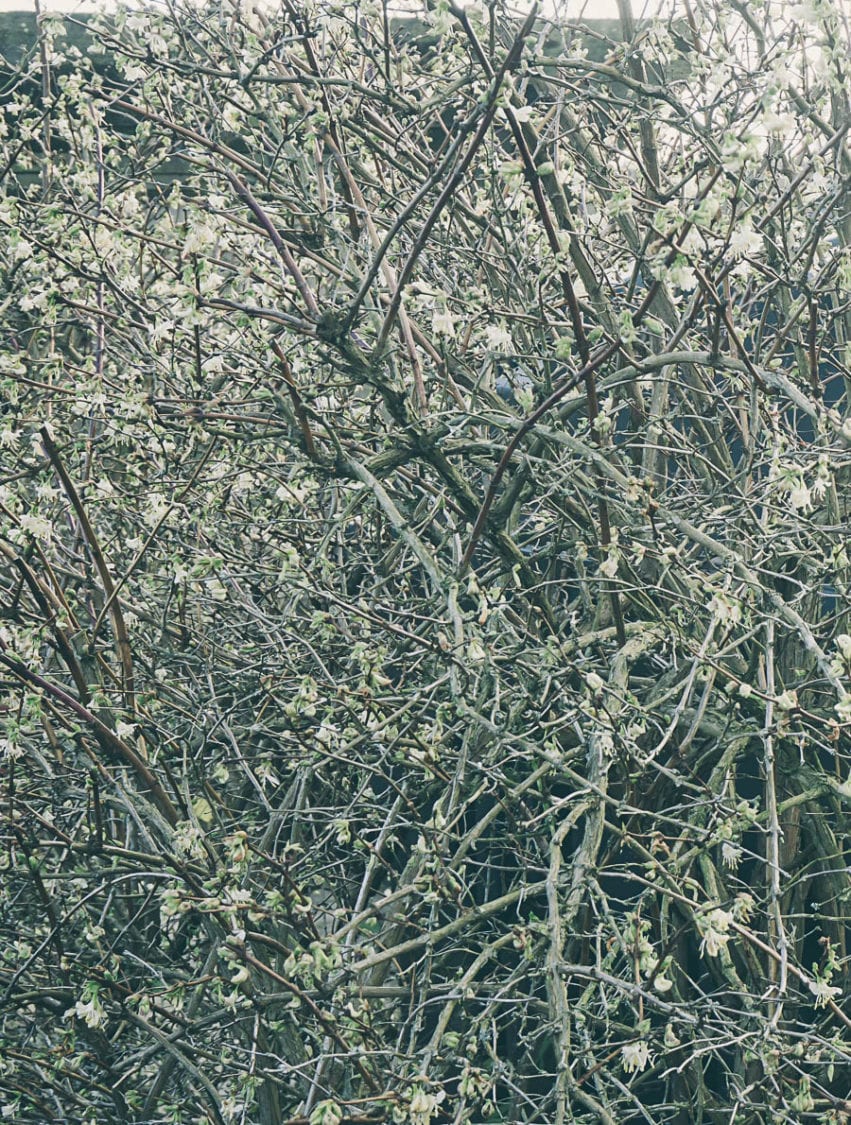 The brash Mahonias are a favourite of garden birds. There's a constant flurry of blue tits feasting on the nectar in its yellow flowers and taking shelter behind the long catkins hanging from the enormous Garrya Elliptica next to them.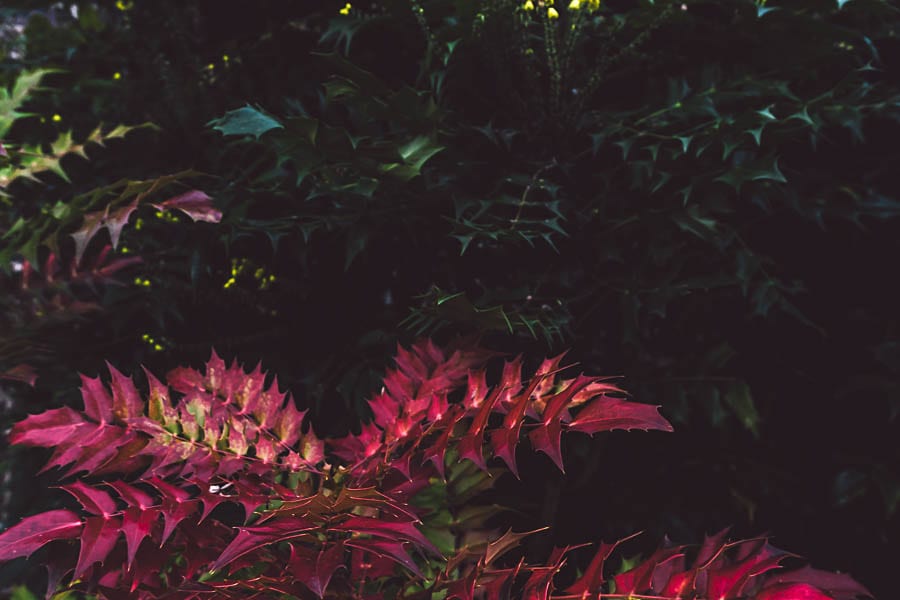 Mahonia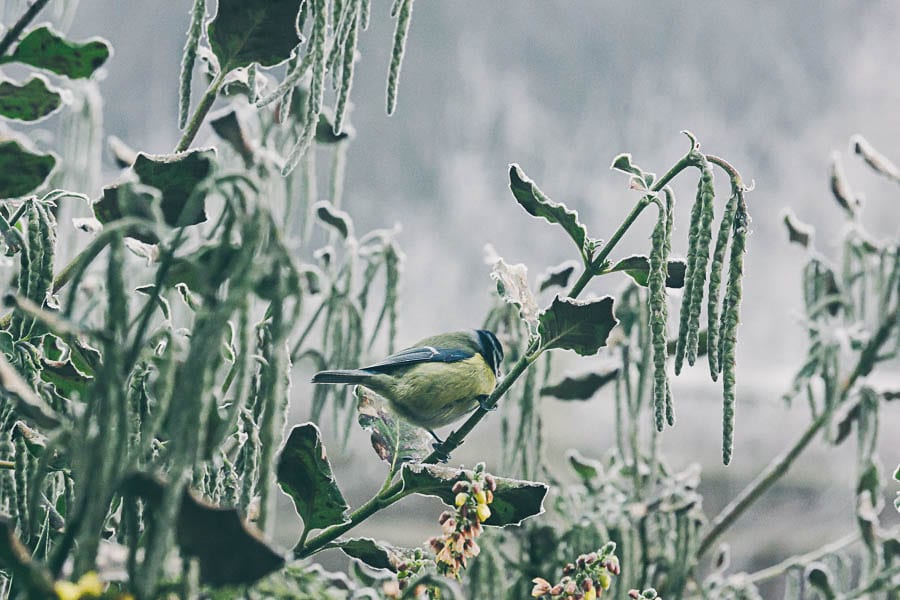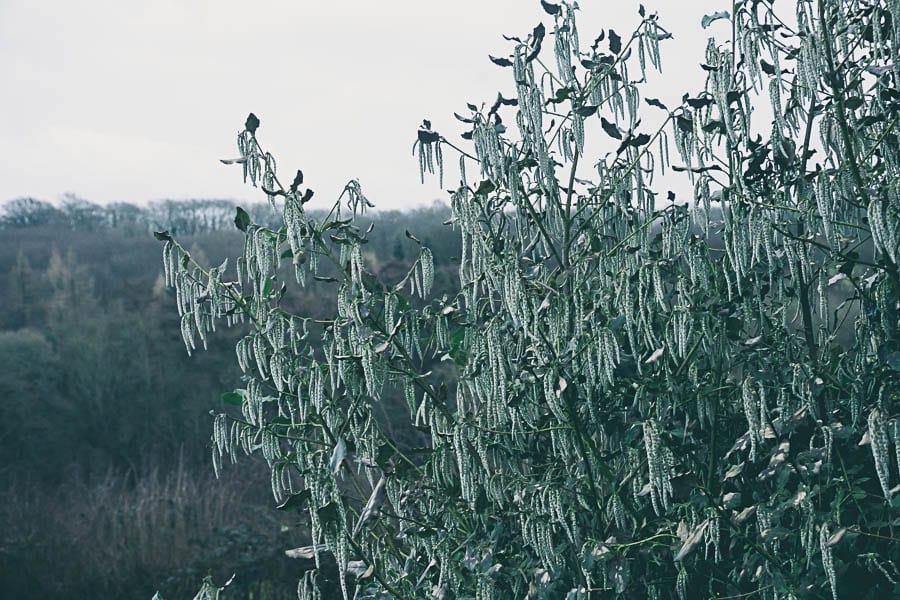 Silk tassel bush (Garrya Elliptica)
The berries are disappearing and the flowers are opening on our Sarcococca confusa – sweet box. I have to fess up that I often check the RHS website to see what the hardy number is for the various plants. I also check the weather constantly desperately hoping that we'll get a good snowfall. The Sarcococca and Mahonias are both H5. Here's the RHS explanation for these H numbers:
H4 – Hardy through most of the UK (-10 to -5)
H5 – Hardy in most places throughout the UK even in severe winters (-15 to -10)
H6 – Hardy in all of UK and northern Europe (-20 to -15)
H7 – Hardy in the severest European continental climates (< -20)
The winner in our winter garden is the Bergenia which is H7. However it's not looking its best at the moment as it's on the border of a flower bed which was destroyed by ground elder. We're going to have to pull it up and take some cuttings. Same thing with our heuchera in this bed.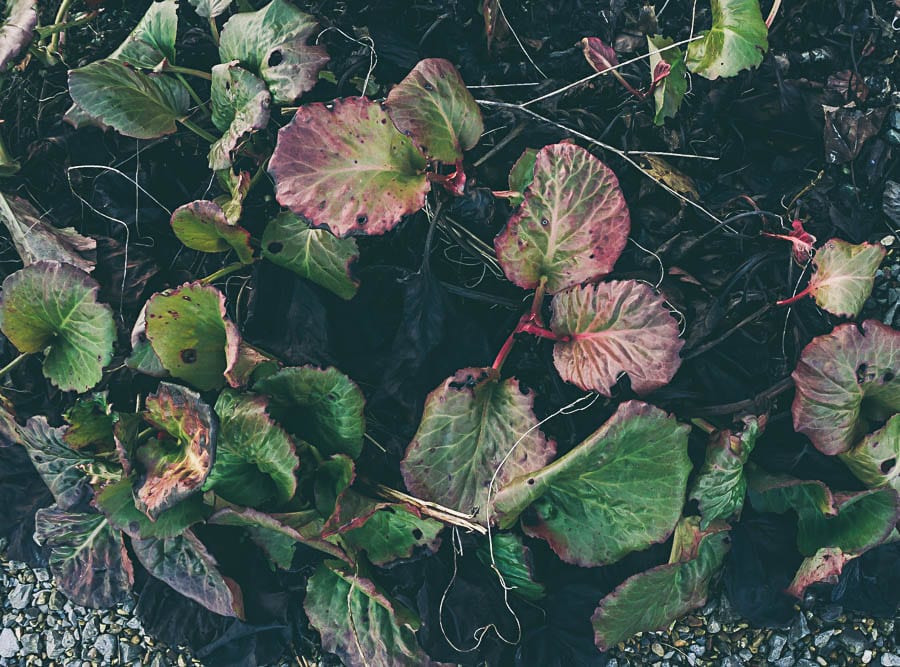 Bergenia
Some of the shrubs just give the garden some added texture and colour such as the winter silvery foliage of the cotton lavender – Santolina chamaecyparissus – or the evergreen stalks of the stinking iris – Iris foetidissima.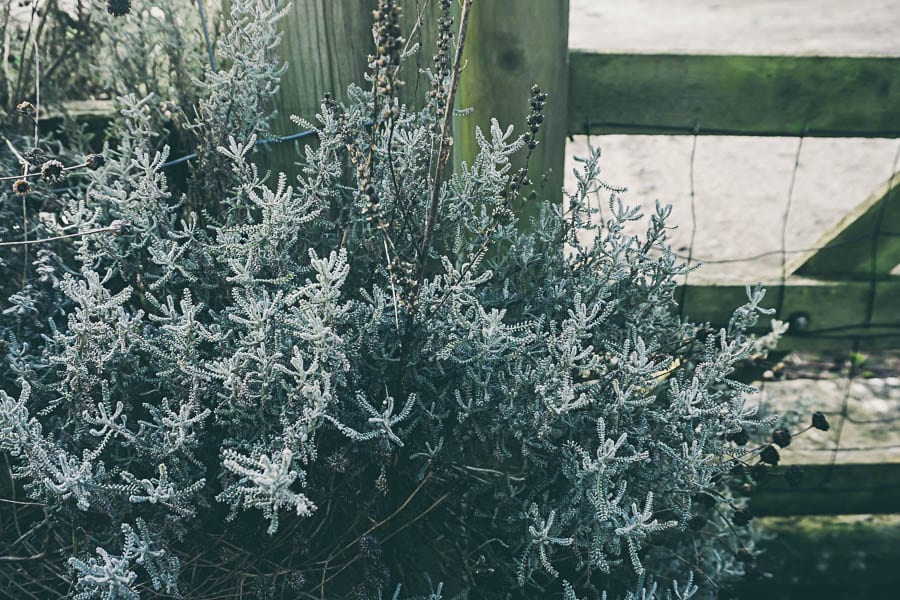 Cotton lavender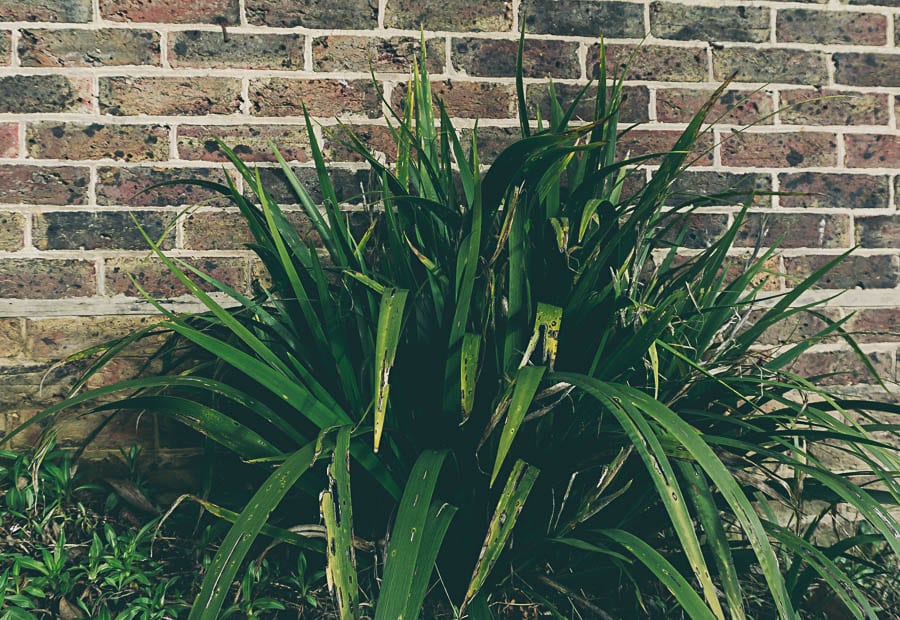 Stinking iris
The faded hydrangeas in winter are a favourite of mine.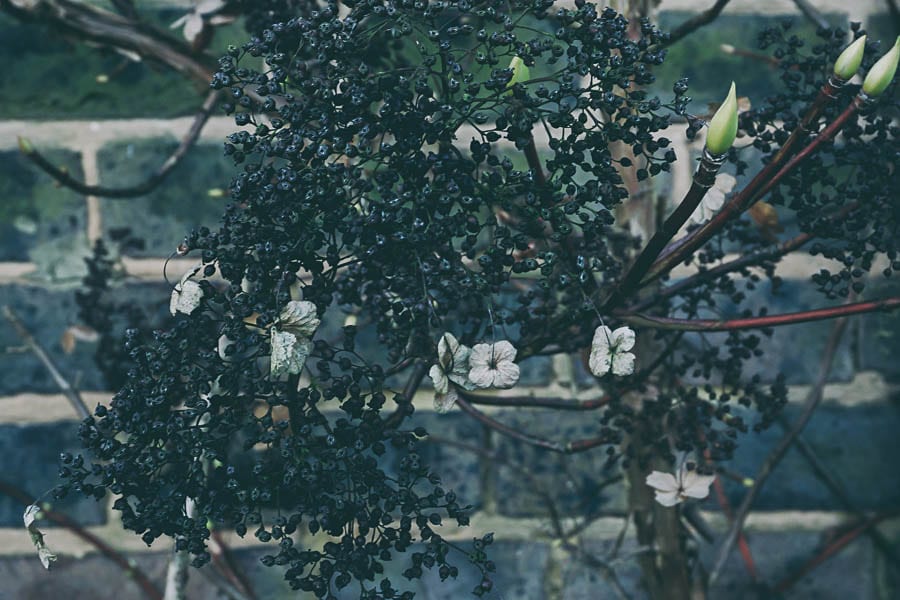 Climbing hydrangea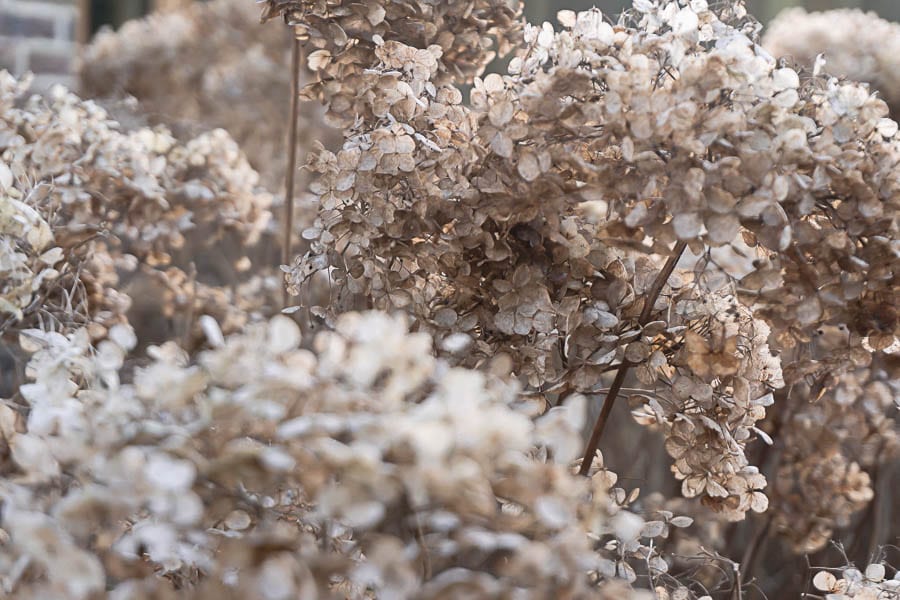 Hydrangea 'Annabelle'
I did mention lots of potted bulbs and plants?Like my muscari and hyacinths and ranunculus which will all be planted in the garden once the latest reports of frost fade away.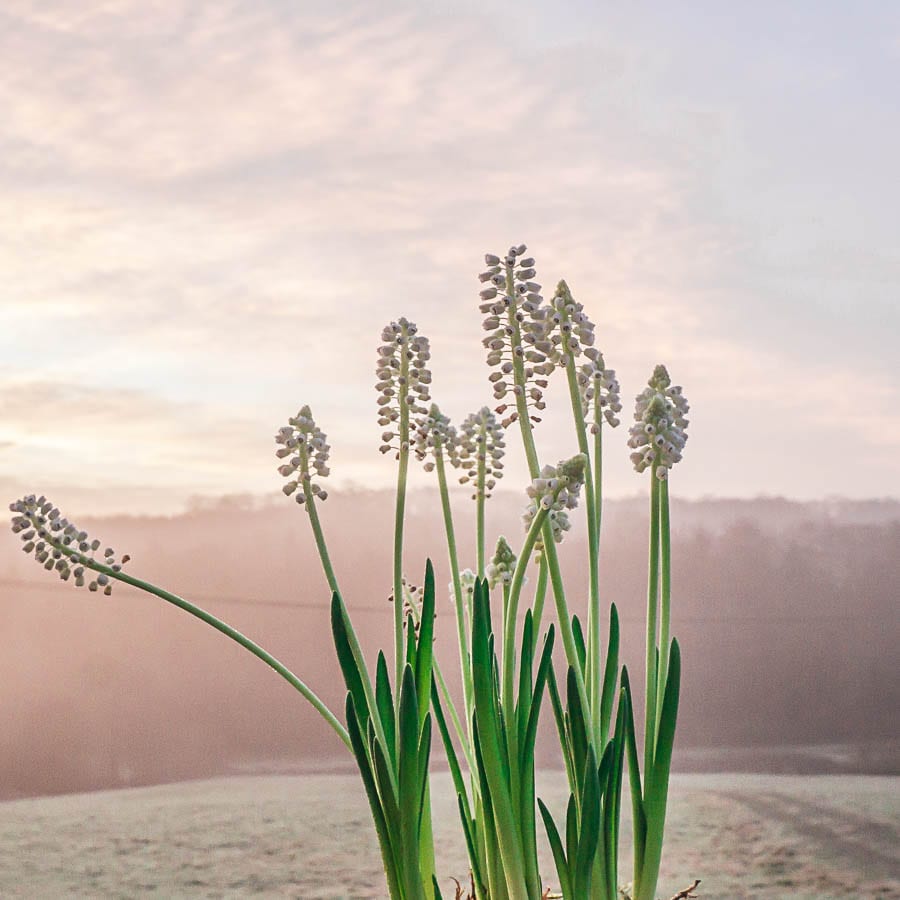 Recently I've added some new plants for next year's winter garden including sacred bamboo – Nandina domestica – and Gaultheria procumbens.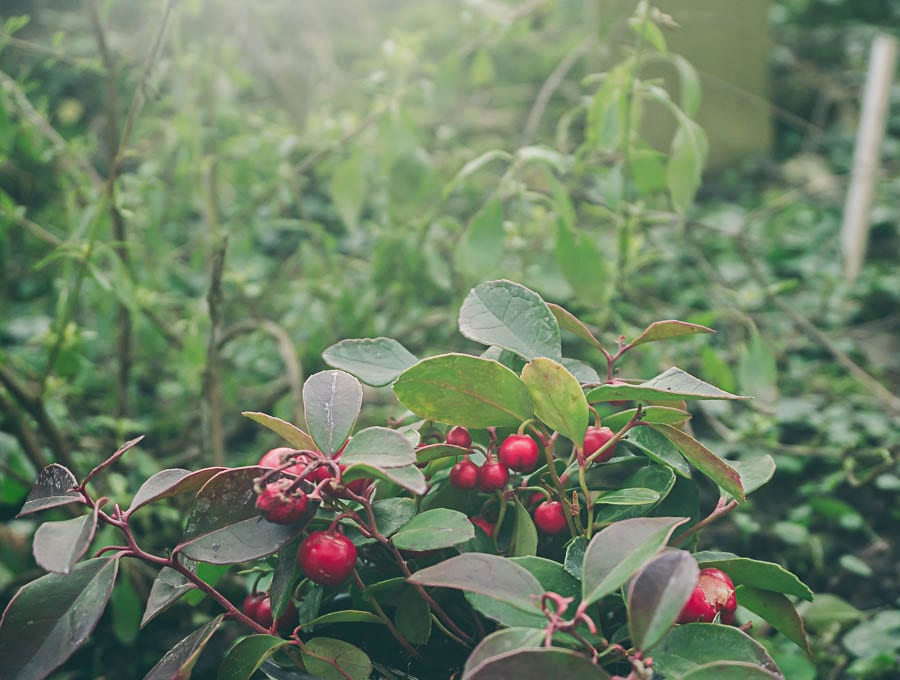 Gaultheria
The hellebores have finally started flowering.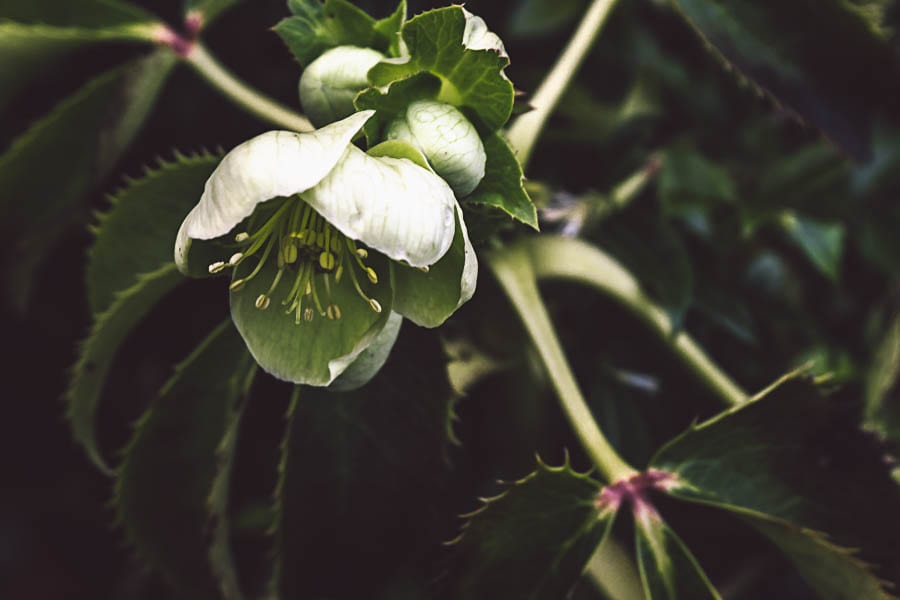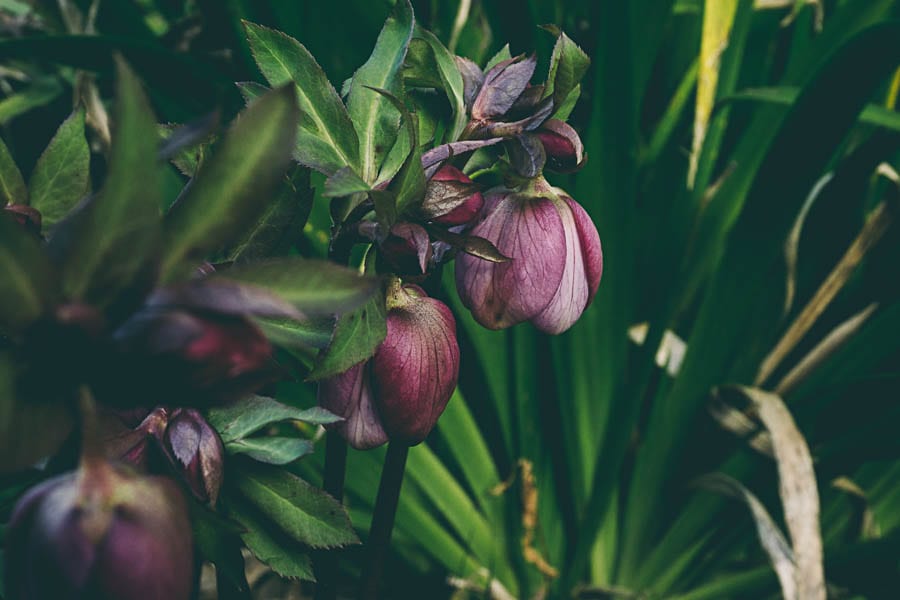 And the little primroses and polyanthus flowers are waking up.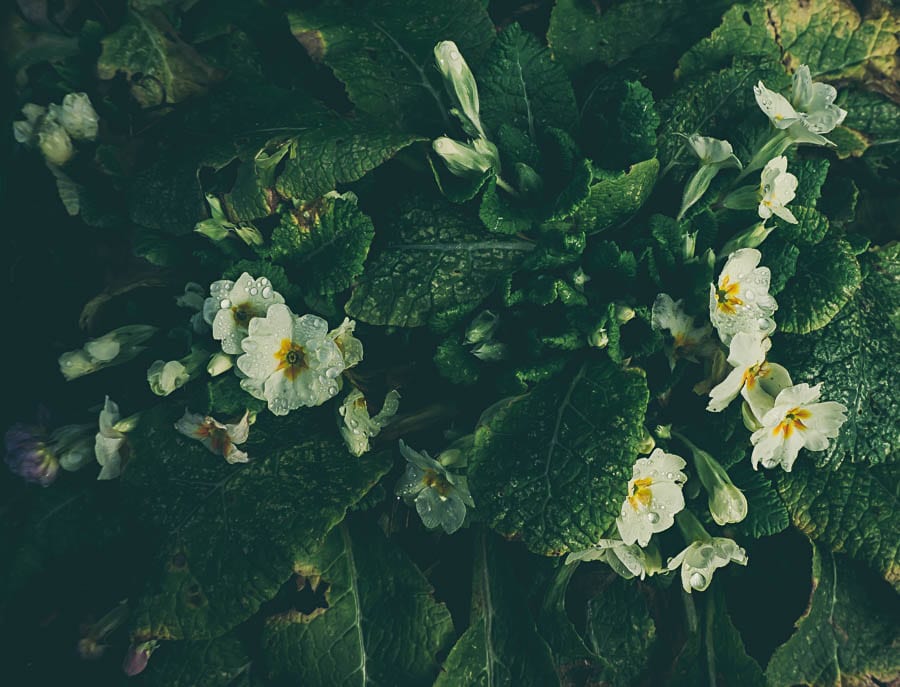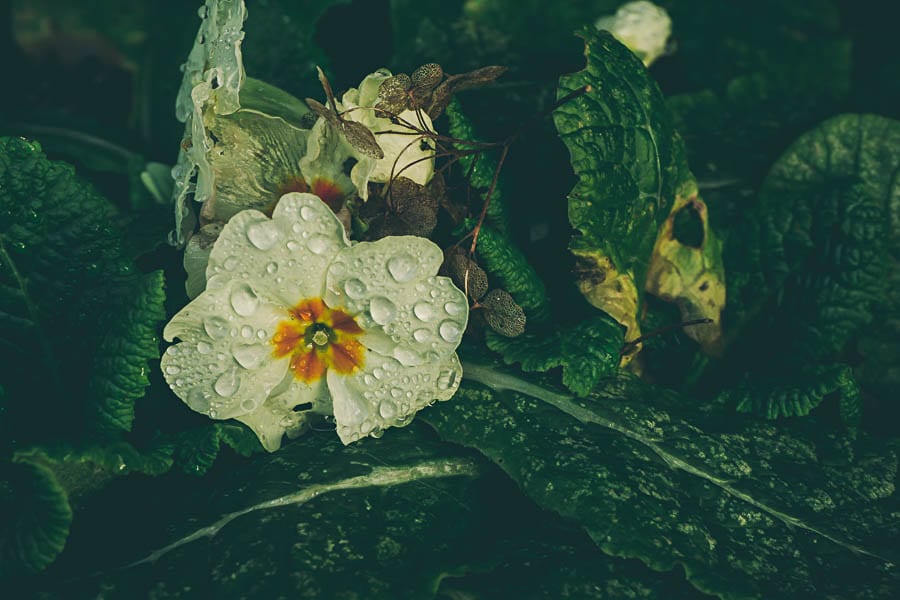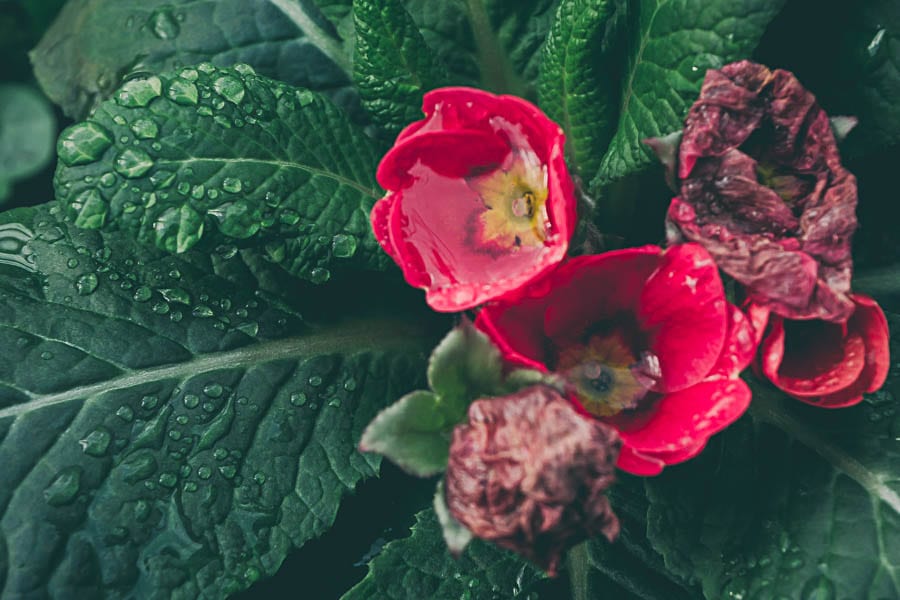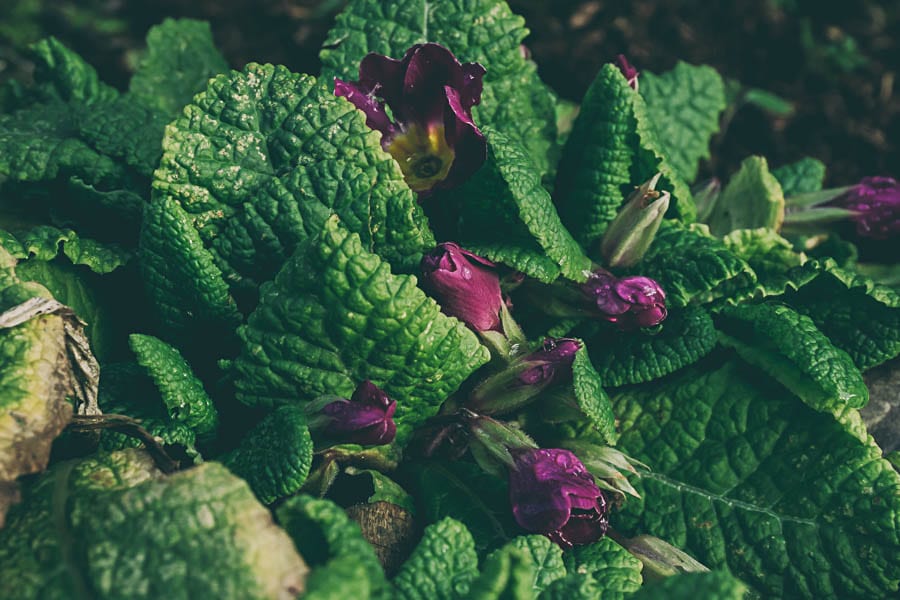 And today I spotted the first yellow winter aconite.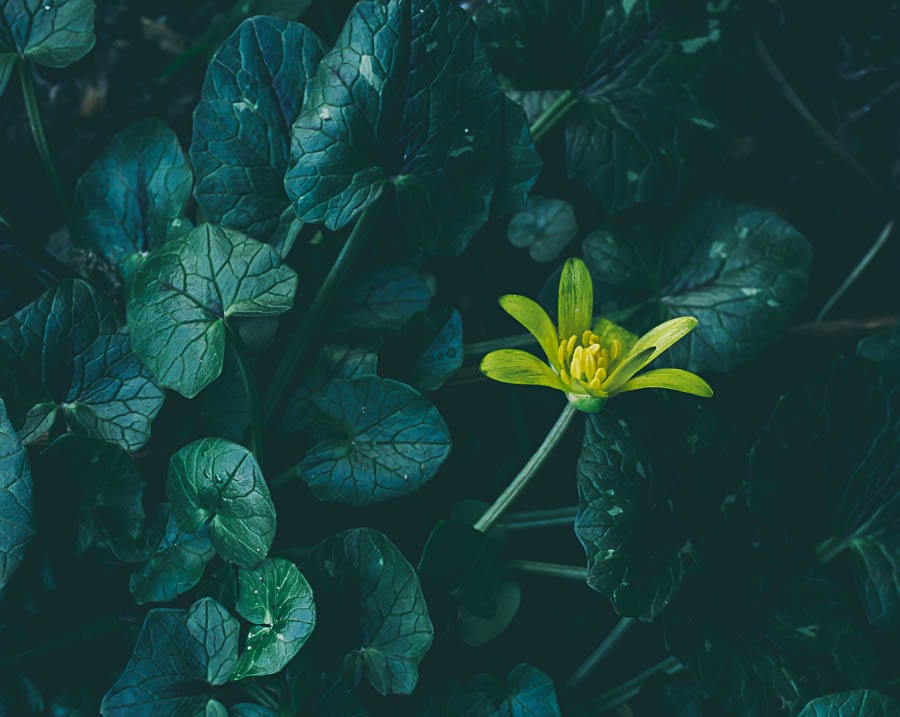 Shoots are showing up everywhere so fingers-crossed there soon will be lots of flowers in the garden. On the one hand I still want a week of snow but on the other hand I'm impatiently waiting for spring to arrive.