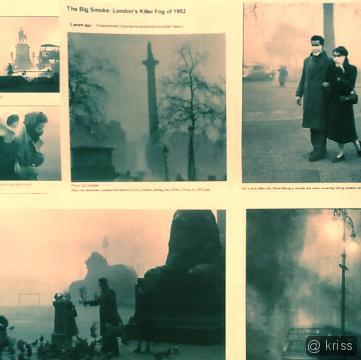 From December 5 to December 9, 1952 a dense, deadly fog descended on London known as the Big Smoke or the Great Smog of 1952.
When a severe cold spell hit the city, Londoners lit their coal fires to keep warm. But a layer of warm air above the city kept the smoke shrouded over the city like a lid. It essentially caused a thick pea-soup fog which was like acid rain. Trains, buses, cars and ambulances came to a standstill.
According to one witness of the Big Smoke in 1952, who was a medical officer at a London hospital: "I lost my way on a minor errand from the Middlesex Hospital to Oxford Street, 400 yards away. To get my bearings and to discover where I was, I had to creep on the pavement along the walls of the buildings, to the next corner, to read the name of the street." The smog even came indoors, swirling in hospital wards and closing down cinemas and concerts.

Thousands are believed to have died from inhaling the sooty air. Finally a change of weather allowed the wind to disperse and blow away the smog four days later.
It was the worst air pollution disaster in UK's history. It eventually spurred on environmental legislation including the Clean Air Acts of 1956 and 1968. Because of its past history of thick fogs and the Great Smog of 1952, London is still often called the Big Smoke.