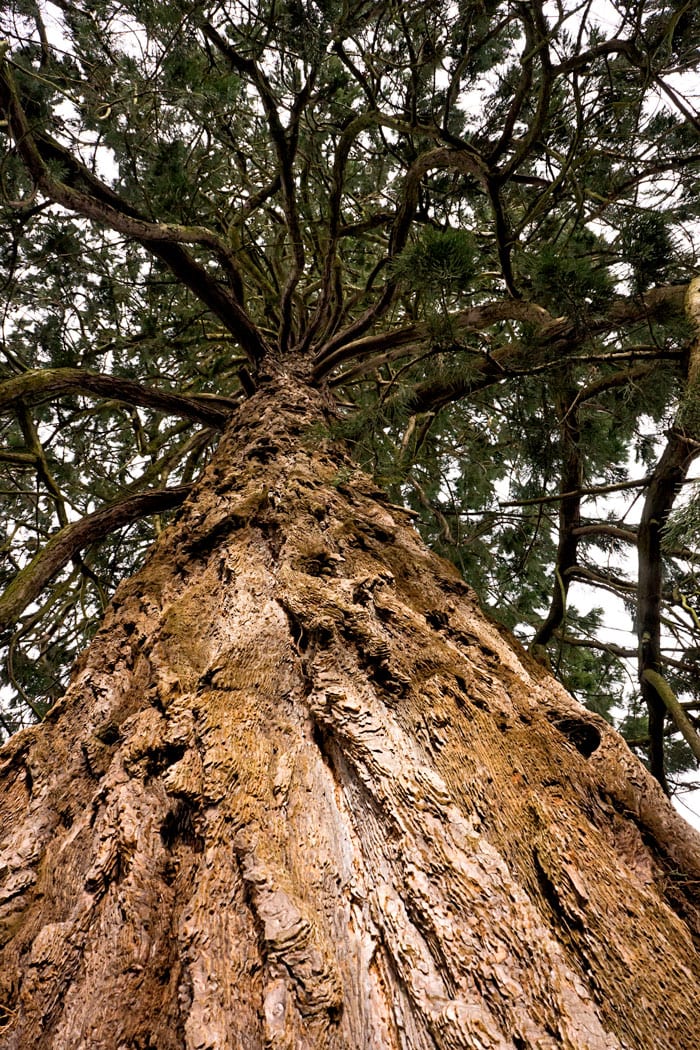 The plan was for me to take Luce, Theo and a friend on an educational tree walk around Wakehurst Place but they ended up having an adventurous journey instead.
Near the start of the year iBeacons had been installed across the 500 estate as a pilot program at Kew's two sites, Wakehurst in West Sussex and Kew Gardens in London. The idea is that you download the app – Discover Kew – either at home or at the visitor center and then, as you explore the estate, facts and activities about the botanic gardens and woodlands pop up as they pick up the signals from the beacons. This included information about eight of their North American trees. Perfect. We're dual Brit-Americans so this would mean my kids could learn about trees brought over from North America to Britain. Moreover Theo is absolutely fascinated by Giant Sequoia, otherwise known as Redwood trees. There are plenty at Wakehurst as many landed estates planted them as a status symbol at the end of the 19th century.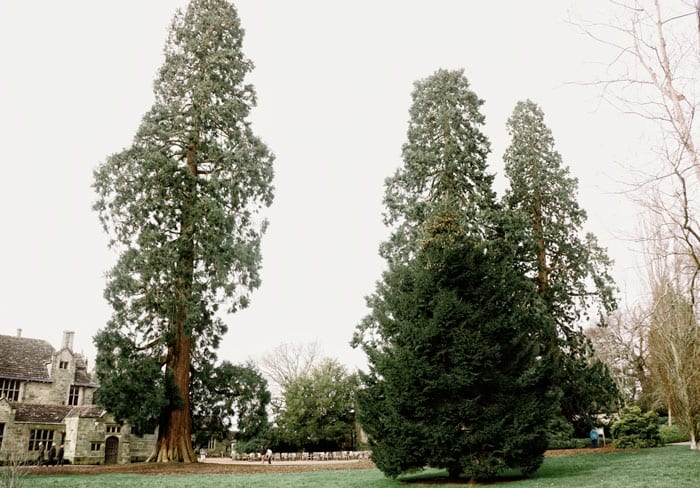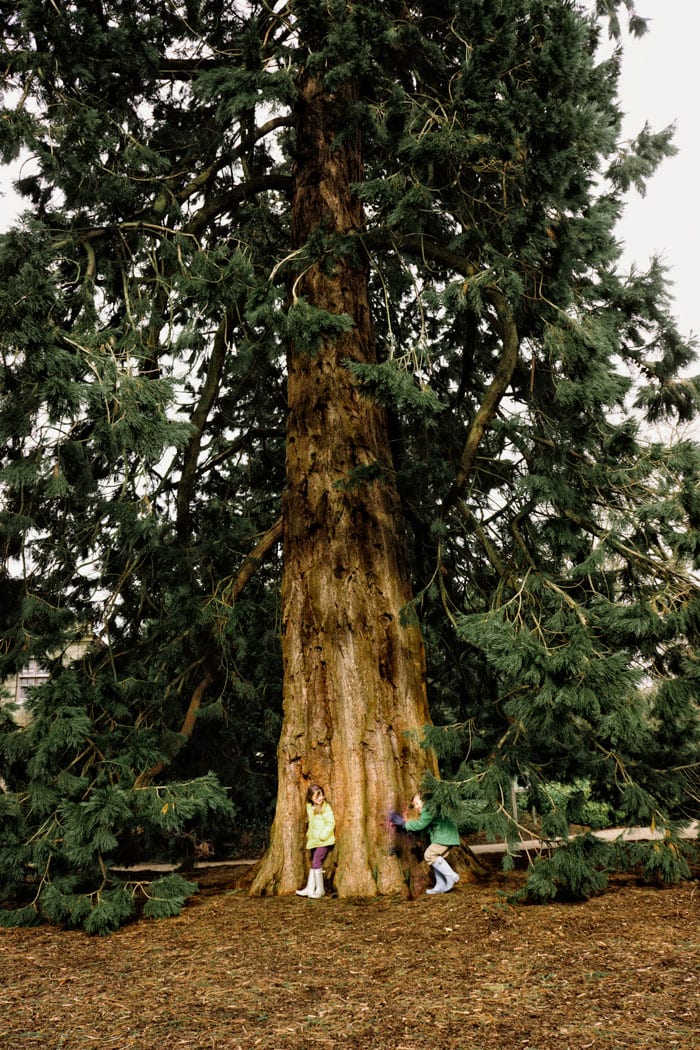 So there I was trying to find beacons while wandering with iPad and camera kit but soon I was the only one reading the information on my screen. The kids kept running ahead and ignoring me.  Not surprising as Wakehurst has set up all sorts of outdoor play spaces along the trails for children to have what they call adventurous journeys during a visit.
Some areas are just naturally enticing such as a small waterfall in one of the water garden areas.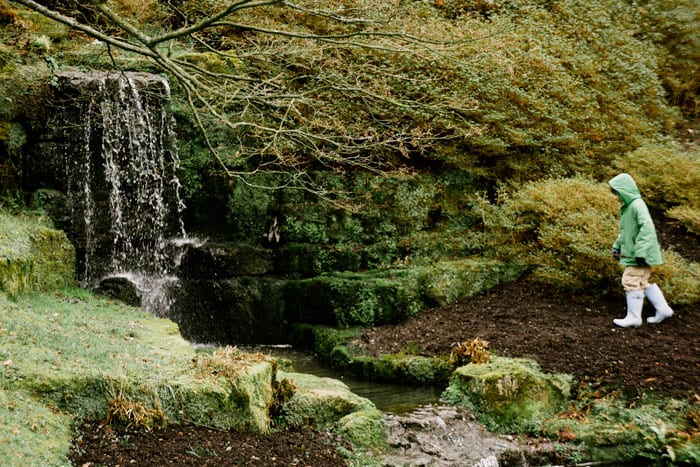 We went off on one of the high trails above the Himalayan Glade showcasing plants from the Himalayan and Mainland China mountains. The kids decided they were adventurers on an expedition to find a secret temple.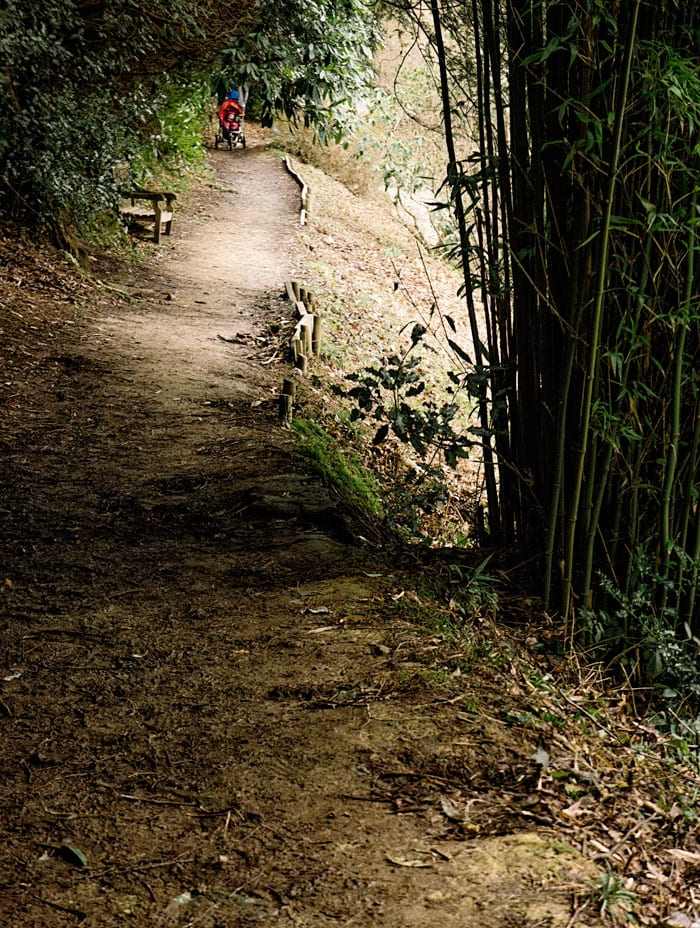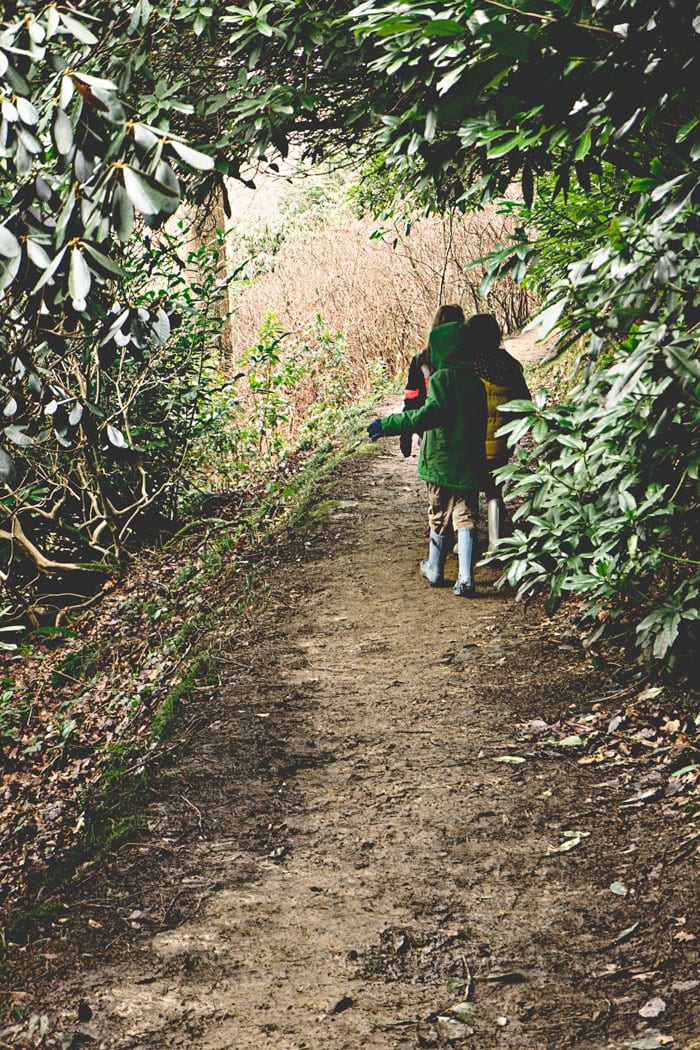 When we reached a viewing platform at the end of the trail, other visitors were admiring the views across the valley. Luce, Theo and their friend were entranced with what they called the bird trees. Flitting among the branches were all sorts of small wild birds feeding from hanging coconut shells.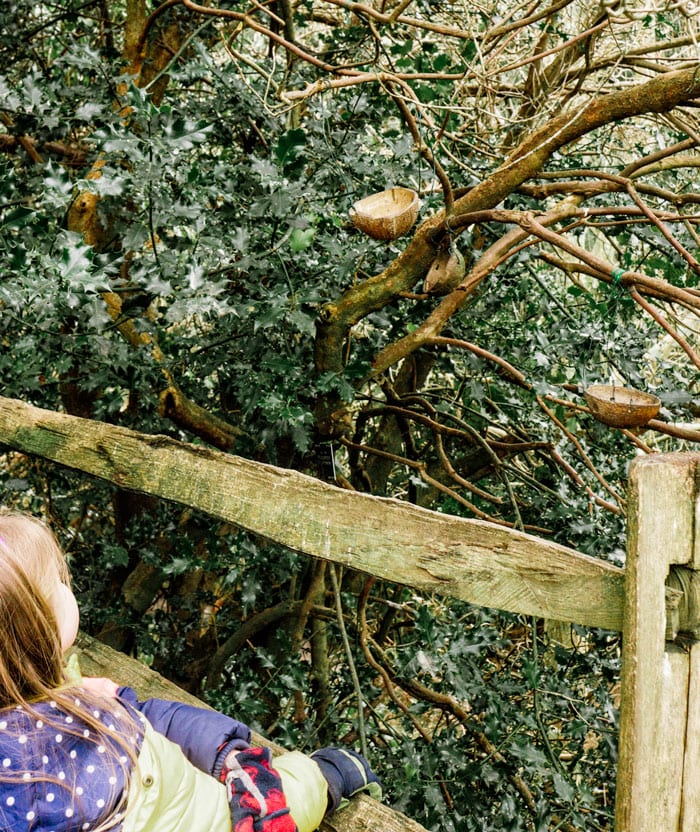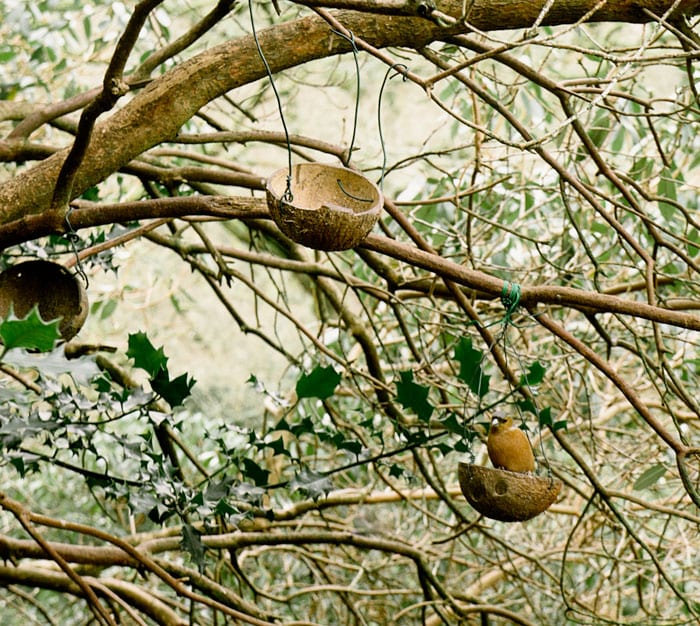 Of course hills were a perfect excuse for climbing and then running down them as fast as possible.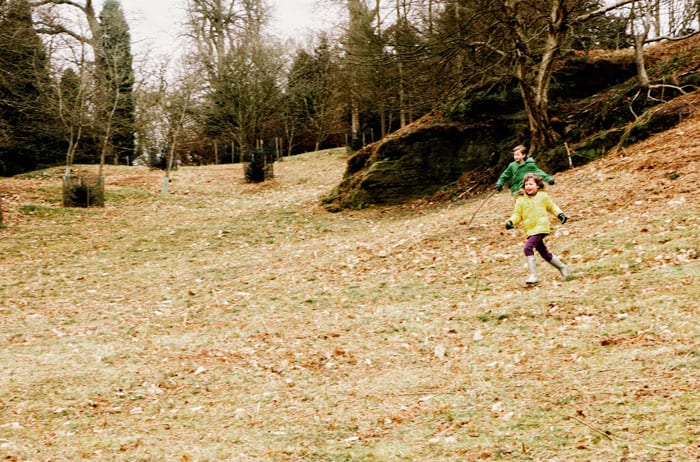 We briefly stopped at the Talking Totems which are part of the Adventurous Journeys at Wakehurst.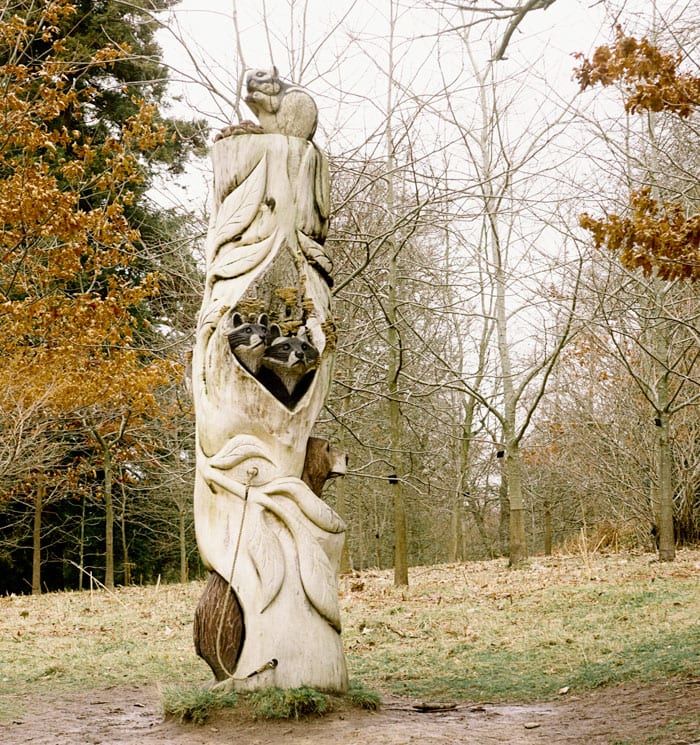 Soon they had discovered the Sightseeing playing area filled with climbing poles. Kids can just climb or peek through holes in the poles to spot sculptures hidden in the trees – such as a giant acorn.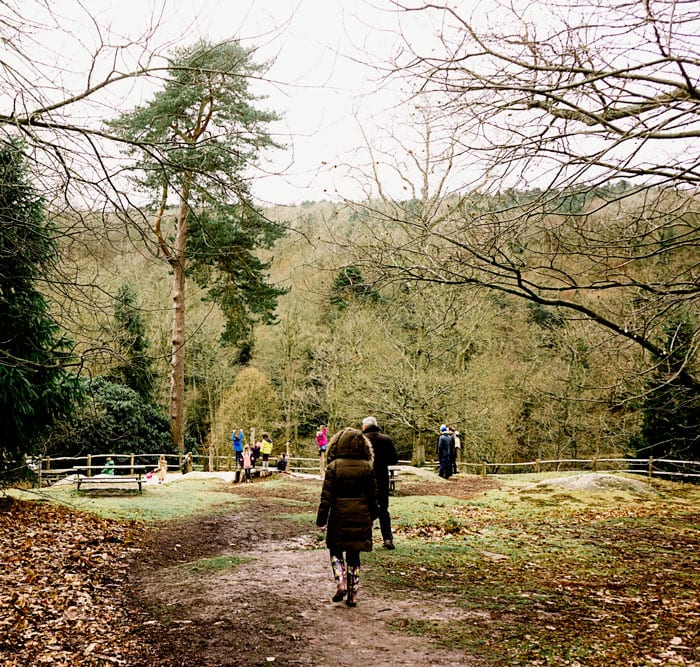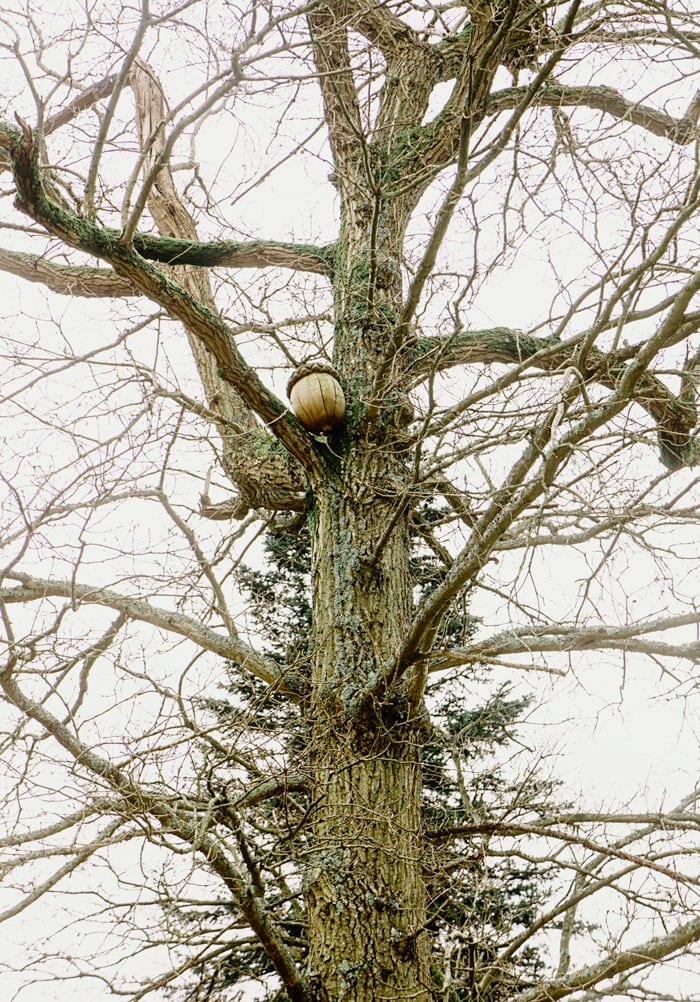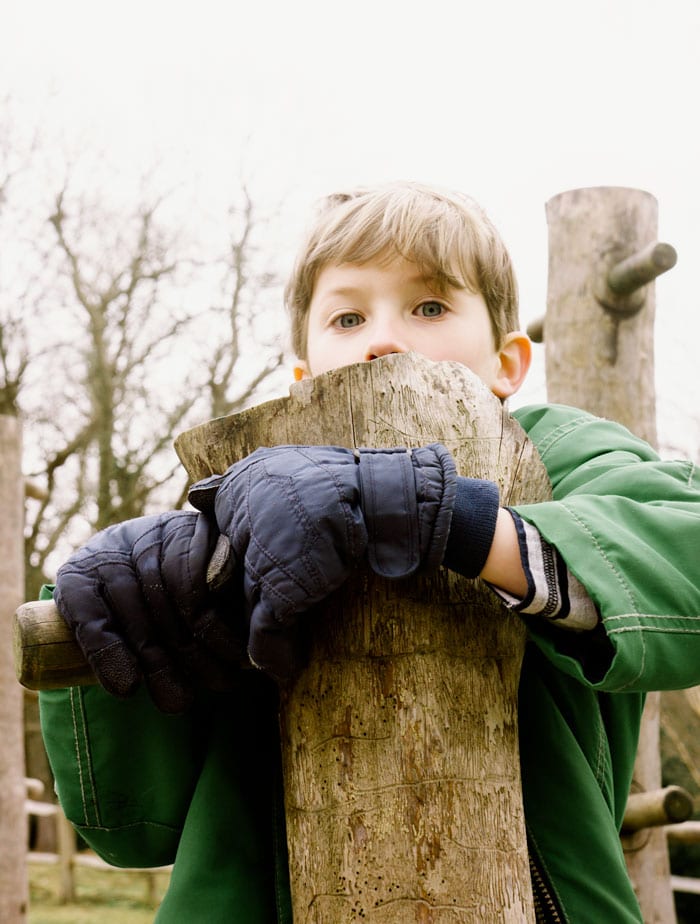 Luce and Theo looked like they were the cast in Gulliver's Travels when they stopped to run around huge mushroom sculptures placed below more redwoods in an area called Horsebridge Wood. It's an area filled with other giants – including a Douglas Fir, Wakehurst's tallest tree at 43 metres high. On a return visit we need to find out which of these giant sequoias was raised from the seed collected from 'General Grant' in King's Canyon National Park, California. General Grant is around 83 metres high and the second largest giant sequoia in the world. The Californian giants are estimated to be between 1,800 and 2,700 years old. The Wakehurst trees are babies in comparison as the seeds of giant sequoias were first introduced to Britain in 1853.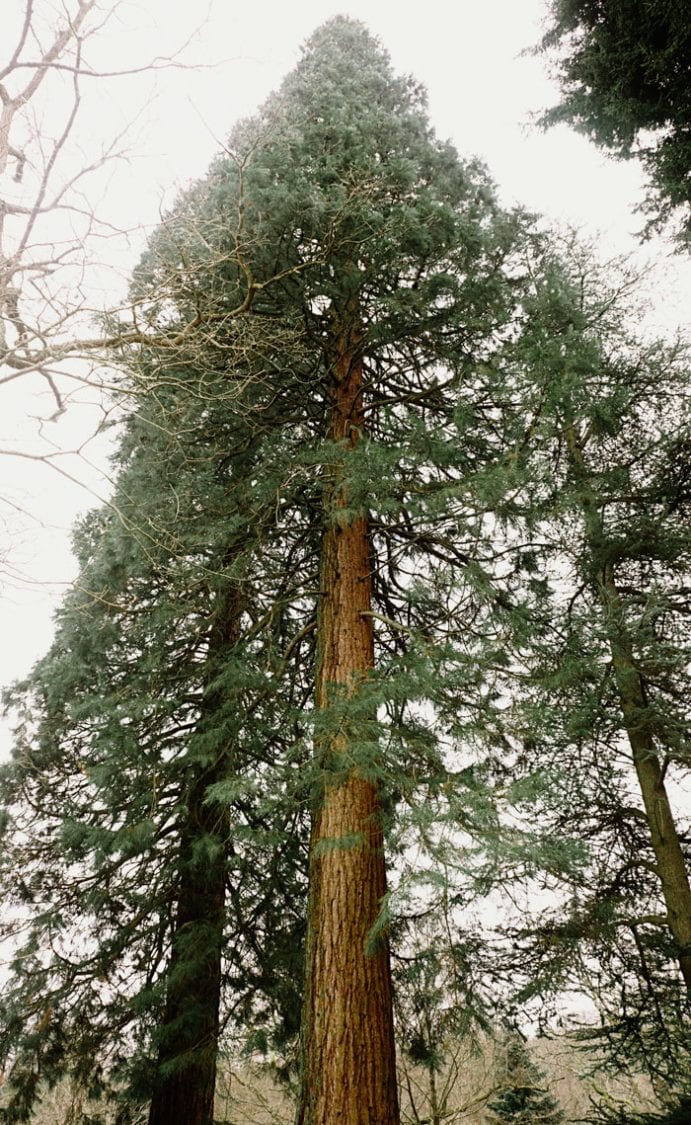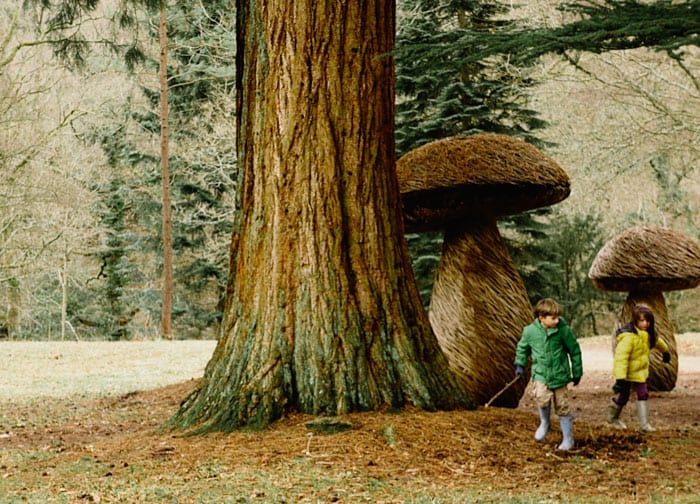 We also want to come back and explore more of the Rock Walk which stretches for a kilometre just after the mini American forest habitat. It's made up of sandstone outcrops and cliffs with yew, oak and beech trees clinging to the rocks by their roots. Here they found a small cave with a roof made of roots.
The sandstone cliffs are now part of Wakehurst and Chiddingly Woods Site of Special Scientific Interest (SSSI), considered to represent the country's best wildlife and geological sites.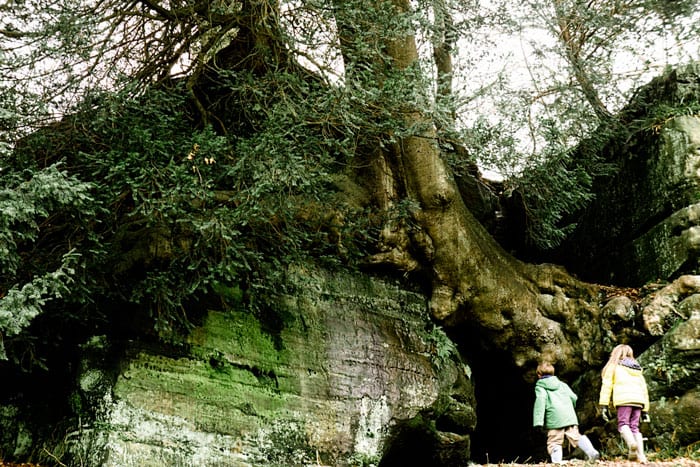 We're rather lucky as we live so close to Wakehurst Place. I have a season ticket (£25) which includes free parking and children under 16 are allowed in for free as long as they're accompanied by an adult. If you're a National Trust member you can also get in free as Wakehurst Place is a National Trust site managed by Kew Gardens (Update – I've discovered through a twitter conversation that NT members are charged for parking after the first 30 minutes and it's up to £10 for a whole day although parking is free for Wakehurst season ticket holders like myself). Children can also pick up a passport at the visitor centre which they fill out by finding bronze seed capsules hidden in each of the outdoor play areas.
Luce and Theo have also been at Wakehurst after dark, found out all about seeds, made a daffodil and followed my late winter spotter sheet.
After walking, climbing, running, playing and exploring for two hours it was time to head back for lunch at Wakehurst's The Stables restaurant. We'll be back for more Adventurous Journeys so they can clamber over stepping logs and balance beams in other areas designed for kids. Oh, and also follow the kilometre long Rock Walk, and look for the tree that grew from General Grant's seed, and perhaps even learn more about trees and…