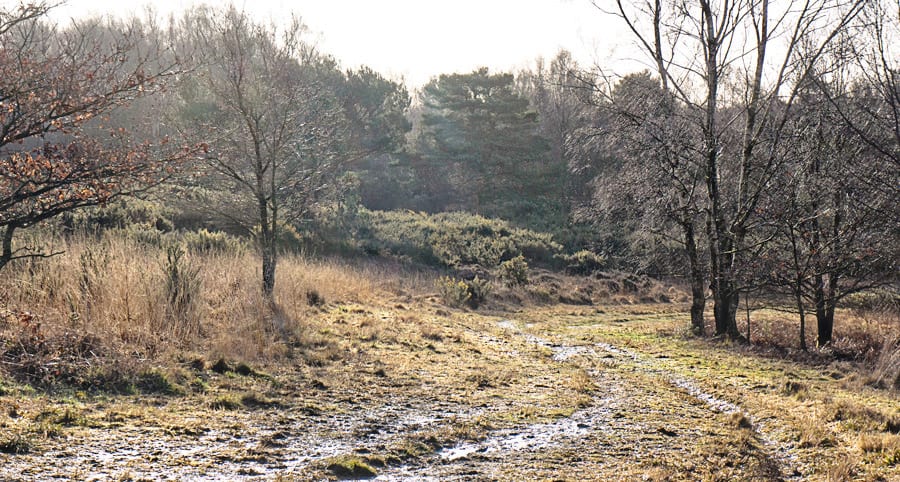 It's nearly the end of the month so time for my February nature notes. This month my notes and pictures are from a variety of places nearby where I've gone for walks: Wakehurst Place, local private woods, my garden, a friend's garden and Ashdown Forest. As I mentioned in my January nature notes, we live in West Sussex in the southeast of England.
As I'm trying to teach myself about nature, I've found that reading up and taking notes with my camera has made me notice so much more. It's changed the way I look at my surroundings and coping with the winter weather. Before I would've nodded in agreement with American author and pool hustler Robert Byrne when he said, "Winter is nature's way of saying, "Up yours."" Now I wouldn't.
Talking about the weather, February really has been rather temperamental weather wise. One day I was capturing a flowering witch hazel in the sunlight and the next morning it was covered in snow – albeit only briefly.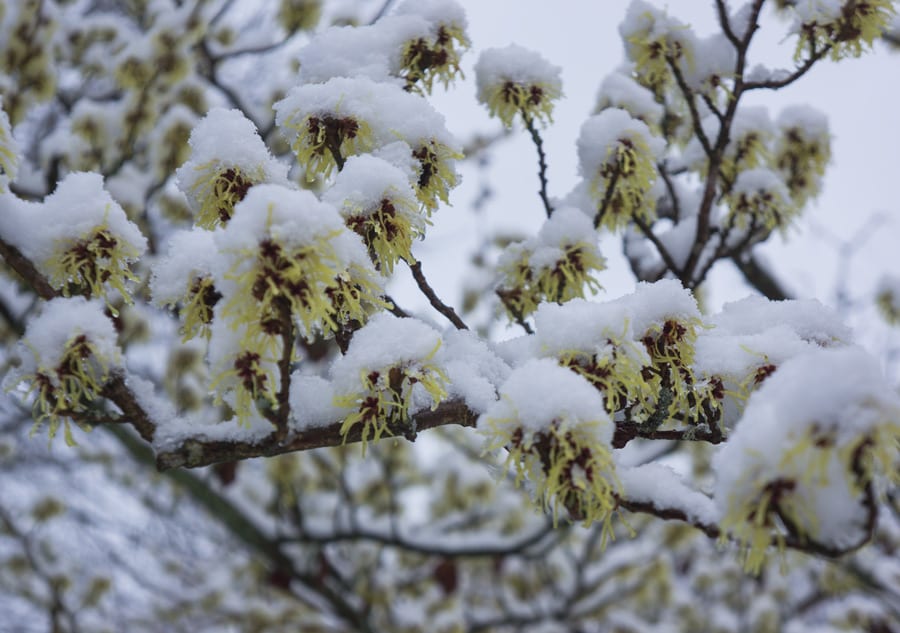 Witch Hazel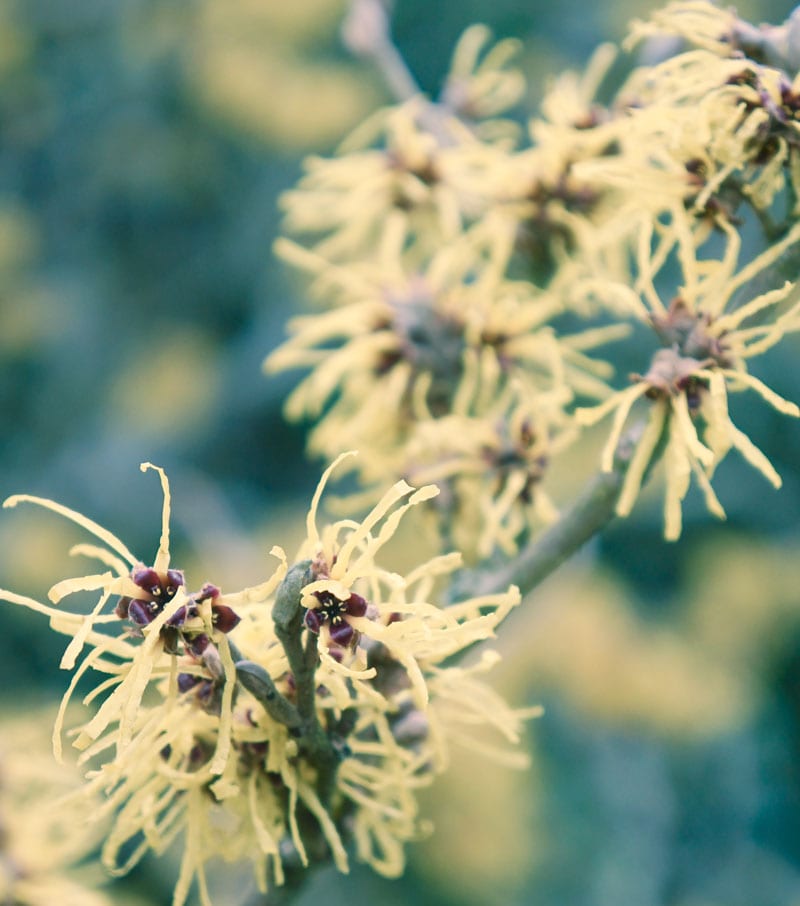 Desperate for some flowers and colours, I decided to find out what I could expect to see and find in February. I even put together a 'Late Winter Spotter Sheet' for my kids Luce and Theo so that walks were bit more of an adventure. They get competitive too which meant they were trying to find and count more than each other. To be honest, these spotter sheets also help me!
My list for them included Cyclamen coum, Dogwood, Skimmia, Witch Hazel, Crocus, Camellia, Snowdrops and even Daffodils. I've skipped adding many of them in this post again.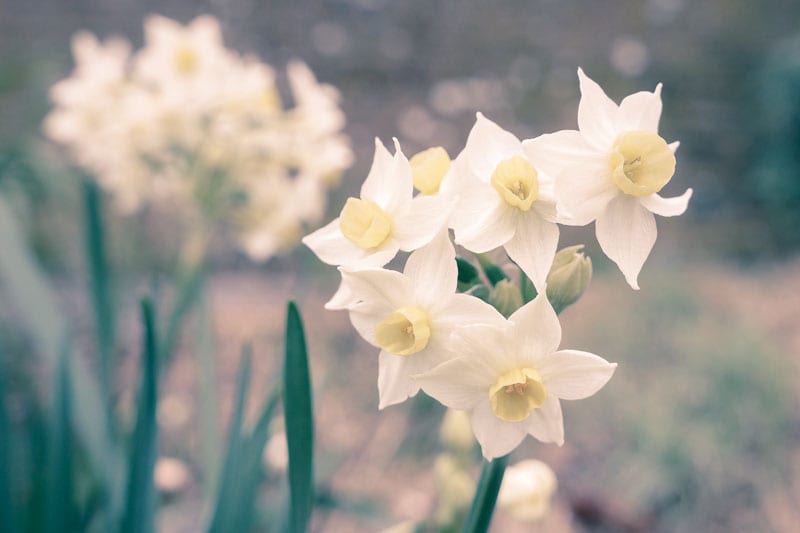 Bunch Daffodils (Narcissus Tazetta)
But their spotter sheet didn't include everything. For starters, Hellabore season has already begun and continues into March. There are also lots of shrubs and trees that are beginning to show their buds and even hints of first flowers in February.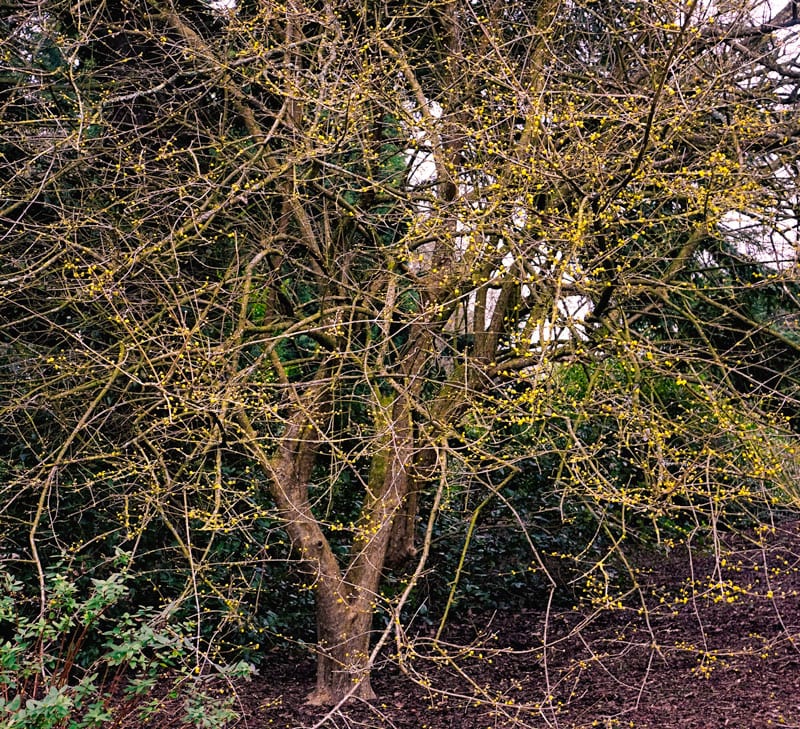 Flowering Cornelian Cherry (Cornus Mas)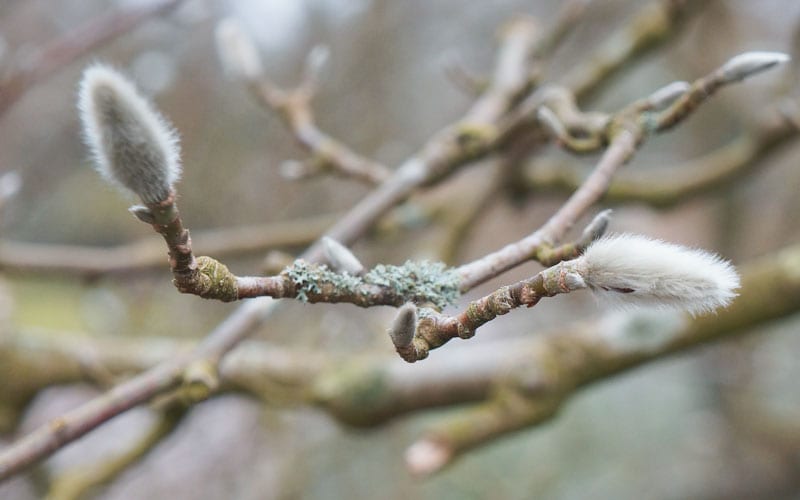 Magnolia buds. I was tempted to stroke them they looked so soft and feathery.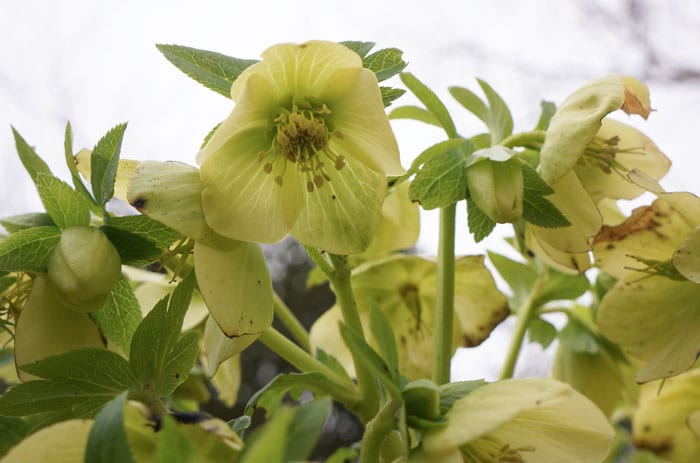 Hellebore (Helleborus Orientalis)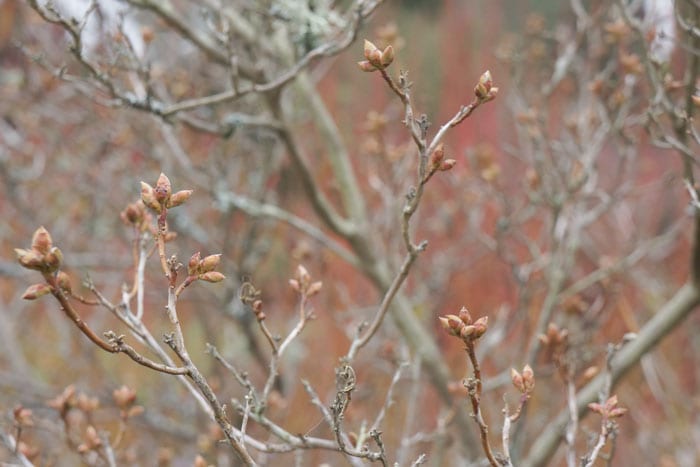 Rhododendron Airy Fairy – I had to include these because I love their name!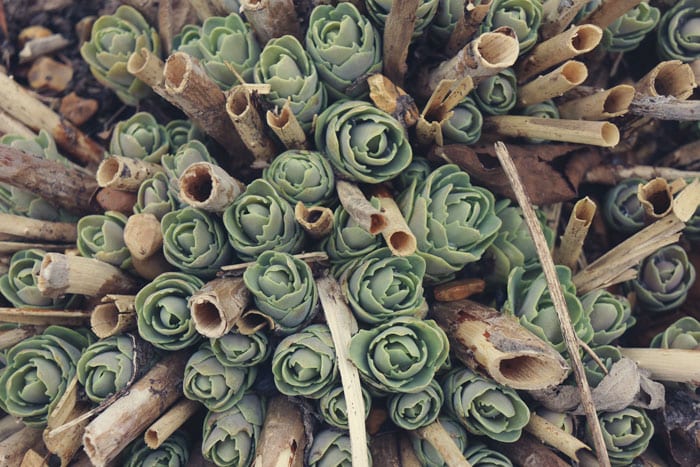 This Sedum might be 'Autumn Joy' but it's begun inching its way back out of the soil.
There's something about heather…. At Wakehurst place, small shrubs with the tiniest of flowers lined the beds in some of their formal gardens. Quite a contrast to the wild heather in Ashdown Forest nestled near paths and spiky shrubs of Gorse.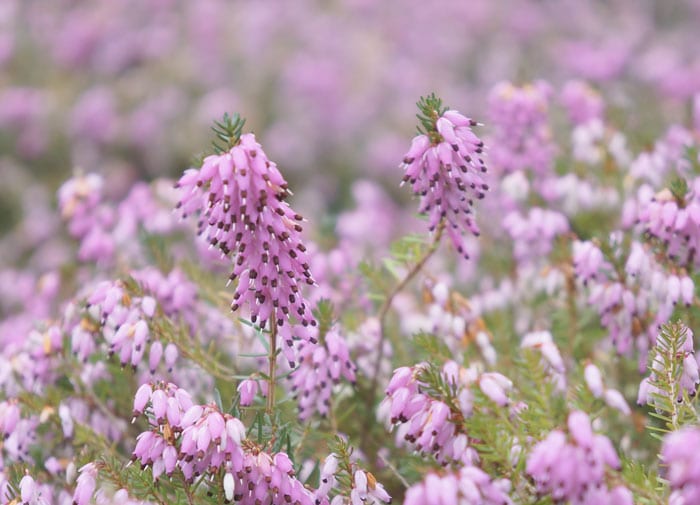 Erica Carnea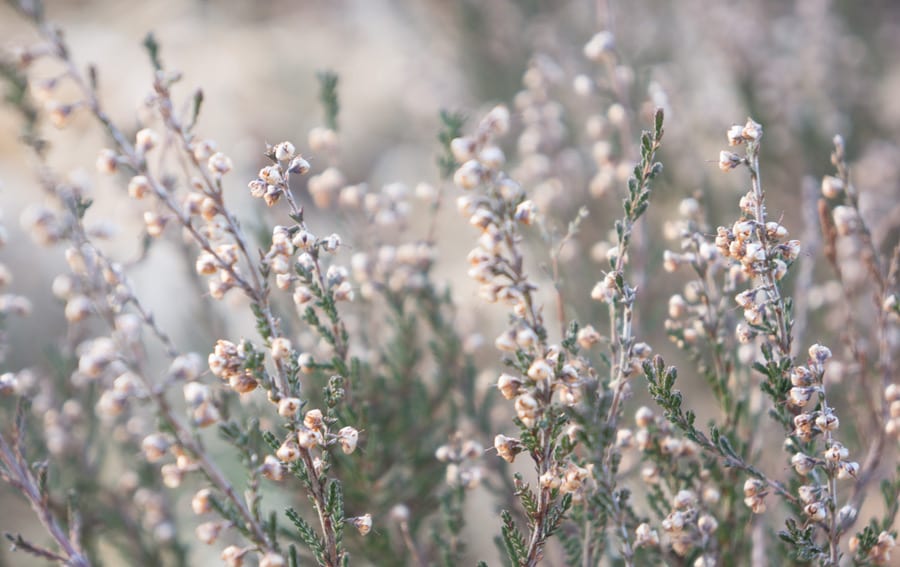 Ashdown Forest heather
My February nature notes also include some of my observations on wildlife. The wild birds have been flocking to our bird feeders since we set them up last month. There's also a wild pheasant, who we've nicknamed Fred, that comes daily. He now doesn't even bother to move away when I refill the feeders. Luce was rather relieved he made it through the hunting season which ended on February 1st! It's also the month to hang up a nest box to attract birds preparing for spring nesting.
I was very surprised to see three Robins close to each other in our garden – they're very territorial – but February means courtship season has begun.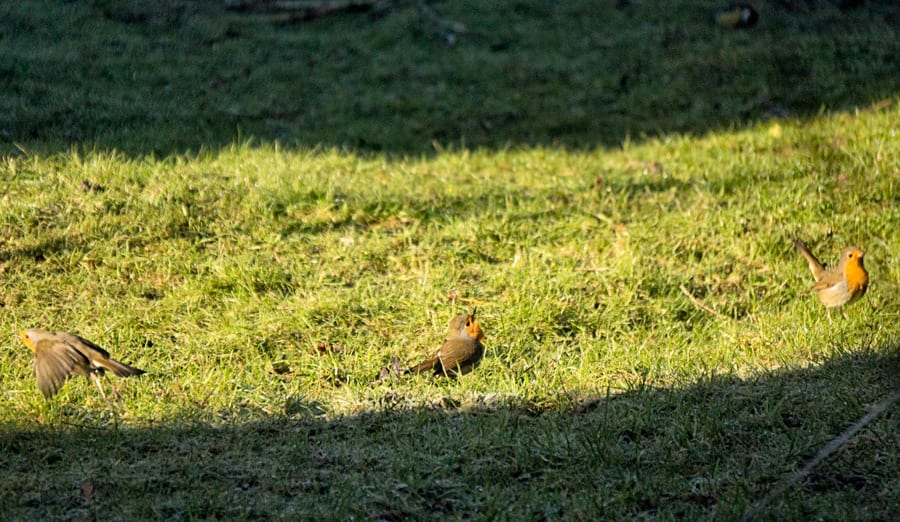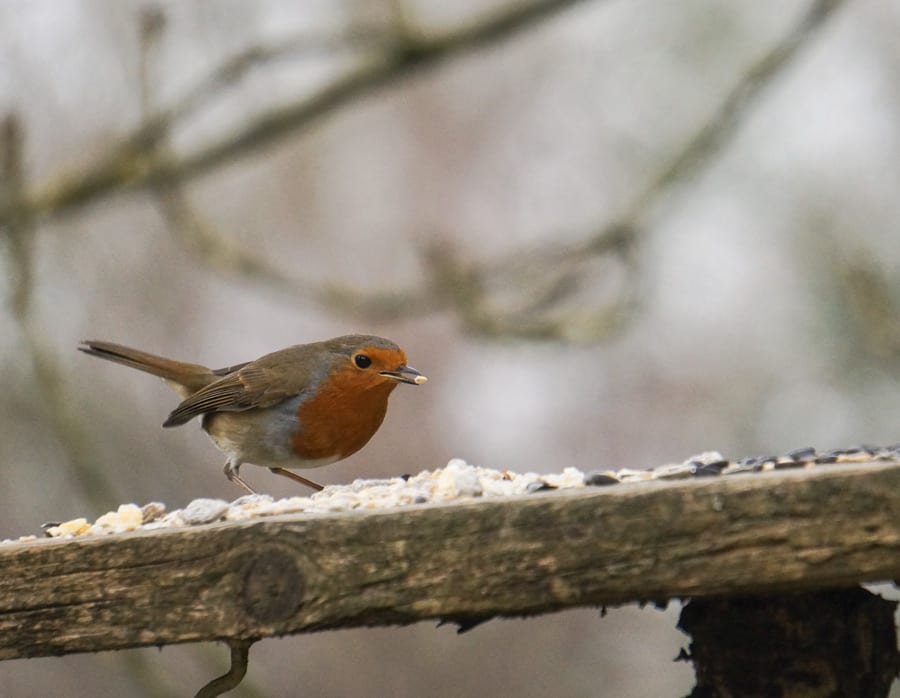 We have two Magpies that hang out in our garden too. They're early nesters and I've seen them flying around with bits in their mouths in preparation.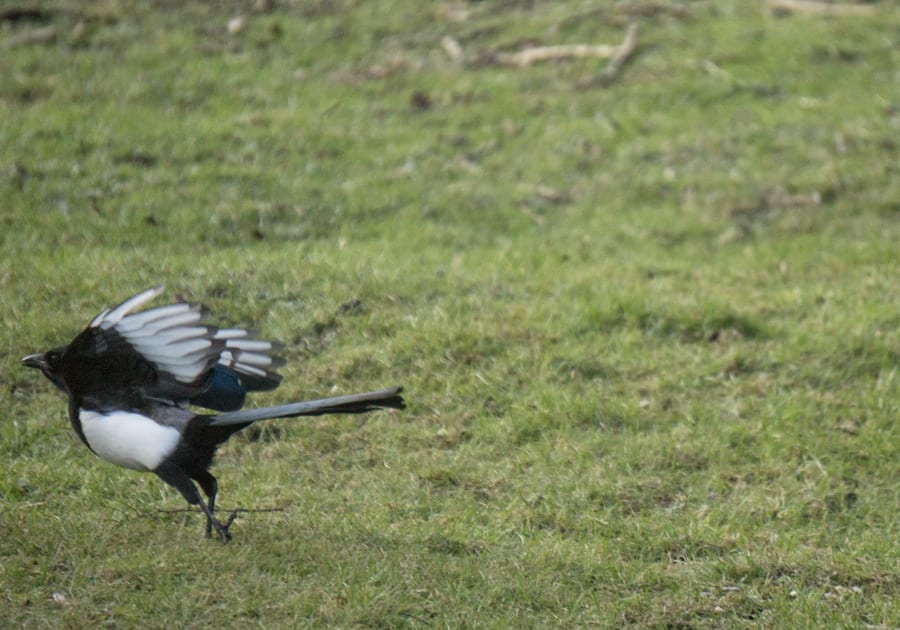 There also seems to be huge herds of Fallow deer reappearing in fields during the day to graze. Quite a few showed up on one walk, I saw more in the snow last weekend, and yesterday saw another herd with some white deer amidst them.
The woods are beginning to fill with the shoots of bluebells. The bluebells are rather determined little things and even poking their way through leaves to get to the surface. Ferns also seem to be reawakening after their winter slumber.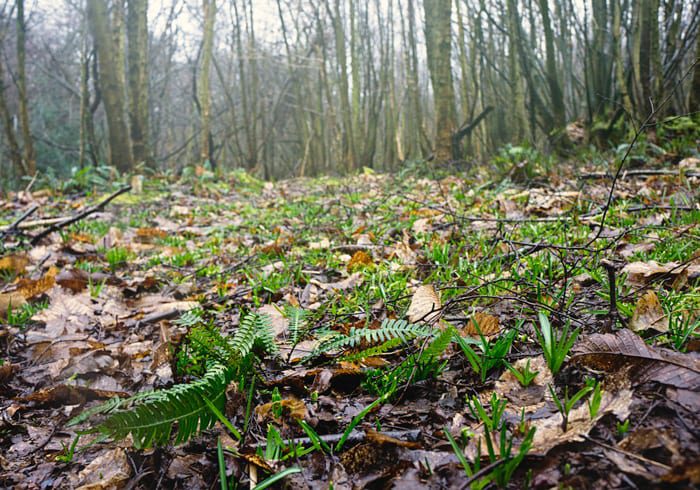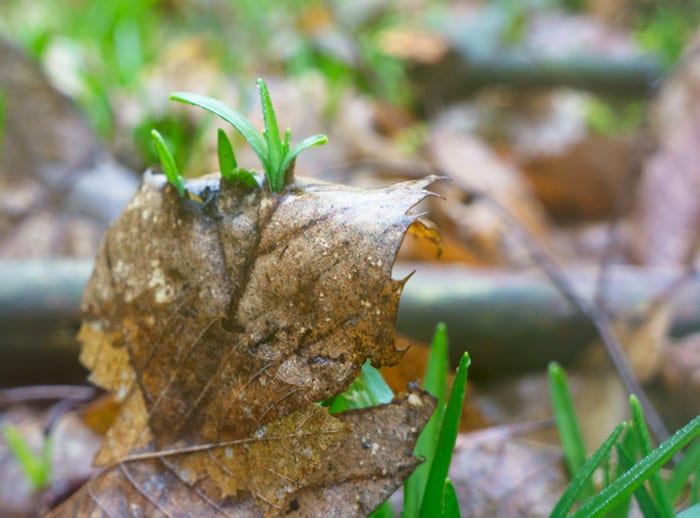 If you're into nettle soup or tea or pesto, now's the time to start picking them. They're apparently young and tender now for cooking or brewing.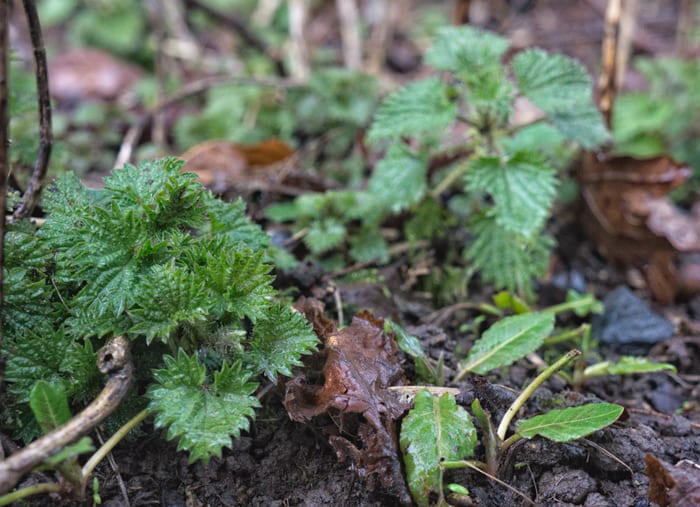 Now I'm just hoping for the sun to shine lots and lots next month and continue reawakening nature. Shoots are beginning to sprout all over our garden and the first flower buds can be seen on Brambles.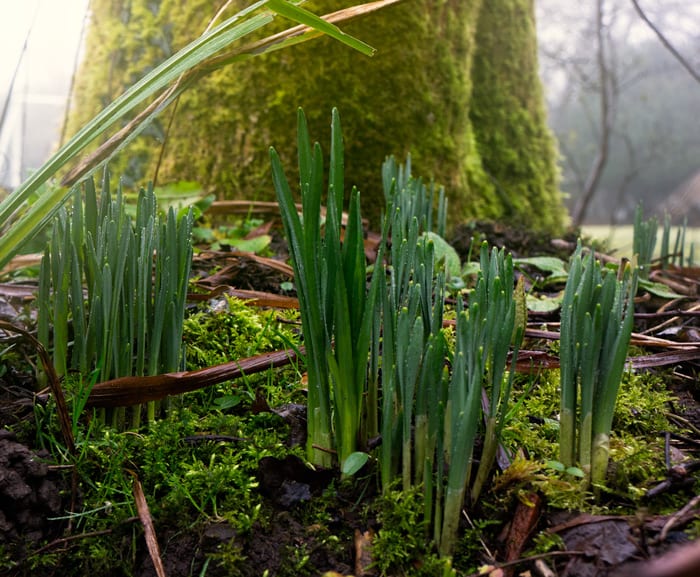 Bulb shoots under a tree.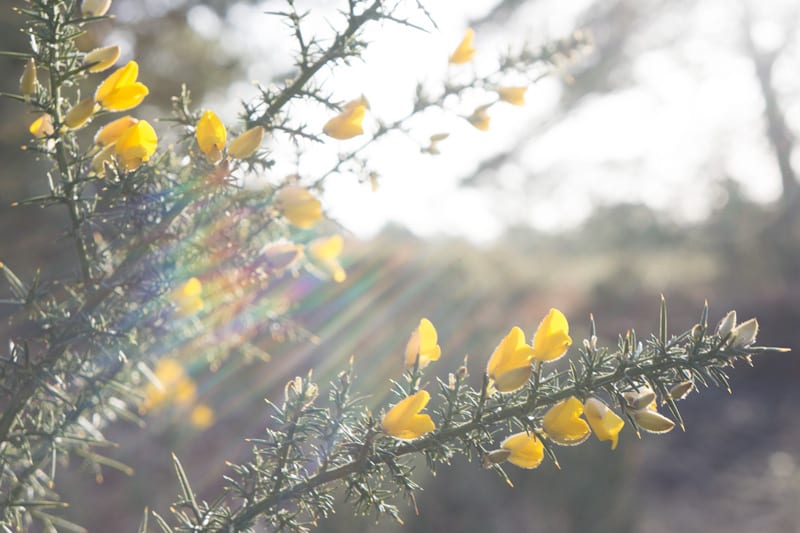 Common Gorse
"The flowers of late winter and early spring occupy places in our hearts well out of proportion to their size." Gertrude S. Wister
I thought this quote was rather appropriate for the end of my February notes and amateur observations.