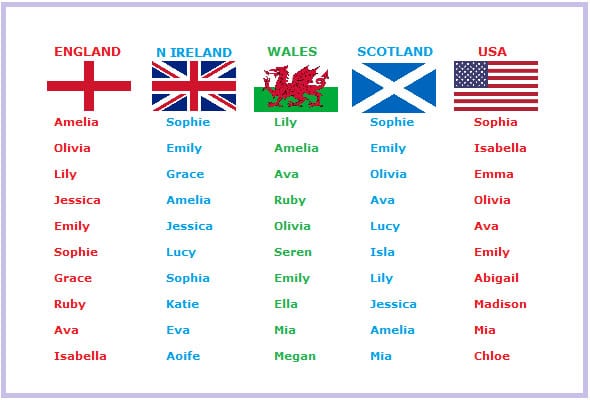 I was curious about the 10 most popular baby names for girls in the United Kingdom – England, Northern Ireland, Wales and Scotland – compared to the USA.
If you would like to see the most recent top ten lists comparing all five countries then I have annual updated versions:
Top girls names for 2013 – published January 2015
Most popular girl names in 2012 – published August 2013
These lists all include latest official releases of top baby names available at time of publishing. For example, 2014 results will not be available until late 2015.
These are all the latest official top ten names available.  England, Wales, and USA only have updates for 2011 while Scotland and Northern Ireland have released their 2012 top ten baby names.
In 1914 the most popular name for girls both in England and USA was Mary – quite contrary to nowadays when Mary didn't even make the top 100 in England.
Mary still ranks as the number one baby girl name registered at birth in the USA over the last 100 years.
For more inspiration, have a look at the top 100 girls names in 2011 for England and Wales in the word cloud.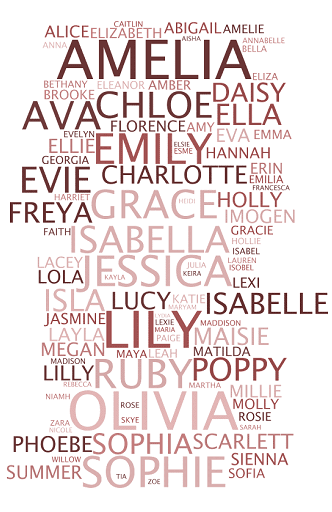 Sources:  2011 Top baby names in England and Wales:  Office of National Statistics  // 2012 Northern Ireland: NISRA // 2011 USA: SSA // 2012 Scotland: General Register Office of Scotland
Word Cloud: Adapted from data from the Office for National Statistics licensed under the Open Government Licence v.1.0.
SOME OTHER POSTS THAT MIGHT INTEREST YOU:
Do you know which are the best British strollers brands? Which ones are popular with the Royals or celebrities? Read here.
Did you know there are British Mums as well as Moms? Read here.
You can also find out the most popular boys names for 2012 and the latest available for 2013 – 2014 results will not be released until late 2015.