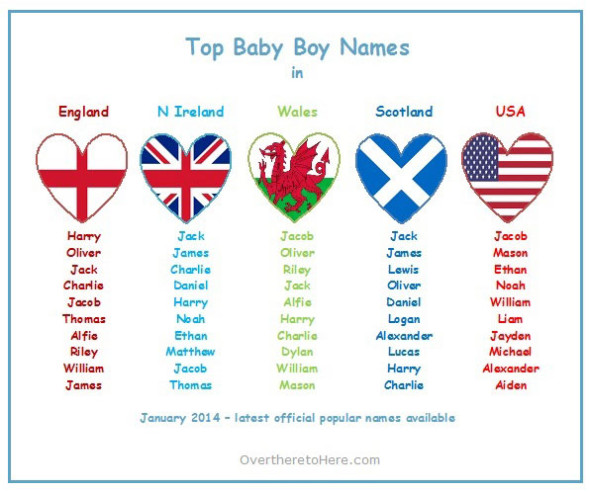 Here's my January 2014 updated list of top baby boys names in the UK and USA.
**** FOR THE JANUARY 2015 TOP 10 LIST – VIEW HERE ***
Looking for a name for a baby boy? I've compared the top 10 most popular names for the United Kingdom – England, Northern Ireland, Wales and Scotland – with the United States.
These are the latest official baby names available and include 2013 provisional data for Scotland and Northern Ireland as well as the 2012 top baby names for England, Wales and USA.
Note: This site's name has been changed from Over there to Here to Wild About Here.
How popular are Prince Harry and Prince William?
All four countries that make up the sovereign state of the United Kingdom of Great Britain and Northern Ireland are wild about Harry. In fact Harry was the most popular name in seven of the regions in England. But he doesn't make the top ten in the USA.
William is popular in England, Wales and the USA, but not so much in Northern Ireland and Scotland.
Will be interesting in the future to see if Prince George will join the final top ten list of most popular names for baby boys.
Muhammad most popular boys name in London
Muhammad was the most popular boy's name in London.  The names are ranked according to their exact spellings. So Muhammad was 19th overall for England and Wales while Mohammed was 26th.
There were seven new entries in the top 100 list of baby names for boys in England and Wales: Hugo, Sonny, Seth, Elliott, Theodore, Rory and Ellis.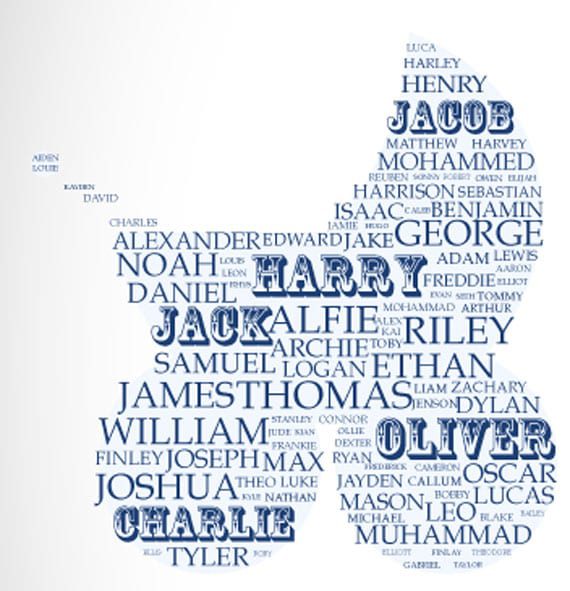 If you want more inspiration for boys names then I've included again the word cloud for the top 100 names in England and Wales for 2012.
SOME OTHER POSTS THAT MIGHT INTEREST YOU:
Which British strollers are the most popular with the Royals or celebrities? Which British stroller brand should you choose? 


How do you make a baby feel royal? Read here.

Did you know that you need to apply for private schools in London as soon as the baby is born? Call the school not the grandparents? Read here.

What's the perfect cuddle for a baby? Find out here.

Want top advice on what you'll need to buy for a baby? Then peek  here.
2012 and 2013 names for boys
These are the latest top ten names available – as of January 2014 – according to registered births in the United Kingdom – England (2012), Scotland (2013), Wales (2012) and Northern Ireland (2013) – and the Social Security Administration in the USA (2012).
Scotland and Northern Ireland released their provisional most popular boys names for 2013.  In Northern Ireland this was according to registered births between January 1st and December 9th, 2013. Scotland's provisional hit list was from January 1st until late November, 2013. The names in the baby boys names columns for England, Wales and USA are for 2012. The 2013 data won't be released until Summer 2014.

Sources:
2012 Top baby names in England and Wales:  Office of National Statistics
2013 (provisional data) Northern Ireland: NISRA
2012 USA: SSA
2013 (provisional data) Scotland: General Register Office of Scotland
Word Cloud: Adapted from data from the Office for National Statistics licensed under the Open Government Licence v.1.0.
And what should you call a girl? Take a look at the January 2014 update for baby girls names.