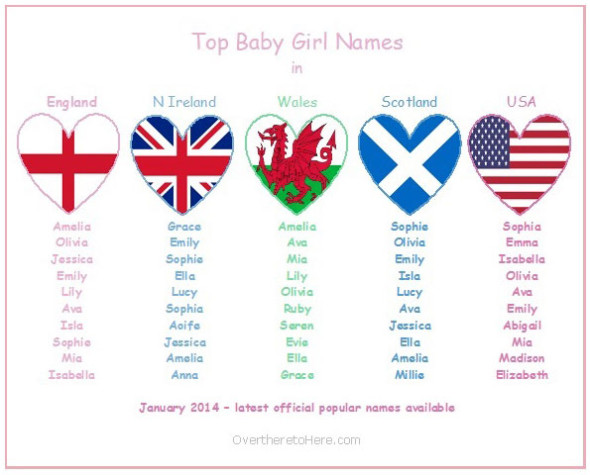 So it's time for another update of the top ten baby girls names for England, Wales, Scotland, Northern Ireland and USA. I'm fascinated by the similarities and differences in popular girls names between all five. As of January 2014 these are the latest baby names available and include 2013 provisional data for Scotland and Northern Ireland and the 2012 top baby names for England, Wales and USA.
UPDATED VERSION NOW AVAILABLE:
If you would like to see the most recent top ten lists comparing all five countries then I have annual updated versions:
Top girls names for 2013 – published January 2015
Top boys names for 2013 – published January 2015
These lists all include latest official releases of top baby names available at time of publishing. For example, 2014 results will not be available until late 2015.
Popular Amelia. Not so popular Mary.
Amelia was the most popular girls name in the UK in 2012. Amelia ranked first in England and Wales and ninth in Scotland and Northern Ireland. But in the USA she was 23rd.
Poor Mary didn't even make the top 100 list of baby girls names in England. The last time Mary was in the top ten list in the USA was 1971. She's been sliding down since then and hasn't been in the most popular 100 names in USA since 2008. Unlike a century ago when Mary was the number one name both in England and USA.
Top 100 names for baby girls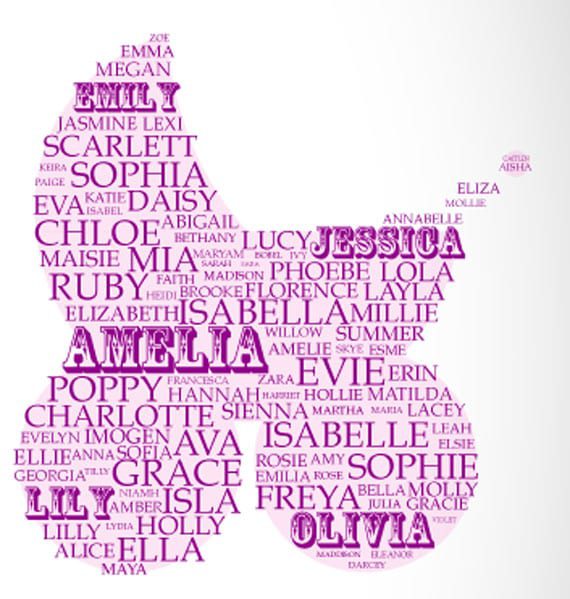 Want some more ideas? Then have a look at the word cloud with the top 100 baby girls names in England and Wales in 2012.
SOME OTHER POSTS THAT MIGHT INTEREST YOU:
The British have some of the most popular strollers on the market. Find out which to choose. Read here.

Some fun ways to make a baby feel royal. Read here.

Planning a christening or naming ceremony in UK – find out how – and then amaze and dazzle with some wonderful gifts.

Which do you do first?  Register your child's birth or register them for school? Well, if we're talking about private school admissions in London….

Every baby needs the softest and cuddliest toy. Don't they? 

Not sure what to buy to be prepared for a baby? Then get the best advice here.
2012 and 2013 names for girls
These are the most up-to-date top ten baby names officially available in January 2014.
Scotland and Northern Ireland have released their provisional data for 2013. These don't include all December 2013 names given for registered births in these two countries.
England and Wales so far have only published the 2012 top baby names for girls and boys which they collect from birth registers. The Social Security Administration also has only published baby names for 2012.  The new data for the most popular baby names will be available Summer 2014.
Sources:
2012 Top baby names in England and Wales:  Office of National Statistics
2013 (provisional data) Northern Ireland: NISRA
2012 USA: SSA
2013 (provisional data) Scotland: General Register Office of Scotland
Word Cloud: Adapted from data from the Office for National Statistics licensed under the Open Government Licence v.1.0.
Find out what's cool and new with boys and girls names in the January 2015 updates for baby boys names and baby girls names.